AMES — It was easily the most eagerly anticipated game in the history of the Iowa-Iowa State football rivalry.
By the time it was over, it also was the weirdest. And one of the most dramatic.
There was a 3-hour morning pregame show that demonstrated to the entire country how exuberant fans are in this state. There were two weather delays that consumed nearly 3 hours of time. There were five lead changes in a low-scoring game.
And then there was the fact that a vast majority of the fans waited out all those delays and were still around to make the atmosphere as electric at 8 p.m. as it had been at 8 a.m., providing an even better demonstration of the fans' devotion.
It ended with Iowa pulling out an 18-17 victory that fittingly did not come easily.
As some of us predicted, the game itself was much more compelling and memorable than all of the hours of hoopla that preceded it.
But there was an abundance of hoopla, too.
The parking lots around Jack Trice Stadium opened at 5 a.m., and when ESPN's College GameDay came on the air at 8, there were hundreds and hundreds of people crammed into a little area south of the stadium.
Most of those people were wearing cardinal and gold and carrying all sorts of handmade signs, many of which included vaguely uncomplimentary comments about Iowa coach Kirk Ferentz and quarterback Nate Stanley.
Some samples: "Kirk Ferentz cuts his corn off the cob." "Nate Stanley likes corn from Nebraska." "Kirk Ferentz sniffs after wiping." "Kobe Bryant passes better than Nate Stanley." "Like a bad neighbor, Kirk Ferentz is there."
They got to listen to ESPN's Kirk Herbstreit analyze several different games, see Lee Corso act like a complete clown and hear a country music star with no connection to either school (Eric Church) make predictions about a sport he hasn't played since high school.
For three hours, that area was a swirling ocean of motion.
By noon, it was nothing more than a sea of debris.
There still was a football game to be played, although that seemed to take almost as long as the build-up to this whole thing.
At that point in the day, weather didn't appear to be a problem. It was drizzly and gray early in the afternoon, but by 3 p.m., the sun was out.
You have free articles remaining.
After Iowa consumed half of the first quarter with its opening drive and Iowa State ran one offensive play, the officials called for a lightning delay with 7 minutes, 18 seconds remaining in the first quarter.
It didn't appear to rain at all during the delay, but the rules stipulate that a game cannot resume until a half hour after the last lightning strike is seen within an 8-mile radius.
When play resumed 49 minutes later, Iowa State struck quickly with receiver Deshaunte Jones firing a 51-yard scoring pass to an obscenely wide open La'Michael Pettway, giving the Cyclones a 7-3 lead.
But then there was a second weather delay at 4:45 p.m., with 13:24 remaining in the second quarter.
This one lasted a lot more than 49 minutes and included much more than a few streaks of lightning.
It poured. And poured. There were reports of hail in the area.
Unlike the first delay, almost all the fans fled for cover, all except the Iowa State student section. Those are first-come, first-served seats. No one wanted to leave and lose their spot, even if it meant waking up with pneumonia on Sunday.
Some people, presumably well lubricated by intoxicants, turned the grassy slopes in the corners of the stadium into their own personal slip and slides.
A couple of security guards stood drenched and shivering as a deterrent to the student section, but when they finally left their posts, many of the students flooded onto the field to frolic for a few minutes.
Then, within a few minutes, the sun came out.
The game finally resumed at 6:51 p.m. following a 2-hour, 6-minute delay, and turned out to be one of the best games in the history of the rivalry.
It was a clash of two very good, very gutsy quarterbacks, one of whom passed a little better than Kobe Bryant when the game was on the line.
It also was a matchup of two pretty stout defenses, one of which was exposed by numerous injuries in the secondary for much of the day until it had to make some crucial plays at the end.
It finally was decided by perhaps the weirdest play of all. Two Iowa State players collided trying to catch a punt with about a minute-and-a-half remaining with Iowa's Devonte Young recovering the football to clinch the victory.
Even with 175 minutes in weather delays — an unofficial record for a stadium that has seen more than its share — and the fact that most of the fans came away disappointed, it was well worth waiting around for.
No. 19 Iowa rallies to beat Iowa State, 18-17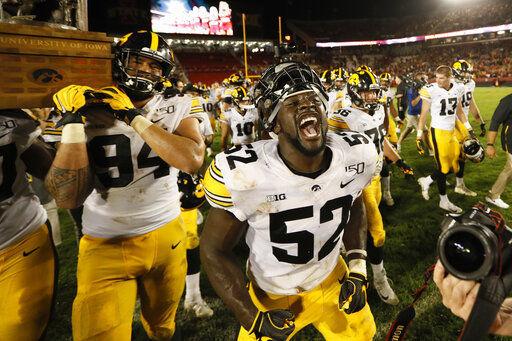 No. 19 Iowa rallies to beat Iowa State, 18-17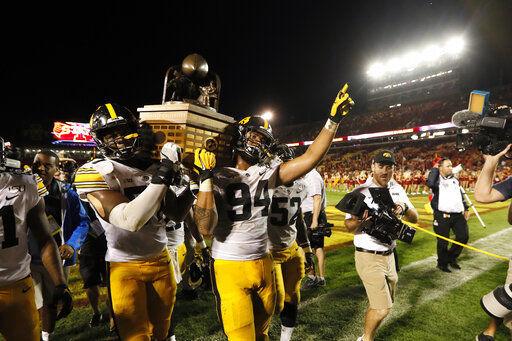 091419ap-iowa-white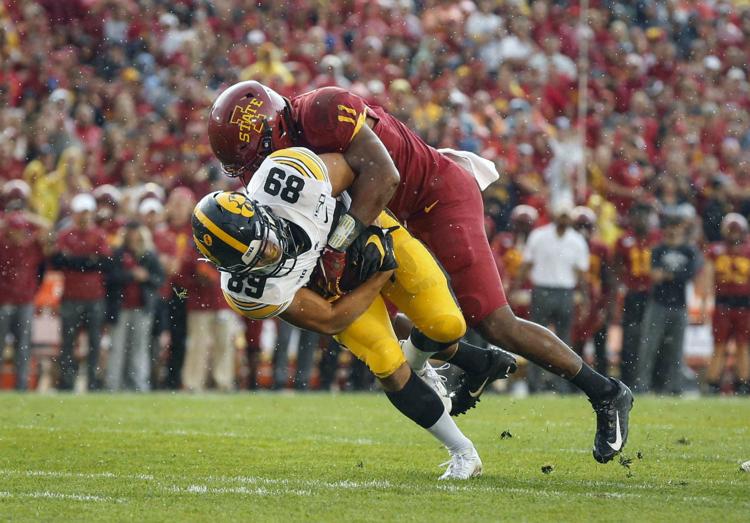 091419ap-iowa-eisworth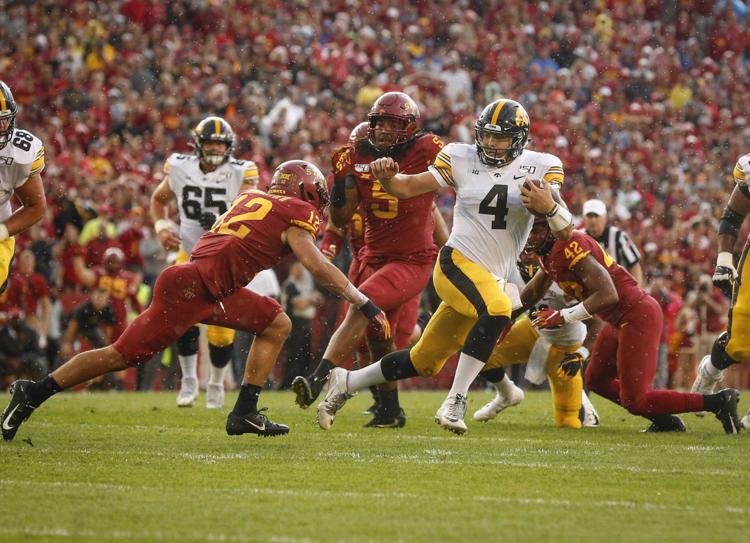 091419ap-iowa-sargent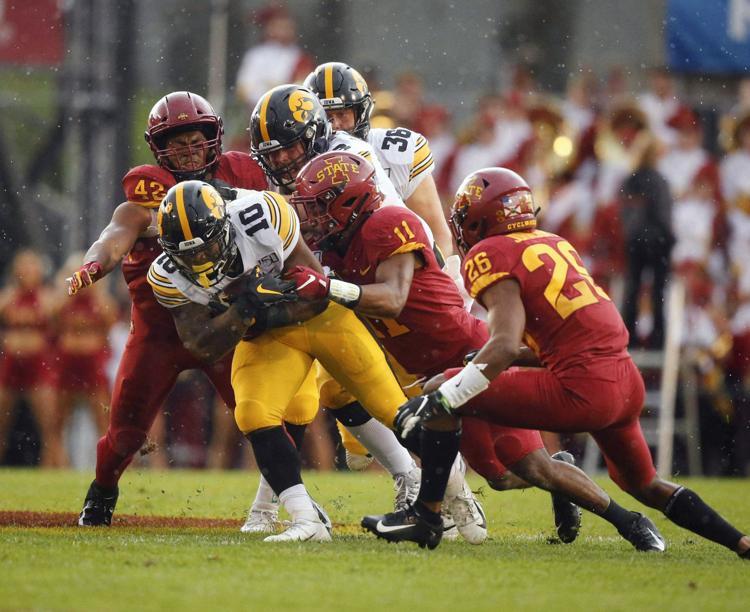 091419ap-ferentz-campbell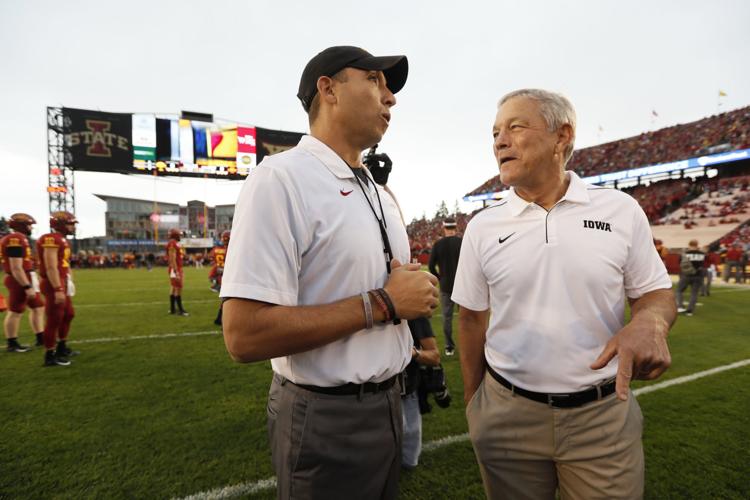 091419ap-iowa-iowa-state-stanley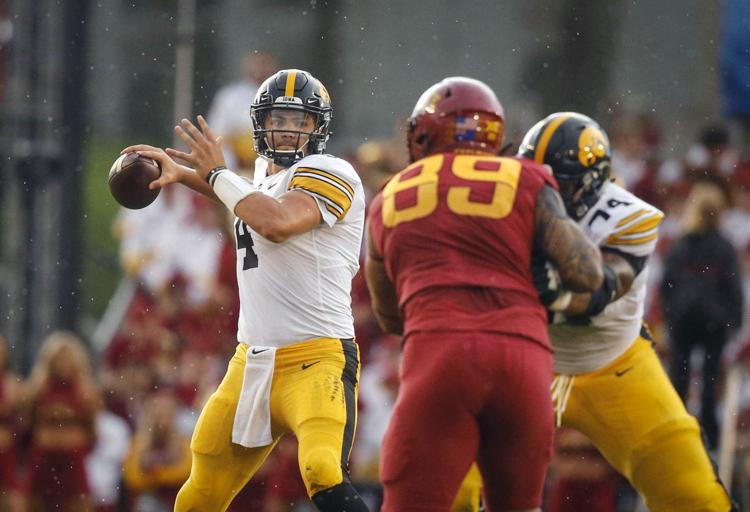 091419ap-iowa-lang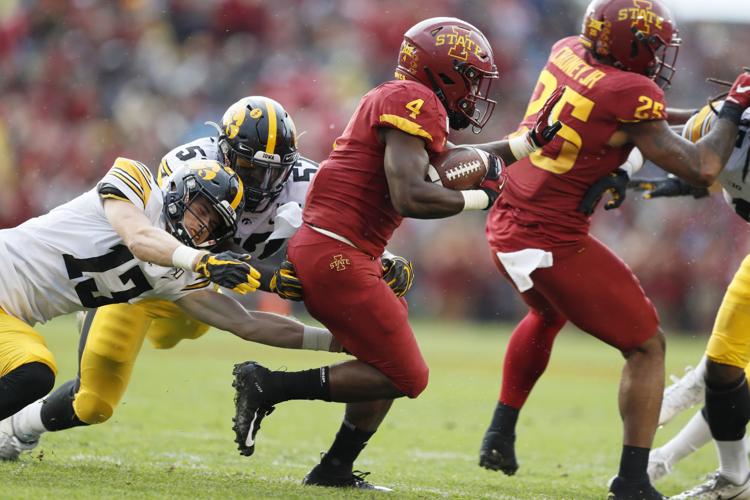 091419ap-iowa-duncan
091419ap-iowa-stanley-2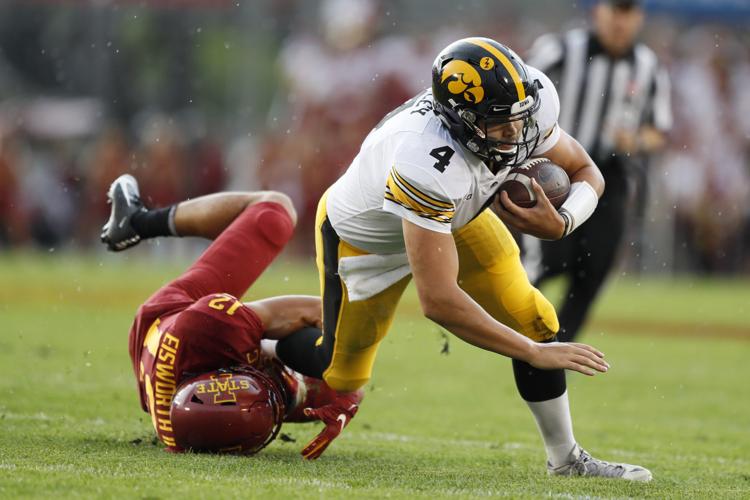 091419ap-iowa-state-pettway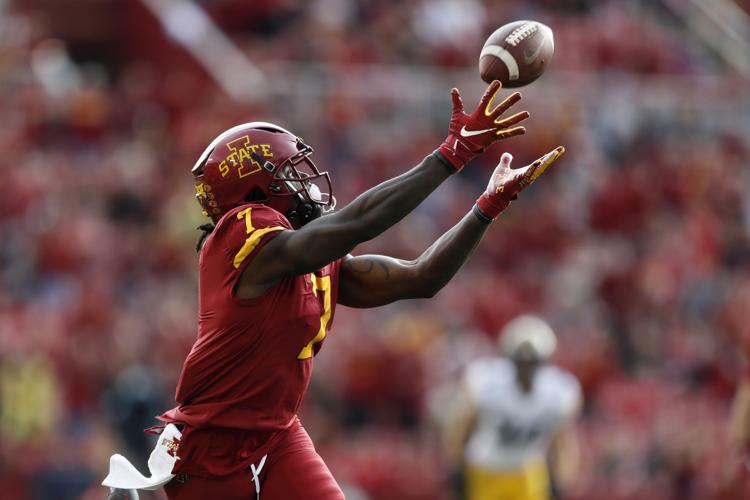 No. 19 Iowa rallies to beat Iowa State, 18-17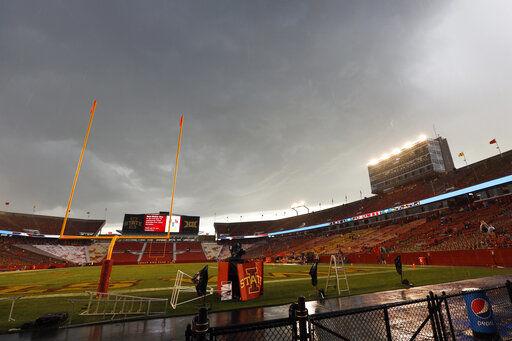 No. 19 Iowa rallies to beat Iowa State, 18-17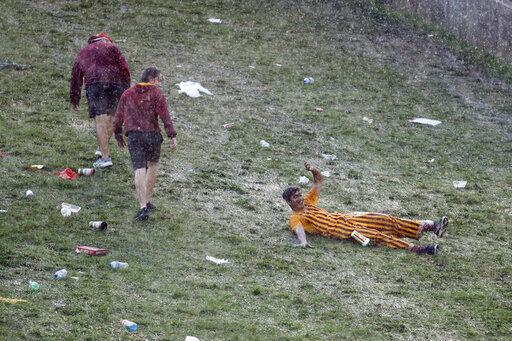 No. 19 Iowa rallies to beat Iowa State, 18-17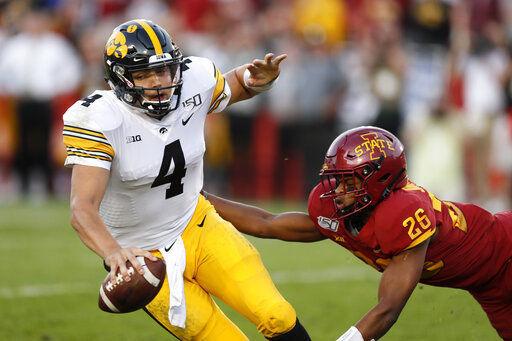 No. 19 Iowa rallies to beat Iowa State, 18-17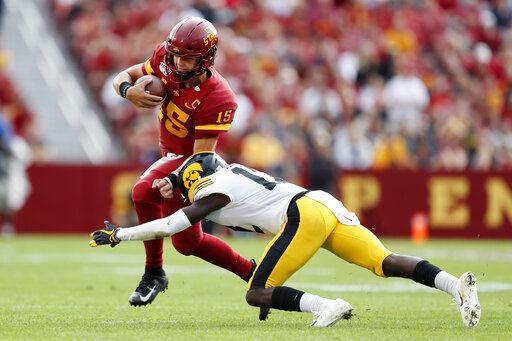 Iowa says marching band subjected to 'inappropriate' actions