IOWA CITY — Kirk Ferentz has led the Iowa football program for more than two decades, but he continues to work to build on the foundation built by his predecessor.
In emotion-filled comments the day after the death of legendary Hawkeye coach Hayden Fry, Ferentz said he still feels a responsibility to continue to build the Iowa program in a way Fry would want it led.
"Every day,'' Ferentz said Wednesday, pointing out that a larger-than-life banner of a fist-pumping Fry overlooks his office window.
"He's always there, checking in on me and Rita (Foley, the longtime secretary of both Hawkeye coaches). He's making certain that we're on task every single day.''
Ferentz's words were heartfelt and frequently blended with tears as he talked about the coach whose long battle with cancer ended Tuesday night at the age of 90.
"I've said so many times, we are totally opposite in personalities,'' Ferentz said. "He's funny and charismatic. I'm neither. But, he's also a visionary and that's not one of my strengths by any stretch.''
That didn't prevent Fry from taking a chance on a green-behind-the-ears coaching rookie in 1981, giving Ferentz an opportunity to coach the offensive line of a team that played its way to an 8-3 regular season and a berth in the Rose Bowl that broke the stronghold Michigan and Ohio State had on winning the Big Ten.
Fresh from a job as a graduate assistant at Pittsburgh, Ferentz found himself in a room filled with assistant coaches who would go on to experience their own success as head coaches.
Barry Alvarez, Bill Snyder, Dan McCarney and Don Patterson were there, joining veteran assistants like Carl Jackson and Bernie Wyatt in turning around a Hawkeye program that had gone 19 years without a winning record.
"We were all coming in from different backgrounds. None of us had resumes, really, but for some reason coach Fry took a chance on each and every one of us,'' Ferentz said. "He selected us all.''
Ferentz had done a little research before he packed his belongings into his Chevelle and drove west.
He understood he would be working for a "square-jawed ex-Marine Texan'' who had earned the trust of his players, his staff and a fan base hungry for success.
"Just the way he had captured the whole state was really, really impressive,'' Ferentz said. "I had no idea what I was walking into, but I walked in at the perfect time.''
Ferentz said Fry had expectations of his players and his staff, helping set a tone off the field that led to the results that followed on the field.
"Every day, he set a standard of leadership, a standard of excellence, character and integrity,'' Ferentz said. "He had such a vision. There was no lack of clarity on how he wanted to do things. That's what jumped out to me before we beat Nebraska in that opening game. Everybody was believing.''
Fry's teams delivered. Ferentz was part of staffs that helped guide Iowa to three Rose Bowl appearances in a 10-year span.
"To take a program from a level of basically, ineptness, and move it to where he moved the Iowa program over 20 years, that's a storybook finish.''
Fry won 143 games over two decades as Iowa's coach, a record that included 14 bowl appearances and at least a share of three Big Ten titles.
He stepped away in 1998, retiring following a 3-8 season.
Ferentz was introduced as Iowa's new coach less than two weeks after Fry announced his retirement.
"The whole thing for him was to keep it in the family and afterwards, he couldn't have been more supportive but he wanted to give me my space,'' Ferentz said.
Ferentz expects the Hawkeyes to pay tribute to Fry in some way when Iowa plays in the Holiday Bowl next week.
"We'll find a way to honor coach Fry at the bowl and certainly, we'll do something even a little bigger next season,'' Ferentz said.
The Iowa coach said for those who worked for Fry, played for Fry or simply were around him at some point during his 20-year tenure at Iowa, that is important.
At the moment, Ferentz said the emotions are still so real, the hurt still raw.
"It's like losing your dad,'' Ferentz said. "You all know your dad's not going to live forever, but we all hope they do.''
fry-ferentz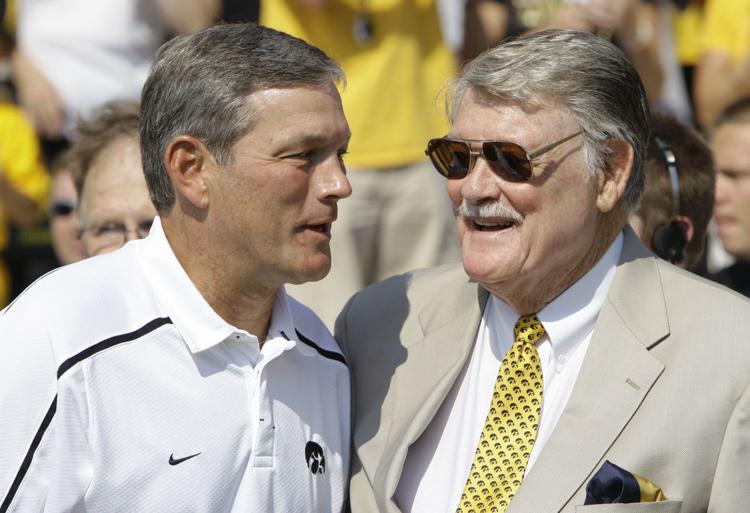 Roby Reggie

Hayden Fry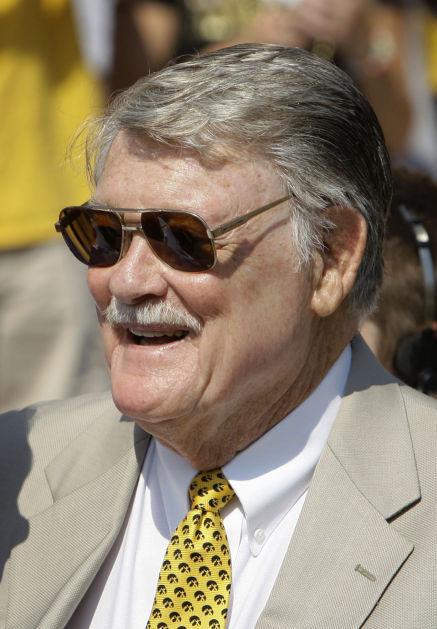 Northen Iowa v Iowa football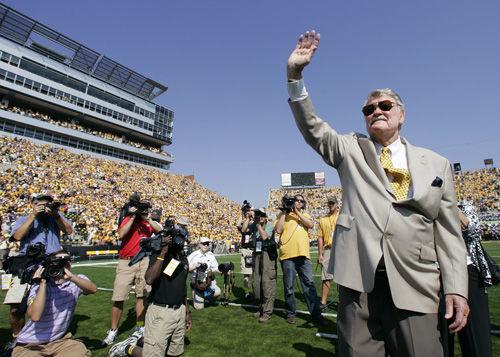 Northen Iowa v Iowa football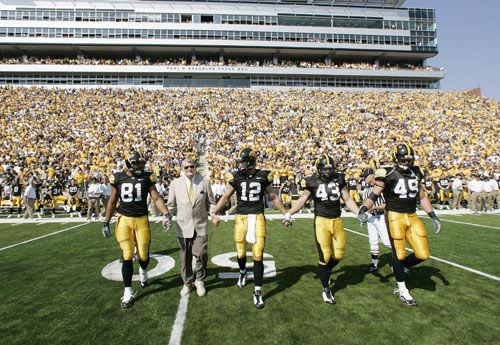 SPORTS SPO-COLLEGE-TRADITIONS 2 MCT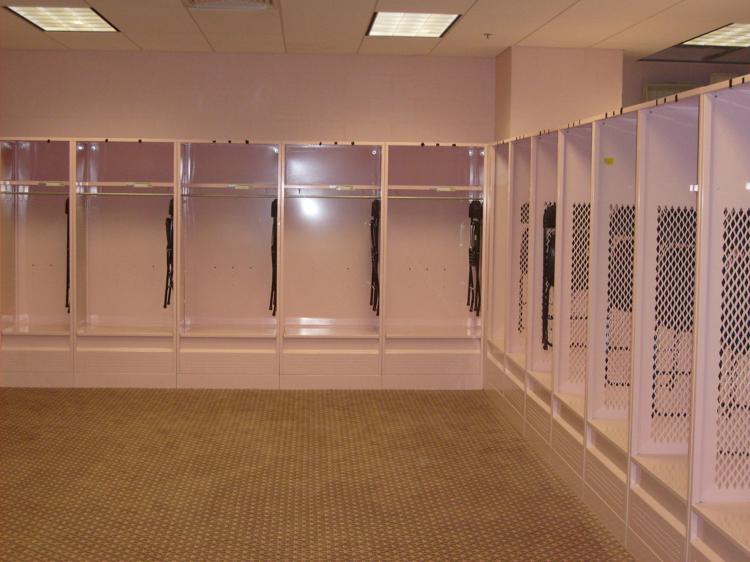 123168apfile-hayden-fry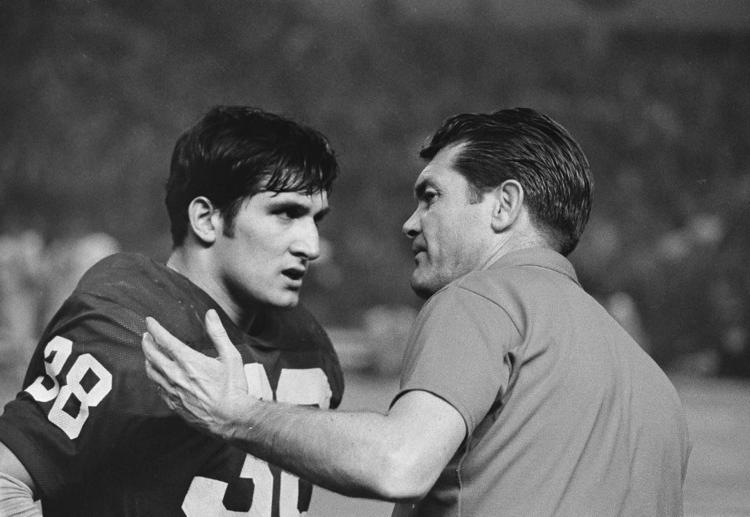 121819apfile-hayden-4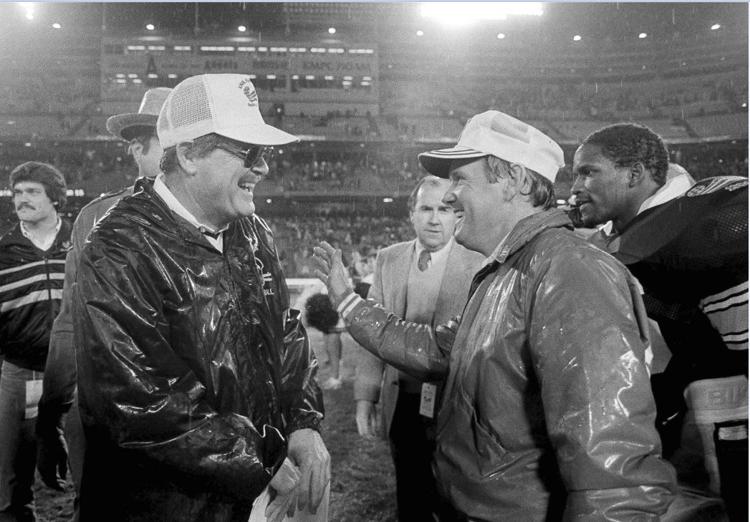 121719apfile-hayden-5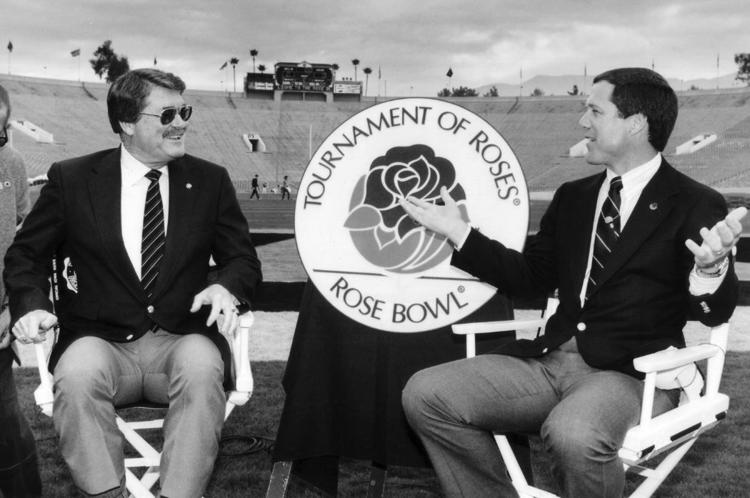 121719apfile-hayden-tippett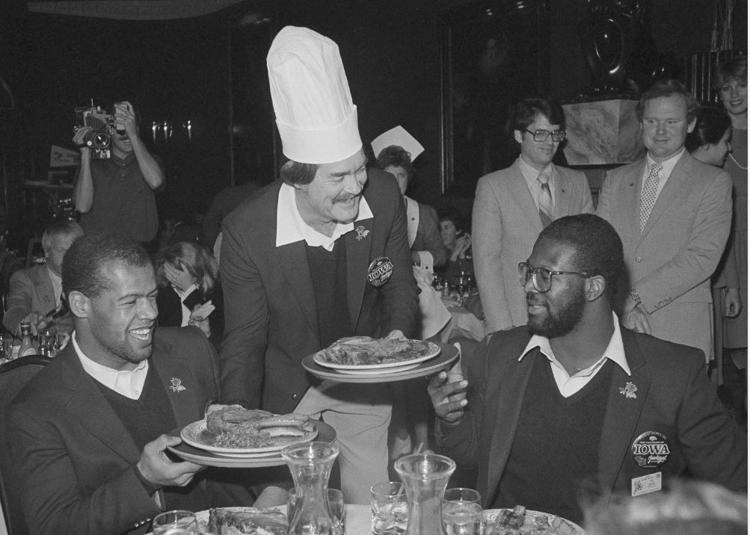 121719apfile-hayden-alverez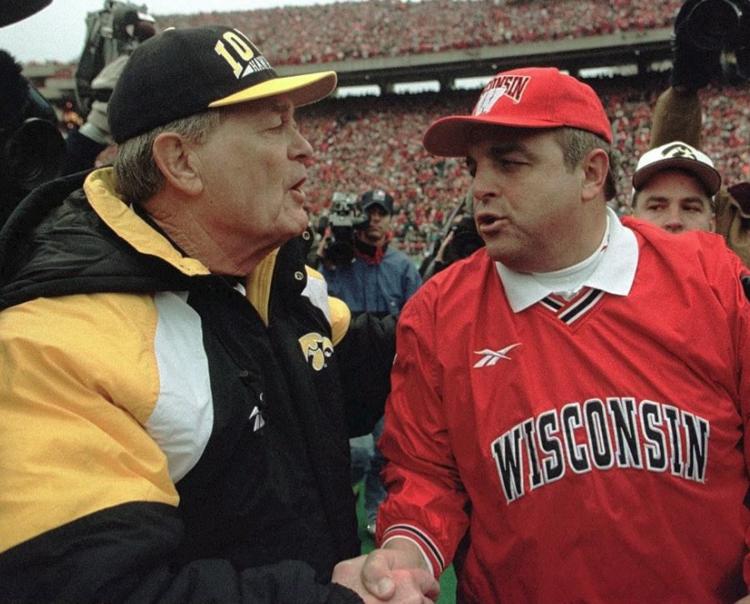 121719apfile-fry-driscoll
Hayden Fry, Texan who turned around Iowa, dies at 90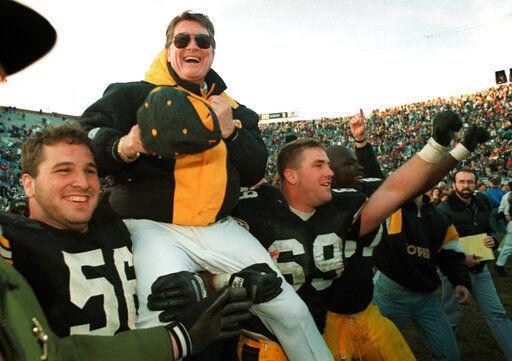 Hayden Fry, Texan who turned around Iowa, dies at 90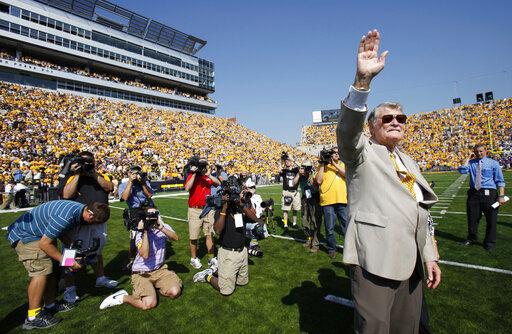 Be the first to know
Get local news delivered to your inbox!