IOWA CITY — After turning one dream into a reality, A.J. Epenesa believes it is time to chase another one, and he's not alone.
Tristan Wirfs joined Epenesa in adding their names to the list of underclassmen in the pool of available talent for the 2020 NFL Draft.
Both projected as first-round selections in this year's draft class, Epenesa and Wirfs made separate announcements Tuesday on Instagram that they had chosen to forgo their final year of eligibility, the latest in a group of 10 Hawkeyes to reach that conclusion over the past three seasons.
"These past three years have been the ride of a lifetime,'' Wirfs wrote in announcing his decision. "Getting to compete with my brothers and represent the state of Iowa is something I will hold with me forever.''
Epenesa echoed those same sentiments.
"My time at Iowa has been everything I have dreamt it would be, and I couldn't be more grateful and proud to have been given the opportunity to be a part of the Swarm and play in Kinnick Stadium in front of 70,000 Hawk fans. I will never forget the many great memories that have come from Iowa,'' Epenesa wrote.
Epenesa and Wirfs are among four juniors from an Iowa team that recently completed a 10-3 season to enter this year's draft class.
Running back Toren Young announced Tuesday afternoon that he was entering the draft pool while Geno Stone made a similar announcement last week.
The first and only true freshman to start at offensive tackle during head coach Kirk Ferentz's 21 seasons as Iowa's coach, the 6-foot-5, 322-pound Wirfs was named the Rimington-Pace offensive lineman of the year in the Big Ten as a junior.
Epenesa started just one year for Iowa, working into the lineup as an every-down end as a junior and finishing with 11.5 sacks, the most by any Hawkeye since Adrian Clayborn matched that total in 2009. He was named the defensive MVP in the Hawkeyes' 49-24 Holiday Bowl rout of USC, recording 2.5 sacks and three quarterback hurries.
In addition to his team-leading sack total, Epenesa finished the season with 49 tackles, leading Iowa with 14.5 tackles for a loss, nine quarterback hurries and four forced fumbles.
Iowa Footbal: A.J. Espenesa photos
Holiday Bowl Football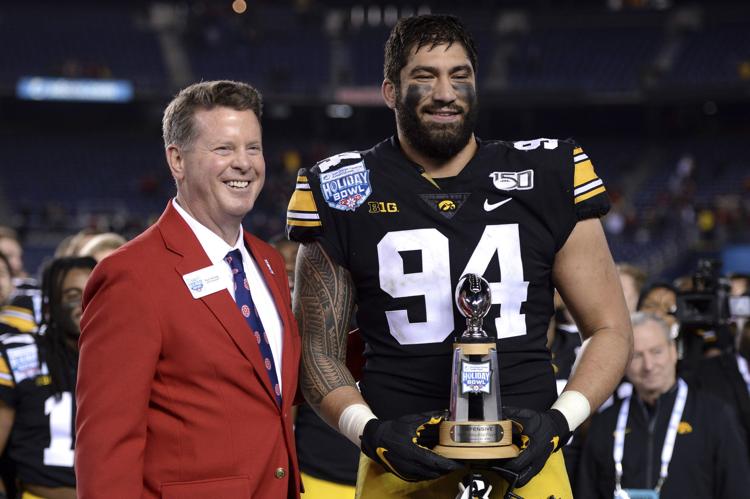 Smith-Marsette has 3 TDs, Iowa beats USC in Holiday Bowl
No. 23 Iowa holds off Purdue 26-20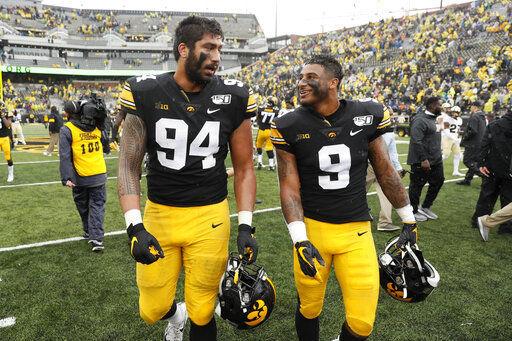 iowa-michigan-epenesa 100519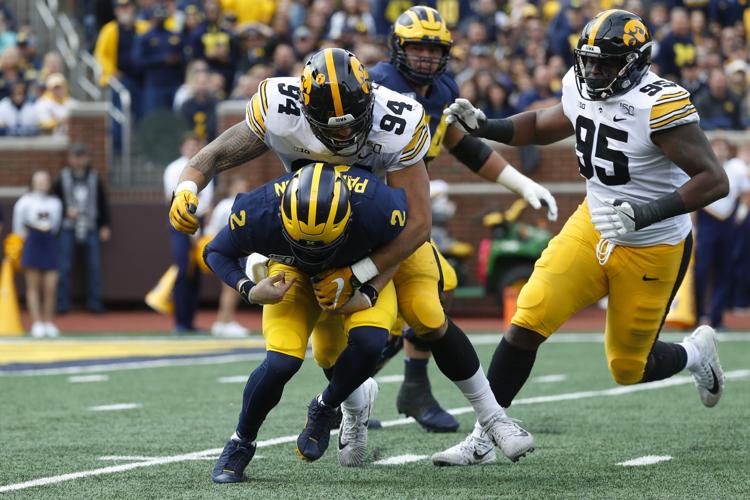 No. 19 Iowa rallies to beat Iowa State, 18-17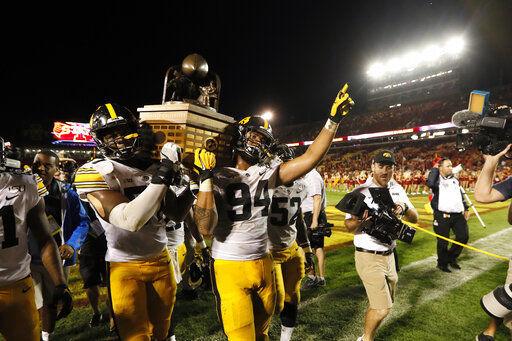 Rutgers Iowa Football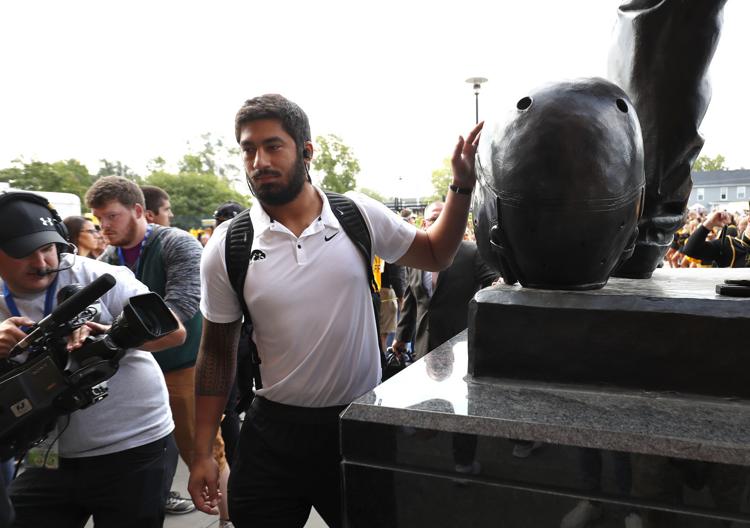 083119ap-iowa-miami-oh-4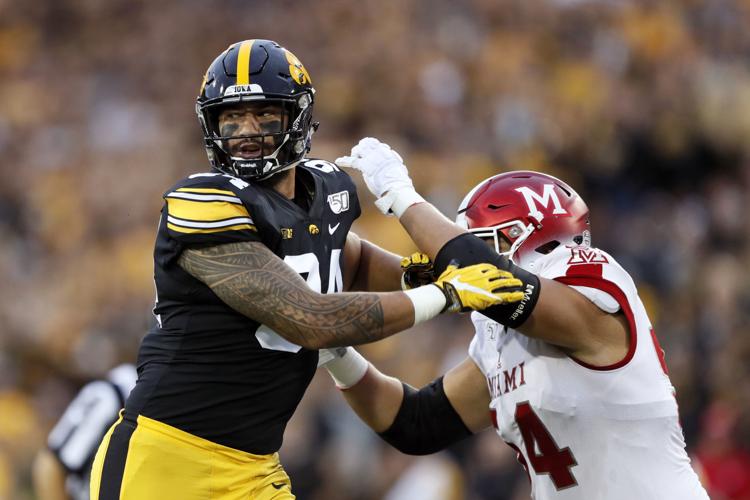 080919ho-epenesa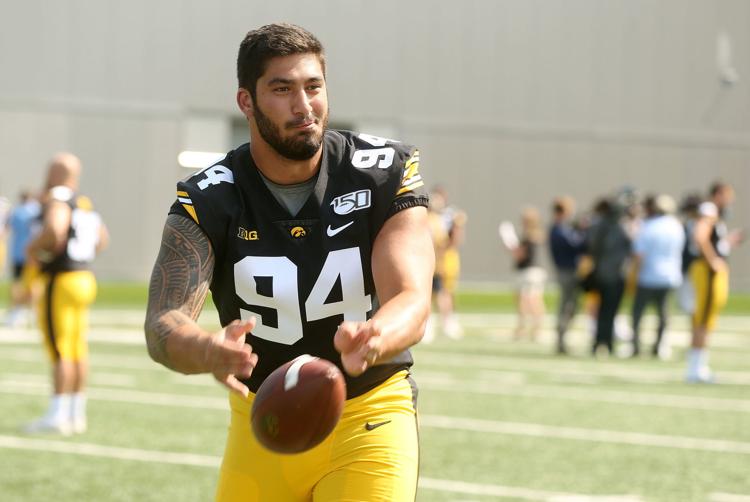 Iowa rallies past No. 18 Mississippi State in Outback Bowl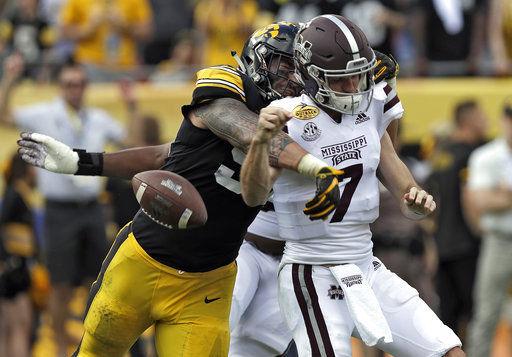 Nebraska Iowa Football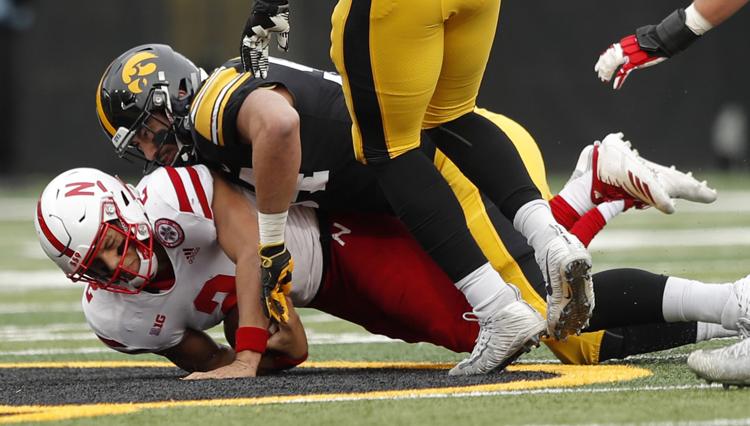 Iowa hands Illinois worst loss in school history