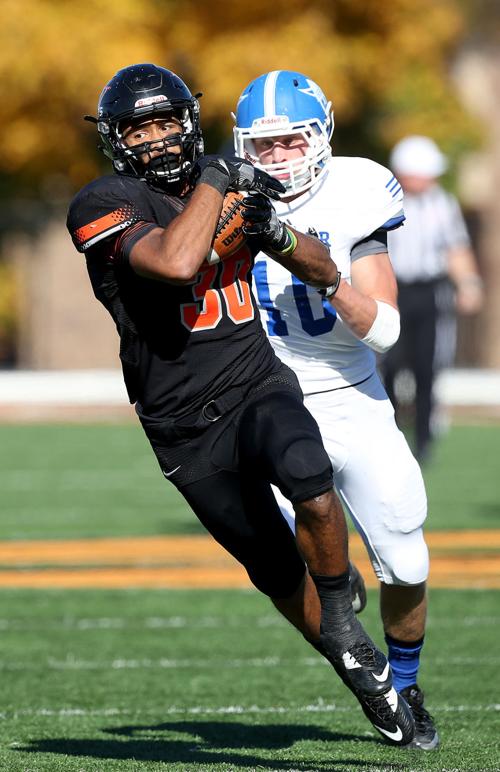 WAVERLY — Riley Brockway spent his summer strengthening bonds with his Wartburg College football teammates, and leaving an imprint on youth within the community of Waverly.
It's an investment that has paid off twofold for the wide receiver throughout what has become a memorable senior season.
Brockway's airtight bond with quarterback Matt Sacia has allowed him to catch 72 passes for 1,097 yards, averaging of 109.7 yards per game, while recently becoming the school's career leader with 170 receptions.
The Postville native, who says he entered college not really knowing anyone at the school, is likely to have plenty of support inside Walston-Hoover Stadium when Wartburg returns to the NCAA Division III postseason for the first time since 2014 at noon Saturday against Indiana's Franklin College.
A physical education and health major with plans on entering a career in teaching, Brockway worked alongside a couple of his teammates as instructors within Waverly's summer recreation programs.
"We got to work with kids all summer and it was a good experience for us," Brockway said. "I've noticed within the community of Waverly, a lot of people come up to me and talk about football.
"I've built a connection with some of the kids. They like to go onto the field and talk to me after the games. That means a lot to me to have an influence on them. I take responsibility for that, trying to do the right things all the time whether it's on the football field or off the football field."
Brockway's approach from the moment he stepped on campus has impressed Wartburg coach Rick Willis.
"He just works," Willis said. "He's not all about flash. He's just about getting the job done, doing things the right way, being the best that he can be. He does that every single day."
With Sacia in his second year as Wartburg's quarterback, Brockway and some of his teammates were able to find growth by working on passing drills a couple times a week throughout the summer.
"Last year for us going 6-4, we knew that's not where we wanted to be and that's not where we should be," Brockway said. "Going through all that last year was enough to motivate us this past offseason. We all struck around and got the workouts in and didn't lose that camaraderie with the team. ... We came into camp hungry to win a championship."
Wartburg's offense has produced 38.7 points a game this season with Brockway serving as the focal point for a passing attack that averages 260.3 yards.
"Going into this year we had all the confidence in the world in each other and it showed," Brockway said of the relationship with his quarterback.
Indeed, Wartburg's veteran receiver is the type of athlete who has maximized his physical attributes.
"He's got all the skillsets you need, but he isn't the fastest guy on our team, he's not the biggest guy on our team, but he does everything right and makes plays," Willis said. "He's got great hands. He's had a tremendous career and an outstanding senior year."
Wartburg's game-changing receiver may be challenged to help the Knights keep pace with Franklin on Saturday.
The Grizzlies average 420 yards passing per game. Quarterback Chase Burton has thrown for 3,636 yards and 42 TDs, and Deontez Alexander leads the team with 50 catches for 1,137 yards.
"There's no doubt our offense is going to have to be ready to step up," Willis said. "It should be a really interesting game to watch two outstanding quarterbacks battle."
After playing a role on Wartburg's most recent postseason run to the quarterfinals in 2014, Brockway knows his team will have to find another gear on Saturday.
"The playoff games are a different atmosphere," Brockway said. "The passion is something we're going to need. It's going to take everyone. Every game is going to be a fight."
Be the first to know
Get local news delivered to your inbox!