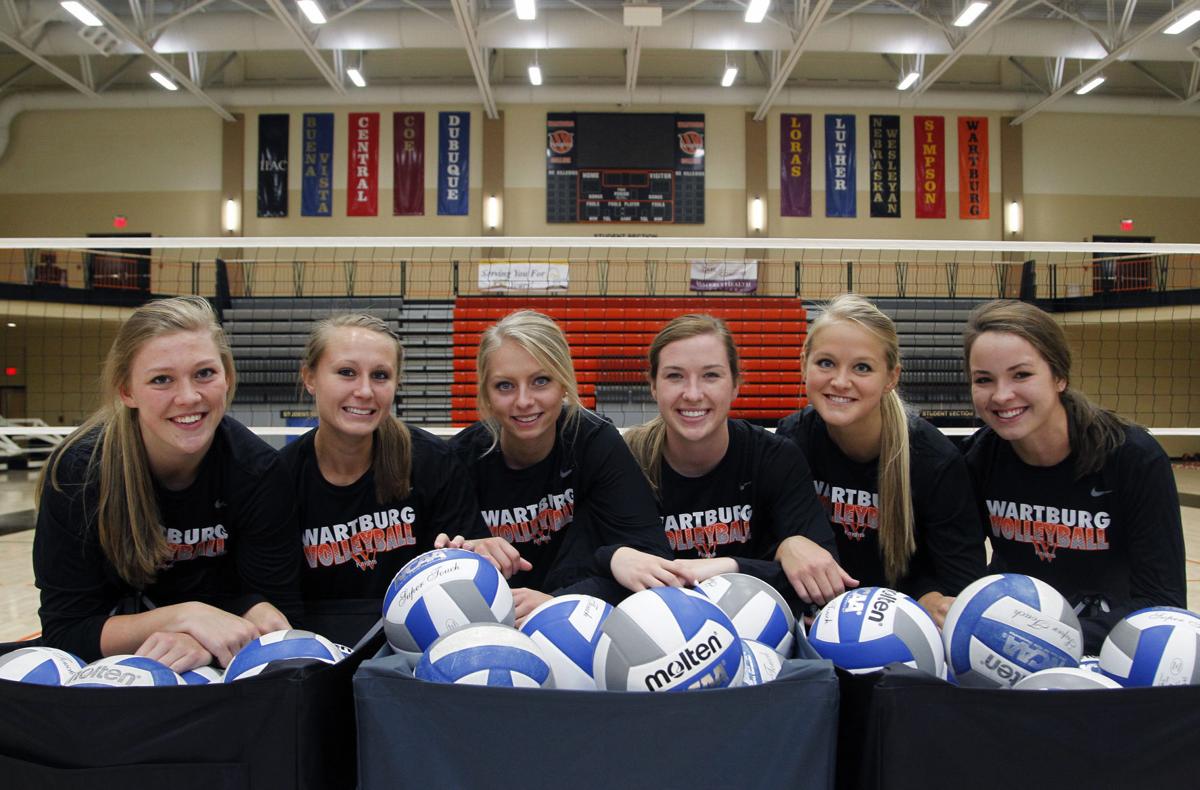 WAVERLY — Aryn Jones will be searching for some sort of competitive outlet when she begins graduate school for physical therapy next fall.
Athletics and academics have gone hand in hand for as long as she can remember. The Linn-Mar High School graduate has thrived as a dual-sport athlete at Wartburg College.
She has experienced everything from a Final Four run in the NCAA Division III basketball tournament to Iowa Conference MVP honors on the volleyball court last fall.
"There really is no offseason doing two different sports but I love it," Jones said during Thursday's Wartburg fall sports media day. "It's obviously very time consuming but I think it helps me balance school and work, all the extra curriculars that I do. It's a passion I have."
WAVERLY — There's an unpredictable nature to athletics where second chances don't always pre…
Wartburg volleyball coach Jennifer Walker says she saw a change in Jones following her experience as a member of a Final Four basketball team. The 6-foot-2 middle hitter was dominant throughout her junior season, averaging a team-high 3.13 kills per set on .328 hitting to go with 1 block per set.
It all added up to helping Wartburg secure a regular season and tournament championship inside the Iowa Conference.
"Last year when she came into the season, she had a different focus," Walker said. "She knew what it takes to get to that level and how much fun it is."
Added Jones, "High competition situations, I crave them now. They're super fun, thrilling and exciting to be a part of. That's what we work towards every year."
In addition to Jones, Wartburg returns a handful of key players from last year's 21-6 team. Setters Maria Brown and Mallary Erbes are back after running the 6-2 system a year ago with Brown averaging 3.48 digs per set in the back row and Erbes averaging 1.3 kills and 3.73 digs while playing full rotation.
Former Dike-New Hartford standout Lizzy Blough returns at outside hitter for her junior season, while former Union star Bre Bader is back as one of the options to take over at libero.
Walker will look toward Maddie Miller of Johnston to break into the rotation opposite Blough at outside hitter. Abby Staebell of Hudson is back on the right side after missing time last season with a knee injury.
Kylie Bildstein, a 6-foot-1 freshman from Dyersville, is working with Jones at middle. Katie Foster, who helped lead Charles City to the state tournament last fall, is likely to break into the lineup as a defensive specialist.
Similar to years past, Jones points towards defense as a key for this year's Wartburg team to reach its goals. She also pointed out her team's skilled setters will make the Knights tough to defend.
"A lot of times when you get out of system play its automatically going to the outside hitter or the back pin, bur our setters are phenomenal at still being able to push it into the middle," Jones said. "Teams are off balance and they don't expect that coming at them. Our setters move the ball really well and read whoever is defending us."
Cross country
Ryan Chapman enters his second season after taking over from long-time head coach Steve Johnson.
The Wartburg men's team is coming off a 21st place finish at last year's national meet, while the women were knocking on the door towards qualifying after placing fifth at regionals.
Ashyln Bagge of Independence is a returning All-American. She placed 16th in the NCAA Championships as an individual qualifier.
Eli Kaczinski is the top returning men's runner. He finished 45th at nationals before winning the 5,000 and 10,000 in the conference track meet last spring.
Chapman has brought 22 freshman in on the men's side and eight newcomers join the women's team.
"We are a household name when it comes to distance running and we have high expectations," Chapman said. "It was nice coming in to not have to remind anyone what those expectations. The young men and women coming into Wartburg are here because they want to push themselves because they want to be great."
Women's golf
Brooke Klosterman of Dyersville will look to carry the torch for a program that graduated one of its all-time greats in four-time Iowa Conference champion Rochelle Beardsley. Klosterman placed second to Beardsley in the previous two conference meets and averaged 78.4 strokes per round last season.
"I think this year we're starting to see more of the leadership from her," Wartburg coach Greg Bodensteiner said of Klosterman. "We're certainly going to lean on her for some of those leadership qualities."
Wartburg is also eyeing a return to the national meet after just narrowly missing out a year ago. Mackenzie Roberts is a newcomer to the team after winning back-to-back state team titles at Cedar Falls. Katie Choate of Cedar Rapids Kennedy and Hanna Zikuda of Waterloo West are also newcomers.
Women's soccer
Two years removed from an NCAA Tournament run, coach Tiffany Pins has put together what she considers her program's toughest schedule to date. The Knights are picked to finish second in the Iowa Conference preseason poll in between last year's co-champions Loras and Luther.
Alyssa Hewitt, Alyssa Drewelow and Morgan Neuendorf are back as the team's top three goal scorers from a year ago. Goalie Beth Crow returns in net after allowing just 0.69 goals per match.
"We were a little inconsistent last year," Pins said. "We would play some really good games against some very good conference opponents and then we didn't always step out there for other opponents. The other thing is we need to finish our opportunities."
Men's soccer
Mike Madigan enters his first year as Wartburg's head coach after working as an assistant at his alma mater Macalester since 2012.
Ayo Adebayo, Ben Johnson, Jakub Rys and Jay Tegge are back after earning all-conference honors a year ago. The Knights were picked fifth in the preseason poll after going 12-7-1 overall and 5-3 in the Iowa Conference.
"It's an honor to lead a program that has had so much success and such a tradition of excellence," Madigan said. "We're really excited about some of the changes we've made and also some of the things have continued that have been a part of the program for a long time."
Women's tennis
Wartburg returns four of its top six singles players from a year ago, including Alex Petersen of Huxley and Hannah Fox of Waverly at the top of the lineup. The Knights have added NIACC transfer Ashley Rottinghaus to their roster along with Sydney Rottinghaus, who placed fifth at state for Mason City.
Coach Chris Gustas has used a combination of ladder drills and jump roping at the start of practice and conditioning drills afterwards in hopes of developing improved footwork.