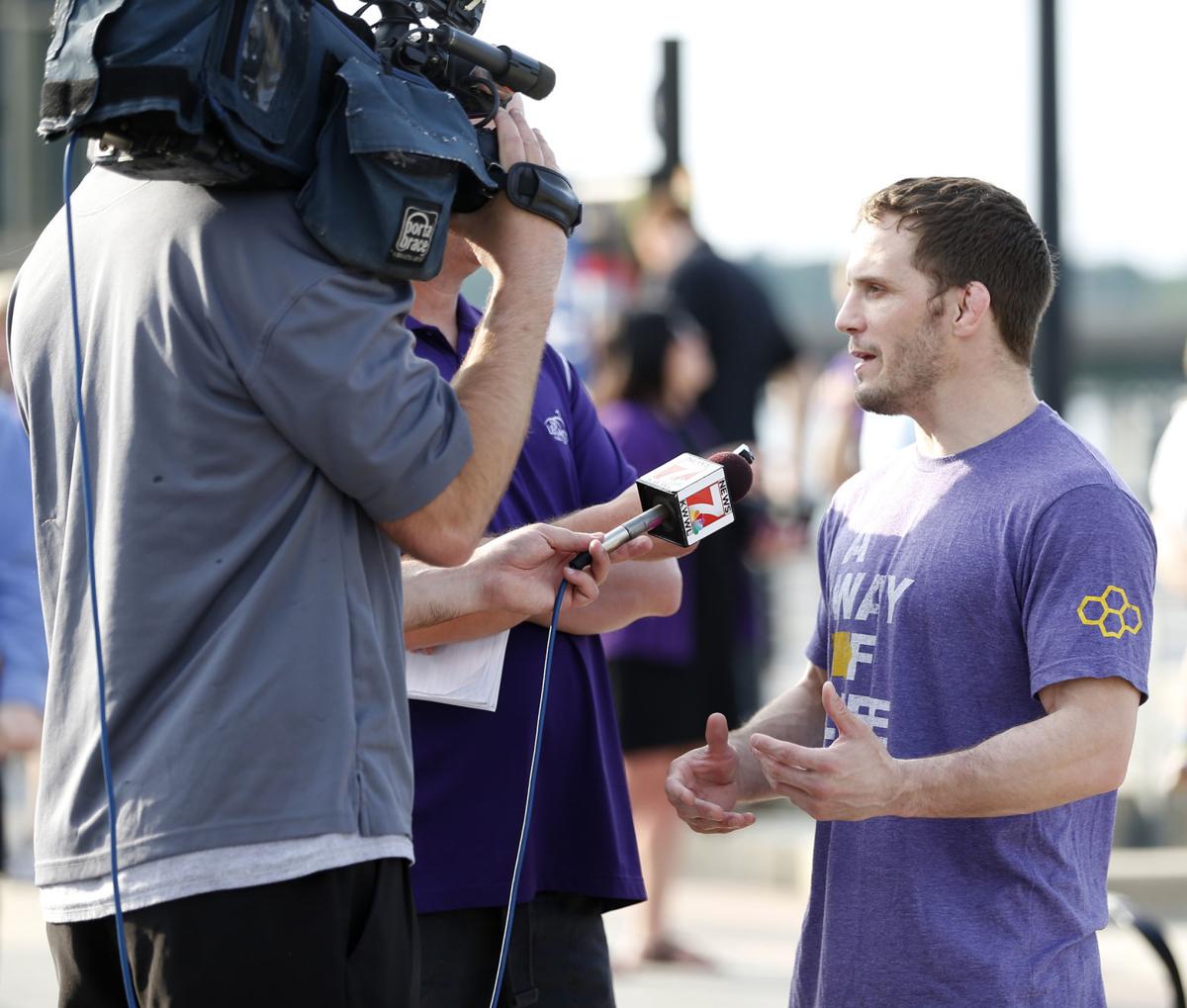 CEDAR FALLS – When the stay-at-home orders began nearly six weeks ago, University of Northern Iowa head coach Doug Schwab recently joked he was five years behind on household projects.
"When it is all over, I might be five years ahead," laughed Schwab. "I've taken the last couple of days off, I think Allyson (Schwab's wife) is going to remind me soon to get back to it."
Like his college coaching brethren across the nation, Schwab has been trying to find ways to keep closely connected with his athletes and recruit, remotely, new potential Panthers.
"Zoom. I think everybody has gotten to know Zoom pretty well the last couple of months," Schwab said.
Because he can't be in proximity to his athletes, he can't be teaching technique inside the West Gym practice room, Schwab's message to his athletes is this is not a time to wait.
He says, yes, circumstances have changed dramatically and the situation isn't ideal, but at the same time there is no reason not to find a way to improve.
"It is find a way to get it done or find excuses and that is what we have been trying to relay to our guys," Schwab said. "This test, this challenge for all of us doesn't stop our progress and our guys have to take ownership of that.
"We've given our guys ideas on what to do, schedules and structure. We've got the right guys that are bought in and know that despite the challenges we are facing we can still improve as a person, a man, a wrestler, a brother, an athlete … that doesn't change."
The struggle, Schwab adds, is not just for the athletes.
Within the basis of the rules, he's doing his best to stay connected. He's had a Navy Seal talk to his athletes. He brought in former Minnesota National Champion head coach J. Robinson. Each of those Zoom sessions, Schwab says he is learned something that he will continue to use moving forward.
But Schwab like anyone else, has his daily struggles.
"The basis of my coaching is being hands on and in the presence of my athletes and I haven't been able to do that," Schwab said. "But for myself, and in general too, you can't be so eager that you lose sight of what you are able to do today and that is kind of what I remind myself.
"Sometimes we get focused on what we can't do and really there is so much we can work on and do to be stronger."
Recruiting has also been a challenge.
"Everything is through your phone or a Zoom video," Schwab said. "That is not the same as face to face. There are things you can't describe on a Zoom call that you can do with an on-campus visit. The intensity, the energy and the passion of the program that doesn't translate on a Zoom call.
"The home visit. You get invited to the athletes' room and that is a whole another level and depth of understanding of an athlete. It gives you more of a glimpse of who they are."
Schwab doesn't have concrete information on when he may get back inside the room with his athletes or be able to go on the road and visit recruits. There was a scheduled Big 12 coaches meeting Wednesday that he says he might learn how other institutions are making plans to reopen.
A lot of that, Schwab adds, depends on school to school, state to state and conference to conference. He says he will remain optimistic and will continue to hope that school starts as normal and his guys get back on campus.
Until that time comes, and like every coach across the country, Schwab did not have a play book stored away on how to deal with the COVID-19 pandemic. But there is a good chance when he is cleaning out his gutters tomorrow he'll be working on solutions to be a better coach and to improve his athletes at the same time.
Collection of UNI wrestling stories
A collection of UNI wrestling stories.
Be the first to know
Get local news delivered to your inbox!