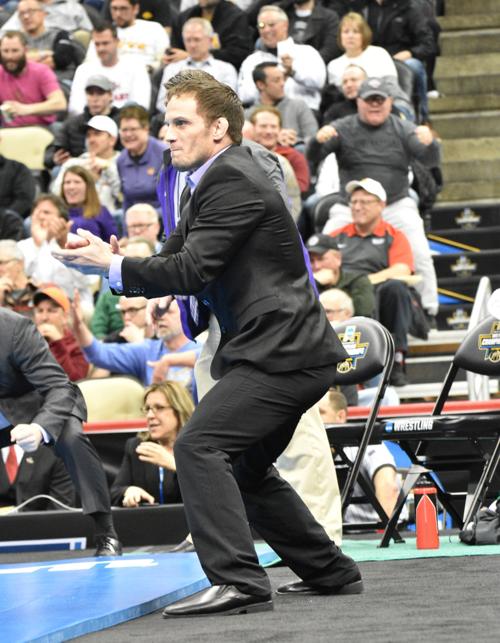 CEDAR FALLS – The news was so unbelievable that University of Northern Iowa head wrestling coach Doug Schwab said it was hard to even begin processing the information.
There was never a scenario in Schwab's mind that the NCAA would cancel the Division I wrestling championships. But minutes before Schwab and the Panthers were to begin practice Thursday inside the West Gym the news broke that NCAA did the unimaginable with the threat of the COVID-19 virus spreading rapidly throughout the United States.
Not only was the NCAA Division I wrestling championships set for Minneapolis next Thursday through Saturday cancelled, but the NCAA cancelled the Division I men's and women's 2020 basketball tournaments as well as all remaining winter and spring NCAA championships across all levels of competition.
"The decisions is based on the evolving COVID-19 public health threat, our ability to ensure the events do not contribute to the spread of the pandemic, and the impracticality of hosting such events at any time during the academic year given ongoing decisions by other entities," said NCAA President Mark Emmert in a release.
As Schwab looked at his athletes and locked eyes with his seven NCAA qualifiers, in particular seniors Jay Schwarm, Max Thomsen, Bryce Steiert and Taylor Lujan words were hard to find.
"I'm gutted for our guys. We care and love them," Schwab said. "A few hours ago we were making travel plans and now what are you supposed to do in the next hour, tomorrow, the next three weeks? What do you tell them? I don't know.
"You understand (the decision)," Schwab continued. "The NCAA was using the information they had. It is so unprecedented. Just how quickly it moved … it's hard to even process."
And what was Schwab to say to his athletes, in particular to someone like Lujan, who was going to enter next week's championships as the top-seed at 184 pounds, a senior who had lost in the all-American-round each of the three previous years.
While it couldn't possibly soften the blow enough for the group of seniors who combined for 390 wins, including 107 pins, Schwab reminded them of what they told him when they arrived on campus five years ago as a group that they wanted to push the University of Northern Iowa wrestling program to new heights.
"I reminded them of the sacrifices they've made. The impact they've made on our program will leave an impression for the rest of time that we have a program here," Schwab said. "I told them their sacrifices have not been for nothing. Today is painful for us, for them. But I know the sacrifices they've made to impact our program have not been wasted. We are all gutted.
"But this will make them better men. It will make them better husbands and it will make them better fathers."
UNI's other NCAA qualifiers were sophomore Jack Skudlarczyk at 133, freshman Michael Blockhus at 141 and junior Carter Isley at 285.
"It was a tough day for them to hear they aren't wrestling at NCAAs. For the most part, you help them keep everything in perspective and recognize the last time we had a cancellation was the wrestlers ended up going to war. It's quite different." — Oklahoma State head coach John Smith to Trackwrestling "I understand why it's being done but it doesn't mean I can't be upset, mad, angry, hurt, and all the emotions that go into all this. Most of all hurt, not just for my student-athletes but all the student-athletes that can't go out there and compete. "There's a couple of kids crying. You have the young freshman looking at you in disbelief. I've got two sixth-year seniors on my team who came back from major injuries and they're devastated. They're at a loss for words. They don't know where to go. That's the problem. What do we do next? "We can't have practice tomorrow. All of our guys have to get out of the building. They're shutting down the facility so where do we go? It's the uncertainty. You can't move on until you know what's going on." Chris Bono, Wisconsin head coach, in a statement to Trackwrestling "I'm gutted for our guys. We care and love them. A few hours ago we were making travel plans and now what are you supposed to do in the next hour, tomorrow, the next three weeks? What do you tell them? I don't know. "You understand (the decision). The NCAA was using the information they had. It is so unprecedented. Just how quickly it moved … it's hard to even process." — Northern Iowa head coach Doug Schwab "Our coaching staff is disappointed for our guys, their families, and our fans. I understand the Big Ten Conference and NCAA made decisions based on information available and are acting in what they believe is in the best interest of the student-athletes. We will process this and move forward, as we always do. Our guys have a lot to be proud of and much more still to accomplish." —Iowa head coach Tom Brands in a statement
"It was a tough day for them to hear they aren't wrestling at NCAAs. For the most part, you help them keep everything in perspective and recognize the last time we had a cancellation was the wrestlers ended up going to war. It's quite different."

-- Oklahoma State head coach John Smith to Trackwrestling

"I understand why it's being done but it doesn't mean I can't be upset, mad, angry, hurt, and all the emotions that go into all this. Most of all hurt, not just for my student-athletes but all the student-athletes that can't go out there and compete.

"There's a couple of kids crying. You have the young freshman looking at you in disbelief. I've got two sixth-year seniors on my team who came back from major injuries and they're devastated. They're at a loss for words. They don't know where to go. That's the problem. What do we do next?

"We can't have practice tomorrow. All of our guys have to get out of the building. They're shutting down the facility so where do we go? It's the uncertainty. You can't move on until you know what's going on."

Chris Bono, Wisconsin head coach, in a statement to Trackwrestling

"I'm gutted for our guys. We care and love them. A few hours ago we were making travel plans and now what are you supposed to do in the next hour, tomorrow, the next three weeks? What do you tell them? I don't know. 

"You understand (the decision). The NCAA was using the information they had. It is so unprecedented. Just how quickly it moved … it's hard to even process."

-- Northern Iowa head coach Doug Schwab

"Our coaching staff is disappointed for our guys, their families, and our fans. I understand the Big Ten Conference and NCAA made decisions based on information available and are acting in what they believe is in the best interest of the student-athletes. We will process this and move forward, as we always do. Our guys have a lot to be proud of and much more still to accomplish."

--Iowa head coach Tom Brands in a statement