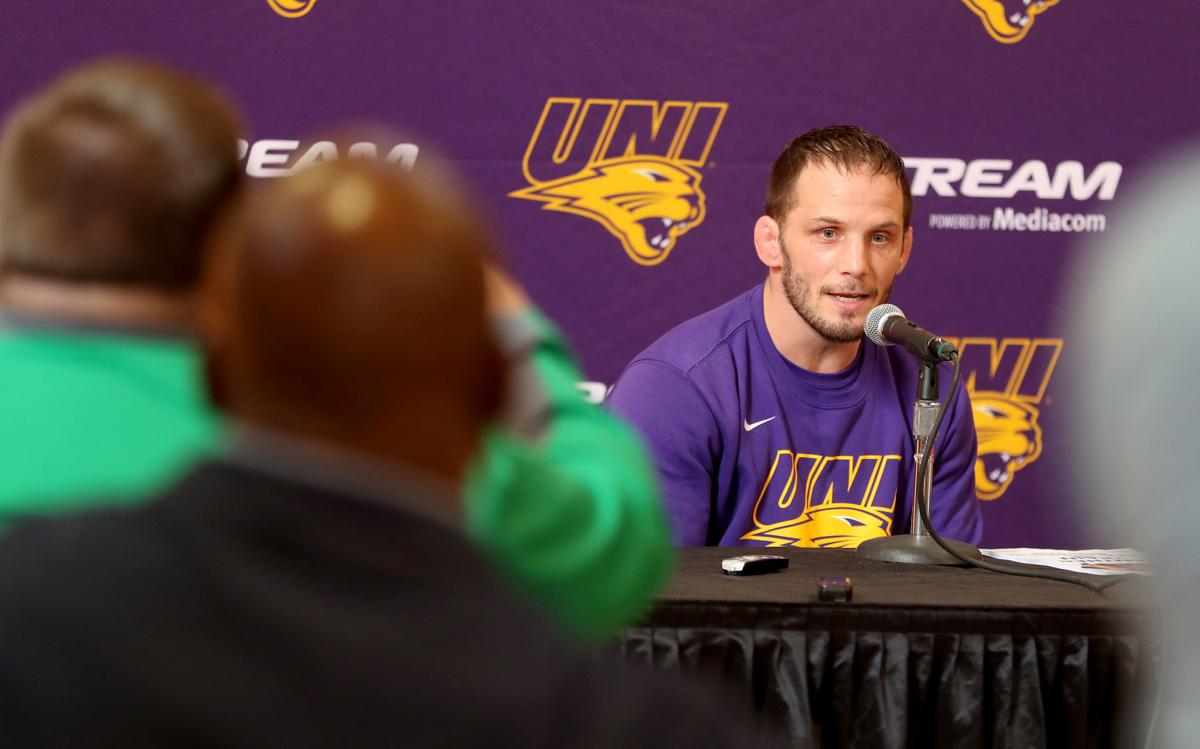 CEDAR FALLS — Doug Schwab gave his University of Northern Iowa wrestling team a grade of "good" at last weekend's Cliff Keen Las Vegas Invitational.
Great things are still to come, the Panther head coach noted Monday during UNI's weekly coaches' press conference.
UNI put six wrestlers on the podium in Las Vegas and finished fourth as a team behind Nebraska, Ohio State and Arizona State.
Bryce Steiert led the way with a runner-up finish a 174, while Taylor Lujan was fourth at 184 and Max Thomsen fifth at 149. The Panthers also recorded nine falls in the tournament as a team.
"We are not going to pat ourselves on the back that we were close," Schwab said. "I'm very encouraged about a lot of things. Six guys placed, eight wrestled on Saturday.
"Kind of like I told the guys, there is a lot of meat left on that bone and we have to pick every little piece off. That is what we have to do is go back to work and do it."
After many of his Panthers wrestled six or seven matches over the weekend, Schwab said he does not anticipate wrestling his full squad when the Panthers host the UNI Open at the UNI-Dome Saturday at 9 a.m.
Schwab said the focus will be on getting a group of 18 guys ready to perform at the Panthers' next big competition — the Midlands Championships on Dec. 29-30.
"We'll probably be a little limited (for the UNI Open)," Schwab said. "We really want to get a good group ready for the Midlands. We get 18 guys there. I'm getting ahead of myself.
"Our defense needs to get better. Our head position needs to get better. Those are some pretty common things. But we are encouraged and they know they have a lot more to give."
Schwab was uncertain who or how many teams and wrestlers will participate Saturday, saying that he'll know more as the week progresses and more teams begin entering individuals.
WOMEN'S SWIMMING: Head coach Nick Lakin was pleased with how his team came back from the Thanksgiving break in the Panthers' performance against Coe College Friday.
Now, Lakin says the team will go to work on improving before UNI returns to the competition pool on Jan. 17-18 at Western Illinois and at Illinois State.
"We'll look at all the film from our Kansas meet a couple of weeks ago which will kind of simulate our conference meet," Lakin said.
"We have to identify a bunch of things individually, relay-wise, try to get better stroke distance per stroke, stroke rates and turns … really try to nail things down."
Be the first to know
Get local news delivered to your inbox!