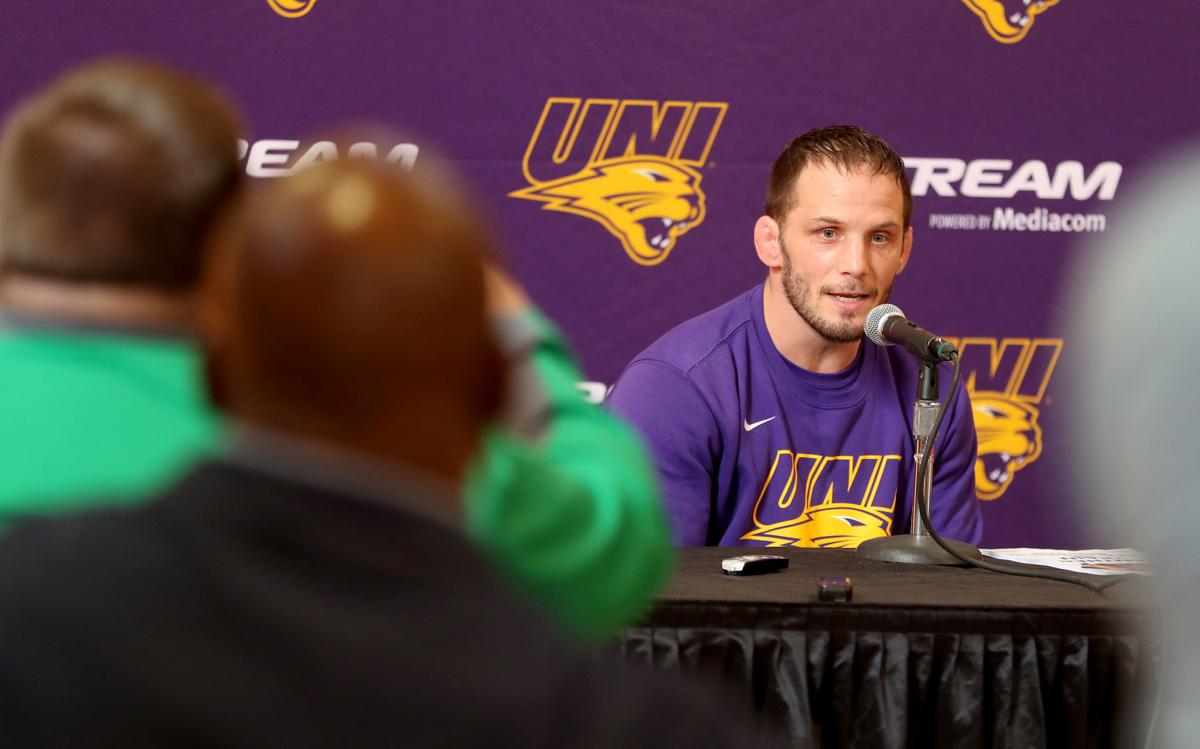 CEDAR FALLS – Fresh off back-to-back strong performances, the University of Northern Iowa wrestling team will get a little break before returning to the mat Dec. 29-30 at the Midlands Championships.
Head coach Doug Schwab says the team will train through Thursday before his wrestlers go home on Friday and return Dec. 26. Eighteen Panthers will then depart for Chicago on Dec. 28.
"We're really starting to get fixed on the Midlands and getting ready for that," Schwab said Monday. "We had a good training last week, we had a few days off after Vegas. We had a lot of guys who had six, seven matches and that takes a little bit of a toll on you, beats your body up a little bit."
That rest extended into the UNI Open this past Saturday, where Schwab rested most of his starters.
"We had a good first half, not a great first half of the season but a lot to build on and we've just got to continue to pick up steam," Schwab said. "Midlands will be a great opportunity to do that.
"There are a few weight classes that still some things are to be determined. If guys want to be the guy, go win the Midlands and then it would be pretty hard for me to say, 'Well, you don't get that opportunity to be the guy.
"We will send a team that is ready to win that thing and score a bunch of points up and down the lineup," Schwab concluded.
WOMEN'S BASKETBALL: The Panthers (7-3) got a thrilling win Sunday over IUPUI and will close out their non-conference slate Sunday at 5 p.m. against Iowa State in Hilton Coliseum.
With it being finals week, Warren will give her team some rest while also beginning to prepare for the Cyclones.
"Iowa State presents a lot of different matchups in their own right in the fact that Ashley Joens is one of the best in the country," Warren added. "She is averaging 25 points and 11 rebounds, but the thing that really stands out for me is she has shot 86 free throws already and she is shooting almost 90 percent from the free-throw line."
TRACK AND FIELD: Dave Pauslen's team set a strong tone Saturday in Iowa City for what he hopes to see as the 2019-20 indoor season progresses.
Highlighted by Darius King's school-record and NCAA-best shot put of 64-feet, 3-inches, the Panthers showed the right mindset, according to Paulsen.
"Overall, just really pleased," Paulsen said. "We talked about just coming with the right attitude and bringing that championship mentality effort even to a meet in December. Just make sure that is consistent throughout the season.
"Mentally, they were right on point."
UNI is off until the Jan. 10-11 Hawkeye Invitational in Iowa City.
Be the first to know
Get local news delivered to your inbox!