PITTSBURGH, Pa. — When Northern Iowa began recruiting Mediapolis' Drew Foster, the Panther coaches were told, "He is not a Division I wrestler."
Well, now he's a national champion.
With yet another amazing performance, the senior added his name to the long list of UNI greats when he became the Panthers' first national champion in nearly two decades Saturday night at PPG Paints Arena.
Coming from behind, Foster beat Cornell's Max Dean, 6-4, to win at 184 pounds as he became the Panthers' 22nd all-time Division I national champion and the first since Tony Davis won the 149-pound crown in 2000.
Foster's victory pushed UNI into a tie for 13th place with Lehigh, scoring a program-high 40.5 points during head coach Doug Schwab's tenure.
"A lot of belief," Foster said. "Not only self belief, coach believing, university believing, my family members. The whole community believing. When you've got that kind of backing ... it's hard to get beat when you've got that."
Foster scored first and found himself behind heading into the third period. But with a determined attack, and then re-attack, Foster scored a takedown with 28 seconds left and rode Dean out as a large contingent of UNI fans and many of the 18,950 in attendance roared in approval.
Foster and Dean had met four times previously and Dean had won three of them, including a 6-5 decision in the West Gym back in December.
But Saturday, March 23rd was Foster's time.
"Just fighting through everything, especially on bottom," Foster said. "That was the biggest difference. He rode me out in the West Gym. He was driving me hard. That was a game-changer in that match.
"And I didn't ride him that well there. I rode him tough tonight, and I got moving on bottom. That proved to be the difference."
In addition to the winning score, Foster tacked on a riding time point for the fourth time in his five national championship matches.
UNI's Schwab was practically walking on air afterward.
"He wasn't a state champion. So what? He's a national champion," Schwab said. "He had a losing record as a freshman. So what? He kept working and believing.
"It feels good. To be able to go hug his parents in the front row after winning a national title, it is a pretty awesome feeling and one of the best I've had as a coach."
If there was one guy who understood just how good Foster could be, it was long-time Panther assistant Randy Pugh, who recruited Foster out of Mediapolis High School.
Pugh recalls being ticked off during Foster's recruiting about something said to him.
"I won't call them out, but there were a couple of people when I called to check in on what type of kid he was said, "Oh, he is a nice kid, but I just don't think he is Division I," Pugh related.
Pugh saw a Division I kid.
"He did a phenomenal job of putting himself where he is right now through a lot of hard work," Pugh continued. "And it was just the way he competed free and it was not a life or death with him. That is why I told Doug, even after his freshman season when he was 15-18, that this kid is going to be good because he doesn't feel the weight of the world on himself.
"He has an incredible perspective, he wrestles free and when he does that he's really good and that is what everyone saw this week."
For his part, Foster said he's always felt like he had something to prove.
"I was asked yesterday what it felt like last year not to All-American," Foster said. "I said it was a fire burning inside. It's fuel for the fire, and when you don't get accolades as a younger guy coming in, you have this chip on your shoulder like you want to prove something.
"You already know it is inside of you and you have coaches that believe in you, but you want to prove it to everyone else and prove it to yourself to let yourself know how high a caliber athlete you are."
UNI's Bryce Steiert finished eighth at 165, losing his seventh-place match to Iowa's top-seeded Alex Marinelli, 9-3. It was not how Steiert, the former Waverly-Shell Rock state champion, wanted to close his junior season, but he was thankful to break through after redshirting in 2017-18.
""Grateful," Steiert said. "Grateful for everyone who has bought into me, everything the sport has given back to me. I still have opportunities in front of me. Still have another season with my teammates and great coaches.
"I didn't end up where I want to, but sometimes you shoot for the stars and land on the moon."
Steiert is the third Division I All-American from Waverly, joining Joel and Justin Greenlee.
032619kw-drew-foster-02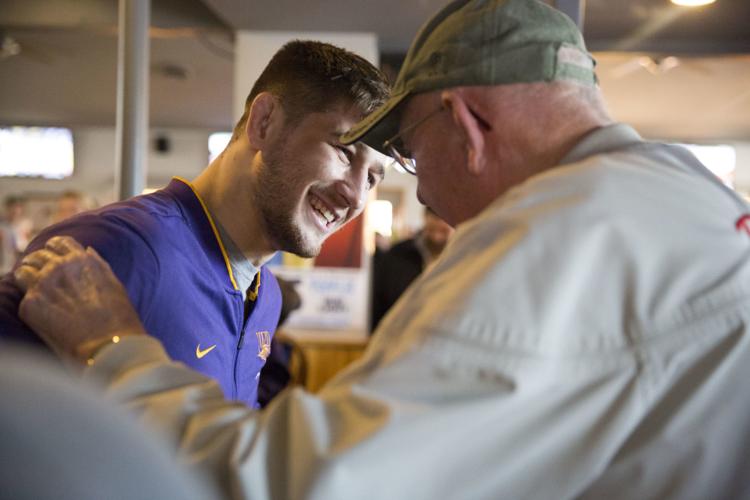 SHARING A LAUGH WITH THE CHAMP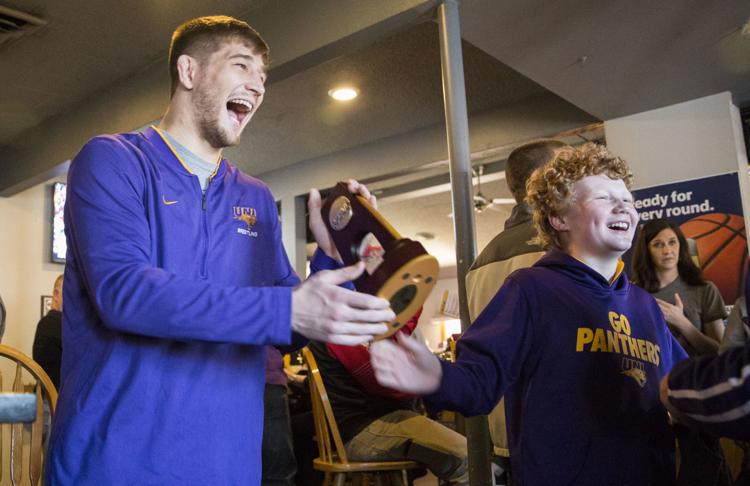 032319ho-foster-wins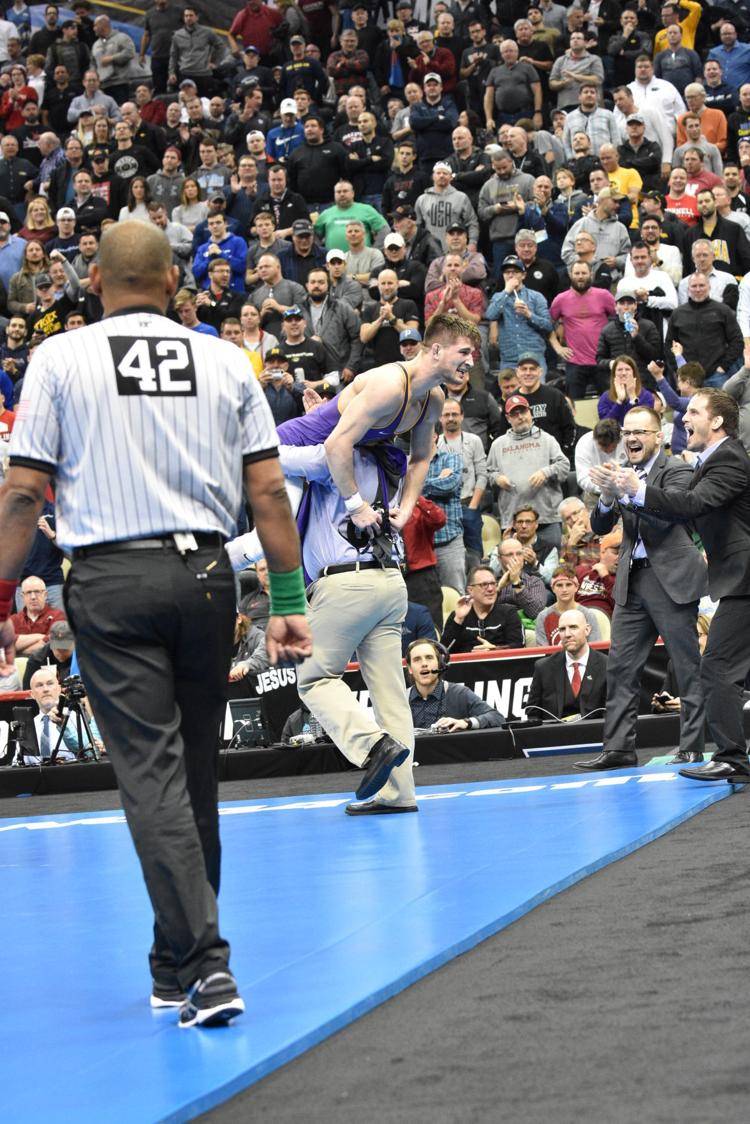 032319ho-foster-celebrates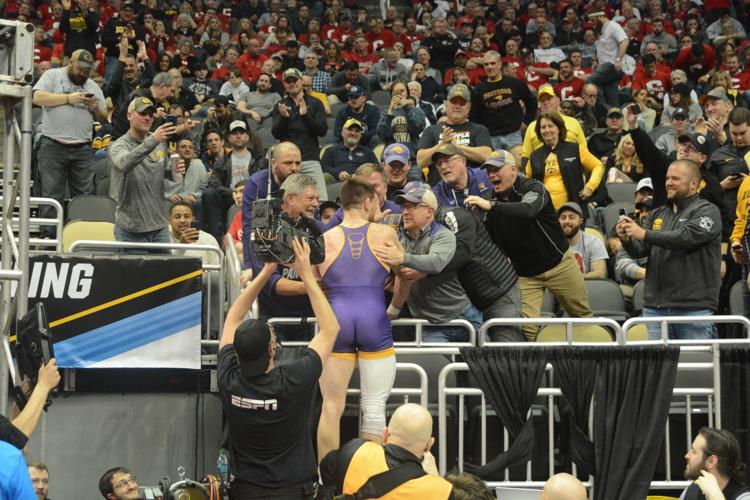 032319ho-ncaa-schwab-cheers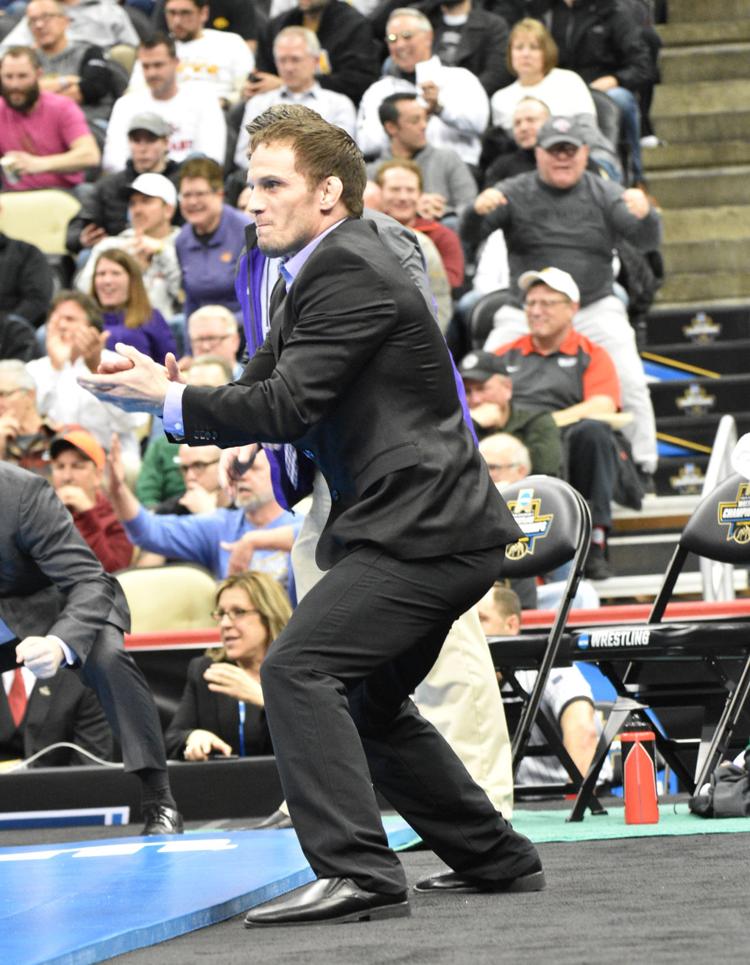 032319ho-ncaa-foster-finals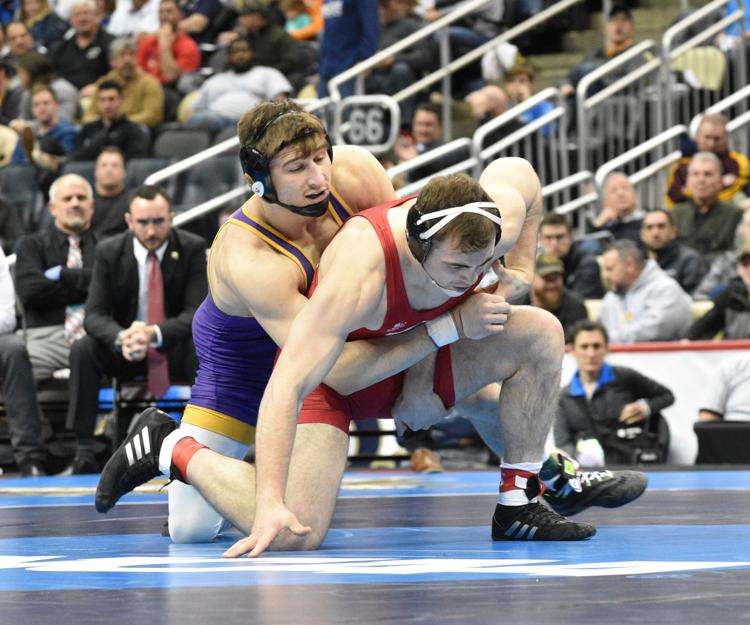 032319ho-ncaa-foster-wins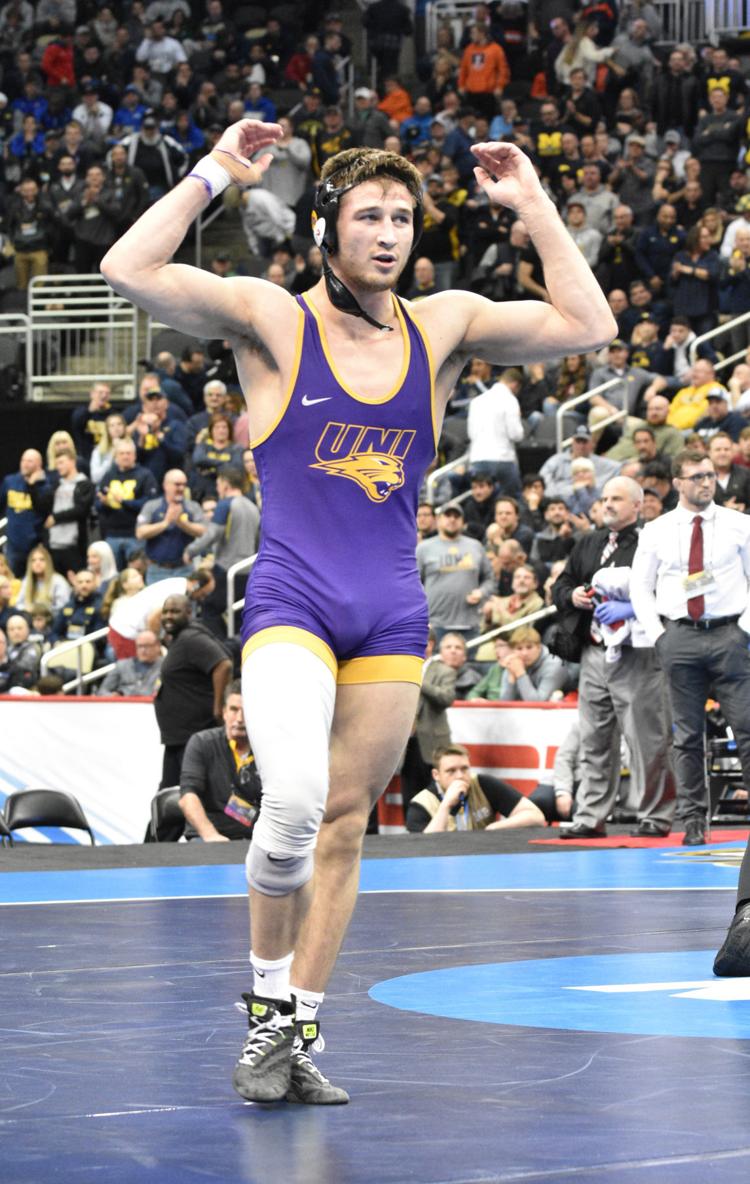 032319ho-ncaa-lee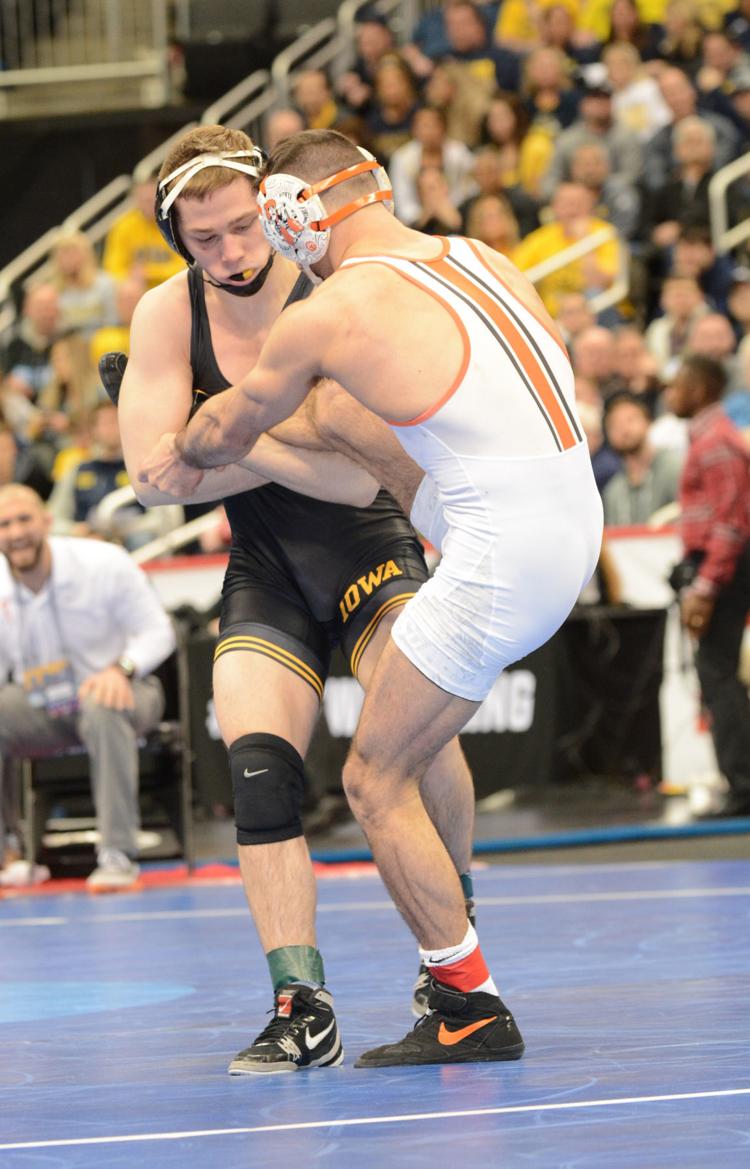 032219-ncaa-foster-schwab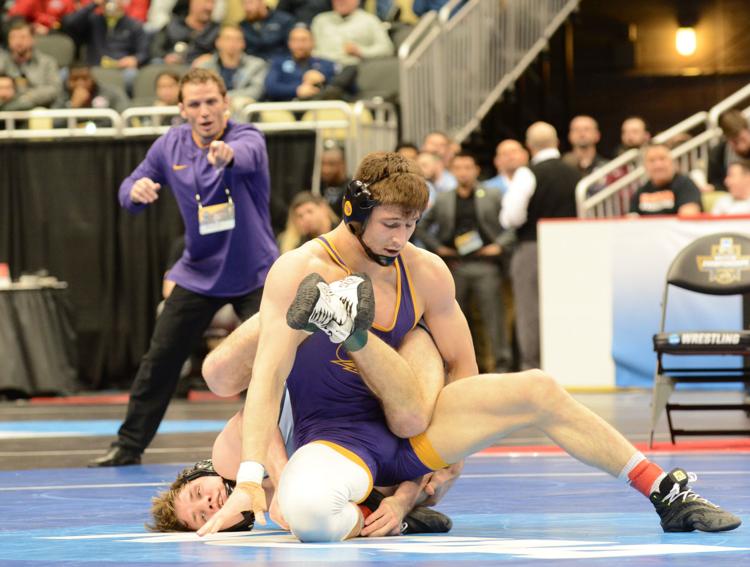 032219ho-ncaa-foster-ness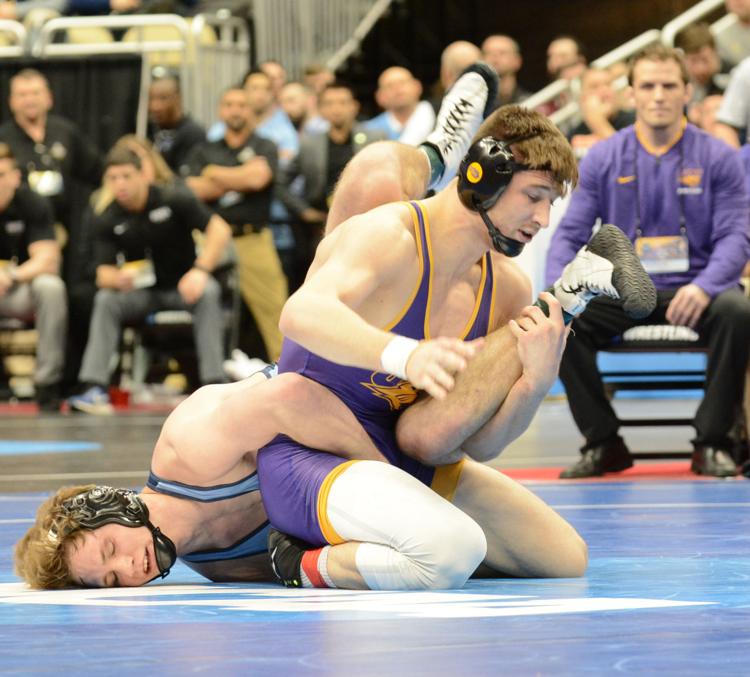 032219ho-ncaa-foster-wins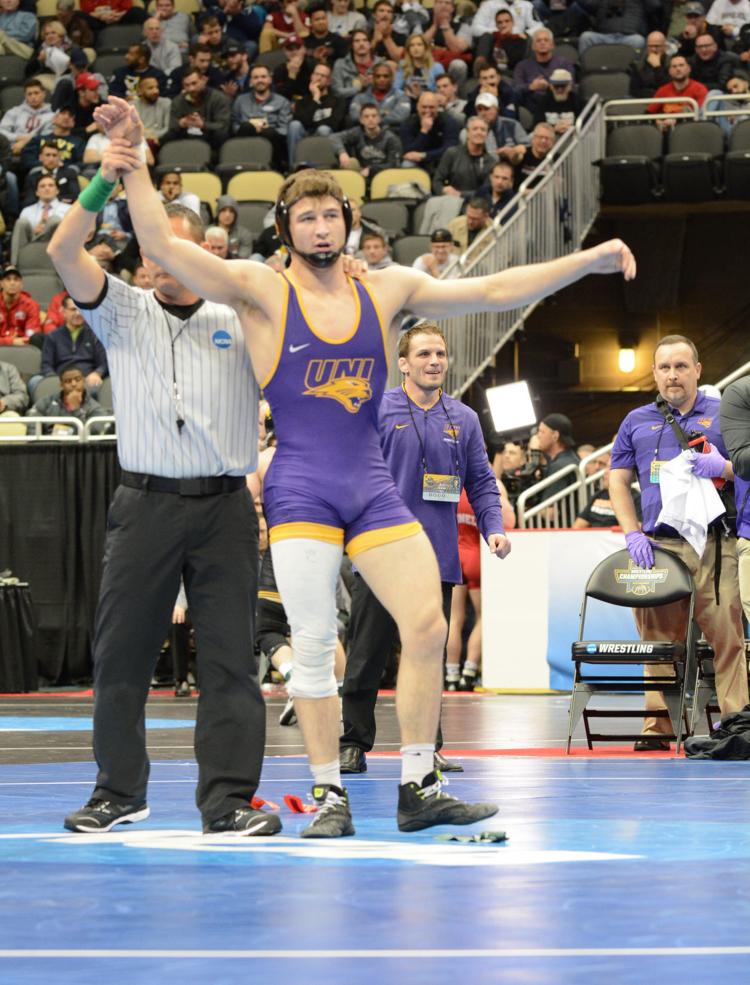 032219ho-ncaa-foster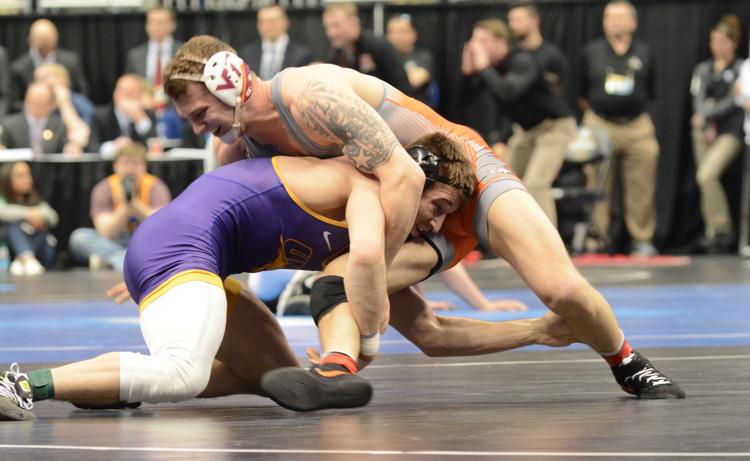 032219ho-ncaa-foster-2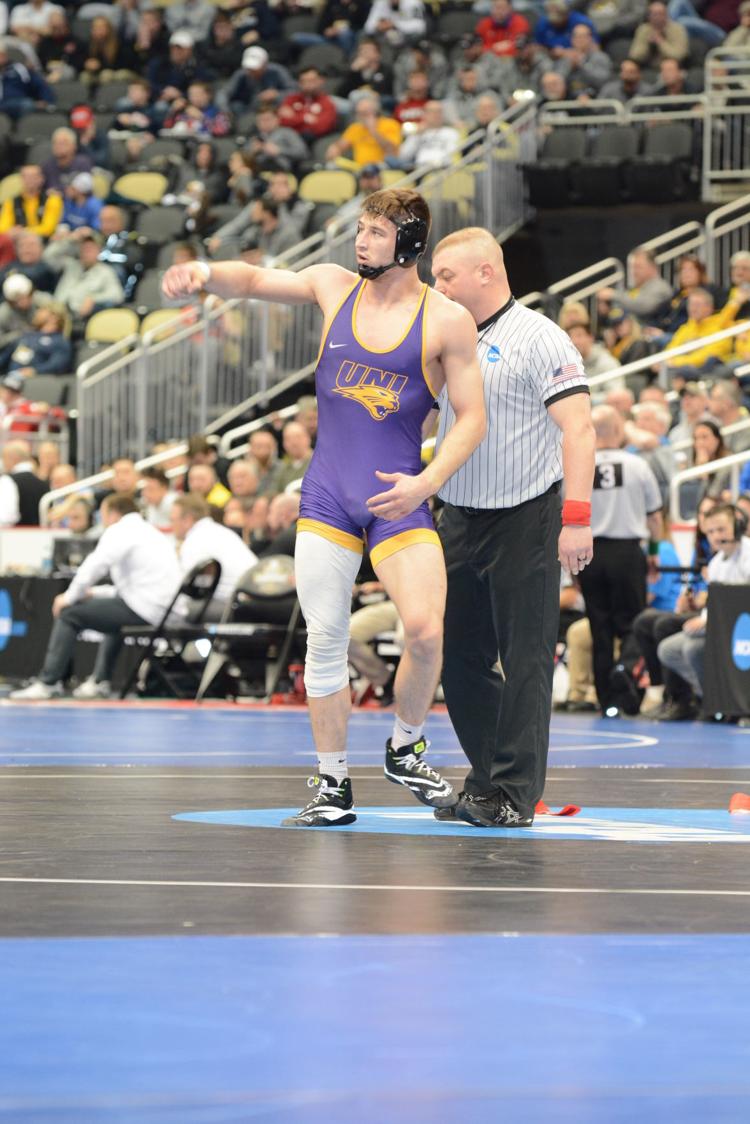 032219ho-ncaa-lee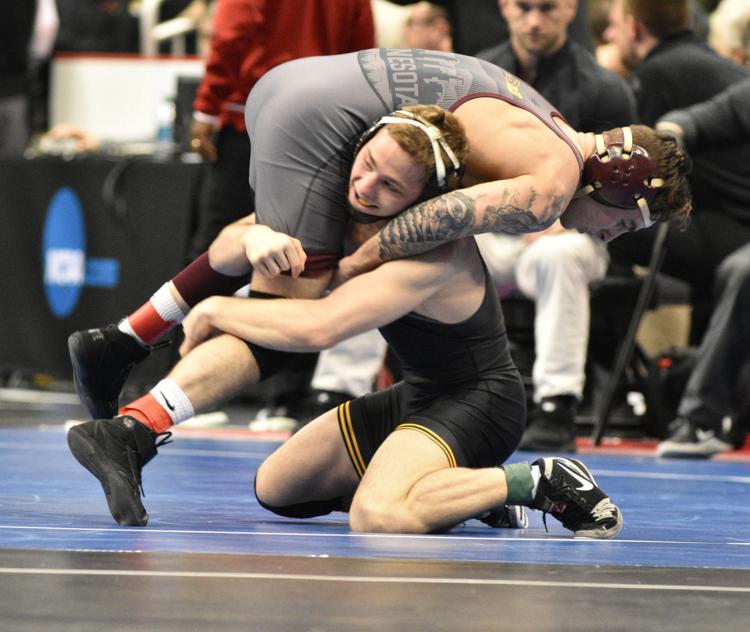 032219ho-ncaa-young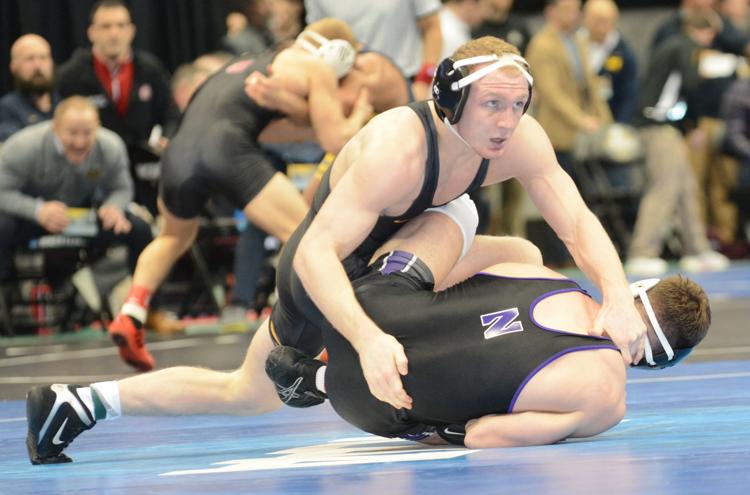 032119ho-ncaa-foster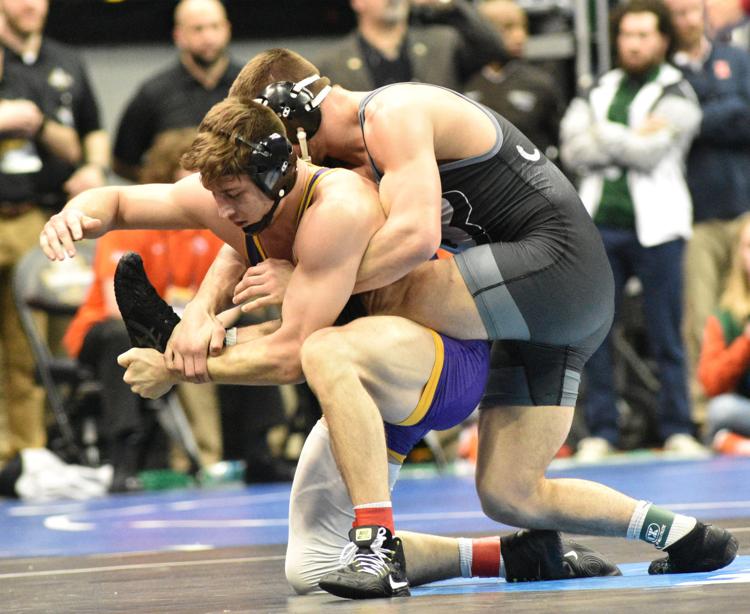 032119ho-ncaa-steiert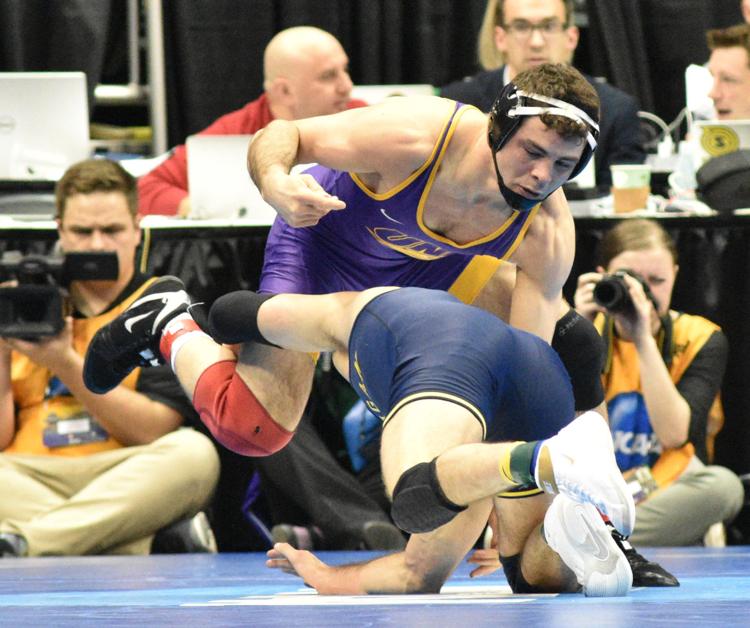 032119ho-ncaa-degen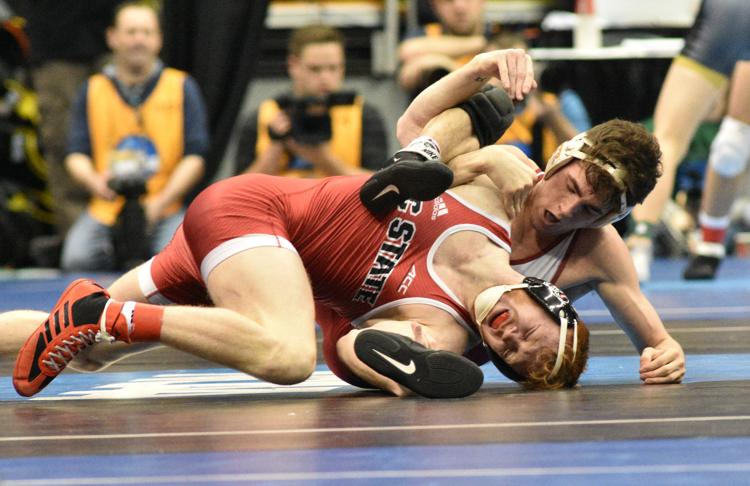 032119ho-voting-clipart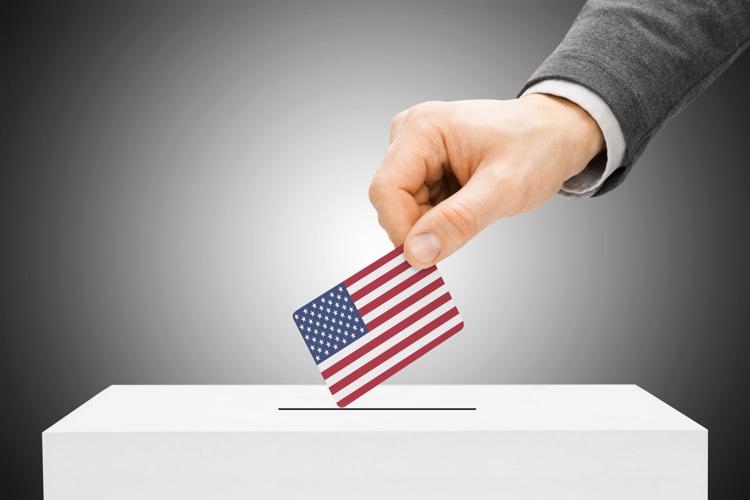 032119ho-ncaa-thomsen
032119ho-ncaa-steiert-2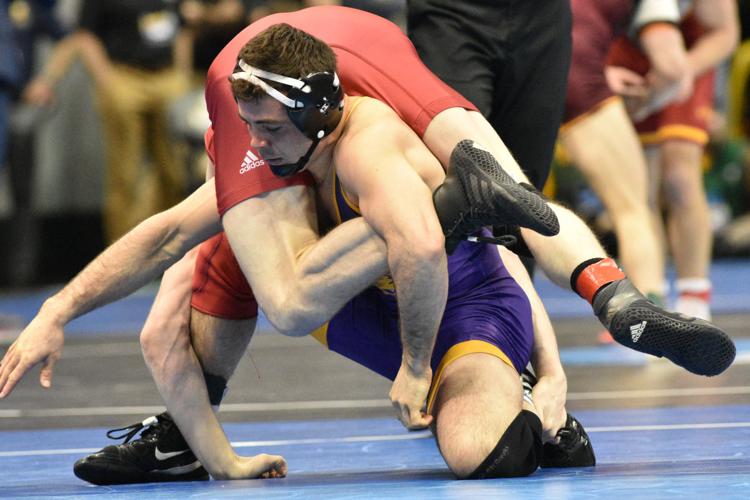 032119ho-ncaa-DeSanto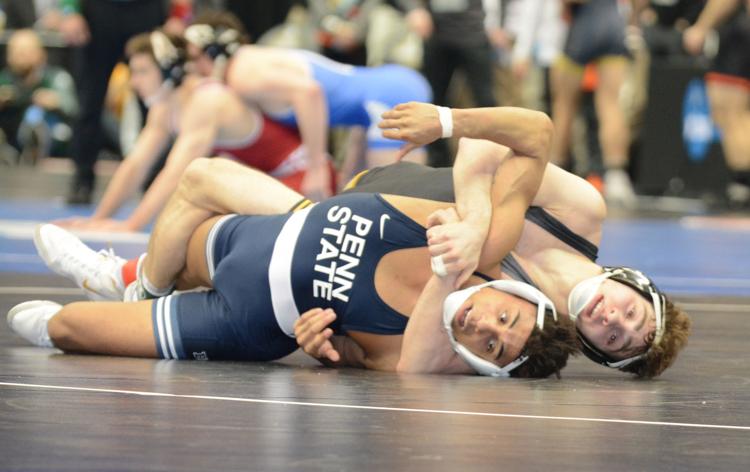 032119ho-ncaa-young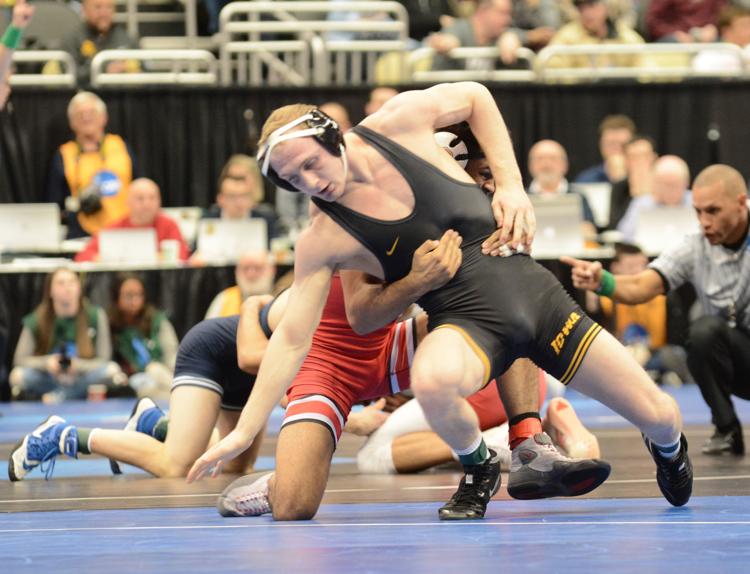 Be the first to know
Get local news delivered to your inbox!