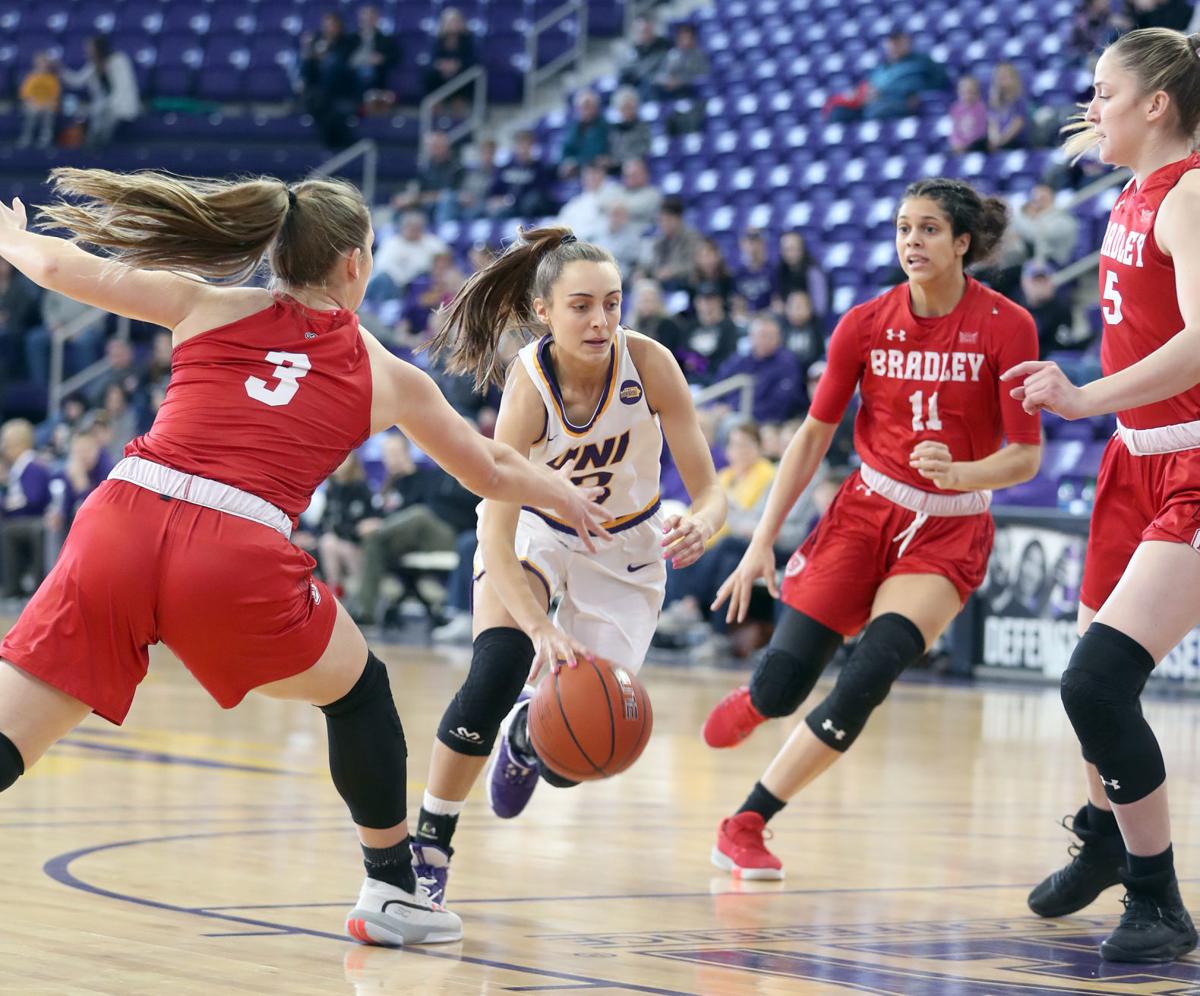 CEDAR FALLS -- Candid conversation, honest self-reflection and the determination to salvage a season that began with NCAA tournament potential.
That was the scene during a film session inside a Chicago-area hotel room after the University of Northern Iowa women's basketball team closed the month of February and looked forward to the promise of March during its final league road trip.
UNI had just dropped its eighth game within a Missouri Valley Conference slate that has been as competitive as any in league history. The loss came to a sixth-place Valparaiso team competing to avoid Thursday's MVC tournament play-in round.
An 8-3 nonconference start by the Panthers -- that included a signature blowout win over an Iowa team that finished third in the Big Ten and true road wins at Missouri, Wichita State, Omaha and Iowa State -- had become a distant memory.
"We laid all our cards on the table," UNI coach Tanya Warren said. "There were no words that were off limits. It was an extremely heartfelt meeting by everybody. A lot was said, and we were able to get ourselves on the same page.
"We looked in the mirror and said, 'What is it I can do better?' Every single one of us, coaches included, could be better. That was the turning point."
Following that meeting, UNI secured a three-point win at Loyola before capping the regular season with a major 91-78 victory over conference runner-up Drake that snapped an eight-game losing streak to the Bulldogs.
"I hadn't beat Drake since I've been here," junior point guard Karli Rucker said. "We were all in it together with energy and making shots. That makes it all a little bit more fun.
"Especially for the conference season we had, to be able to go out like that, the momentum we have now going into the tournament is exciting for us."
Sophomore guard Kam Finley broke out during the Drake finale with a career-high 28 points.
"We locked in at practice, and the preparation aspect was very important to all of us," Finley said. "We told each other that we could beat this team and it definitely showed. It just reminded me of the Iowa game and how well we all just came together and we were clicking."
Momentum secured, UNI (18-11, 10-8 MVC) will open its conference tournament run at 2:30 p.m. Friday against Illinois State (19-10, 11-7) in a battle of No. 4 and 5 seeds. The MVC is as deep as it has ever been with five schools ranked in the RPI's top 75, including two in the top 25.
You have free articles remaining.
The league schedule has been grind for UNI, beginning with a 104-87 road loss at Drake in which starting center Megan Maahs re-injured her knee. Maahs, who averages 9.2 points and 5.2 rebounds, missed four games. Finley also missed two league games with a severe high ankle sprain and UNI saw a dip in production without two of its top players at full health.
Beyond the injuries Warren felt her point guard, Rucker, was too passive at times. Large turnover numbers contributed to the team's struggles.
"We started second-guessing what allowed us to be successful in the nonconference," Warren said. "Nonconference we didn't turn the basketball over and our execution was good in terms of being able to make the extra pass, passing and cutting, setting good screens, being in tune with each other."
Added Rucker, "When I'm passive, the people around me are more passive. It's just like turnover, turnover, turnover.
"When I'm aggressive, everyone is aggressive. You saw the other night (against Drake) when everyone is aggressive and looking for their shot, we can put some points up. That's what we were doing in the nonconference. I think getting back to that here is a great time for us to be back on track."
Another decision that helped spark the Panthers was inserting Finley into the starting lineup alongside Rucker the past four games. Warren's top teams throughout her coaching career have thrived with combo-guards like Jacqui Kalin and K.K. Armstrong and Sharnae Lamar and Madison Weekly playing off each other.
"Kam takes a lot of pressure off Karli," Warren said. "She has that, 'It' mentality. She provides instant offense and makes those around her better with her ability to break people down off the dribble."
Finley also is a strong defender. She's embraced assignments helping to slow down first team all-conference guards Lasha Petree of Bradley and Becca Hittner of Drake.
"I wanted to have that chance to show that I can defend all these amazing players in this conference," Finley said. "I'm definitely blessed that (Warren) gave me that opportunity."
Rucker has embraced the backcourt partnership. Finley missed the end of last season after undergoing an operation to remove two blood clots that threatened to end her career.
"Last year we missed her (Finley) a lot, and I think she really stepped up this year, and we need her," Rucker said. "We need her to score, we need her to make plays. She not only does that, but she gets boards and is really good on defense."
Will a regular season-ending win over Drake be enough to spark UNI on a postseason run within this difficult league? That remains to be seen.
Regardless, the Panthers will enjoy this weekend in Moline, Ill.
"We always talk about having fun," Rucker said. "But I think we're actually having fun right now."
Be the first to know
Get local news delivered to your inbox!