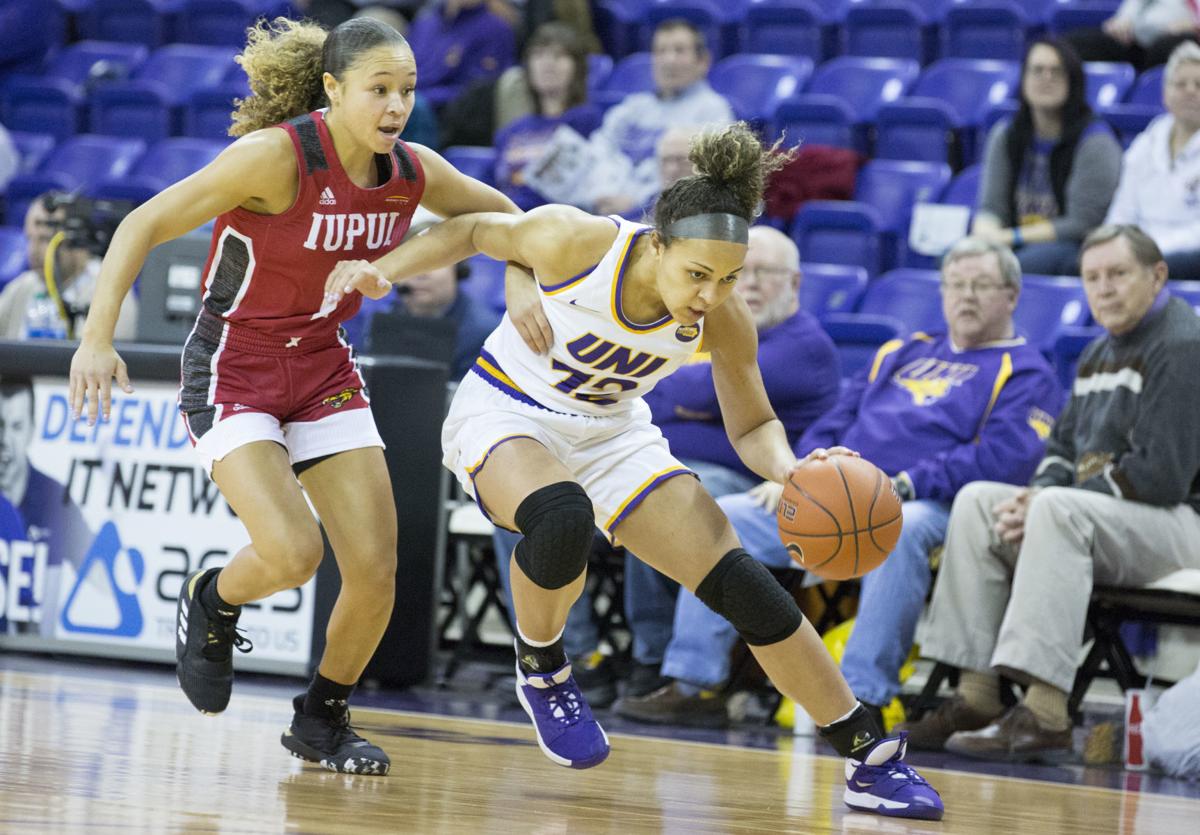 CEDAR FALLS — Tanya Warren typically enjoys this time of year as an opportunity to relax and unwind.
Warren's University of Northern Iowa women's basketball teams had qualified for postseason play each of the previous five years before COVID-19 ended this past campaign following a practice in preparation for the Missouri Valley Conference tournament.
Strength and conditioning work has shifted from campus to Zoom and the Panthers' head coach is starting to miss seeing her team around campus.
"Towards the end of the season it's a grind," Warren said. "It's a long season. You hope you get into postseason and once you're done with that you're looking for some time to get away.
"Now all of a sudden I miss everybody. You want everybody back. Talking is not enough. Zoom doesn't do it. You want to actually see them. That's where I find myself. I miss my team.
"I know they miss each other. I know they miss us as a staff, but we're just trying to do the best we can right now."
Once UNI is able to begin preparation for the upcoming season, the Panthers will be guided by a quartet of battle tested seniors. Guards Karli Rucker and Nicole Kroeger join forwards Bre Gunnels and Megan Maahs within a battle-tested group that accounted for four of the top five scorer's on last year's 18-11 team.
"They understand what it takes to be successful, not only in the nonconference, but in the conference," Warren said. "Being able to take some of the momentum that we were able to get towards the end of last season and carry that into the postseason, stay hungry and really go to work is what the expectation is for that group."
A trio of incoming third-year players from Cedar Falls, Kam Finley, Cynthia Wolf and Kiana Barney, will accompany that senior group. Finley is coming off a sophomore season in which she averaged 10 points a game. She went off for 28 points during a victory over one of the league's frontrunners Drake in what became the finale.
"Kam really did take a step forward and I thought CJ (Wolf) showed signs," Warren said. "We need consistency because the torch is going to be handed down to them and they have to be ready.
"This is a big year for Kiana. I'm extremely hopeful that she will make a big jump this summer from a mental standpoint and a physical standpoint because she has the potential to help us. Now she has to go get it."
Most of UNI's returning roster will be upperclassmen. Cailyn Morgan and Sarah McCullough saw limited minutes as freshmen.
The Panthers' veterans will be complemented by a large in-state, six-person class of incoming freshman that offers a little bit of everything.
Johnston point guard Maya McDermott joins shooting guard Kayba Laube, forward Maya Gyamfi, centers Grace Boffeli and Taryn Scheuermann and versatile Cedar Falls native Emerson Green. Green will be joining three former high school teammates, while Boffeli and Rucker played together at North Scott.
Boffeli (28.6 points a game) was second to Iowa recruit Caitlin Clark in scoring and Warren considers her a recruiting steal. McDermott showcased her scoring and passing ability while captaining the Class 5A all-tournament team during Johnston's championship run. Laube led Iowa in 3-point shooting with 88 treys. Gyuamfi brings length and athleticism. Green has shown an ability to play any position. Scheuermann passed Kiah Stokes for Iowa's all-time career shot blocking record with a senior season that included 143 rejections.
"This class coming in, a lot of them played AAU basketball together," Warren said. "Not only do they have a good relationship, but you have some who have established relationships with your core group coming back. It's a really, really good mix. We've signed some pretty good classes, but on paper from top to bottom this is the best class we've signed since I've been here."
Be the first to know
Get local news delivered to your inbox!