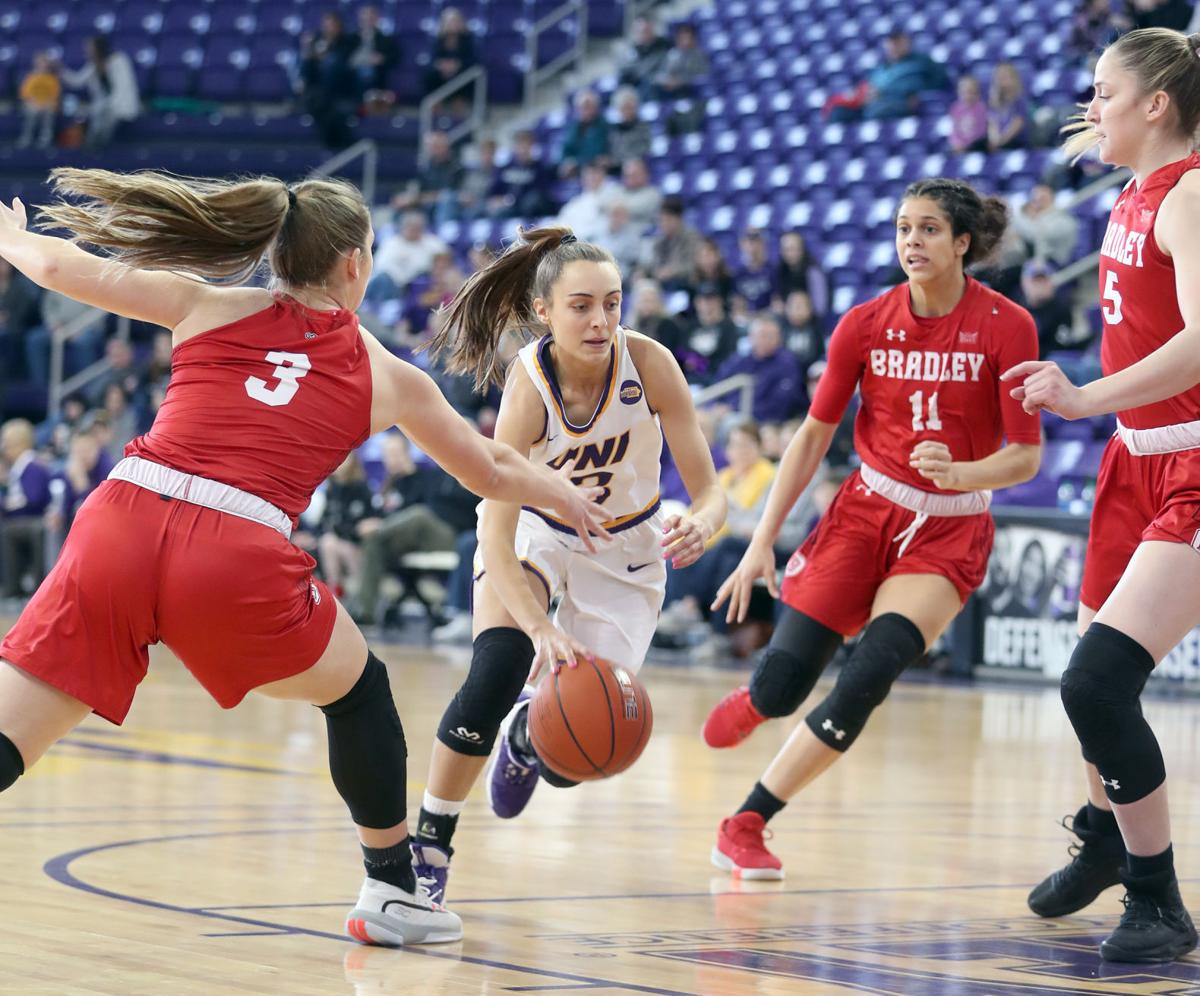 ST. LOUIS — Karli Rucker was selected as one of five preseason all-conference players and her University of Northern Iowa basketball team was picked third in a preseason poll released by the Missouri Valley Conference this morning.
Rucker enters this season on pace to finish among the school's top 10 in career points and assists with totals of 1,030 and 287, respectively. She earned all-conference honors each of the past two seasons.
Missouri State is the preseason favorite while Bradley was picked second.
Missouri State returns four starters and 10 players from last year's team that spent 13 weeks in the AP Top 25, won 26 overall games and secured the MVC regular season title. Bradley finished a school-record 22-7 and 13-5 in league play and also has four starters back.
Missouri State's duo of guard Brice Calip and forward Jasmine Franklin joined Bradley's Gabi Haack and Lasha Petree on the preseason all-conference team.
Similar to Bradley and Missouri State, UNI's outlook is bright. The Panthers return four starters and their top five overall scorers including Rucker, Kam Finley, Megan Maahs, Bre Gunnels and Nicole Kroeger. Head coach Tanya Warren has also brought in a six-person recruiting class with as much potential as any in her tenure.
UNI went 18-11 last season and 10-8 in the MVC. The league had five schools ranked among the top 75 in the NCAA Ratings Percentage Index and two in the top 25 when the season was canceled prior to the start of the MVC tournament.
College women's basketball: Three of a kind when UNI visits ISU
AMES — It'll be a family affair in Hilton Coliseum today.
The Iowa State women's basketball team hosts UNI at 5 p.m. and a mini family reunion will break out.
Bill Fennelly is Iowa State's coach and he's assisted by his son Billy — that's nothing new. But Steven Fennelly, another one of Bill's sons, is an assistant coach for UNI head coach Tanya Warren.
"If I had it my way, we wouldn't be playing them," Bill said. "Someone is going to be a little more happy at Christmas time in my family than the other one."
Steven spent two years as Iowa State's video coordinator from 2011-13 when he was a graduate student at Iowa State. After that, he spent three seasons at Cal State Fullerton as an assistant coach and then one season at Idaho as an assistant before he became an assistant for Warren in 2017.
"It's really hard but I'm really proud of him," Fennelly said. "He's done a great job. He loves working for coach Warren, he loves Cedar Falls. Selfishly — except for the game on Sunday — I'm glad he's there because he's working with and for good people. And he's close to home, so I get to see my two grandkids a lot more than I would've when he was in Idaho or California.
"It's a weird deal. There aren't a lot of places in the country where it's dad and two sons all in the same line of work and, unfortunately, we have to play against each other. It is what it is, but the biggest thing is I'm happy he's in a really good spot and he's happy and he's enjoying what he's doing."
Part of the reason Steven is probably enjoying his time in Cedar Falls, besides the fact he likes the people and the place, is because of the success the Panthers are having this season.
UNI throttled Iowa 88-66 and Iowa beat Iowa State 75-69.
"They played Iowa great," Iowa State forward Ashley Joens said. "We know they're going to come hard and ready to go. So we have to match that and come out ready and play hard."
UNI also beat Missouri, which was an NCAATtournament team last season, 78-73.
But the Panthers aren't without their blemishes. UNI lost to Alabama 87-77 and Iowa State beat Alabama 75-66.
The third and final common opponent between Iowa State and UNI this season is North Dakota State, which both teams beat handily.
Because both teams are in-state programs and because there are family ties involved, there isn't much the teams don't know about each other.
"With UNI, you have to manage how they're going to guard you," Fennelly said. "There are certain players on our team that it'll feel like the whole team is guarding them and there will be certain players they won't guard at all."
Joens will get the bulk of the attention from the UNI defense. She's averaging 24.4 points per game. The next closest Iowa State player is Kristin Scott, who is averaging 13.1 points per game.
UNI doesn't mind slowing the game down and making its opponents grind it out.
"They do a lot of switching and they dictate the tempo of the game," Fennelly said. "They run a lot of sets on offense and they like to play games in the 50s. If you get behind or not taking advantage of opportunities, you're in trouble.
"The big question is will we be more excited to play at 5 p.m. or more excited at 7:30 to go home for Christmas? We'll see how that goes."
College women's basketball: Cavey's last-second rebound delivers UNI win
CEDAR FALLS — It took until the last second for Northern Iowa to complete its final women's basketball victory within a perfect non-conference home slate Sunday afternoon inside the McLeod Center.
Kristina Cavey secured a weak-side offensive rebound and drew a foul with the score tied and under one second remaining in regulation. Her first free throw rimmed out, but the second brushed through the net as UNI held off IUPUI (Indiana University-Purdue University Indianapolis), 51-50.
"Coach (Tanya) Warren told me to knock it down like I do in practice," said Cavey, who made 87 percent of her free throws last season before converting just 16 of 26 to start this year. "I missed the first one and just thought I needed to get this one back to my regular shot, and I just thought about being at practice."
Cavey, a 5-foot-11 graduate transfer who grew up in Berthoud, Colorado, admits rebounding has never been a major part of her game until arriving in Cedar Falls last summer. She has embraced the opportunity to mix it up in the paint.
"I got here and I was allowed to do it, so then it was kind of fun," said Cavey, who averages nearly four rebounds per game. "This year I've been allowed to crash instead of just running back."
With the score tied and 18 seconds remaining, Warren's plan for the final shot was to set a fade for forward Rose Simon-Ressler and slip point guard Karli Rucker to the basket. IUPUI had that option well-defended.
Center Megan Maahs instinctively drove down the paint and missed off the left side of the rim. Cavey saw an opportunity to crash the boards and make a game-winning play. Officials determined after reviewing the replay monitor that Cavey was fouled with six-tenths of a second on the clock.
"A great basketball IQ for her to know the time on the clock and not bring the ball down," Warren said. "She actually tipped that which is why she got fouled. Great heads-up play."
UNI (7-3) won despite shooting 32 percent from the field. The Panthers struggled at times to finish inside and made just five of 22 attempts from distance.
IUPUI (5-5) shot 32 percent and was unable to fully take advantage of those misses. Macee Williams led the Jaguars with 11 first-half points and added 15 rebounds for a visiting team that held a 43-38 edge on the glass.
UNI adjusted and ran different traps at Williams to hold her scoreless in the second half. The Panthers' ability to transition defensive stops into points allowed them to take an early lead.
Reserve center Cynthia Wolf disrupted passing lanes with three consecutive steals leading to baskets before Simon-Ressler recorded a steal, drove and dished to Rucker for a layup during a 9-2 run that gave the hosts a 17-9 first-quarter advantage.
UNI pushed its edge to 11 early in the second quarter but IUPUI took its first lead, 38-37, after the Panthers opened the second half 1 of 12 from the field. A six-point UNI advantage in the fourth quarter then evaporated into a three-point deficit after a seven-minute drought and Holly Hoopingarner's 3-pointer with 52 seconds remaining.
Rucker, who made just two of her first 11 shots, immediately answered with a catch-and-shoot 3-pointer off Nicole Kroeger's assist.
"It was a good possession for us," Rucker said. "We went inside-out. They had the confidence to keep on telling me to shoot it, and finally one went in."
Maahs and Cavey each paced UNI's offense with 10 points. On a day when shots often weren't on target, the Panthers still prevailed.
"I thought their ability to persevere today was tremendous," Warren said. "Sometimes the ball doesn't go in the hole, and things don't go your way, and you still find a way to win. That's the sign of a very good team."
Entering a key intrastate road stretch with trips to Iowa State and a Missouri Valley Conference opener at Drake, Cavey has been impressed with her new team's approach.
"One thing I think the team is really good with is their attention to detail," Cavey said. "Our defense, our offense is very detail oriented. We know if we stick to those details and our fundamentals that we'll get it done."
IUPUI Mn FG-A FT-A Rb As PF TP
O'Reilly 22 3-4 0-0 4 3 5 6
Williams 31 5-14 1-1 15 3 3 11
Hoopingarner 33 3-11 2-2 5 1 1 9
McLimore 32 3-13 4-4 6 2 4 10
Andersen 16 0-3 0-0 1 1 1 0
Perkins 8 1-1 0-0 1 1 1 3
Totals 200 19-59 7-7 43 12 19 50
UNI Mn FG-A FT-A Rb As PF TP
Gunnels 23 1-5 2-2 6 0 0 4
Maahs 26 4-11 2-4 5 0 2 10
Rucker 28 3-12 2-2 2 3 1 9
Kroeger 27 2-4 0-0 1 2 0 6
Simon-Ressler 21 0-1 0-0 4 2 4 0
Cavey 19 3-4 3-6 2 0 3 10
Hillyard 17 0-2 0-0 6 0 0 0
Gerrits 13 3-6 0-0 5 0 0 7
Finley 12 1-8 1-1 2 0 4 3
Totals 200 18-56 10-15 38 11 16 51
3-point goals – IUPUI 5-21 (Hoopingarner 1-7, McLimore 0-2, Andersen 0-2, Beier 1-3, Allen 0-1, Berg 0-1, Perkins 1-1, Roule 2-5, Ramey 0-1), UNI 5-22 (Maahs 0-2, Rucker 1-7, Kroeger 2-4, Wolf 0-2, Cavey 1-2, Gerrits 1-3, Finley 0-2). Blocks – IUPUI 0, UNI 5 (Gunnels 3). Turnovers – IUPUI 14 (three at 2), UNI 11 (three at three). Steals – IUPUI 5 (Hoopingarner 3), UNI 9 (Wolf 3).
College women's basketball: UNI dominates Iowa, 88-66
CEDAR FALLS — Northern Iowa head coach Tanya Warren couldn't wait to tell her team what she thought of their performance Sunday afternoon against the University of Iowa.
Warren gathered the Panthers in a circle at center court following postgame handshakes and offered praise for the work they put into a dominant, 88-66 victory over the Hawkeyes in front of a crowd of 3,255 fans split in UNI and Iowa apparel.
"I just told them that I was extremely proud of them," Warren said, following her first victory over Iowa since taking over UNI's program in 2007. "I thought their preparation was very good leading up to this game. More than anything else, I just told them how much I loved them and how proud I am."
UNI (4-0) emphatically snapped a 12-game losing streak to its intrastate rival with its third-ever series win over the Hawkeyes (2-1).
The Panthers scored on their opening possession when Bre Gunnels tallied an offense rebound as part of her game-high 11 boards and then knocked down a 3-pointer. UNI never trailed from that point forward, building a 14-point lead by intermission and continuing that pace throughout a second half in which the Panthers led by as many as 30.
This marked a major reversal from a series in which Iowa had won the last five games by at least 15 points.
"UNI played really well and they played really focused the whole way through," Iowa coach Lisa Bluder said. "Everything that we tried to do, I thought they found an answer for and made us pay."
Sophomore Kamryn Finley's game and career-high 20 points paced a Panther bench that outscored Iowa's reserves, 52-22. UNI won without a single point in 22 minutes from starting point guard Karli Rucker, who led the team with an average of 20 points through its previous three games.
"As I told these guys when we started this summer, we have the potential to have eight, nine start, don't get caught up in that," Warren said, assessing a team that she stated has more depth than any she's coached. "Stay in the 'we' mentality because when the opportunity presents itself, be prepared.
"It says a lot when you have the ability to come off the bench with a Kam Finley, with Abby Gerrits, kids that can make plays and make shots, and know that when you go to your bench there's not going to be a dropoff. We've preached all along about balance, and I think you're seeing that at its finest."
UNI finished the game 31 of 59 from the field and 10 of 26 from 3-point range with Gerrits and Nicole Kroeger each dropping in three from distance. The Panthers surpassed 20 points in each quarter.
Gerrits opened with an efficient eight points in the first quarter. Finley was nearly unstoppable off the drive during an 11-point second quarter. Kroeger tallied 10 points in the third quarter, and reserve guard Kristina Cavey scored 12 points in the fourth stanza.
"It builds trust when you know that making the extra pass, they can hit the shot or getting it in to the post, they can get good shots," Gerrits said, after nine different Panthers scored.
Finley has emerged as a key leader in UNI's potent second unit.
"My confidence has definitely gotten a lot better," Finley said. "You learn a lot just sitting on the bench.
"You have all these amazing teammates here that have your back. They get me the ball whenever I'm open. I'll get them the ball when they're open. It's a back and forth process and this is why I love this team."
Finley's leadership and passion helped inspire a team that played with plenty of emotion and intensity throughout this game.
"This year I think she's really stepped up," Gerrits said. "You can tell in games and in practice."
Iowa returned just two starters and graduated national player of the year Megan Gustafson from last season's Elite Eight run. Makenzie Meyer led the Hawkeyes with 14 points, but shot just 4 of 16 from the field. Kathleen Doyle finished 3 of 14 shooting for nine points.
"Right now Kathleen and Makenzie are carrying the whole weight of the world on their shoulders," Bluder said. "They need to be able to relax and play a little more free."
Iowa Mn FG-A FT-A Rb As PF TP
Ollinger 26 4-9 0-0 10 1 5 8
Czinano 21 3-5 0-4 4 0 4 6
Ma. Meyer 37 4-16 4-6 3 3 3 14
Sevillian 25 3-7 1-1 1 2 0 7
Doyle 30 3-14 2-5 4 2 3 9
Martin 23 1-4 6-9 4 2 2 8
Marshall 16 1-3 0-0 0 0 1 3
Warnock 8 2-4 0-0 4 0 1 5
Totals 200 23-65 25-27 36 11 19 66
UNI Mn FG-A FT-A Rb As PF TP
Gunnels 24 1-3 4-6 11 2 4 7
Rucker 22 0-4 0-0 3 3 0 0
Kroeger 19 5-7 0-0 0 0 2 13
Simon-Ressler 15 2-5 3-3 1 1 0 7
Finley 20 8-13 3-3 1 1 2 20
Cavey 18 6-7 1-2 3 2 1 14
Hillyard 10 0-2 0-0 4 0 5 0
Gerrits 22 5-7 2-2 1 0 1 15
McCullough 1-2 0-0 0 1 2 2
Totals 200 31-59 16-20 39 12 21 88
3-point goals – Iowa 5-16 (Ollinger 0-2, Ma. Meyer 2-6, Sevillian 0-1, Doyle 1-4, Marshall 1-2, Warnock 1-1), UNI 10-26 (Gunnels 1-3, Maahs 1-1, Rucker 0-1, Kroeger 3-5, Simon-Ressler 0-2, Finley 1-4, Wolf 0-1, Cavey 1-2, Hillyard 0-2, Gerrits 3-4, McCullough 0-1). Blocks – Iowa 1 (Warnock), UNI 2 (Maahs, Rucker). Turnovers – Iowa 11 (Doyle 5), UNI 11 (Rucker 2). Steals – Iowa 4 (Ma. Meyer 2), UNI 5 (five at 1).
College women's basketball: UNI runs away from Omaha
OMAHA, Neb. — Northern Iowa poured in 48 second-half points and overwhelmed Nebraska-Omaha 81-45 in a women's college basketball game Tuesday night.
The Panthers (6-3), who snapped a three-game losing streak, led just 33-28 at halftime before outscoring the Mavericks (4-7) 28-10 in the third period to blow the game open.
UNI did most of its damage attacking the basket. The Panthers had 42 points in the paint and shot 65.7 percent from inside the 3-point arc (23 of 25). UNI also made 20 of 22 free throws.
Defensively, the Panthers forced 26 Nebraska-Omaha turnovers and held the Mavericks to 29.8 percent shooting overall and just 3 of 21 from behind the arc.
UNI had four players score in double figures. Karli Rucker had 19 points, Kristina Cavey 11 and Bre Gunnels and Rose Simon-Ressler 10 each. Cavey also led the Panthers with seven rebounds while Megan Maahs' stat line showed eight points, four rebounds, three blocks, four steals and two assists.
UNI (6-3) — Gunnels 2-3 6-6 10, Maahs 3-5 2-2 8, Rucker 8-15 1-2 19, Kroeger 1-4 0-0 3, Simon-Ressler 5-5 0-0 10, Wolf 1-4 3-4 5, Cavey 3-4 4-4 11, Hillyard 1-3 0-0 2, Gerrits 1-4 2-2 4, Finley 3-6 2-2 9, Morgan 0-0 0-0 0, Barney 0-2 0-0 0. Totals 28-55 20-22 81.
NEB.-OMAHA (4-7) — Filer 1-7 0-0 2, Pilakouta 0-1 0-0 0, Ogier 1-4 0-0 2, Killian 3-8 2-4 9, Ekdahl 0-1 0-0 0, Murdie 4-7 3-6 11, Carter 4-5 2-2 11, Wilson 2-8 1-2 5, Johnston 1-4 0-0 2, Felici 0-4 0-2 0, Johnson 1-4 0-0 3, Schmitt 0-1 0-0 0, Petersen 0-3 0-0 0. Totals 17-57 8-16 45.
North. Iowa 17 16 28 20 — 81
Neb.-Omaha 10 18 10 7 — 45
3-point goals — UNI 5-20 (Gunnels 0-1, Rucker 2-6, Kroeger 1-4, Wolf 0-1, Cavey 1-1, Hillyard 0-1, Gerrits 0-1, Finley 1-4, Barney 0-1), Neb.-Omaha 3-21 (Filer 0-3, Killian 1-3, Ekdahl 0-1, Murdie 0-1, Carter 1-1, Johnston 0-3, Felici 0-4, Johnson 1-3, Petersen 0-2). Rebounds — UNI 36 (Cavey 7), Neb.-Omaha 35 (Filer 6, Ogier 6). Assists — UNI 11 (Rucker 4), Neb.-Omaha 8 (Filer 2, Johnston 2). Turnovers — UNI 18 (Rucker 4, Finley 4), Neb.-Omaha 26 (Carter 6). Total fouls — UNI 13, Neb.-Omaha 18. Fouled out — none. Att. — 336.
Be the first to know
Get local news delivered to your inbox!