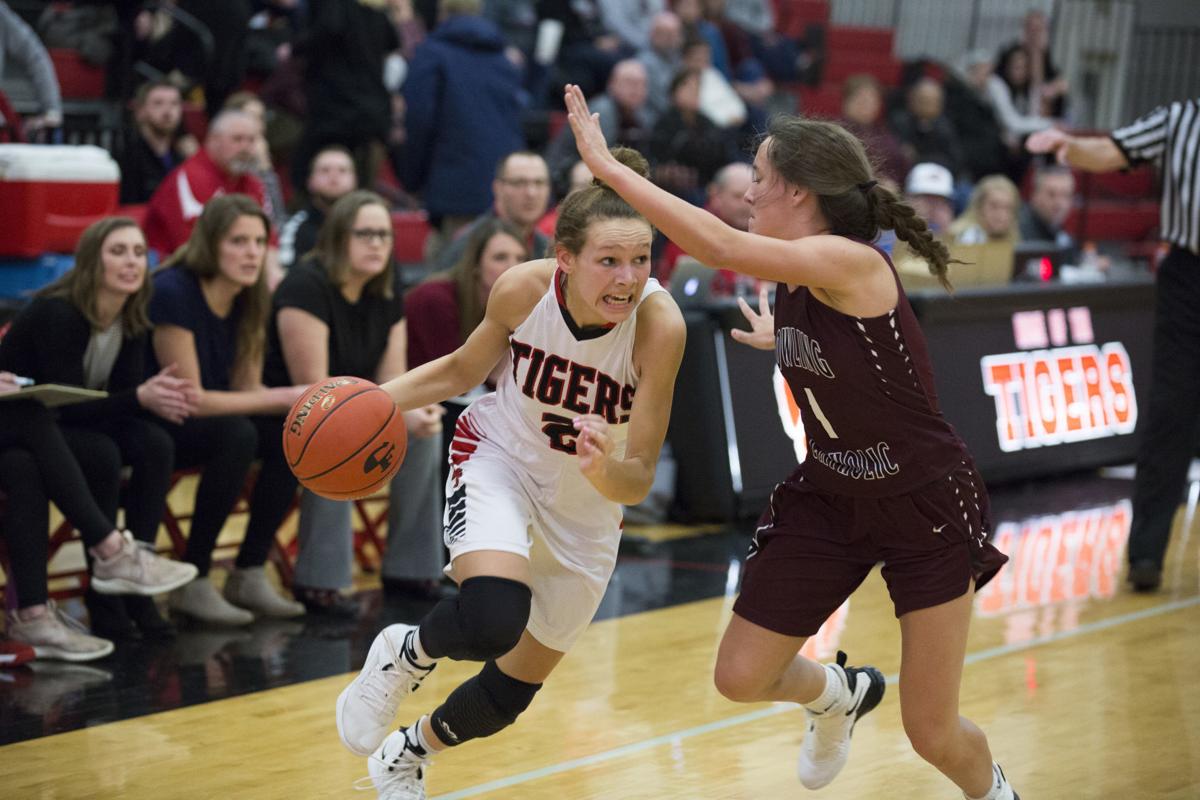 CEDAR FALLS — Anaya Barney has decided to carve out her own identity on the basketball court while traveling a familiar route.
The Cedar Falls guard announced over the weekend her commitment to remain in town and continue her basketball career at the University of Northern Iowa as a member of Tanya Warren's 2021 recruiting class.
Anaya Barney will have an opportunity to be teammates with her older sister, Kiana, for two years at the collegiate level. Her parents, Willie and Jody, also competed in athletics at UNI and her oldest brother, Isaiah, attends the school.
Beyond immediate family, Anaya's former Cedar Falls teammates Cynthia Wolf and Kam Finley just completed their freshman seasons in the UNI basketball program, and Barney currently shares a Cedar Falls backcourt with 2020 UNI recruit Emerson Green.
While Barney recently received interest from the Big Ten's Nebraska and had offers from South Dakota State and Colgate, she decided the opportunity to compete alongside her sister within a program that has always felt like family was too good to pass up.
"When I was younger it was something I really, really wanted to do," said Barney, who grew up attending Warren's UNI camps and dreaming of one day playing for the Panthers. "Towards the end I didn't know for sure if that's where I wanted to be, because I didn't know if I wanted to make my own path for myself somewhere else or if I wanted to go there (to UNI) and make my own path.
"I realized even if I didn't go somewhere else and I stayed in the same place everyone else went, I was still able to make my own name for myself in the same program."
Following the graduation of three impact seniors from Cedar Falls to UNI, Anaya Barney averaged 15 points as a sophomore with a team-high 5.2 rebounds per game to go with 3.8 assists and more than two steals and two blocks for the 19-2 Tigers.
"It's a great fit for her," Cedar Falls coach Gregg Groen said of Barney's decision to attend UNI. "She's the type of player who can step in there and make an impact right away. … With her athleticism and ability to play on both sides of the court, it's going to be exciting to see as she gets older and stronger how she then eventually takes that to UNI."
Barney, a 5-foot-10 junior-to-be, has spent this summer competing in the Martin Brothers AAU program and working to regain her perimeter shooting touch.
"I need to get better shooting the 3," she said. "I was a lot better when I was younger, but it's kind of gone away a little bit so I've been shooting a lot and trying to get my percentage up."
The backcourt of Barney and Green has the potential to produce several memorable moments beyond this upcoming high school season at Cedar Falls.
"We are pretty good friends off the court and on the court so I think just being able to keep playing with her, we know how to get each other the ball and make offense flow," Barney said. "I think that will be good for us to be able to play together again because we have a lot of chemistry on the court."
With a pipeline of talented athletes continuing to extend from high school to the hometown university, Groen hopes support for both programs in Cedar Falls will increase.
"It's fun and exciting," Groen said. "I think it's great that we have a lot of local kids that are choosing UNI. It's kind of neat to go through this spurt here and see that. Hopefully that does spur another vibe within the community, not only supporting Cedar Falls athletics and girls' basketball, but UNI Panthers and the women's team up there."
A competitive sibling rivalry between Anaya and Kiana Barney is likely to make both sisters stronger.
"We have a really, really competitive family so we're always going back and forth playing knockout and one-on-one," Anaya Barney said. "I think pushing each other is a big thing. We both push each other to try and be the best that we can, so it'll be good."
Be the first to know
Get local news delivered to your inbox!