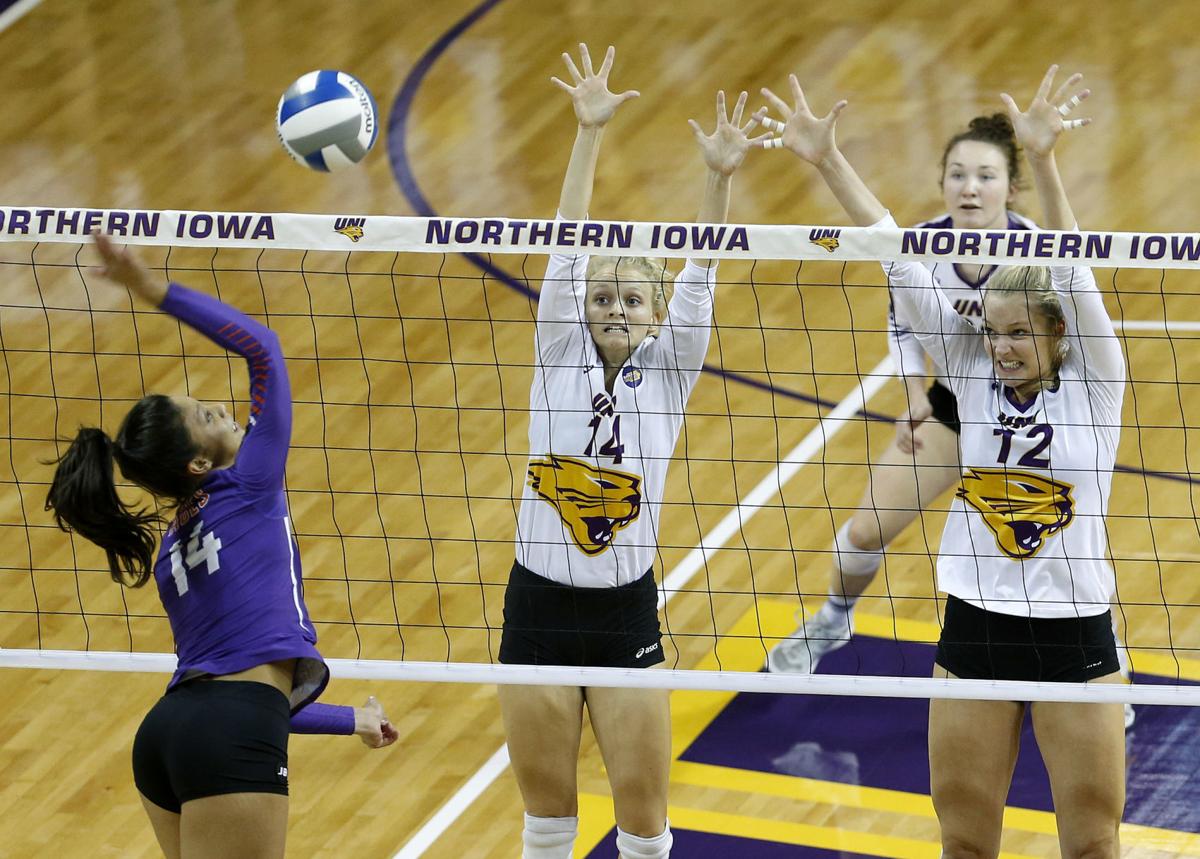 CEDAR FALLS — Much like the football team, the University of Northern Iowa volleyball players are tired of practicing against themselves.
That will change this weekend when the Panthers travel to face No. 4 Texas Friday in Austin, Texas, and then make a short trek to San Marcos, Texas, to face Liberty and Texas State on Saturday in the 2019 regular-season openers for UNI.
It will be a difficult weekend for the Panthers. Texas was picked to finish first in the Big 12 for the eighth consecutive season, and Texas State reached the round of 32 in last year's NCAA Tournament.
"We always talk about that we schedule in a way that is very high risk, high reward type of scheduling," UNI head coach Bobbi Petersen said. "But, really the focus is how we are doing and how are we progressing and our ability to get knocked down and get back up again, but also get better each time we step on the court.
"So we are going to step on the court together three times this weekend and against three very different opponents, but three very strong opponents. So, we have to make sure our focus is on the right things."
In addition to being excited about opening the season, Petersen admits there are obvious reasons why this match-up is special.
Petersen's daughter, Sydney, will start at libero for Texas, and her twin sister, Baylee, will be across the net from her playing for the Panthers.
"A lot of people have asked me how I will feel during that match," Petersen said. "I'm excited to be in Austin where Sydney is at and get to see her maybe a little bit, I don't even know. I will get to stay Sunday when they play USC, so I will probably feel a lot better about watching that match then competing against her.
"Just a really cool opportunity. I'm really thankful for their coaching staff to allow us to do something like this. They are coming back here next year. Just the opportunity to have a home-and-away with a type of team like Texas and allowing Sydney to have family watch is a really cool gesture on their part."
WOMEN'S SOCCER: After opening the season with a 5-0 win over Chicago State last Thursday, the Panthers suffered a 6-1 setback to a strong Iowa team Sunday in Iowa City.
"It was good to get the year started off on the right foot, score some goals and I felt we played pretty well overall," head coach Bruce Erickson said. "I think yesterday, to some degree, is what we expected we were going to see with a very good Iowa team.
"I don't think we expected to concede the amount of goals we conceded, but moreso, how. I thought that was a rough game for us in terms of just being able to figure out a way to be physical and sort of get the game away from a really talented team, just battle it out and we weren't able to do that."
UNI now turns its attention to a home match Friday with Nebraska-Omaha, which has tied Kansas State (0-0) and lost a close match to Illinois State (3-2).
"A talented group, very similar to us," Erickson said of UNO. "If you had to break down their team, their strength is probably a little bit more in the attack. But a lot of similarities."