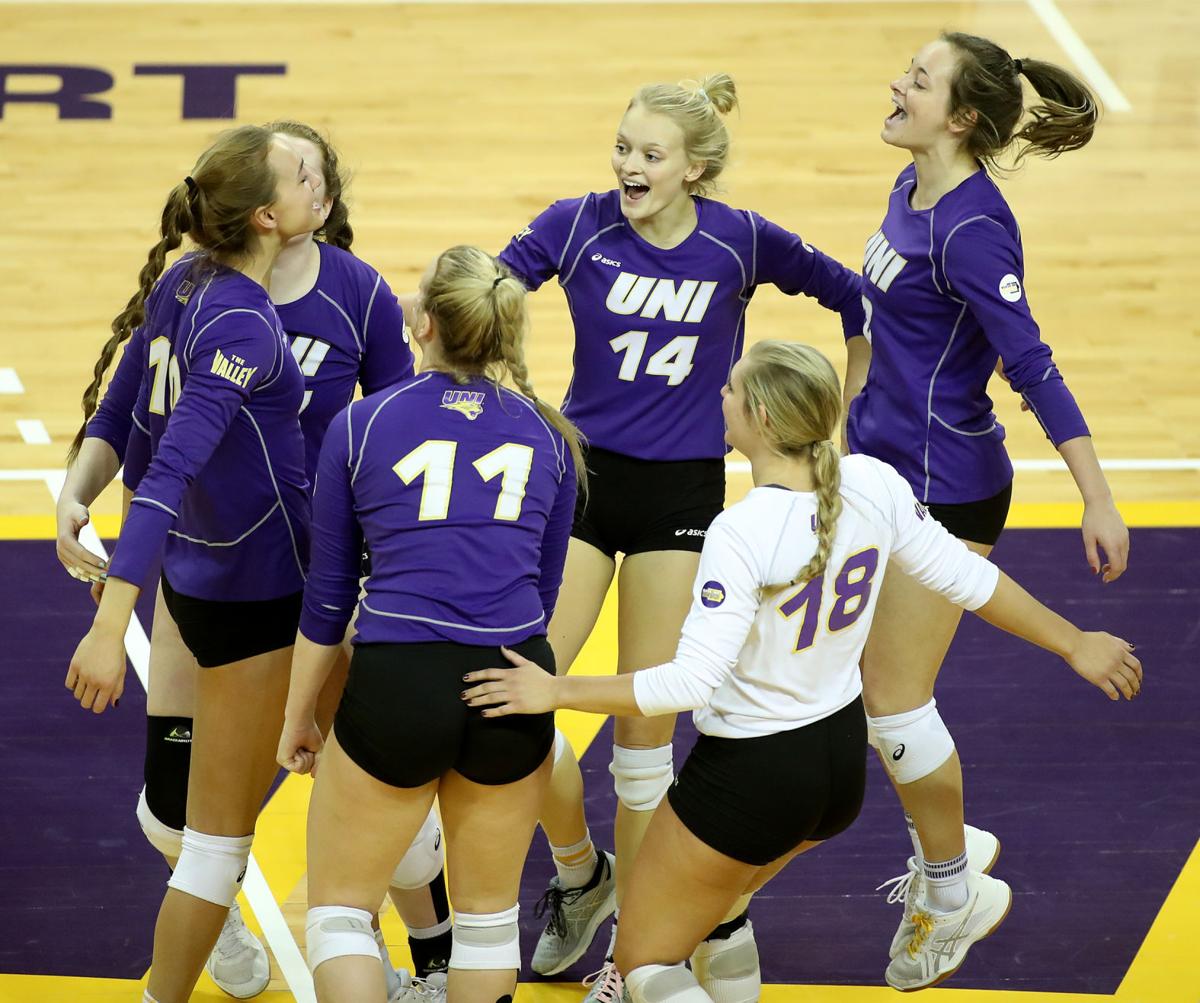 CEDAR FALLS -- Ask University of Northern Iowa volleyball coach Bobbi Petersen if there will be an NCAA tournament this fall, and she might have a different answer for you depending on the hour.
Guiding UNI into the NCAA postseason field 15 of the past 20 seasons, including each of the last five, Petersen enters her 21st year at the helm with 509 career victories. Her colleagues throughout the nation sit on opposite ends of the spectrum when it comes to whether or not a 2020 fall season will end with a national tournament.
"They're all people that I normally would listen to and think have a really good feel for things," Petersen said. "When they're having different opinions and different thoughts, it makes it interesting."
The NCAA Board of Governors decided on Wednesday to direct each division's governing body to decide the fate of fall championships. NCAA Division II and Division III's fall national tournaments were canceled. No decision has been made so far on the status of fall Division I sports.
In March, Petersen admits she almost tried to look too far ahead. Now, UNI's coach realizes there's so much outside the control of her and her staff.
"I can't sit there and try to guess any more," Petersen said. "I just have to move forward.
"The idea is to keep moving forward if we can do it in a safe way. That's where we're at right now."
The Missouri Valley Conference has delayed the start of fall practice until Aug. 17, the first day of classes for UNI students. Currently, the Panthers will play a conference-only schedule that will begin on Sept. 25 at Bradley.
Should the NCAA decide to cancel its fall championship, the MVC may ultimately delay its season until spring -- an option that would present a variety of new challenges, but may end up allowing more matches to take place.
"If we could have something that looked more normal for a season in the spring, I think there are a lot of people across the country in the volleyball community that would definitely be up for that," Petersen said.
Perhaps no program was hit as hard by the cancellation of nonconference matches than UNI. Petersen had constructed one of the nation's toughest schedules outside her league, highlighted by a tournament in Cedar Falls that included Texas, Utah, Missouri and Syracuse.
UNI's annual rotating tournament with Kentucky, USC and Creighton was planned along with a trip to Notre Dame for a tournament and a big home rivalry match against Iowa State. Petersen is optimistic that UNI will be able to host a tournament in 2021.
"All of those teams were super disappointed," Petersen said. "They were very excited for that tournament. Utah was still coming until Pac-12 went to a conference-only schedule. Missouri held out until the end. … I'm hoping that tournament could look very similar to what it was supposed to be this year."
Those early matches against the nation's elite have been a signature of UNI's schedules during Petersen's tenure.
"We take great pride in putting together a great schedule for our team," Petersen said. "I think it's one of the things our players look forward to is the opportunity to play some of the teams that we put on our schedule in the nonconference.
"The exciting thing is our conference this year should be really strong. We have a lot of teams returning great players and some great recruits coming in. It's going to be a very competitive conference season. I just think it's very different."
Different could also be word best used to describe the manner in which collegiate teams have prepared for what may or may not be a fall season. UNI's volleyball coaches haven't been allowed to work with athletes in person since prior to spring break.
Much of the developmental training that takes place in the spring was lost. Unlike basketball, coaches had no in-person instructional time over the summer. Players and coaches across the country petitioned the NCAA to get summer access hours, but the governing body didn't grant that request.
"It just didn't happen and I'm not even exactly sure the reason," Petersen said. "It's very hard for us to swallow and understand."
Coaches have taken advantage of care hours allowed through Zoom for team building, leadership development and film sessions. Volleyball players have remained engaged in the strength and conditioning program with team leaders running open gym workouts.
UNI's incoming freshmen began work with in Cedar Falls for the first time earlier this week.
"I have to give a ton of credit to Jed Smith and our strength and conditioning staff," Petersen said. "We're very short staffed in that area, and they've taken the brunt of training our student-athletes in the weight room and conditioning. For many of the sports, that's the only access they have to coaches."
No fall season would be devastating to UNI's seniors, two of whom stuck around for an extra year and plan to graduate at semester in December. Still, the Panthers' coach points out lessons can be learned through adversity.
"All the preparation that our kids are doing right now, if it ends up that we don't have a season, it's not going to be for nothing because of the growth they're having as individuals, as leaders," Petersen said. "You just gain so much by the preparation.
"Even though you're not getting what you're working for, we want to find ways to be thankful of what we're getting out of this process. … We will be better people for what we've gone through."
Perspective is important.
"There are so many bigger things going on in the world because of this pandemic," Petersen said. "This is our world for sure, and it's sad if we don't get to move forward and have a season, but there are a lot of worse things happening because of this pandemic and trying to put that all into perspective is a big part of it, as well."
Be the first to know
Get local news delivered to your inbox!