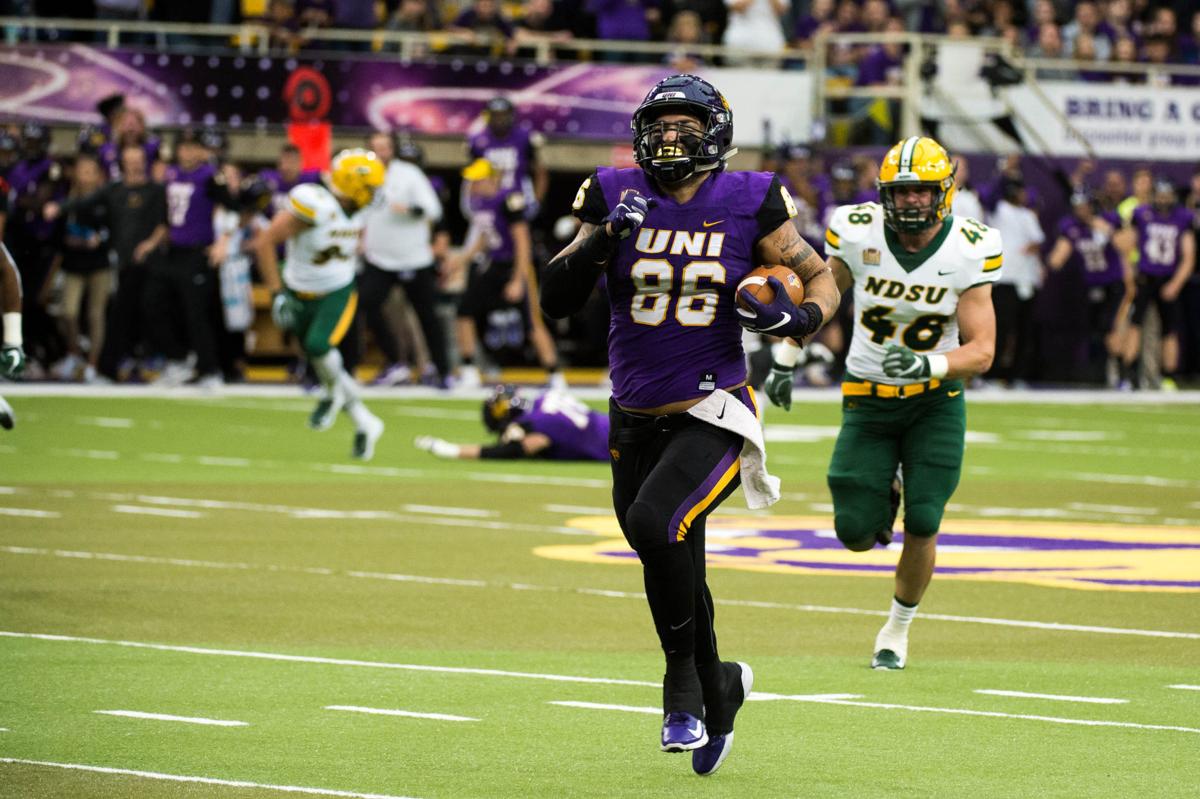 CEDAR FALLS — No one piece is bigger than all the pieces together.
But it would also be true that preseason all-American tight end Briley Moore was a pretty big piece of No. 11 Northern Iowa's offensive scheme.
The Panthers will be without that piece for the foreseeable future and most certainly this Saturday in UNI's home opener against Southern Utah at the UNI-Dome.
Panther head coach Mark Farley said Tuesday he didn't have a complete report on the extent of Moore's injury.
"It will probably be awhile right now," Farley said. "It may be an extended injury so we will see what happens."
Moore was hurt midway through the third quarter in UNI's 29-26 triple overtime loss to Iowa State after turning a short catch into a first down at midfield for the Panthers. The tight end collided with two Cyclone players at the end of the play and was quickly attended to by ISU training staff and then UNI staff, because the injury occurred right in front of the Cyclone bench.
In the fourth quarter and the three overtimes, Moore had his left arm in a sling and was active in most of the offensive sideline huddles. Moore had four catches for 26 yards at the time of his injury.
You have free articles remaining.
With Moore out, senior Tristan Bohr of Decorah will play even a larger role, with expanded roles coming for redshirt freshmen Jayden Scott and Alex Allen as well as true freshman Maverick Gatrost.
"Our temperament is the next guy in has to be better than the guy that went down," Farley said. "You have to have that mindset. He has to be as good as the one that went down ... good as Briley in what we ask him to do. We can figure that out.
"It would be nice to have Briley, but that is why we recruited Jayden Scott... Tristan played well. We lost a player, but gained another player who gets an opportunity now and he better get ready to play."
Bohr finished with five catches for 43 yards against the Cyclones as he took all of the reps from the time of Moore's injury to through the three overtimes.
TWO-POINT DISCUSSION: Farley was once again asked why he choose not to go for two and the win after UNI scored in the second overtime.
After the game, Farley said he felt his team was gassed and wasn't in a great position to try for two. He stuck with that statement Tuesday, but added a couple other things factored in, including the absence of Moore and how well the defense was playing.
"We had plenty of two-point plays for that situation, they were all in," Farley said. "It was a lot of things that happened throughout the game before we got to that point which factored into the plays that were installed.
"You lose Briley, who was a factor in a lot of those plays. You take him off the table and that was a big adjustment. Through all that chaos at that moment ... we kind of had to play to the team, the moment and the 25-second clock. It was can you get everything set up and make an effective play in 25 seconds with all those other things that happened in the game."