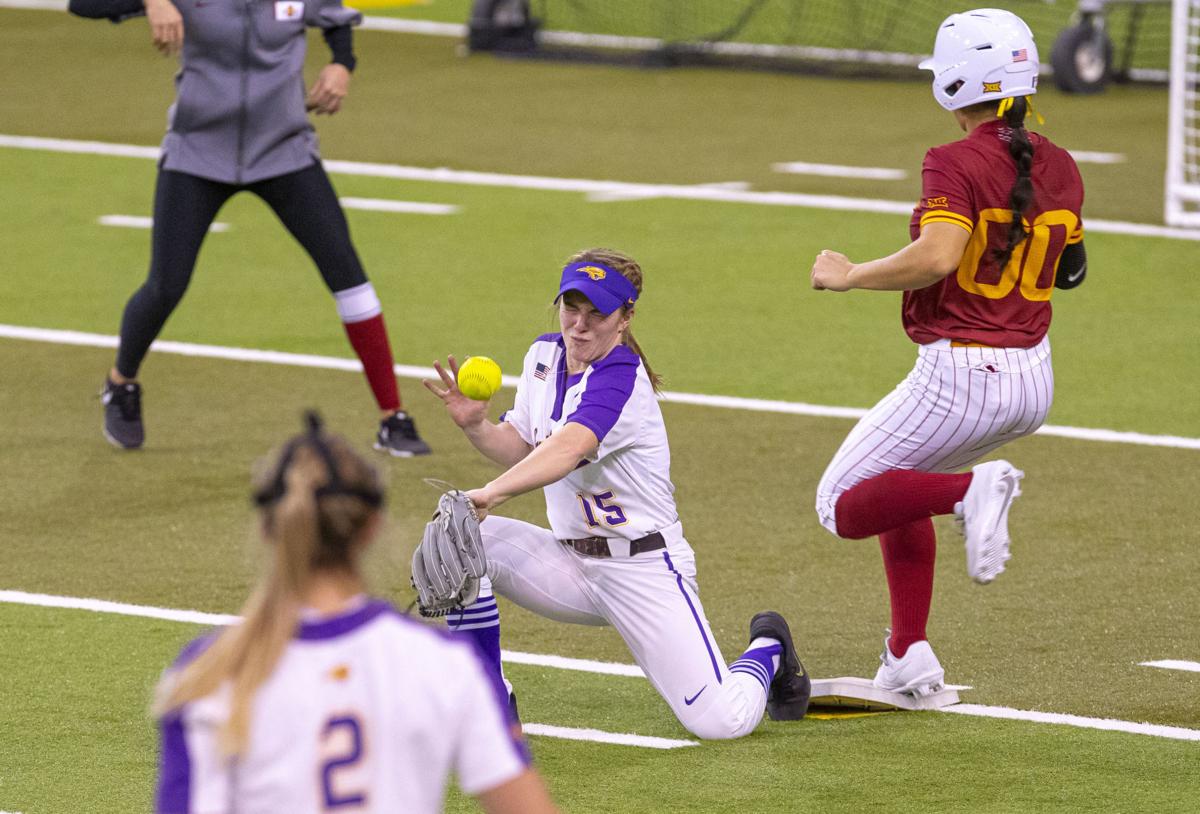 There will be no secrets.
It will be a historic moment Friday when Northern Iowa and Iowa State square off in NCAA tournament regional softball game at Mizzou Stadium in Columbia, Mo., at 1 p.m.
The Panthers (31-18) are making just their third Division I post-season appearance. The Cyclones (32-18) are making their second and first in 33 years.
"As an Iowa (prep) softball player growing up, getting to see two Iowa teams make the big dance like this is really awesome. It makes me excited in general for Iowa softball," UNI fifth-year senior Adara Opiola said.
Bunch, the Missouri Valley Conference Player of the Year, leads the Panthers into the Valley Tournament at Evansville, Ind., Friday. 
In many ways UNI says the match-up with ISU is fitting and almost perfect. The primary reason is the two teams have already played each other twice this season. ISU took the opening game, 12-2, in the UNI-Dome on Feb. 12, before the Panthers won 10-2 on April 14 at Robinson-Dresser Sports Complex in Cedar Falls.
"Monica (UNI assistant coach Monica Wright) said the game prep for the first game shouldn't be difficult," laughed Panther head coach Ryan Jacobs.
Panther star shortstop Sammey Bunch adds the familiarity is a good thing.
"I think it is very important we have seen them twice," Bunch said. "We have seen all their pitchers as hitters. That is a really important piece to the puzzle."
UNI collected 10 hits and 10 runs, nine of them earned, against the Cyclones' top-two pitchers Karlie Charlies and Ellie Spelhaug in the April 14th game, including a triple and home run from Bunch. Spelhaug was the winning pitcher in the first meeting.
Senior Sammey Bunch was named the Player of the Year for the second time, and sophomore pitcher Kailyn Packard was named Pitcher of the Year and Newcomer of the Year.
Iowa State could be thinking the same way, but then again there is something the Cyclones have not seen in their two appearances with the Panthers – UNI ace pitcher and 21-game winner Kailyn Packard.
Packard twisted an ankle and was unavailable the first time the two teams met and, the Panthers used freshman Hailey Sanders in the second meeting.
"I think we should go in with a ton of confidence because we did beat them not too long ago," sophomore Kamryn Shaffer said. "They are great team and this will be a competitive game. When you are going to play another team from Iowa it is always going to be that way.
"We saw their best pitching and did great off it (in the last game), but we have tools in our bag they haven't seen."
Packard said ISU's unfamiliarity with her can be an advantage, but she also understands the Cyclones have a potent lineup which has seen some of the best pitching in the nation during Big 12 play.
ISU's 2-3 hitters – Sami Williams and Mikayla Ramos – have combined to hit 33 home runs and drive in 108 runs in 53 games. Williams owns 21 of those home runs and has scored a whopping 64 runs.
"I've got to stick to my game plan and stay to my strengths rather than go looking for their weaknesses," Packard said. "It's just doing what I've been doing all year."
Adara Opiola is ready for a tough new challenge in the classroom. But she has some unfinished business on the diamond first.
UNI can counter with a little bit of offensive fire-power of its own. Bunch has hit 21 home runs, driven in 53 and scored 56 times. Shaffer has socked 13 long balls.
But it has been a collective effort that has gotten the Panthers to the post season for the first time since 2013 according to Jacobs.
Jacobs says he's got a team full of players who have accepted the roles they've been asked to play whether that is a starter or a player being asked to come off the bench in run or pinch hit.
"I think that was the biggest factor in this team continuing to have success late in the season," Jacobs said. "Everybody dialed into what they were supposed to do and did it with a lot of energy and a lot of investment."
Another thing Jacobs likes heading into the game is he feels his team is disappointed in how they performed in the Missouri Valley Conference tournament.
UNI will make its third overall appearance in the NCAA tournament Friday when it plays in-state rival Iowa State, in Columbia where the Cyclones and Panthers will join Missouri and Illinois-Chicago in a regional.
"This group has learned from every single scenario we have been through this year," Jacobs said. We have learned and we have grown and have a second shot at the big stage and it is something we are all embracing and excited ab out.