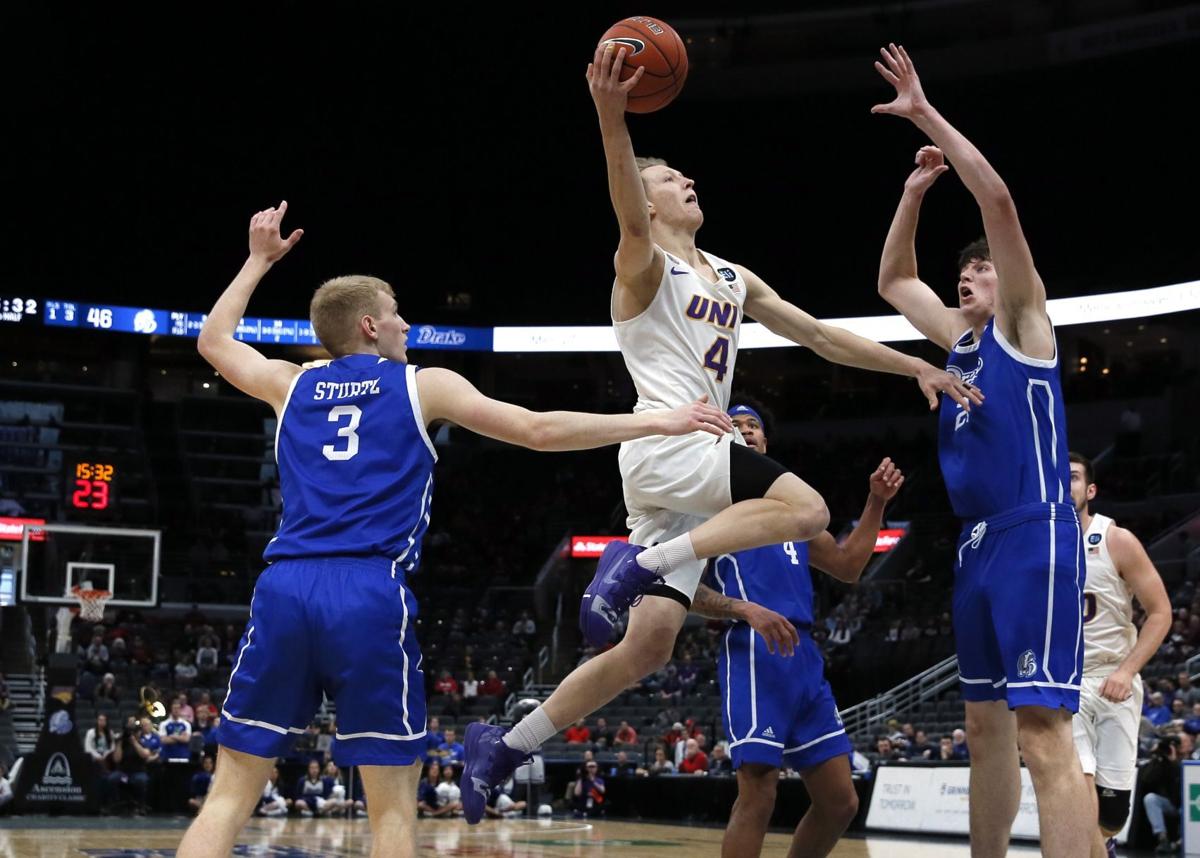 CEDAR FALLS — Following Zoom meetings with NBA front office members, University of Northern Iowa point guard AJ Green has a better vision of what it will take to fulfill his dream of playing in the league.
Green officially withdrew his name from the NBA Draft on Wednesday after declaring as an early entrant in late April. The Missouri Valley Conference 2020 Larry Bird Player of the Year completed his final interview Tuesday and will not be able to workout with any NBA teams due to COVID-19 restrictions.
"I know that I can be there one day, absolutely, and I'm capable of that," Green said, during a Wednesday phone interview with The Courier. "I also know another year or two years, whatever it may be in college, is going to be extremely helpful for me.
"I'd like to think I'm close, but I'm also not going to say I should be there this year. I know I have a lot I can get better at before I get to that level."
Green had a chance to speak with representatives from the Bucks, Pistons, Nuggets, Grizzlies and Clippers during the interview phase of the draft process. Typically five to six personnel were involved in the Zoom call with as many as 10 people appearing on his computer screen.
"Having that many people that are listening to what you're saying, you have to speak confidently and portray yourself," Green said. "It's just good for you to go through with all those people to be asking questions and to hear their feedback."
The meetings helped reaffirm areas Green spent this summer working to improve within his game — including strength and agility on defense and decision making with regard assist to turnover ratio. He's also still finding ways to make shots.
"Hearing it from them, I guess you listen a little bit more," said Green, the MVC's returning scoring leader. "Going into it I had an idea of what I thought they might say and what I need to get better at still, but having them tell me it was really eye-opening and great for me.
"I'm definitely going to take it to heart and work on that stuff so that hopefully — whether it be next year or two years if I go through this process again — they'll see that I got better at those things."
Looking forward to a collegiate season he hopes will still be able to go forward with limited interruption, Green likes how the Panthers' roster is shaping up.
UNI began team workouts with coaching instruction last week. Green has noticed players working together, sharing the ball and learning fast with offseason weight room work evident.
His initial assessment of the incoming freshmen class is skilled with great work ethics. The second-year players, he noted, have shown progress through hard work and a willingness to learn as much as possible.
"We've done a little live stuff, just 5-on-5, and the way that we're playing, it gets me really excited," Green said. "This team could be special this year."
Be the first to know
Get local news delivered to your inbox!