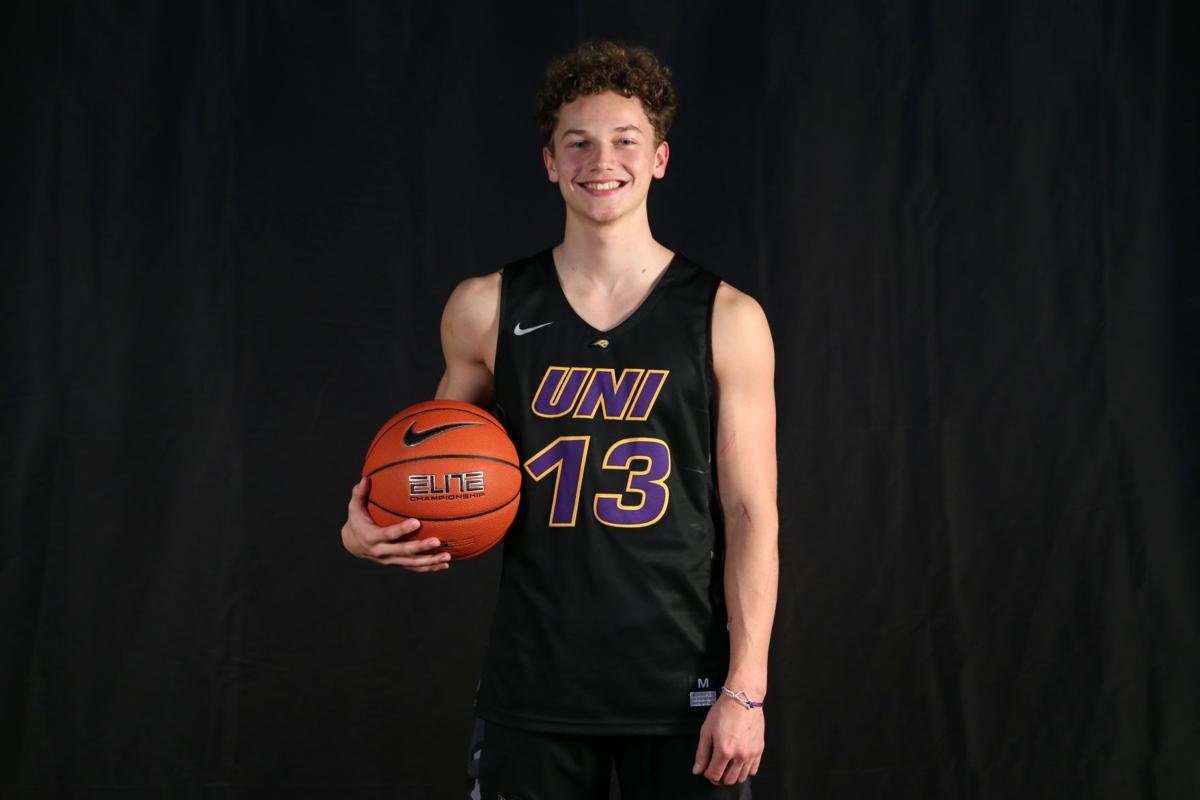 CEDAR FALLS – Bowen Born isn't likely to be intimidated when he makes his collegiate basketball debut in front of a nationally televised audience Wednesday afternoon.
Once a kid who shot jumpers on the court before Portland Trail Blazers games, the son of an NBA scout gravitated towards the sport surrounded by the world's best.
The University of Northern Iowa's 5-foot-11 freshman point guard moved from Portland to Iowa as a fifth grader, carrying a passion for basketball with him from a city where he experienced the content of childhood dreams.
"If I were living out there now it'd probably be a little different," Born said, recalling his interactions with NBA players. "I'd probably try to learn a little bit more from them. Being a young age it was more of just taking in the experience of being able to be in those type of atmospheres and being around those guys."
Born has learned plenty from his father, Mike, an Indiana Pacers scout following similar work with the Charlotte Hornets and Trail Blazers. Mike Born also competed at the collegiate level, where he spent two seasons on Johnny Orr's Iowa State NCAA tournament teams following two years at the University of Nebraska-Omaha.
Bowen Born's basketball pedigree includes skills built through lessons of the game's top teachers that were witnessed during his father's business trips.
"He's definitely been a big help in who I am as a player," Born said. "He'd go watch Kentucky and Duke and all these NBA teams practice and he'd be able to bring a lot of that stuff to me at a young age. I learned and picked up stuff pretty quick.
"I'm definitely thankful for the experiences that he's given me and shown me, and just the stories that he's told about how certain players have worked. It's definitely a benefit to have him as my dad and something I'm super thankful for."
Born also grew up with a talented basketball mind on his mom's side of the family. Bowen is the grandson of Gene Klinge, the Iowa high school girls' basketball record holder with 1,009 career wins in 52 seasons at West Central of Maynard and Waukon.
"He was somebody who was pretty inspiring to me, as well," Born said. "He obviously won a lot of games and was really successful at the girls' high school level.
"I was still pretty young when he was still coaching. Being a part of some milestones — we'd go to his 1,000th win — experiences like that were pretty important and pretty cool."
Born put his basketball knowledge to work at the high school level. He culminated a stellar career in Norwalk with Iowa's 2020 Mr. Basketball award, a Class 3A state championship and 2,494 points that rank sixth on the state's all-time scoring chart.
Comfort with UNI's coaching staff and players led Born to stay in state when it came time to decide on a college. He joins Minnesotan Nate Heise as incoming scholarship freshmen in a backcourt that will be part of UNI's future and present.
"Bowen and Nate, both, I know they're true freshman, but they certainly don't act like it," UNI coach Ben Jacobson said. "Both guys have got a ton of confidence and both guys are highly competitive.
"Every single day those two guys are bringing it. They want to win and they want to win badly."
Since arriving in Cedar Falls in July, Born has been able to get acclimated to the start of a college basketball career much different than any previous freshman class has encountered. He's now used to practicing with a mask on, and it took a while before the entire team was able to train together.
Born has been inspired by the energy provided by fellow point guard Antwan Kimmons, who was in his shoes last season competing as a true freshman. And while the Norwalk standout was well aware of returning Missouri Valley Conference scoring leader AJ Green's talent, he's gained an appreciation for the time commitment invested to reach that level.
"Something that a lot of people don't know is he's an incredible worker," Born said of Green. "Once you get here you really see how much time he puts into it and you see the reasons why he can do the things he can do on the basketball court. I think that goes for a lot of the guys on the team. A bunch of us are just really hard workers and put in a lot of time to be really good."
Nearing Wednesday's 3:30 p.m. season-opener against Western Kentucky in Sioux Falls, Jacobson didn't hesitate to list Born and Heise as players in the mix alongside sophomores Kimmons and Noah Carter for the Panthers' fifth starting spot. No matter who is on the court at tip, Jacobson already trusts the freshmen to factor into his main rotation.
"My staff, their teammates, we all think they're both going to be terrific," Jacobson said. "Both of those guys have got very good ball skills. They handle it and pass it. They make 3's, but they're able to get downhill. They're able to put pressure on the defense and make some plays at the basket.
"They've got good timing and they understand when help situations occur being able to pick it up and get rid of it and move it to a guy. Those things are important and certainly are going to help them as they're getting used to the college game."
Asked how he thinks his game will translate to the collegiate level, Born responded, "I feel like offensively I've been doing really well. Defensively is going to be where I need to make my strides. I've been working to improve that, improve my body, gaining a lot of weight. Defensive has been probably the biggest adjustment for me."
As opening tip nears, Born and his teammates certainly are eager to compete.
"We've got some good leaders on the team that have really been helping in practice, but also the new guys have stepped up and are trying to fill the role that they need to fill," Born said. "I think it's going to be an exciting year for us. Everybody is pretty hungry and has gotten a lot better since we've been together in the summer."
Be the first to know
Get local news delivered to your inbox!