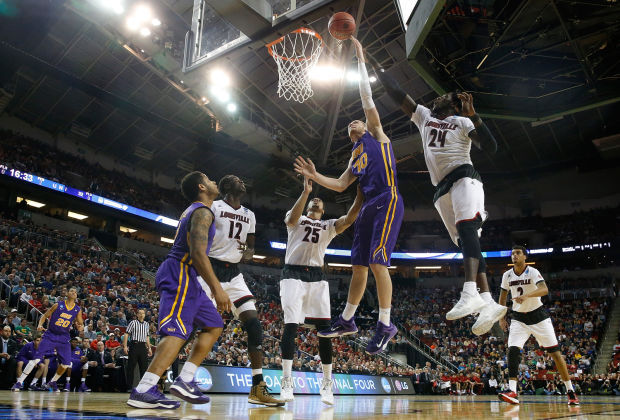 CEDAR FALLS – Head coach Ben Jacobson has opted to keep one of the University of Northern Iowa basketball program's all-time greats on his staff.
Former all-American Seth Tuttle has been tabbed for an elevated role as an assistant coach, filling a vacancy created when associate head coach Kyle Green took a job on Iowa State's staff this spring.
Tuttle worked as a graduate manager and then video coordinator the past three seasons following a professional basketball career in Europe.
Player development – in particular training posts – recruiting and working players with regards to their academic responsibilities will be the three key job duties for Tuttle in this new role.
Jacobson points out what Tuttle has demonstrated as a teammate, leader and personality within the program makes him a valuable fit.
"He's got a ton of pride in our program," Jacobson said. "He's got a tremendous background with us as a player and having coached for us for the past three years in two different roles."
Tuttle finished his collegiate basketball career at UNI fourth in scoring, and among the top 10 in field goal percentage, free throws made and blocked shots while starting all 136 games on the schedule from 2011-15. He signed with the Miami Heat for the 2015 NBA Summer League and then went on to play three seasons professionally in Germany and Belgium.
With a more lucrative professional basketball contract on the table, Tuttle turned that down to begin pursuit of his goal to eventually become a head basketball coach. He joined Jacobson's staff as a graduate assistant for two seasons before taking on a role as video coordinator last year.
"It means a lot just to be able to have the trust from Coach Jake and the staff," Tuttle said. "The tight-knit group that we have, I felt it as a player, and even when I was over in Europe playing.
"It's just a family environment and something I've always looked forward to being able to be a part of. It all happened a little faster than I originally thought, which is great news for me and my family. We're all really excited and it's a big honor."
Jacobson said his staff will not have anyone working under the associate head coach title this season. Longtime assistants P.J. Hogan and Erik Crawford will take on an elevated role within recruiting – an area that will be new territory for Tuttle.
The NCAA's suspension of in-person recruiting due to the COVID-19 pandemic is scheduled to be lifted on June 1 and Tuttle is eager to hit the road.
"Recruiting is a pretty big gap to fill with KG (Green) and how connected he was in the area and really all of the Midwest," Tuttle said. "He knew a lot of people and he was great at recruiting because of it. When you're new into this game, I don't have all the connections that he's gained over the years.
"I'm just trying to play catch-up at the moment. That's probably going to be my biggest challenge is just meeting people, networking and then building those relationships. It's something that I'm really looking forward to doing. I feel like recruiting is going to be something I really have a good time with."
On the court and in the film room, Tuttle doesn't anticipate as steep of a learning curve. He worked alongside Crawford to implement the Flow offense that the Panthers have used over the past three seasons. During the second year of Flow with a veteran roster in the 2019-20 season, UNI held a team offensive efficiency rating of 1.079 points per possession that ranked 17th nationally.
"He's got a really good basketball mind," Jacobson said of Tuttle. "It's been really helpful for our program, him playing professionally overseas.
"What he's learned and that experience for him – being able to bring that back to us, in particular on the offensive side of things – has benefited our program already. He's got a really good feel for both player development and x's and o's. That's a great combination."
Tuttle feels blessed to have been able to gain experience working in player development from day one.
"The trust that the staff, Coach Jake, KG, had in me on the court, I was fortunate to have that," Tuttle said. "You don't get that all the time with being a video guy or being a grad assistant.
"I was taking part in a lot of the workouts. I ran a lot of the workouts. On the court I feel like it is not going to be too different from what I've been doing for the last three years. I look forward to putting my stamp on things, and putting my fun little tweaks into workouts and into practice. But for the most part I'll be pretty prepared and ready for that step."
Continuity is certainly one word that could be used to describe UNI's coaching staff that has experienced limited turnover during Jacobson's tenure. Tuttle has embraced beginning his career at place where he feels comfortable.
"When you get into your coaching career a lot of times it is with where you played," Tuttle said. "Being able to speak your mind, being comfortable understanding how your head coaches run things over the years, being comfortable working with the assistants, all that stuff is going to be really important. It's going to be a big benefit."
COACHING STAFF NOTES: Marc Sonnen, another former UNI player coached by Jacobson, will return as a graduate assistant this fall. Director of basketball operations Ike Hermer will be handling UNI's nonconference scheduling duties. Jacobson said he is still thinking about how a video coordinator is going to best fit his existing staff.
LARGE ROSTER LIKELY COMPLETE: Despite one open scholarship, UNI will enter likely this fall with a roster of 17 players. Tywhon Pickford, Trae Berhow and Goanar Mar are all returning for an extra year of eligibility allowed by the NCAA due to the pandemic. Including the incoming freshmen, the Panthers' roster has 12 other scholarship players along with walk-ons Drew Daniel and Derek Krogmann.
"I'm really excited about our roster and where we're at," Jacobson said. "We do have the one scholarship. I don't feel like we would use it this summer and bring in somebody new. It would have something really unique, a tremendous fit. The roster we've got, I think that will be what we take into the fall."