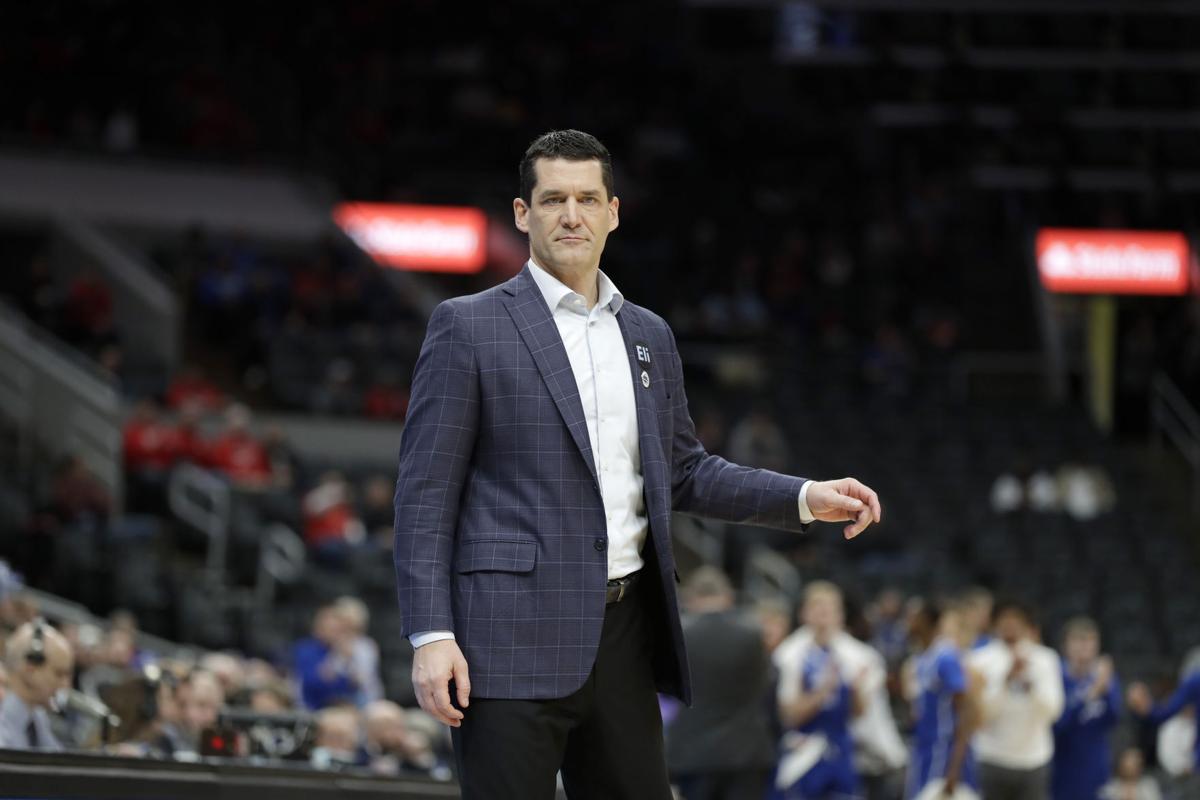 CEDAR FALLS – Northern Iowa basketball coach Ben Jacobson has spent his past two practices working with an injury-depleted roster of just seven available scholarship players and two walk-ons.
Following a Saturday morning workout that replaced a game against Green Bay that was canceled due to a false positive COVID-19 antigen test, Jacobson consulted with his staff and school administrators before deciding to pause all basketball activities for the week.
UNI's scheduled road trips to Wisconsin on Wednesday and Marshall on Saturday have been canceled. Players that have been living a more isolated lifestyle due to COVID-19 precaution will now have the opportunity to spend time with their families this week before beginning Missouri Valley Conference play on Dec. 27 against Missouri State inside the McLeod Center.
"They haven't been home for the most part since mid-June and spent any significant time with their families," Jacobson said. "That's gotten to be a long time. As I thought through it, it became very clear that getting the guys home for a few days is good for everybody."
A litany of injuries have plagued UNI throughout the season.
Star guard AJ Green is set to undergo season-ending hip surgery this week. True freshman Tytan Anderson's debut has been put on hold by a knee injury.
First team all-conference center Austin Phyfe and reserve guard Evan Gauger didn't participate in practice after UNI flew home from Wednesday's competitive loss at No. 19 Richmond. Phyfe suffered an ankle injury during that contest and was likely to be out for the following week.
Jacobson is optimistic Phyfe will be available for the start of league play, barring any setbacks. Gauger has been battling patella tendinitis throughout the season.
Beyond injuries, sophomore guard Antwan Kimmons has returned to his hometown to help support family during the pandemic. Goanar Mar could become available to play, depending on the outcome of a Wednesday NCAA Division I Council meeting in which immediate eligibility could be granted for all transfers.
Even with the limited number of players available, Jacobson said his team was ready to play Saturday's home game before Green Bay backed out.
"That may have led us to doing what we've done or maybe it would have led us the other way," Jacobson said. "We were going to give it a shot just to see how that went."
While confident the decision to pause team activities is in the best of his players, it wasn't easy. UNI practiced Friday and worked out again for an hour on Saturday morning.
"Being at practice the last two days it became real clear to me that this is the best thing to do right now," Jacobson said. "I talked with the staff throughout the day (Saturday). I put a lot of thought into this, of course. It's a big decision. It's one that I obviously do not take lightly.
"I don't like not going to Wisconsin and not going to Marshall. We agreed to it and signed those contracts. But after talking with my staff, talking with our administration, by the time I got to the middle of the day I knew this was best."
Following the break this week, Jacobson is hopeful the return of Phyfe and Gauger and potential addition of Mar will give the team 10 available scholarship players — in addition to walk-ons Drew Daniel and Derek Krogmann — when conference play begins.
Beyond immediate concern for players' physical health lies the mental health challenges that so many have faced during the current pandemic.
"What you don't know is individually for our players to what level are they struggling with the pandemic, not seeing their families for a long time and then the things going on with our team," Jacobson said. "Generally speaking and big picture, the guys are doing well. But my concern when it comes to that part of it is real. We've got a number of young guys on this team and when you're a freshman or even into your second year, you're still a pretty young guy, and that's a long time to go without being at home for a little while.
"With the pandemic and COVID in general, you're spending a lot of time by yourself. One of the key decision points for me was this was a great opportunity given our circumstances with everything else for the guys to go home and get three or four days where they're just hanging with their family. They haven't done that in a long time."