CEDAR FALLS — Illinois State's Zach Copeland smiled and offered a candid response during the second half when a heckler in the McLeod Center crowd said he couldn't guard AJ Green.
"He's tough, he's tough," Copeland conceded.
Like so many opposing defenders, Illinois State's redshirt senior guard and his teammates had their hands full Wednesday night. Green became the University of Northern Iowa's first sophomore to reach 1,000 career points during a 27-point performance that led to a 71-63 victory over the Redbirds in front of 4,477 fans.
"It's tough," Illinois State head coach Dan Muller said, addressing the challenge of defending Green. "But I think everybody in our league has so much respect for AJ that you don't get frustrated because you know it's not luck. That's what he does. You've just got to try and get him to take tough ones."
Illinois State (8-16, 3-9) ran a variety of players at Green and mixed in familiar double-teams, but he still knocked down 10 of 18 field goals, including 5 of 9 from distance.
"He gives it to anybody," Muller added. "Most likely he'll have to stop himself in our league and maybe beyond. The shots he makes are just so impressive. You watch him warm up a little bit and he makes them. I don't know how to stop him to be honest."
UNI (22-3, 11-2 Missouri Valley) had its hands full trying to stop Muller's Redbirds through the first 11 minutes of this game. Illinois State rediscovered the shooting touch that it displayed during a 56-point second half of a 76-70 New Year's Eve upset over UNI on the opening day of league play.
The Redbirds began this game 12-for-20 from the field with four players combining to knock down seven of the team's first 10 looks from distance, resulting in a 31-22 lead with nine minutes remaining in the first half.
UNI coach Ben Jacobson made a key in-game adjustment, subbing Tywhon Pickford onto ISU's season lead scorer Copeland and moving Isaiah Brown over to guard freshman DJ Horne, who scored 11 early points as part of his 16-point game.
That move worked. Pickford's defensive intensity helped UNI close the last nine minutes of the first half on an 18-2 run and turn a 31-22 deficit into a 40-33 halftime lead.
"Ty, the way that he played, he sparked everything for us defensively," Jacobson said. "We just simply did not do a good enough job of having the guys ready. We were soft on the ball. We standing there looking at them, they were shooting H-O-R-S-E shots.
"Taking nothing away from Illinois State, they came in here and played terrific and got off to the kind of start you're going to need to if you're going to win a game on the road in this league. What Ty did, that was the ballgame. He changed the entire game."
Offense has been the constant that UNI continued to rely on during this second comeback in as many home games. Green played a large role in the 18-2 first-half surge, knocking down a 3-pointer from the logo before adding a baseline jumper. His 1,000th career point came on a pull-up jumper off a drive to the top of the paint with 30 seconds left in the half.
"It's one of those things that's cool to have happen," Green said, addressing the milestone. "I'm grateful to have gotten there, but truly without my teammates and coaches I wouldn't be in that position. They put me in spots to achieve that. More importantly we got the win tonight and we're playing well."
This win was hard-earned.
Northern Iowa extended its lead to 12 early in the second half, but Illinois State didn't fade. Redbird sophomore guard Dedric Boyd knocked down a jumper and added a transition 3-pointer at the end of an 8-0 run that cut the visitors' deficit to two, 53-51.
UNI's Trae Berhow came up with a timely 3-point answer on the ensuing possession, and Green knocked down his fifth 3-pointer to go with a baseline pull-up during a 12-2 response.
The Redbirds cut the deficit back to six on 3-pointers by Horne and Antonio Reeves, but UNI made enough plays down the stretch to not allow them to get any closer.
In addition to Green's big game, Berhow added 17 points and 11 rebounds. Center Austin Phyfe finished with 12 points, eight boards and four assists.
In total, UNI made 11 3-pointers and shot 48.5% from the field.
Illinois St. Mn FG-A FT-A Rb As PF TP
Fisher 32 5-11 0-0 3 3 1 10
You have free articles remaining.
Horne 33 6-13 0-0 6 2 1 16
Copeland 36 3-14 0-0 3 2 2 9
Hillsman 30 2-6 0-0 444 3 2 5
Reeves 23 3-7 0-0 3 2 1 7
Bruninga 11 1-2 0-0 1 0 1 3
Donnelly 7 0-1 0-0 1 1 0 0
Totals 200 25-62 0-0 32 13 12 63
UNI Mn FG-A FT-A Rb As PF TP
Phyfe 32 6-9 0-0 8 4 1 12
Green 37 10-18 2-2 1 5 1 27
Berhow 40 5-9 4-4 11 1 0 17
Haldeman 27 2-6 0-0 2 2 0 6
Kimmons 2 0-0 0-0 0 0 0 0
Pickford 18 2-4 0-0 3 1 1 5
Totals 200 27-56 6-6 34 13 5 71
3-point goals – Illinois St. 13-32 (Fisher 0-1, Horne 4-9, Copeland 3-7, Hillsman 1-4, Reeves 1-4, Bruninga 1-2, Boyd 3-5), UNI 11-25 (Green 5-9, Berhow 3-7, Brown 0-3, Haldeman 2-5, Pickford 1-1). Blocks – Illinois St. 0, UNI 3 (Phyfe 2). Turnovers – Illinois St. 11 (three at 2), UNI 10 (Phyfe, Green 3). Steals – Illinois St. 5 (Donnelly 2), UNI 5 (five at 1).
Officials – Maxwell, Heimerman, Moore. Att. – 4,477.
021220kw-uni-illinois-state-bball-03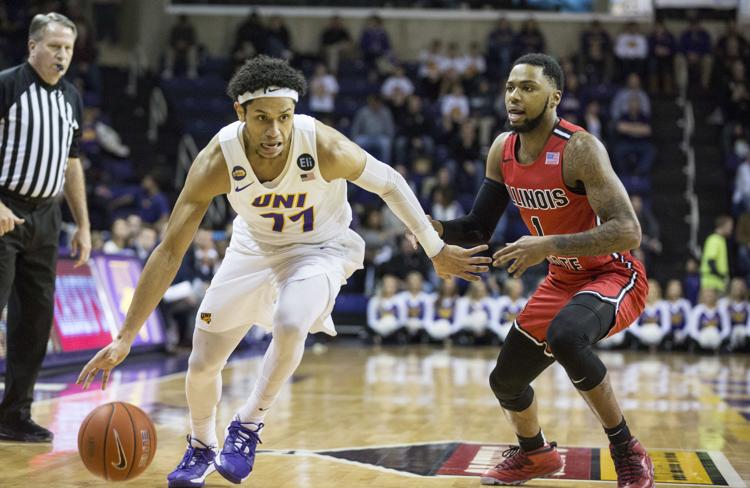 021220kw-uni-illinois-state-bball-02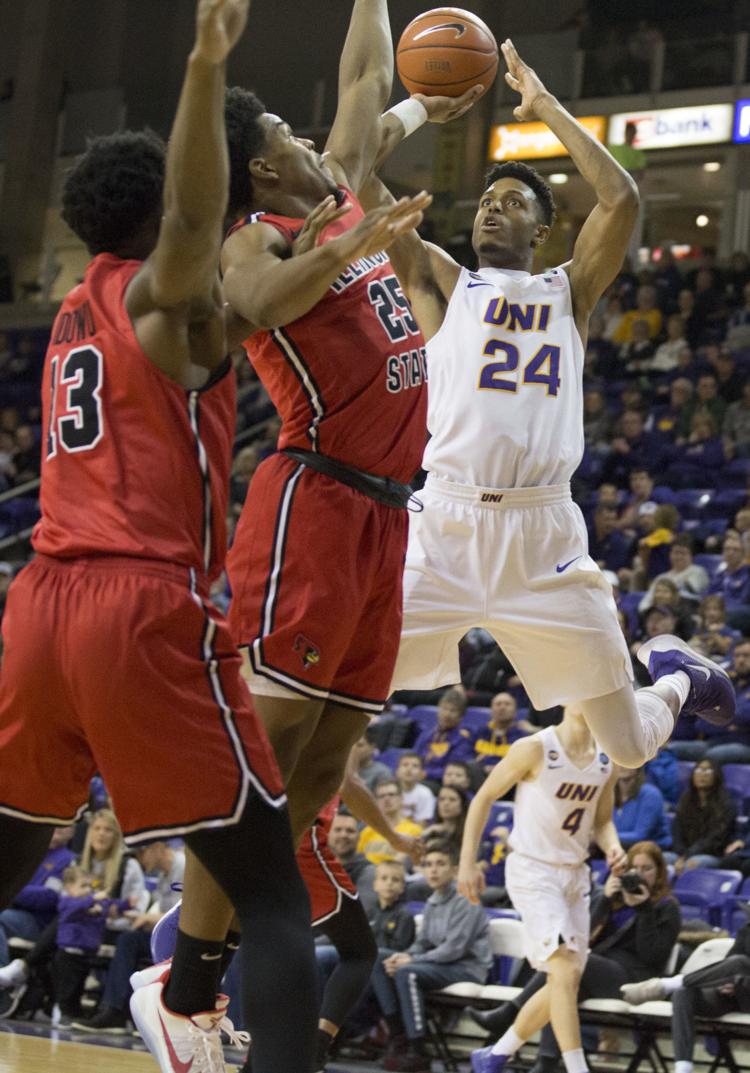 021220kw-uni-illinois-state-bball-08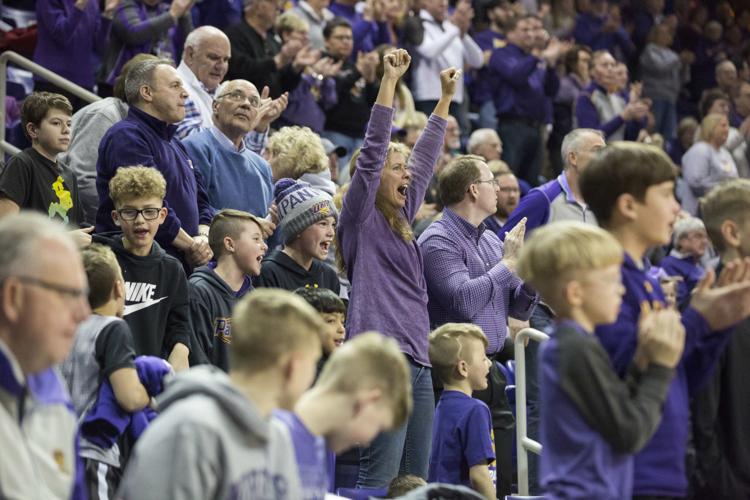 021220kw-uni-illinois-state-bball-07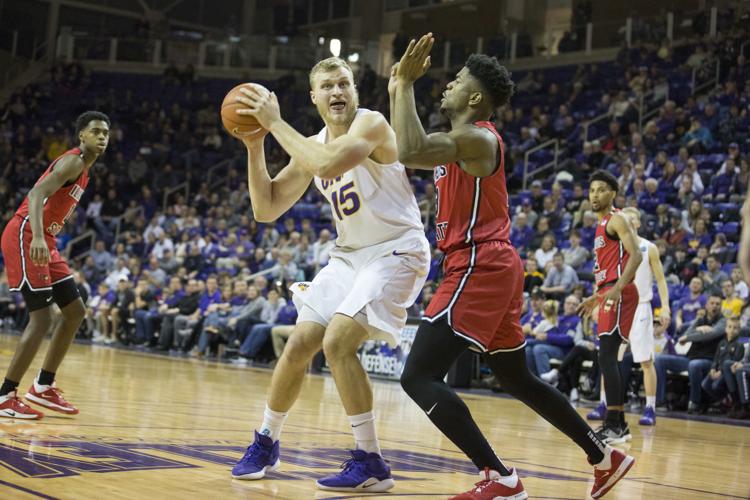 021220kw-uni-illinois-state-bball-06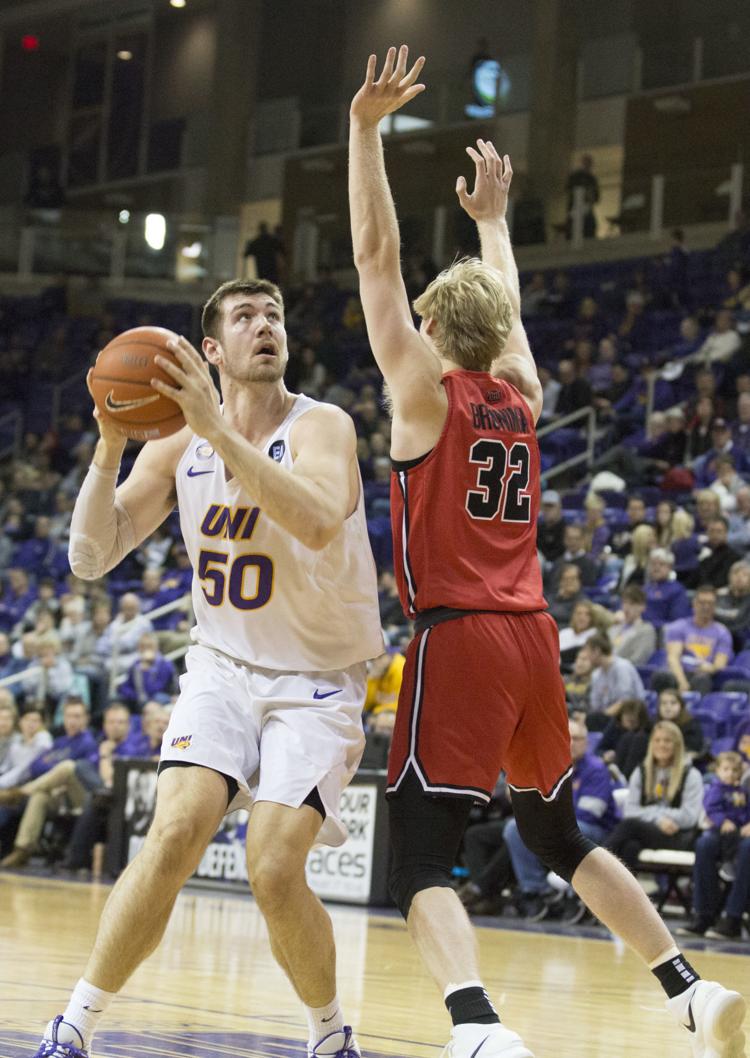 021220kw-uni-illinois-state-bball-05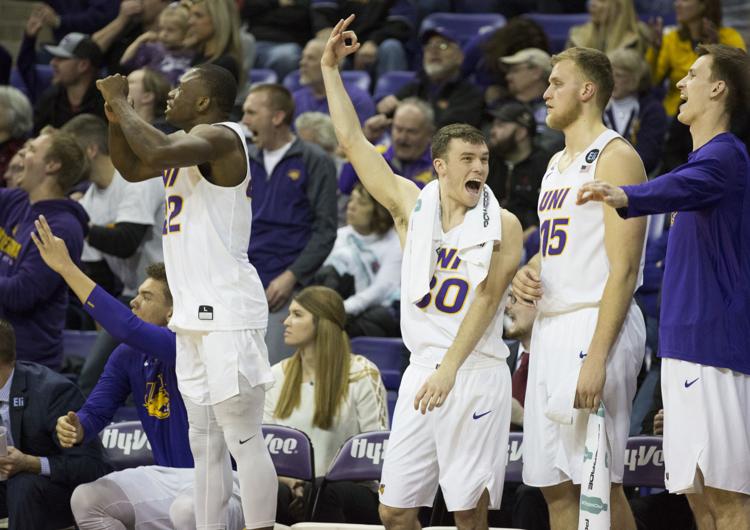 021220kw-uni-illinois-state-bball-10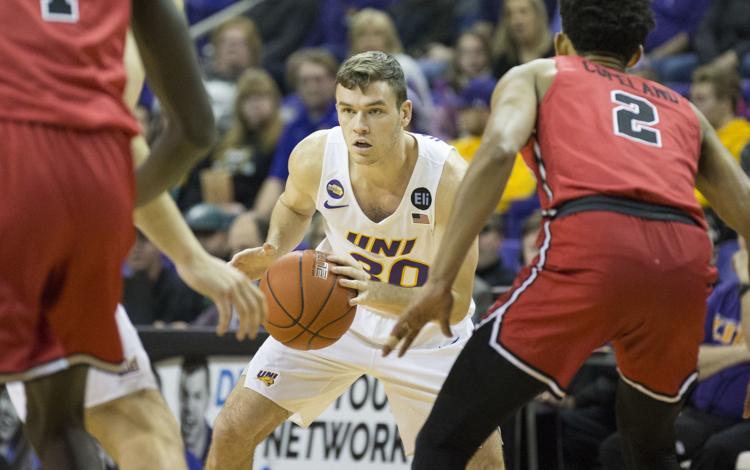 021220kw-uni-illinois-state-bball-09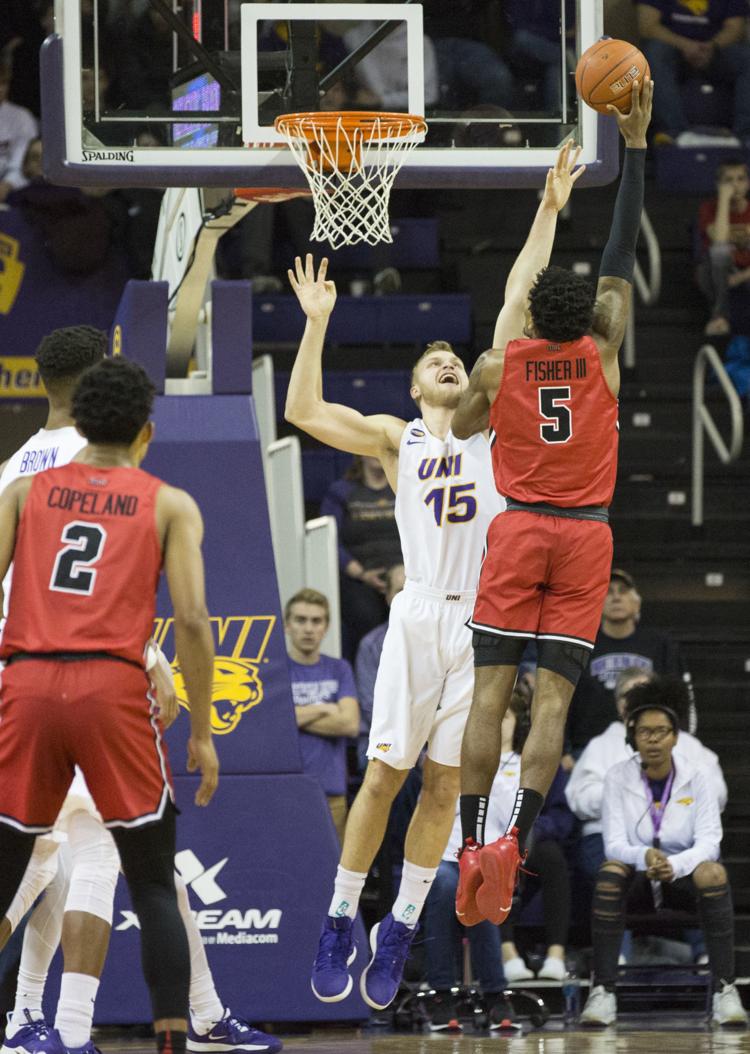 021220kw-uni-illinois-state-bball-04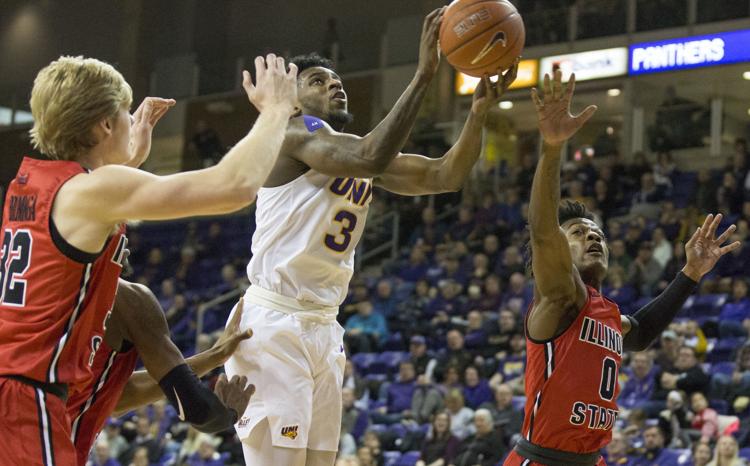 021220kw-uni-illinois-state-bball-01