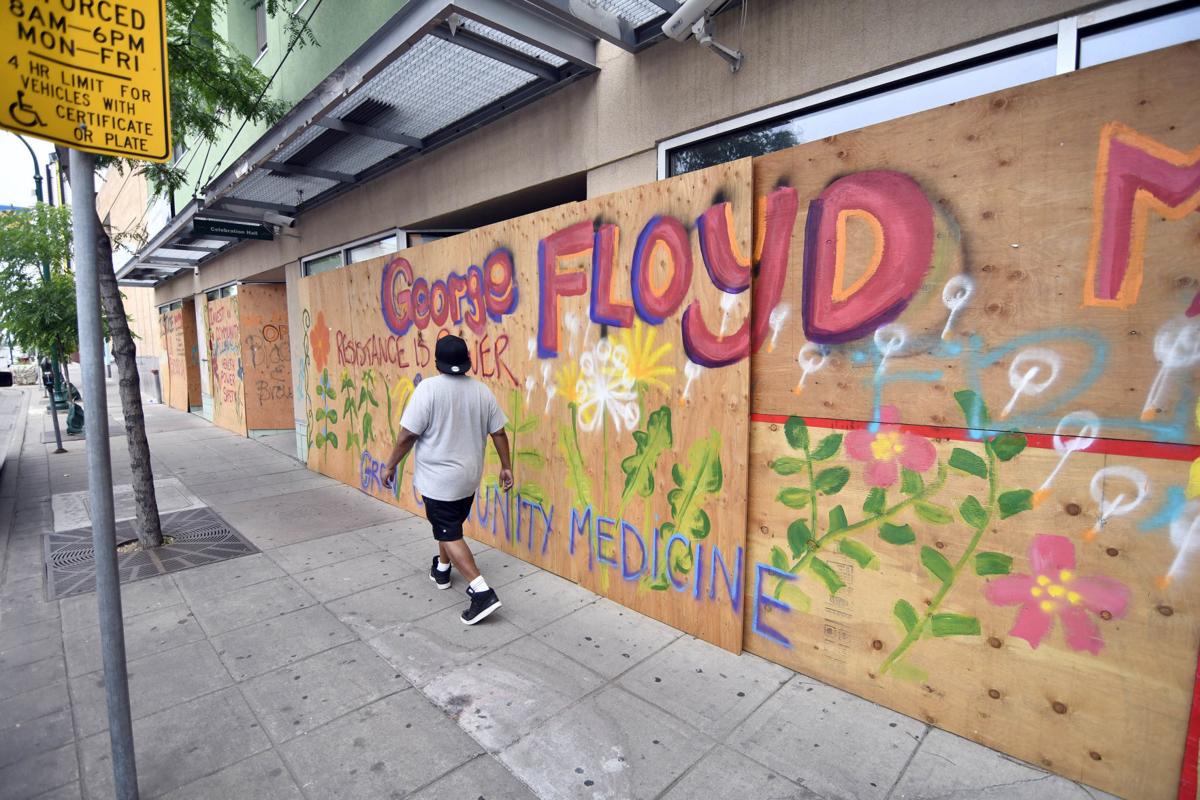 CEDAR FALLS — The epicenter of a movement towards social justice is a city several current and former University of Northern Iowa men's basketball players have called home.
The police killing of George Floyd on May 25 in a Minneapolis neighborhood has served as a tipping point sparking conversations and calls to action among teammates from the professional to collegiate ranks eager to use their platform as a catalyst for change.
Current Panthers Tywhon Pickford, Goanar Mar and Antwan Kimmons played high school basketball in the Minneapolis area.
"Pray for my city," was the tweet Pickford sent May 28 during a period of unrest.
"I recognized a lot from where they were protesting and rioting," Pickford said. "I was looking like, 'Man, I remember being there.' Just seeing stuff burning down and seeing the city tear apart was heartbreaking and sad."
In addition to touching base with current players, UNI coach Ben Jacobson reached out to former players with ties to the city such as Marvin Singleton and Kwadzo Ahelegbe.
The Panthers' coach set out to accomplish two things, the first was listening. He wanted to hear what they were feeling about what was going on, in addition to any other message they wanted to convey. The second objective was to offer support from the entire coaching staff.
"This is so much more important than the season we've got coming up, the season we just had last year, 10 years ago or the one we've got five years from now," Jacobson said. "I want to let them know we're here for anything they might need."
Those conversations were in line with Jacobson's post on social media following Floyd's death.
"I do know I can listen better, engage more in hard conversations surrounding social justice and work together to move in a positive direction. A direction that puts us in a place where human decency and respect for each other across all races takes the place of the social injustices we see today," Jacobson noted.
UNI's coach sent a couple articles to his team and deep group discussions have taken place during Zoom meetings. The Panthers are in the process of formulating an action plan.
"We talked as a team, with the coaches, and were thinking about things we could do to actually be involved in the change and working every day at it to make it a little bit better," Pickford said. "It won't just go straight to everything is over with and we're all fine now. It's going to take time. Just a little bit every day will be a lot moving forward to making that change."
Pickford sees an opportunity for his team to play a role within a movement.
"With the platform we have I feel like we can be leaders on campus and around the world — not even just our university, but other basketball universities," Pickford said. "Kids are looking up to us and other people are looking up to us. I feel like acting on what we're doing is going to be a lot of help."
Redshirt junior Austin Phyfe says the recent team meetings have been beneficial for a lot of players who were unsure of what to do or uneducated on the subject.
"Getting input from other people and having those tough conversations has really helped a lot of us," Phyfe said. "We are one big family. Growing up all of us playing AAU basketball, we've come across a bunch of different ethnicities, races.
"We're all fairly cultured in a way, but not all of us understand everything that it might take to be someone else's race. Having that closeness and family bond is something that makes us able to open up and feel more comfortable with each other."
The ball is rolling. UNI basketball is ready to do its part to find progress.
"An extremely important part of this is what do we do about it," Jacobson said. "I'm looking forward to the action plan from our guys. ... I look forward to the conversations we're going to have each week and what we're going to do to help in terms of making positive change because it has to happen."
Be the first to know
Get local news delivered to your inbox!