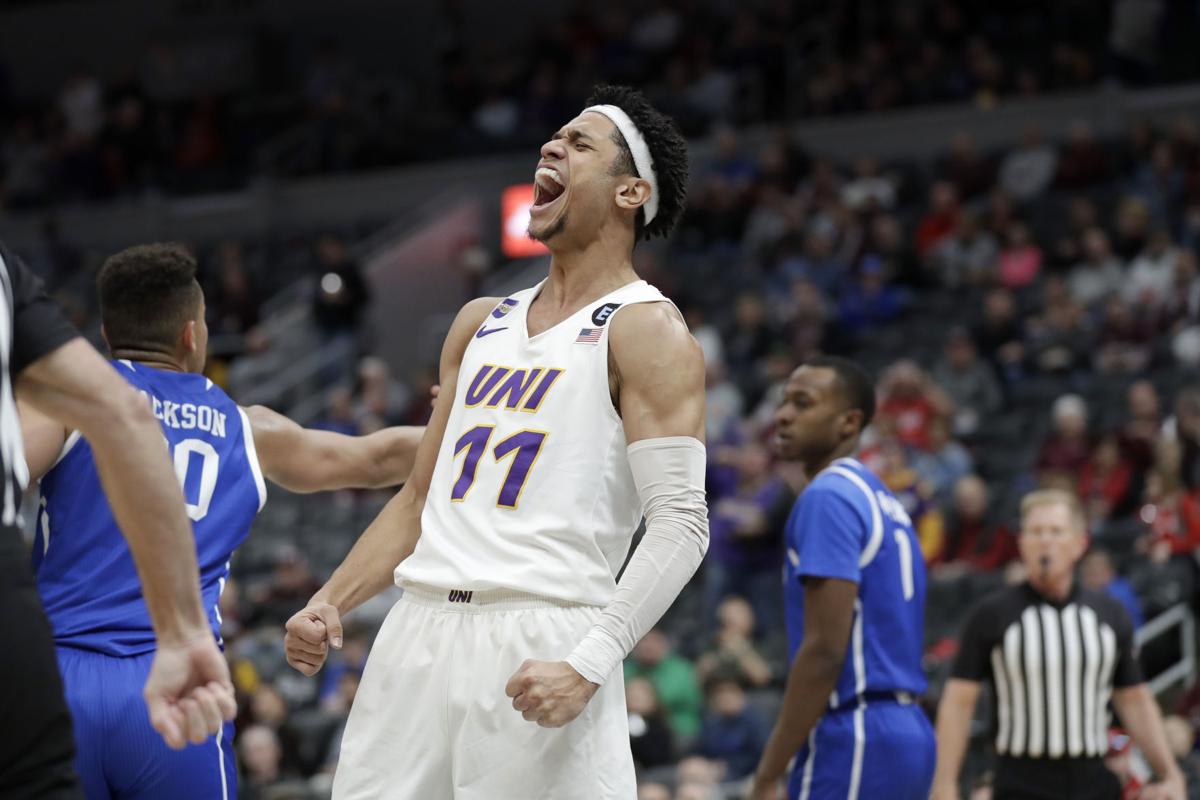 Ben Jacobson is among the few basketball coaches willing to publicly admit he enjoys looking at preseason polls and following where teams sit in the rankings as the year progresses.
For the first time in 11 seasons, Jacobson's University of Northern Iowa men's basketball team was announced as the favorite to win the Missouri Valley Conference in a poll of coaches, media and sports information directors released Thursday morning.
This time, the MVC's longest-tenured head coach barely noticed.
"There's just so much uncertainty," Jacobson said, during a Zoom press conference of the MVC's head coaches. "In a normal year, I was probably more anxious to see that poll and to see where people voted.
"I didn't even think about it (this year) and the first time I saw it was a couple minutes before I came on here. That's simply to do with everything that's going on in our country and the uncertainty and where we're at with COVID."
Indeed, the threat posed by COVID-19 is a cloud hanging over what could be another competitive race within a conference that has been defined by parity in recent years.
Plenty of talent returns to the league.
UNI's AJ Green — the reigning MVC Player of the Year — and center Austin Phyfe are two of the four first team all-conference picks back from last season. Loyola center Cameron Krutwig and Indiana State guard Tyreke Key are the other two returning first teamers. Bradley's Elijah Childs was named to the preseason first team, and may have been a postseason honoree within the top five last spring if he hadn't been slowed by an injury during league play.
Third team preseason all-conference senior Trae Berhow is UNI's third returning starter, while the Panthers have seven total players back that saw court time.
Loyola returns all five starters and finished one game back of the Panthers in the 2020 MVC regular season championship race. The Rambers are ranked second in the preseason poll.
Matching last spring's final standings, Bradley, Indiana State and Southern Illinois round out the MVC preseason top five.
"I felt like us or Loyola were going to be picked 1 or 2 with who we've got back," Jacobson said, after UNI received 30 of the possible 44 first place votes. "I think we both know that we've got very good basketball teams, but I think you can keep going. We've just got a deeper league with Bradley and what they've done the last two years (winning the MVC tournament) in particular. You can keep running down the list."
As each of the league's 10 returning coaches took turns addressing the media Thursday, unity was apparent. They've collaborated on plans to keep their inner circle of players and team personnel safe from the virus while also working on non-conference scheduling within a unprecedented compressed time frame following a Sept. 17 announcement of a later NCAA regular season start date.
"We've had multiple head coach only Zoom meetings where we've absolutely shared freely how we're handling everything," Illinois State coach Dan Muller said. "We all want each other to play well in the nonconference. They're a bunch of good guys. We trust each other and want to help each other."
Travel restrictions and details for COVID-19 testing has prevented many non-conference contracts from being signed at this point. Some multi-team events involving MVC schools were canceled, forcing a search for replacement options where multiple games could be played within a few days.
Loyola coach Porter Moser lamented spending so much of his time in October working to build a schedule. Indiana State coach Greg Lansing echoed that sentiment.
"Scheduling has always been the worst part of the job," Lansing said. "It's even worse now. I always say that people lie more in scheduling than they do in recruiting."
Moser has been trying to think outside the box to find games against teams within NCAA Division I's top five leagues.
"I'm trying to look at it as opportunistic," Loyola's coach said. "I feel like part of me is going to leave a game open and just raise my hand and say, 'If any Power Five has a cancellation, I'm here.'"
If NCAA recommendations are followed as currently written, cancellations could be far more prominent this basketball season compared to football.
Beginning Nov. 25, players and coaches will be tested three times a week. If anyone within that "inner bubble" tests positive for COVID-19, the NCAA COVID-19 Medical Advisory Group recommends the entire team would have to quarantine for 14 days.
"That's going to pose a lot of problems," Valparaiso coach Matt Lottich said. "I do think we're going to have to continue to have conversations and figure out how we're going to navigate this.
"We're not allowed to practice during this two weeks. So then all of a sudden you're allowed to play, but we haven't practiced. Now we're going to be further away than maybe some of our opponents. ... It's going to hard, it's going to be difficult."
As the season nears, team personnel will do their best to limit the number of people they interact with on a daily basis.
"You've just got to be extremely diligent and extremely responsible," Jacobson said. "You almost have to be at the gym or you have to be at your apartment now that we've gotten to this point and we are playing five on five. We don't want to knock our entire group out for something that might be within our control."
From the league's perspective, MVC commissioner Doug Elgin continues to support proactive protocols established by NCAA medical experts.
"We want to do everything we can to keep our student-athletes safe," Elgin said.
While advances in affordable testing and contact tracing may help keep games on the schedule, there are no guarantees.
"It's not certain yet whether we're going to be able to play the full 18-game (MVC) schedule," Elgin said. "But I do think we're going to be in position to play our tournament hopefully and play March Madness.
A balanced conference schedule may not be possible this spring.
"We will pivot as we have to during the regular season," Elgin said. "If there are interruptions we're looking at several models, several contingency plans. … It might not be fair and consistent across the league. Some teams may play another opponent one time. Others may play an opponent twice or possibly three times. What we're going to do if we have to in February is find a way to the play the maximum number of games and limit travel as much as possible."
If there is a Selection Sunday in 2021, MVC coaches are optimistic a league that improved last season will return to multi-bid status in the NCAA Tournament.
"You're sitting with Loyola and Northern Iowa with a ton of guys back at the top up there," Drake coach Darian DeVries said. "But I think there's a lot of other teams that feel like they have good rosters and if things go their way and they can get on a roll. There's going to be multiple teams that can be in that position.
"When we have our head coaches Zoom calls, I think a lot of us are wanting a season to happen, and for good reason. A lot of guys feel like they have solid teams that can go make a run."
2019-20 UNI men's basketball coverage
Here's the Courier's coverage of UNI men's basketball this season:
Be the first to know
Get local news delivered to your inbox!