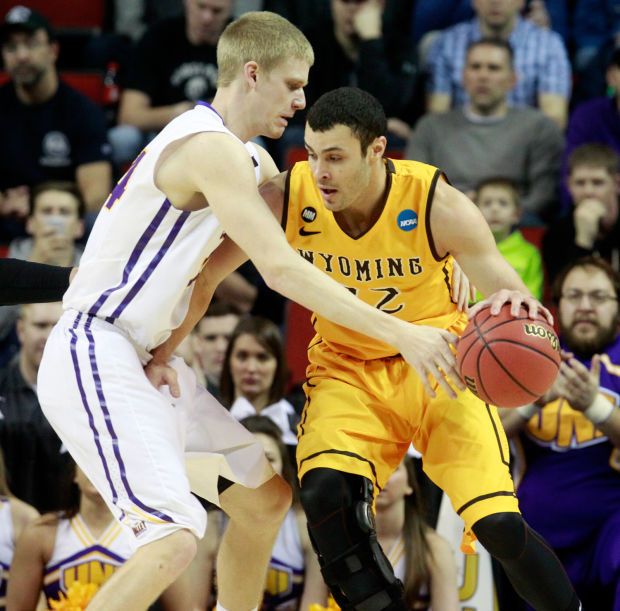 SEATTLE, Wash. | Wyoming's Larry Nance Jr. is one of the five best players the University of Northern Iowa men's basketball team has seen this season.
Scoring a game-high 16 points and stringing together 13 straight only makes UNI's defensive effort look more impressive during Friday's 71-54 victory in the NCAA Tournament.
Nance completely took over the game for a good three-minute stretch from his dunk at the 15:01 mark to his assist on Riley Grabau's 3-pointer that made it a 10-point game with 11:45 to play.
At the time, that run got the Cowboys back in the game. In the end, all it did was show what Nance is capable of and make you wonder what was going on during the other 37 minutes.
The star senior's first half featured one point, one field goal attempt and three turnovers. He didn't make a field goal until the putback with 15 minutes remaining.
The next three minutes were impressive, but the UNI defense was superior everywhere else.
"In the second half, he ran the baseline and made a couple 3s on a couple actions that we hadn't gone through because we hadn't seen them much, if at all," UNI head coach Ben Jacobson explained. "We let him get a tip-in, let him do a couple things that we needed to take care of in that run that he had. He had a lot of energy in that stretch."
As the Panthers have seen throughout this season, opposing defenses will key on their best player, Seth Tuttle, and limit him as much as possible. It's no different when UNI is on defense, and Jacobson understood he needed to slow down Nance.
Marvin Singleton and Nate Buss handled the assignment to start while Tuttle never had too far to come for a double-team.
"I thought Marv did a great job on him. Marv was physical with him and got underneath him a little bit and made it hard for him to catch it," said Jacobson. "When he did, we were there in time to double him."
Nance was clearly frustrated. It was his worst first half of the season.
In the biggest game of the season, UNI made that happen.
---
BO JAM: Matt Bohannon stuck his hand out to catch a pass from Seth Tuttle, the index finger on his left hand got in the way and the junior's status for Sunday's game against Louisville is up in the air.
He exited the game with 11:01 remaining and retreated to the locker room.
Bohannon ended up with a dislocated finger, but did not break any bones. The dislocation broke the skin, so he is having it scoped Friday evening to prevent infection.
"It's my left hand, so hopefully I can be out there (Sunday)," Bohannon said.