TERRE HAUTE, Indiana — Mistakes and poor perimeter defense cost Northern Iowa in a, 79-71, Missouri Valley Conference loss at the hands of the Indiana State Sycamores, Saturday.
UNI head coach Ben Jacobson cited the Panthers' errors as the biggest factor in the loss.
"We just made some mistakes tonight that put us in tough spots," Jacobson said. "A couple of them were defensively. We were needing to get to the right guys—the shooters. We let [Zach Hobbs] get going a little bit. His first one was one that we should have taken away."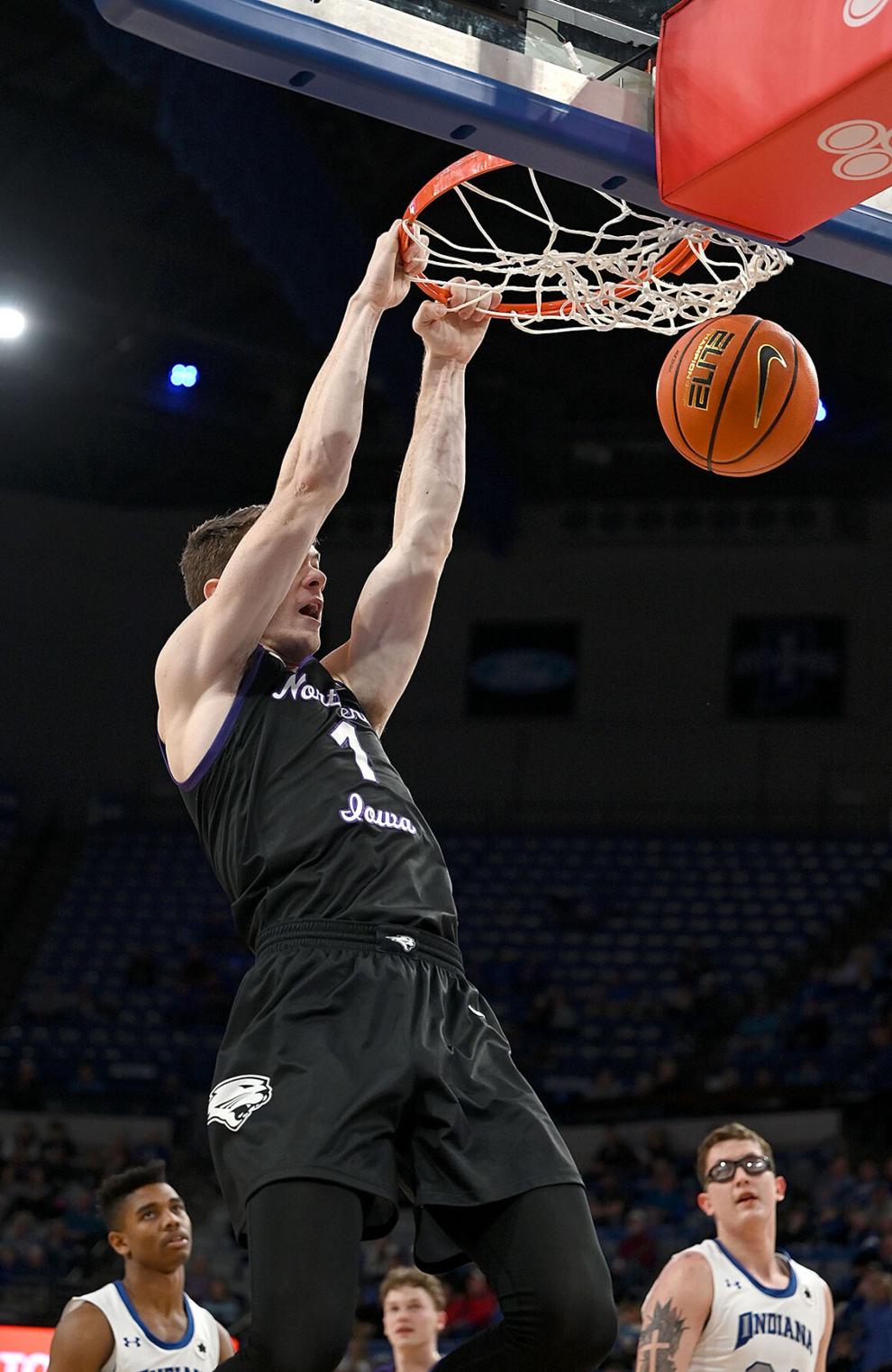 Jacobson continued and highlighted a pair of breakdowns in the Panthers performance which led to the game getting away from them.
"It was one of those games where (we needed) a little more communication, just a little more determination to lock in," Jacobson said. "We played hard, we fought hard and we battled off a couple runs, but a little more discipline and determination today and we get the job done."
UNI appeared to be pulling away from the Sycamores in the first eight minutes of action as the Panthers got out to an 18-10 lead.
Eight points from Michael Duax allowed the Panthers to build their lead as the redshirt freshman hit his first four field goal attempts of the game.
However, the Sycamores responded with a three-point barrage. Between 11:24 and 5:04 of the first half, Indiana State connected on four triples, three of which came from junior guard Zach Hobbs, to erase the Panthers lead.
Hobbs' third triple sparked a 16-4 for Indiana State which allowed the Sycamores to take a 39-33 lead with two minutes remaining before halftime. The Sycamores finished their run with seven three-pointers in the contest.
Jacobson credited the Sycamores final five three-pointers of the first half for kick starting Indiana State's offense.
"That may have been the game," Jacobson said. "That stretch right there."
Shooting just 5-of-13 from the field since the halfway point of the half, UNI managed to go on a 6-0 run in the final minute of the frame to tie the game at 39-39 at the break.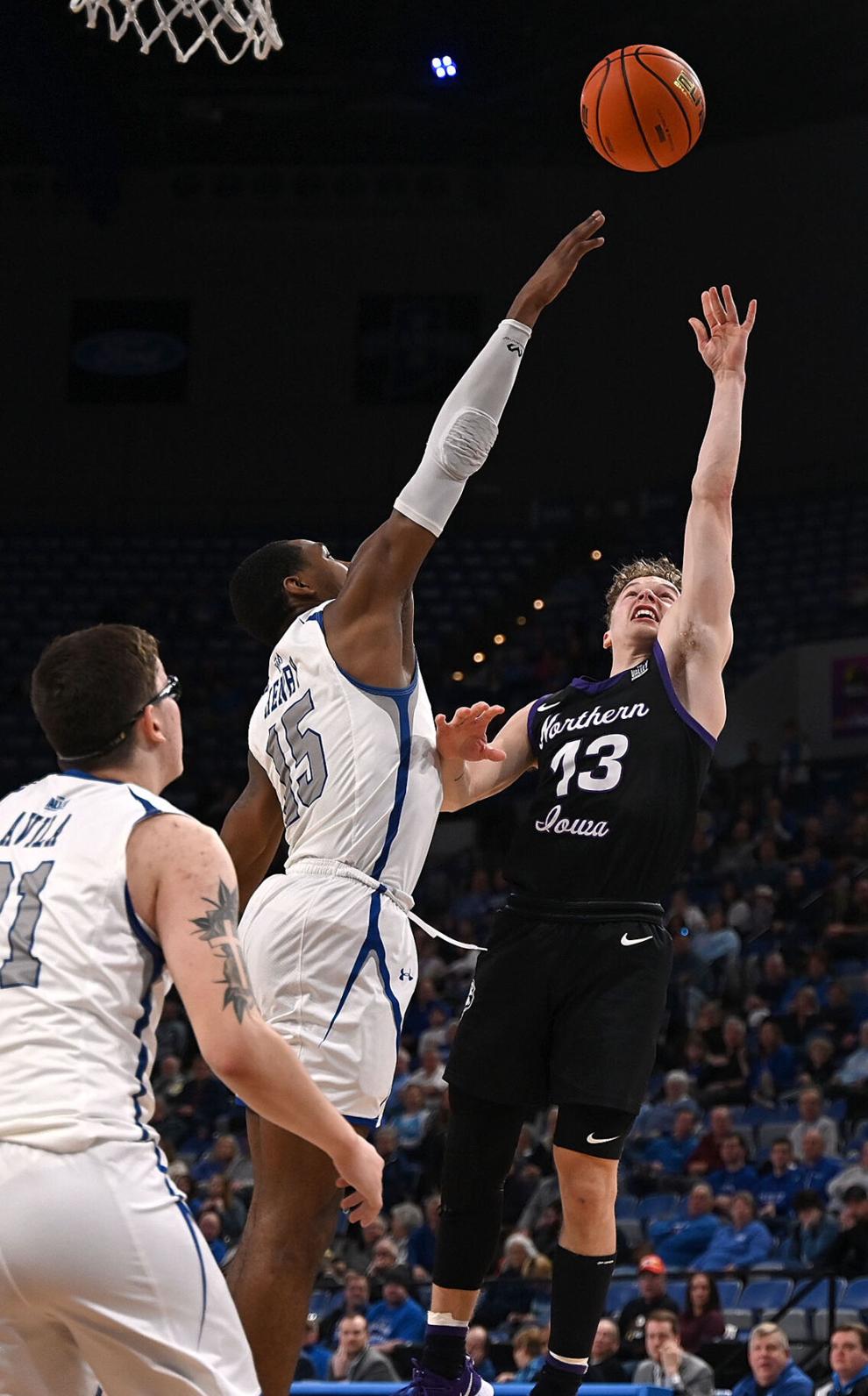 Bowen Born connected on his first three-pointer of the game with 50 seconds to go and connected on a free throw to convert on a four-point play. With three seconds remaining, Landon Wolf picked Cooper Neese's pocket and threw down a dunk on the fast break to complete the run.
At halftime, Duax led the Panthers with 13 points after connecting on his first six field goal attempts.
UNI forward James Betz connected on a triple at the 17:24 mark of the second half to give the Panthers their first lead since the five minute mark of the first half.
UNI's lead did not last long, however, as Indiana State scored 10 points over the next three minutes while UNI managed just four.
Indiana State maintained its four-point lead as the Panthers and Sycamores traded baskets from the 13:07 mark to the 7:39 mark of the second half.
Trailing 64-60, Jacobson called a timeout with 7:30 after the Sycamores cashed in on their 11th three-pointer of the game.
The Panthers failed to close the gap for the next six minutes as the Sycamores kept them at an arm's length.
Indiana State pulled ahead 73-68 after Xavier Bledson converted on a three-point play with 1:58 remaining in regulation.
Bledson's points proved the difference as the Panthers could not close the gap despite a Wolf three-pointer with 1:08 remaining in regulation.
The Sycamores went 6-of-6 from the free throw line in the final 18 seconds of the game to close out the eight-point, 79-71 win.
Up next, the Panthers head south to take on the Drake Bulldogs in the Knapp Center on Wednesday at 8 p.m.
According to Jacobson, the key for the Panthers moving forward is learning as much as they can from Saturday.
Indiana State 79, Northern Iowa 71
Northern Iowa (12-10, 8-4) – Bowen Born 8-18 1-1 20, Michael Duax 8-12 1-2 17, Tytan Anderson 3-7 0-0 6, James Betz 3-7 1-2 8, Trey Campbell 0-2 2-2 2, Cole Henry 5-7 0-0 10, Landon Wolf 2-4 3-3 8, Drew Daniel 0-0 0-0 0. Totals 29-57 8-10 71.
Indiana State (14-9, 7-5) – Julian Larry 0-2 2-2 2, Cameron Henry 5-9 4-4 14, Robbie Avila 3-5 3-8 10, Courvoisier McCauley 1-9 2-2 5, Cooper Neese 4-8 4-4 14, Xavier Bledson 7-10 3-3 20, Jayson Kent 0-0 0-0 0, Zach Hobbs 4-5 2-2 14, Kailex Stephens 0-2 0-0 0, Cade McKnight 0-1 0-0 0. Totals 0-0 0-0 0.
3-point goals – Indiana State 11-26 (Henry 0-1, Avila 1-2, McCauley 1-5, Neese 2-6, Bledson 3-6, Hobbs 4-5, Stephens 0-1), Northern Iowa 5-14 (Born 3-7, Anderson 0-1, Betz 1-3, Campbell 0-1, Wolf 1-2). Rebounds—Indiana State 33 (Henry 12), Northern Iowa 25 (Anderson 9). Assists—Indiana State 16 (Henry, Bledson 4), Northern Iowa 14 (Born 4). Turnovers—Indiana State 16 (Bledson 3), Northern Iowa 16 (Duax, Anderson, Campbell 3). Total fouls – Indiana State 14, Northern Iowa 16. Fouled out – Anderson.