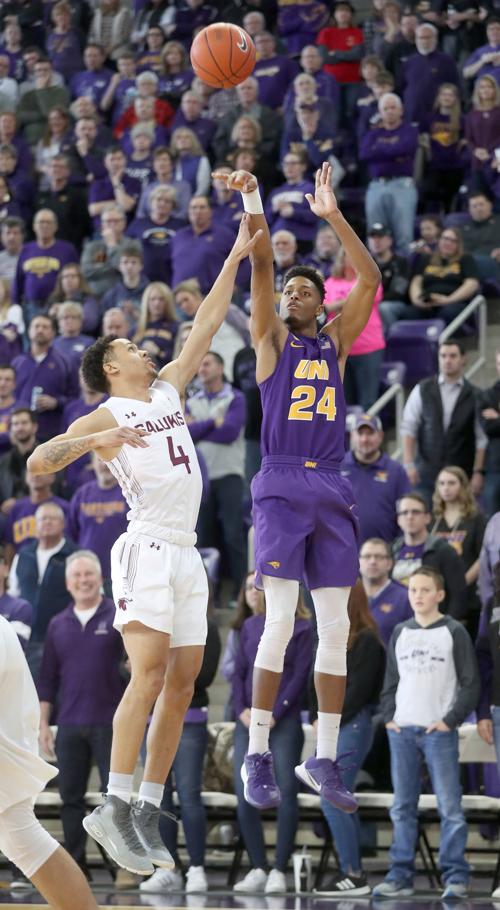 CEDAR FALLS – Isaiah Brown never looks forward to making the 14-hour drive from his hometown of Flower Mound, Texas to Cedar Falls.
"I can tell you it's not very fun," Brown points out.
The University of Northern's only active basketball roster member from outside the states of Iowa and Minnesota was grateful for the hometown support he found on Senior Day during Sunday afternoon's 64-52 win over Southern Illinois.
Brown's parents, Craig and Sophia, his younger brother, Landon, little sister, Maliyah, and grandma, Ruby, were part of a McLeod Center sellout crowd. They left Flower Mound, 30 miles south of Arlington, at 9:30 p.m. Friday and drove through the night before arriving in Cedar Falls at 11 a.m. Saturday.
Weekends spent with family have been rare for Brown during his college years. He estimates his parents have only made three or four other long-distance trips to the McLeod Center.
Brown's family is routinely in St. Louis for the Missouri Valley Conference tournament, and his mom often travels to the multi-team events during non-conference play.
"I'm very grateful that they were able to make that drive to watch me play," Brown said. "Back in Texas I had a huge support group behind me. It was great for them to be able to watch me on my Senior Night today."
Another parent suggested to UNI coach Ben Jacobson a month ago that it might be a good idea to honor the seniors on the final weekend home game instead of Wednesday's home finale against Evansville.
"I'm glad that we did it today so that more family and friends can be here," Jacobson said, addressing the event that also honored Spencer Haldeman, Justin Dahl, Luke McDonnell and Lincoln Conrey.
Brown put on a show in front of his family, scoring 13 of his 15 points during the second half of UNI's comeback victory.
"Isaiah had a big second half," Jacobson said. "He was OK in the first half, but he had a big second half. When we were down eight and trying to cut into the lead, he was a big part of getting it from eight to even.
"That's the most people that he has had in our building, family and friends, to see him play. To have him come through with a big second half was just fun to see."
This season marks the first time in Brown's career that UNI will finish with a record above .500 in league play. He's part of a senior class embracing the title pursuit.
"The main focus point in the locker room was just winning time," Brown said. "Coach Jake mentioned to us that it's been four years since he's been in this position to be playing for a conference championship.
"The position we're in now, the only focal point is to win our last home game and go steal one from Drake at their place. If we do that, we're conference champs."
Miles away from Texas, cool winters filled playing basketball in Cedar Falls have begun to feel like home for Brown.
"Panther Nation has made it easy for me to play at a school far from home," Brown said. "I feel like I'm ending my last season on a great note."
Be the first to know
Get local news delivered to your inbox!