CEDAR FALLS — Mark Farley did not give a definitive answer.
However, during the University of Northern Iowa's annual football media day at the UNI-Dome Wednesday, the Panther head coach did clarify his quarterback situation.
With 23 days left until UNI takes the field for the first time in 2019 at Iowa State, leaders have emerged as far as who might take the first snaps for a team that will enter the game ranked 18th nationally in the FCS preseason ratings.
Farley said redshirt sophomore Jacob Keller and redshirt freshman Will McElvain have separated themselves in what has been a four-player competition.
"There are two in the first group and two in the second group," said Farley. "Not to say that won't change, but there is no question the two — 1A and 1B, tied for first place — would be McElvain and Keller or Keller and McElvain, however you want to decide," Farley said.
Right behind McElvain and Keller are true freshmen Nate Martens and Justin Fomby.
No matter who is taking snaps from starting center Mason Neisen against the Cyclones, he will be making his first career start.
That is a primary reason UNI was only picked to finish fifth in the rough and rugged Missouri Valley Football Conference despite returning eight starters on each side of the ball.
The quarterback question is one that lingers outside of the Panthers' camp, but inside the team is confident with the guys they have in place.
"They are doing well," preseason All-America tight end Briley Moore said. "They have been in their playbooks. They have come a long way from the spring, from where they were in the fall before that and I'm excited to see how it turns out."
Both players understand it is a competition, but at the same time both want each other to be the best version of himself and if that is the case, they believe a lot of victories will roll UNI's way.
"I've got to go play my game, show that I can make plays and just take care of the ball, understand the offense," said McElvain, who as a senior at Des Moines Lincoln became the first quarterback in Class 4A to pass for 2,000 yards and rush for 1,000. "It's probably the same thing it is for everybody else.
"It is not like we are being pressed that we have to make plays right now. It is make the right plays, understand what the play is designed to do and those are the things they want to see."
Keller played in two games last year as a back-up to Eli Dunne, completing his only pass for an 18-yard completion against Hampton. A Division I basketball prospect out of Aurora, Ill., Keller is another superb athlete.
You have free articles remaining.
"I don't think any of us are worried about the competition," Keller said. "We are just worried about getting better as a unit, getting better with the team. I think that is a big testament to everybody's character in that team room."
First-year offensive coordinator Ryan Mahaffey has seen growth out of all four of his potential quarterbacks from the spring to the summer to the first five days of preseason camp.
"You want to see learning and you want to see growth among the position," Mahaffey said. "I think the entire group has a drive of going out there and focusing on their assignment, trying to focus on execution and playing with better fundamentals."
Mahaffey said McElvain and Keller are farther along in their comfortability with UNI's offense.
"I think you are starting to see them get more comfortable with what we are asking them to do," Mahaffey said. "Anytime you feel more comfortable you have a better understanding and you are able to showcase your talents a little more.
"Both have shown improvement and shown growth in their understanding, and that stuff is translating into production, which is what we want."
DRYSDALE OUT: If there is another position where Farley didn't have a ready-set answer, it was at kicker where the Panthers are looking to replace all-conference performer Austin Errthum.
The most experienced candidate is Cedar Rapids Prairie's Sam Drysdale. He made 17 of 21 field goal attempts and 37 of 39 PATs in 2017 as a sophomore before losing the job in a battle with Errthum last season, but is out until at least early September with an undisclosed injury from the spring that required surgery.
That puts West Des Moines Valley redshirt freshman Nate Murphy at the top of the charts, with true freshmen Matthew Cook of Cedar Falls and Dike-New Hartford's Isaac Jorgensen challenging.
"We have kicked a lot the first five days," Farley said. "Drysdale is out. He got hurt on the second day of spring and hasn't been allowed to kick. He still is in questionable mode if he is going to be ready for the beginning of the season.
"If I had to put out a depth chart right now, (Murphy) would be No. 1."
At punter, UNI will use safety Zac Kibby, who punted 15 times for a 39.5-yard average last year when graduated starter Michael Kuntz was hurt. Murphy and Jorgensen will back him up.
080719kw-uni-football-media-day-17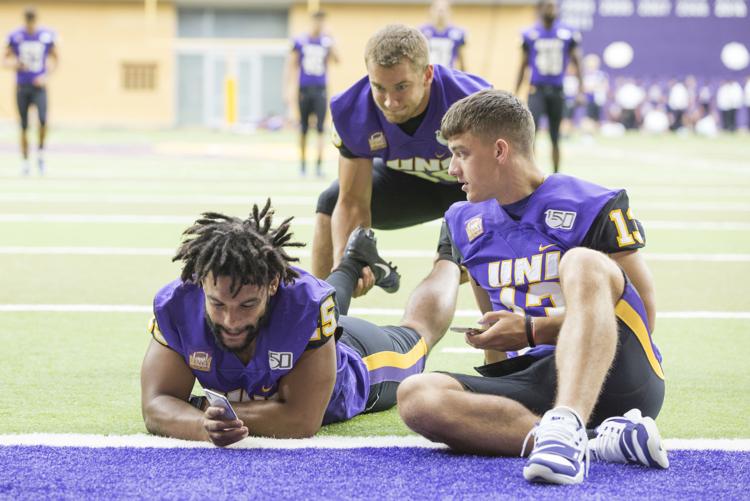 080719kw-uni-football-media-day-08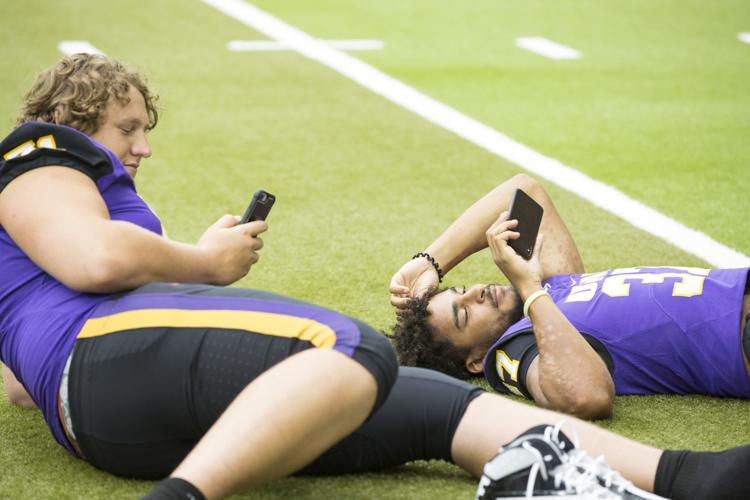 080719kw-uni-football-media-day-09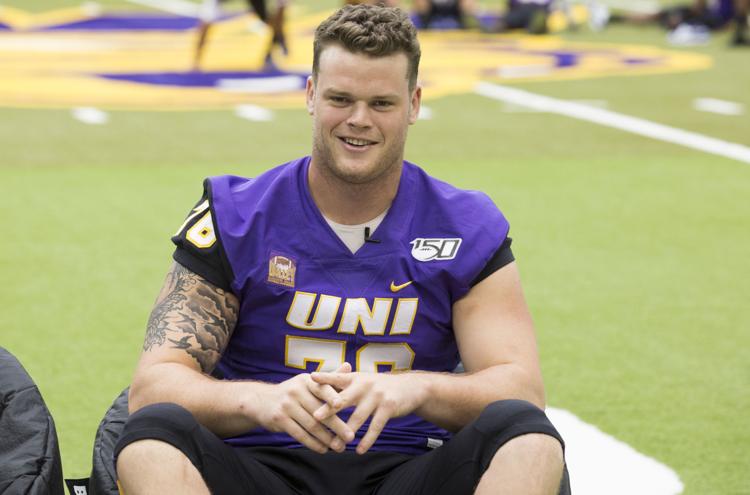 080719kw-uni-football-media-day-10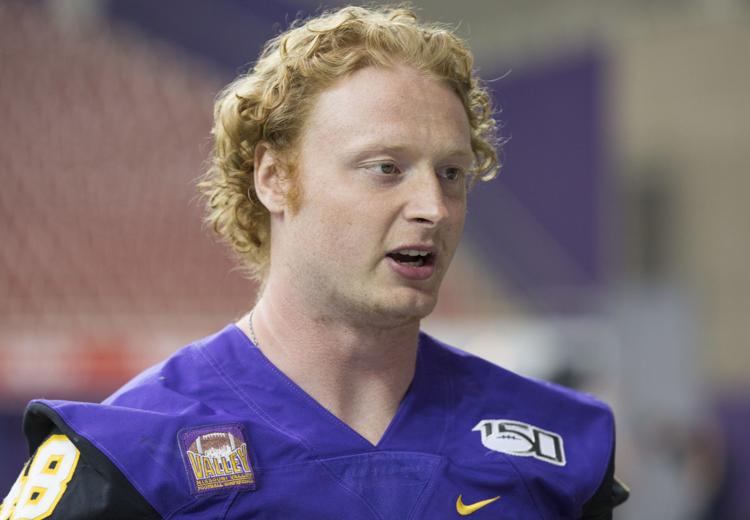 080719kw-uni-football-media-day-11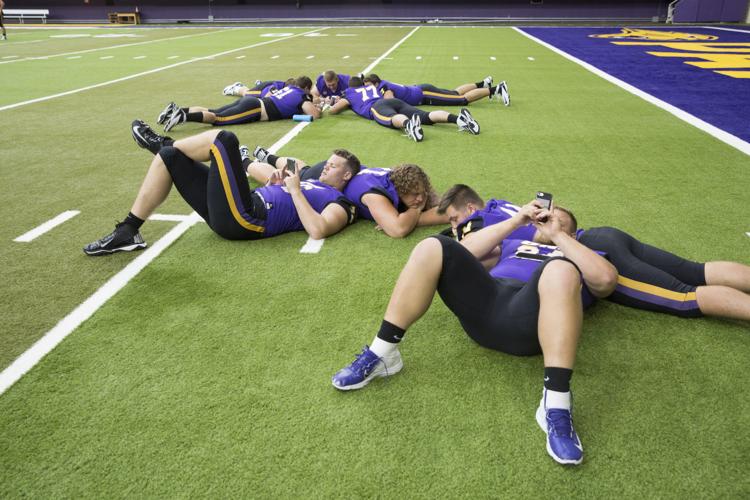 080719kw-uni-football-media-day-12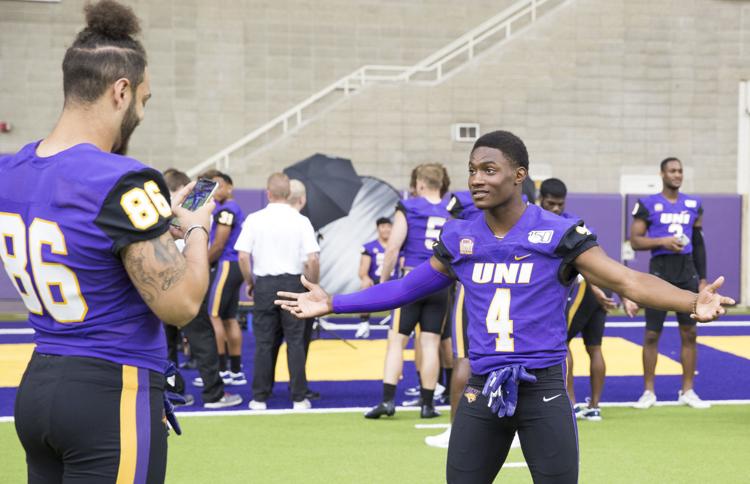 080719kw-uni-football-media-day-13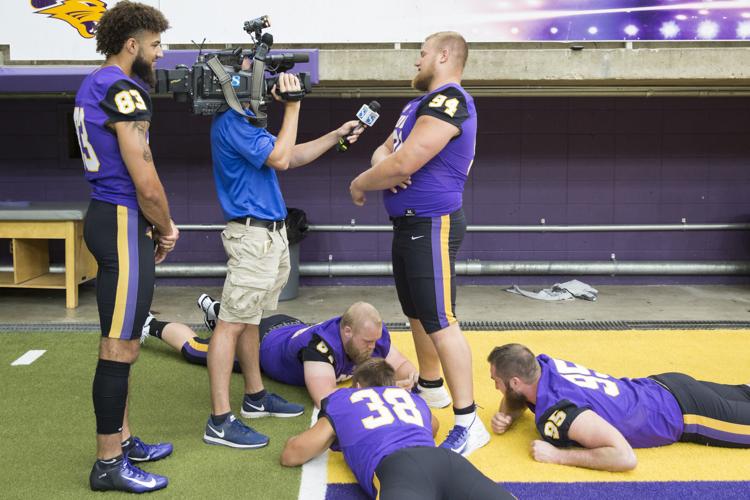 080719kw-uni-football-media-day-14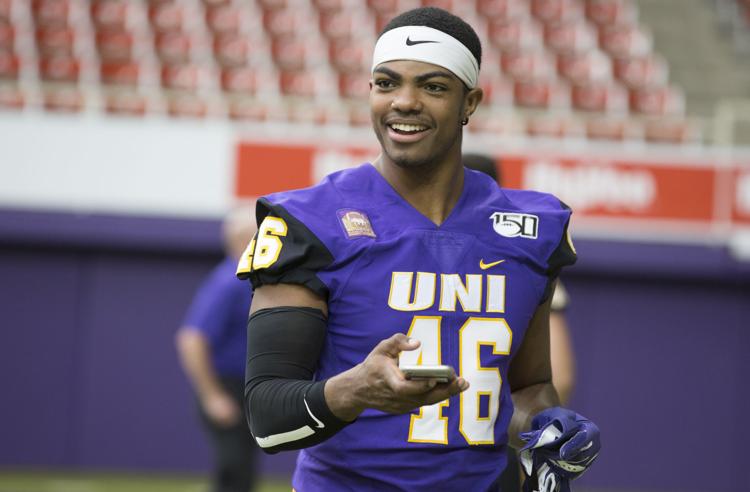 080719kw-uni-football-media-day-15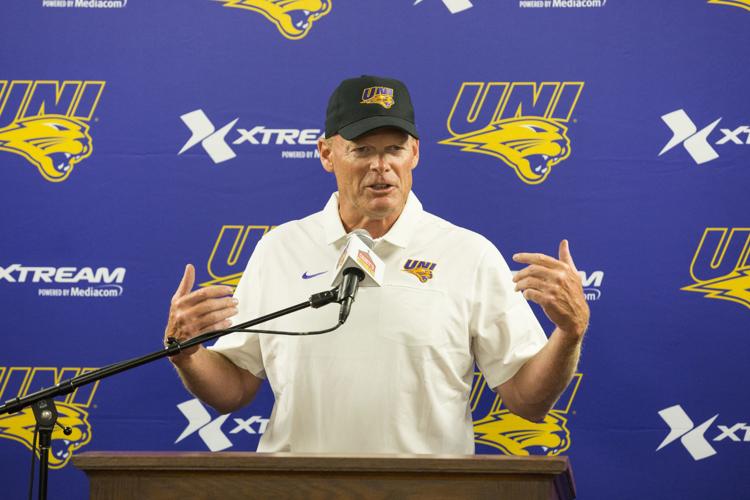 080719kw-uni-football-media-day-16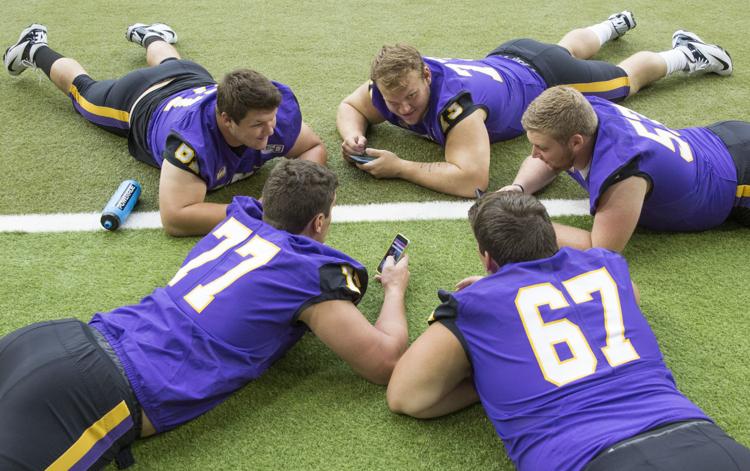 080719kw-uni-football-media-day-03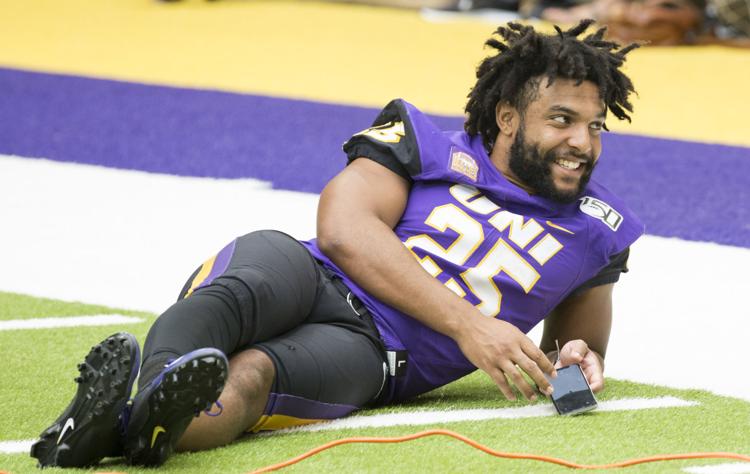 080719kw-uni-football-media-day-04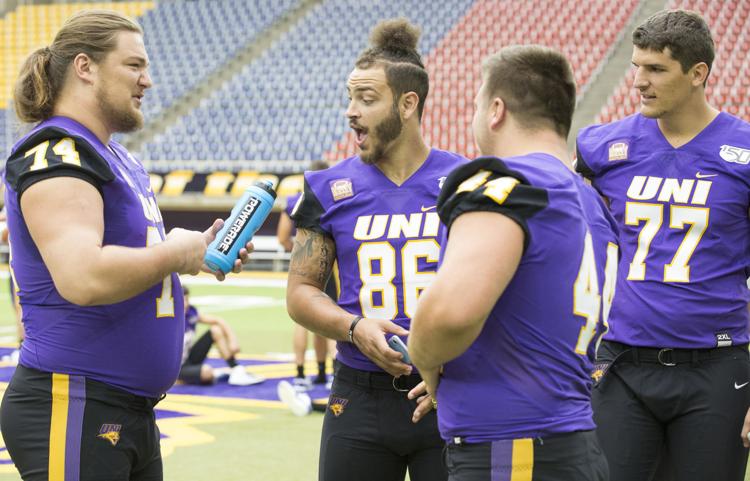 080719kw-uni-football-media-day-05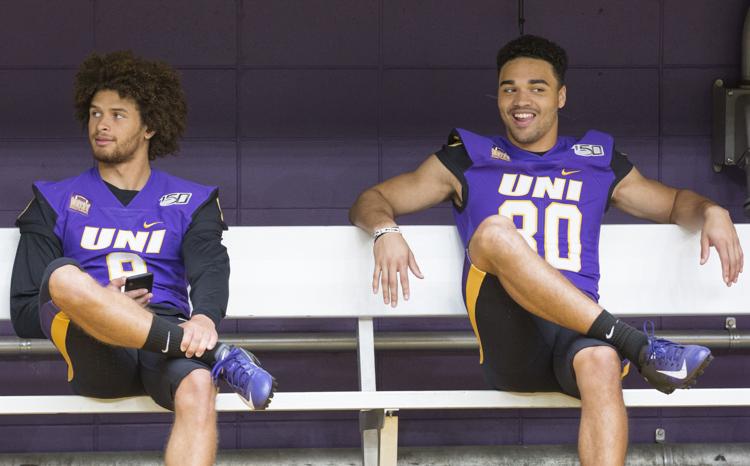 080719kw-uni-football-media-day-06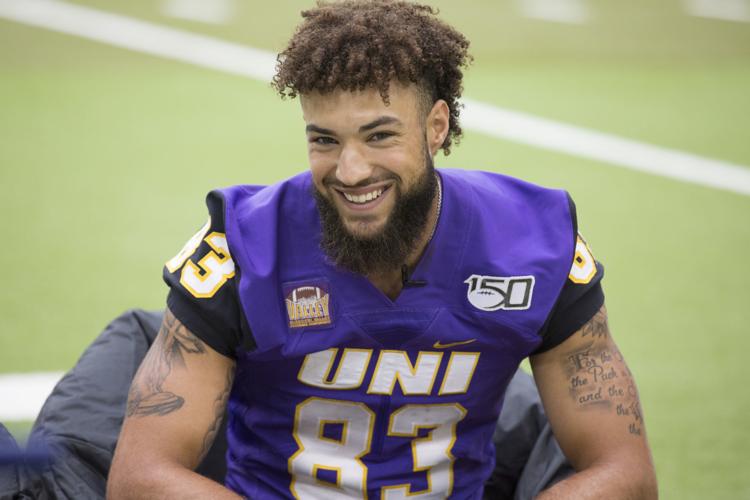 080719kw-uni-football-media-day-07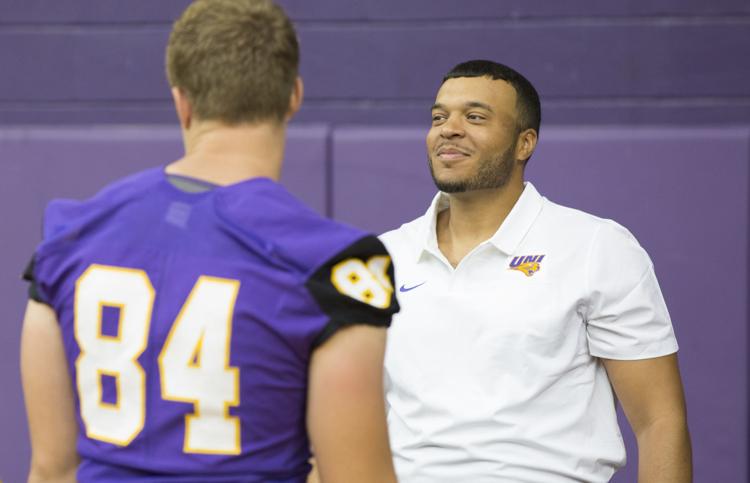 080719kw-uni-football-media-day-02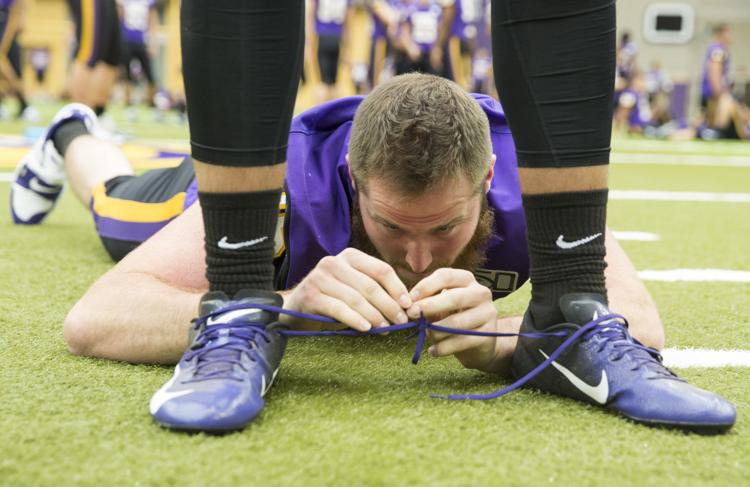 080719kw-uni-football-media-day-01