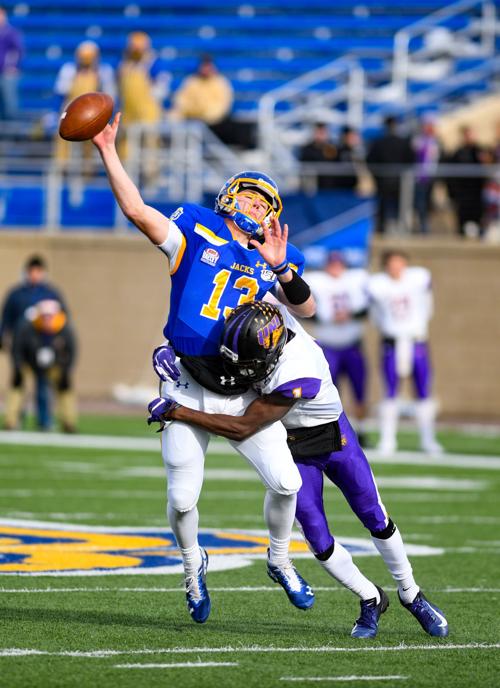 CEDAR FALLS — Survive and advance.
Those were the words of University of Northern Iowa senior running back Trevor Allen following the Panthers' 13-10 FCS playoff win Saturday over South Dakota State.
"It is what we came to do ... (get to) play some more football," said Allen, who rushed 24 times for 90 yards and UNI's lone touchdown.
Behind another suffocating defensive effort where the Panthers allowed South Dakota State a season-low 220 total yards and a stellar game from Allen, who also delivered a crushing block on a 31-yard run by quarterback Will McElvain to spark the game-winning drive, UNI proved that it is one of the best eight teams in FCS.
That was something the FCS playoff committee did not see two weeks ago when it bypassed the Panthers in favor of South Dakota State and Central Arkansas for the final two playoff seeds. Neither of those teams will be playing in the quarterfinals.
"We don't need no seed," said defensive end Elerson Smith, who had two tackles for loss, a sack, two quarterback hurries and a blocked field goal. "We are not worried about the seed. We just know we have a game next weekend."
UNI earned a quarterfinal date with second-seeded James Madison (12-1) Friday at 6 p.m. in a game that will be televised on ESPN2.
BREAKING IT DOWN: After giving up 86 yards and 10 points on South Dakota State's first two drives Saturday, the Panthers allowed 134 yards and zero points over the final 51 minutes.
It was the sixth time in the last seven games the UNI defense has allowed 10 or fewer points and the seventh straight game it has allowed fewer than 350 total yards.
Additionally, the Jackrabbits rushed for just 53 yards on 23 carries as the Panthers held their opponent under 100 yards rushing for the eighth time this season.
"When we are playing to our full potential, most offensive lines aren't going to be able to move our defensive line and our defense in general," Smith said.
MCELVAIN AND THE DRIVES: McElvain has had his "freshman" moments this season and that was true in the second quarter with UNI in four-down territory and a chance to get on the scoreboard.
On a third-and-eight from the South Dakota State 36, McElvain dropped back to pass and was forced to scramble. First he went right, then he reversed field, and then he was sacked for a 25-yard loss.
But when it was crunch time, UNI head coach Mark Farley trusted his quarterback.
The 10-play, 75-yard drive to open the third quarter and tie the game at 10-10 may have been the Panthers' drive of the season. McElvain hit Allen for a first down on a third-down play and then a nicely designed pass to Aaron Graham for 33 yards set up Allen's two-yard touchdown run.
The game-winning, 12-play, 80-yard drive began with what McElvain does best. After dropping back to pass, McElvain saw the Jacks in man coverage and the middle of the field open. He broke for it and ran 31 yards to midfield to kick start the drive. After UNI converted a fourth-and-two, McElvain hit Suni Lane on a 31-yard pass to set up Matthew Cook's game-winning, 18-yard field goal.
"He has grown up," Farley said. "Go back to the scramble where he lost 30 yards. That is the player in him. You've got to educate him, teach him and you have to let him play.
"He came back and made a tremendous play (31-yard run) and that is his game. I tell you what, it was the difference in the game."
DECISION TIME: UNI will have to make a decision on Cedar Falls native and freshman wide receiver Logan Wolf for Friday's game.
Wolf played in his fourth game Saturday where for the first time he did not have a catch. He has five catches for 99 yards and a touchdown.
Wolf cannot play again if the Panthers hope to redshirt him and allow him to retain four years of eligibility.
Be the first to know
Get local news delivered to your inbox!