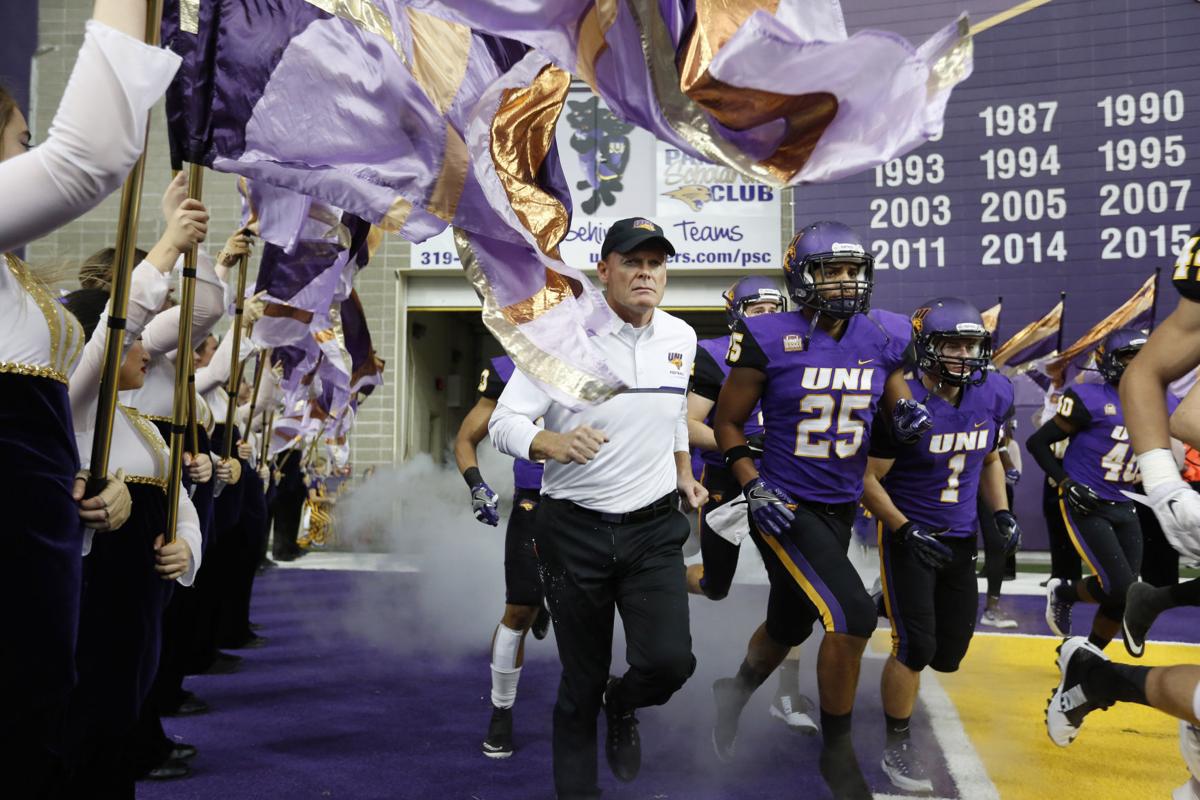 CEDAR FALLS – Athletes returned to the campus of the University of Northern Iowa on Monday.
Panther football players underwent physicals and other procedures with plans to begin voluntary strength and conditioning workouts Tuesday. The process was thoroughly vetted by a committee led by Justin Schemmel, deputy athletic director for internal operations, and Stacia Eggers, associate athletic director for student services. It was the first stage of a staggered plan to return all UNI student athletes to campus.
Women's soccer, cross country, volleyball, and women's and men's basketball athletes will be back June 15 and all remaining sports are scheduled to return June 29.
Director of Athletics David Harris praised the efforts of Schemmel and Eggers and their committee.
"They have done a remarkable job in a fairly short period of time in getting us to this point," Harris said during a 40-minute Zoom meeting Monday with media members that included Panther head football coach Mark Farley. "The next thing I would say, overall this situation has been more fluid than most of us has ever dealt with. That goes across the board regardless of what area of work or whatever industry you are in and certainly athletics is no exception.
"Things we are putting into place now are things that could very easily change and most likely will change as we get different guidance from the CDC and from other experts."
Roughly 60 percent of UNI's 105-member football team began arriving on campus over the weekend.
When the voluntary workouts begin Tuesday, student athletes will be required to undertake a coronavirus screening and have temperatures checked. If an athlete has any symptoms or a temperature above 100.4 degrees they won't be allowed inside UNI's athletic complex.
"They will be sent home, and we will go through protocol with the doctors to make sure they are getting the care and that their situation is being addressed," Harris said. "... So that will happen each day, each day we have voluntary workouts or we get to a point we have required workouts … they will go through the screening."
If a player receives a positive test, they will receive proper medical care and be required to isolate for a 14-day period.
That quarantine would also extend to roommates.
"Someone is going to be exposed. Someone is going to text positive, and the important thing for us is to make sure under the guidance of medical experts, doctors and our training room we have a plan in place for how those student athletes are going to be handled, how we can get them the best care we can get, but also isolate them so we can as best as possible prevent the spread to other student athletes that are currently working out within our facilities."
For now, football players are voluntarily in the weight room. After passing screening, athletes in groups of 10 will be allowed inside. They must wear a mask and will enter the weight room one way and exit another at the completion of their workout. They can take off their masks during the workout.
"There is a lot of thought put into it," Farley said. "Our room is a fairly large weight room, and I think the thing to remember is each individual will have his own platform. One guy will get that platform and all of his equipment, all his needs, everything he has will be there. That is his space and will give him the social distance that they are looking for between groups."
After each group is finished, each station and the entire weight room will be sanitized before the next group enters. The social distancing aspects of the plan don't allow for spotters or shared usage of dumbbells.
"Jed (Smith) and Kane (Thompson) have done a great job of putting together a plan to create some alternative exercises that can create the same type of strength or advancement we need," Farley said. "We will grow and adjust to the process just like everybody right now as we learn more about it.
"You know me, I want to go, but at the same time you have ... to work smart instead of just work hard. This is one of those times where working smart is stressed."
Asked what number of positive tests would require the shutdown of voluntary workouts or the staggered return of athletes to campus, Harris said he doesn't have a definitive number.
"Ultimately we are going to rely on the doctor's advice as far as if we need to make adjustments to our plan," Harris said. "Ultimately that is up for discussion if there is a particular number you get to that requires a shutdown. We are not going into this thinking a certain percentage or a certain number of positive tests that we are going to stop activities.
"We are going to report them (positive tests) and work with our doctors."
The University of Iowa, which has a similar plan, reported one positive test Monday and 236 negative tests. Iowa began testing its athletes, coaches and staff May 29.
Be the first to know
Get local news delivered to your inbox!