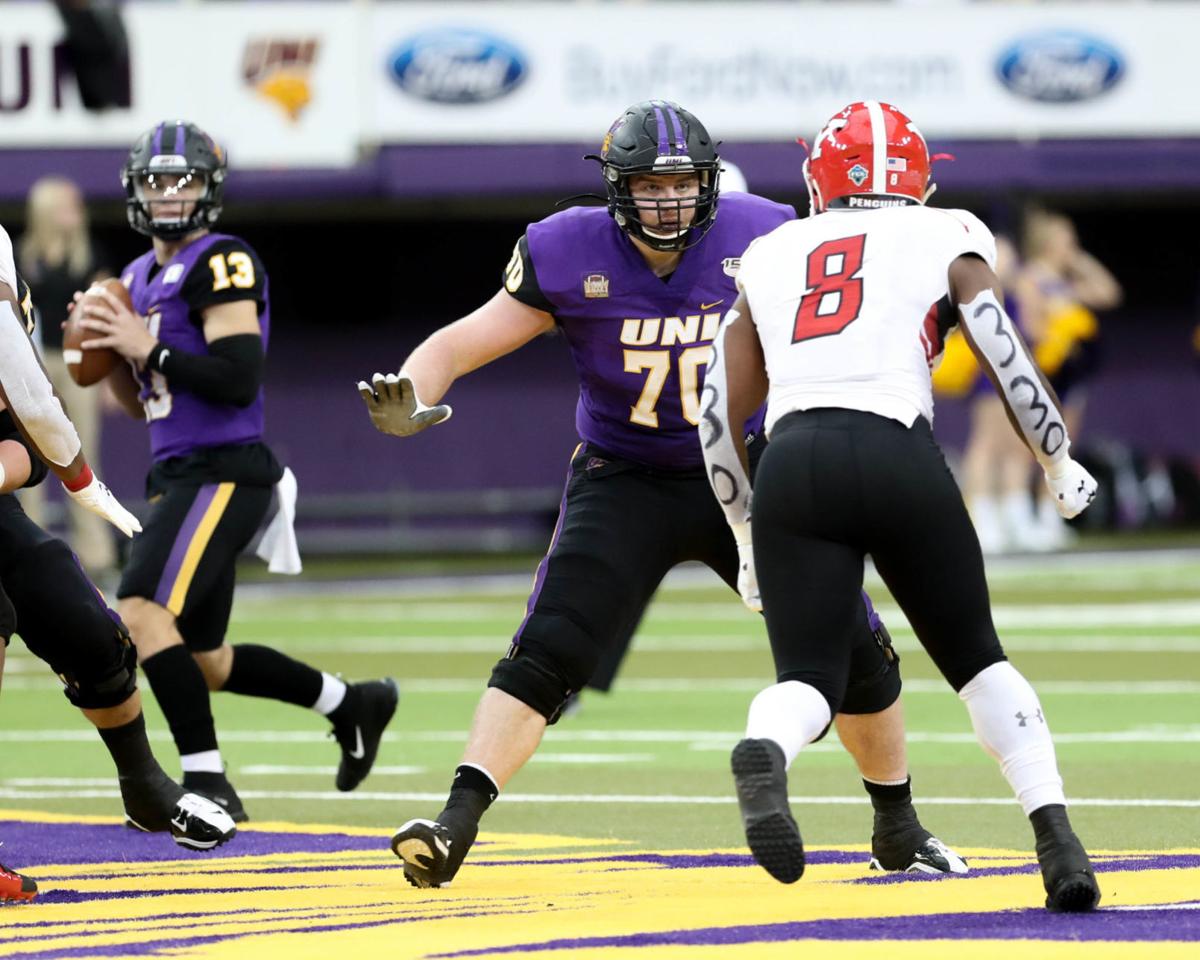 CLEAR LAKE – If it were just himself, Jared Penning might slack off on leg day.
Unfortunately or fortunately, Penning has a 6-foot-7, 321-pound giant that resides in his same residence reminding him there are no days off.
Like all their collegiate brethren across the nation, Jared, and his brother Trevor, both offensive linemen for the University of Northern Iowa, have had to get creative to get in workouts. The bonus for them is having an in-house partner.
"That is a real big advantage," said Jared, who will be a redshirt freshman this fall. "There is no option to take a day off. We push each other pretty hard."

"It is pretty nice to have somebody to push you, spot you and just overall work for the same thing," Trevor adds.
There is some intrinsic value for the Penning's pushing each other to be better. Trevor, who will be a redshirt junior, started all 15 games last fall for the Panthers. Jared, standing 6-foot-6, 338-pounds, has an eye on joining him as a starter.
Trevor's final 14 starts came at left tackle. UNI will have lost just one starter from on the offensive line when the 2020 season rolls around. Departing senior Jackson Scott-Brown had manned the left guard position for three-plus seasons.
"There is a starting spot at left guard and I'm hoping to compete for it," Jared said. "It would be pretty cool to have a Penning left side of the offensive line."
When Northern Iowa sent its students home for the semester last month, the Pennings' Clear Lake home had no workout room. Shortly after, Governor Kim Reynolds shut down all workout facilities and the Pennings had an immediate garage remodel project on their hands.
The workout room construction project wasn't easy because there are not a lot of one-stop shops for those items, and they became scarcer with so many college athletes in the same situation looking for the same equipment.
"We had to buy a squat rack, bar bell and a lot of weight plates," Trevor said. "We got plates in Dows, that was a 45-minute drive, and we had to go all the way to Jesup where we got some bar bells, the squat rack and some mats to put on the floor."
Now four or five days a week the loud sound of weights hitting the mat for 90-plus minutes escapes the Penning garage, and that is followed by an hour of football specific drills whether it be footwork or hand positioning.
The Pennings will close their workouts by doing a bunch of 50-yard sprints or playing some fairly intense one-on-one basketball games.
"We go hard one-one-one, so it is really good conditioning," Trevor said of the basketball games. "We are usually dead tired after those games."
As far as the wins and losses on the court, "I think he has yet to beat me," Trevor laughs.
"He's gotten better. I used to beat him all the time. But they have been close and they have been good for us, we go pretty hard," Jared adds.
The brothers also participate four-times weekly in Zoom meetings with UNI offensive line coach Ryan Clanton and their position teammates.
"It is the same meetings we would've had in spring ball," Trevor says. "We go over past film, we reinstall plays so we know them better. We also watch a lot of NFL film, watching how they play and how fast they play."
The time away from teammates and school has provided other challenges for the Pennings, many of the same things their teammates are dealing with, too.
"It hasn't been good for me," Jared said. "I like being around people. It is great that I have my brother to hang out with, and it is nice to see your teammates on Zoom, but it is the not the same as getting together and hanging out."
Trevor says he and Jared try to break up their days by splitting up the workouts, completing online school work and sessions on the PS4 playing games.
"It is tough, but we're staying ready," Trevor said. "It is tough for everybody, but we are all managing."
Be the first to know
Get local news delivered to your inbox!