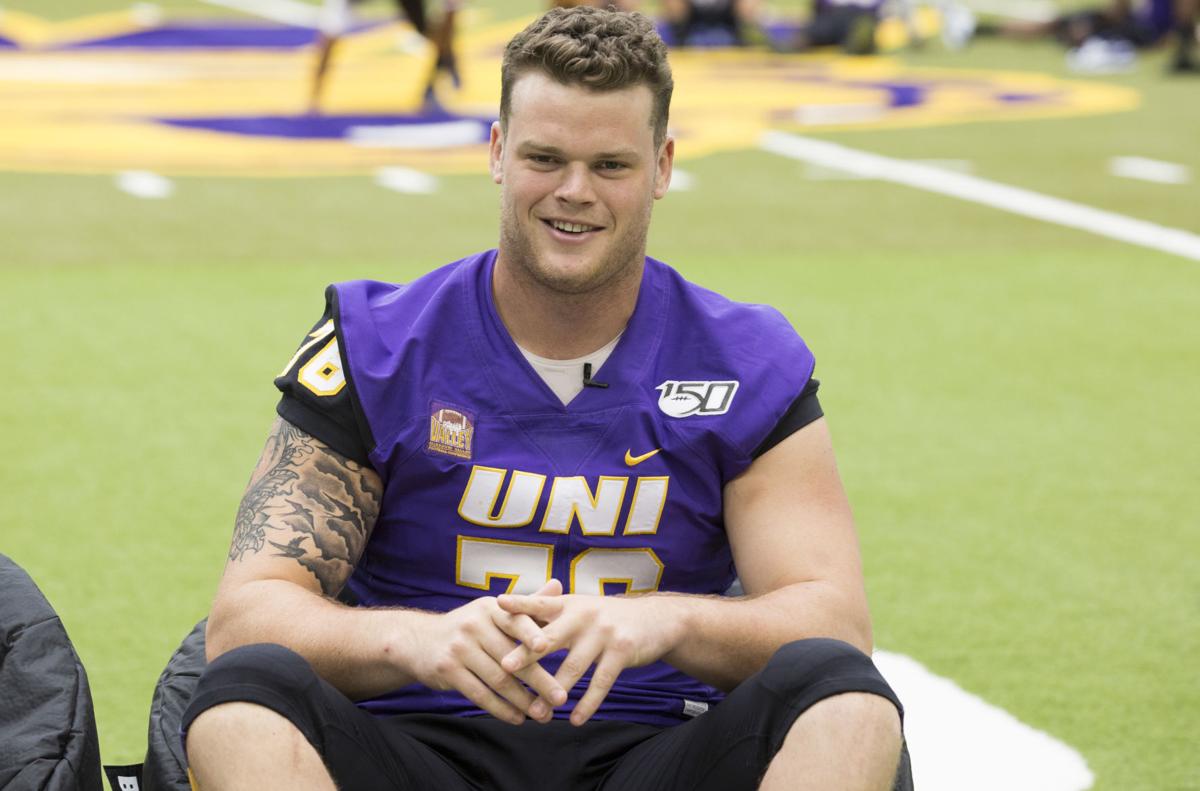 CEDAR FALLS – As a starting offensive linemen at Oregon, Ryan Clanton had to do it.
As he gets ready to serve his third season as the University of Northern Iowa's offensive line coach, Clanton has been preaching multiplicity with his athletes. In his three years with the Ducks, Clanton played left tackle, left guard and right guard.
That is the expectation Clanton has with the Panthers, which was the reason he recently couldn't give a simple answer to an easy question.
Asked how he was going to replace Jackson Scott-Brown in 2020, a player who made 48 consecutive starts for the Panthers at left guard, Clanton didn't have a set answer.
"If there was two or three candidates, I'd tell you," Clanton said. "But there are so many combinations of people that could win that spot. We can move guys from center to guard, guard to center and tackle to guard and literally center to tackle. We have that multiplicity.
"Basically, if you can play tackle there is no reason you can't move in two feet, put your hand in the dirt and play guard. And, we have multiplicity with the group we have."
What Clanton can answer is a relatively young group got a ton of experience last year.
Between senior Spencer Brown at right tackle, junior Trevor Penning at left tackle, junior Mason Neisen at center and senior Nick Ellis at right guard the Panthers return 55 starts. Junior Erik Sorensen chipped in three starts, two at right guard and one at center, and senior Matthew Vanderslice and junior Justin Peine also have substantial snaps under their belts.
"The competition level we played last year was really high, and it helped build those young guys that were playing out there," Clanton said. "We have a lot of guys who have played snaps on the O-line that are really talented and now have a chance to step up and be leaders for us. I think it is an opportunity for them."
Additionally, Clanton has some athletes he likes to refer to as 'young pups' that he believes will be pushing for snaps in the form of redshirt freshman Jared Penning, Tristan Roper and Clayton Kempf. Penning and Roper were on the Panther travel squad most of last season.
"It's a pretty exciting group I have to work with," Clanton said.
Size won't be an issue for UNI's line either. The smallest of the bunch is Ellis at 6-foot-4, 325 pounds. Three starters were tall as or taller than 6-foot-7 — Brown (6-9), Vanderslice (6-8) and Trevor Penning (6-7), and Kempf, Jared Penning and Peine are all 6-foot-6.
Additionally, the entire group made huge gains in the weight room prior to UNI having to shutdown organized practices after the NCAA mandated it to help eliminate the spread of the COVID-19 virus.
Clanton also hopes the Panthers made gains outside of the weight room.
"We probably study more film than most offensive lines," Clanton said. "We study other teams, and we study a lot of NFL film. If you want to be the best, you got to watch the best do it and they are the best at their craft. So, I really want to develop these young guys on a mental level."
And looking back at the Panthers' 2019 film, Clanton says there is plenty to improve upon.
"I think it has to be our ability to sustain blocks past a certain point," Clanton said. "My first year here we were doing that and we were springing some really big and explosive runs. Last year was a long season against a really good schedule. It seemed like every team we faced had a really great defensive line.
"So, we got to make sure we are finishing our blocks. Also, in pass pro, we have to eliminate holding calls. We have a scrambling quarterback … Will (McElvain) is an amazing athletes that can run and scramble. It is awkward when you don't know where he is at behind you. With a scrambling quarterback there are certain drills and techniques you can use to eliminate the holding calls and I have to do a better job of teaching those to the guys."
Be the first to know
Get local news delivered to your inbox!