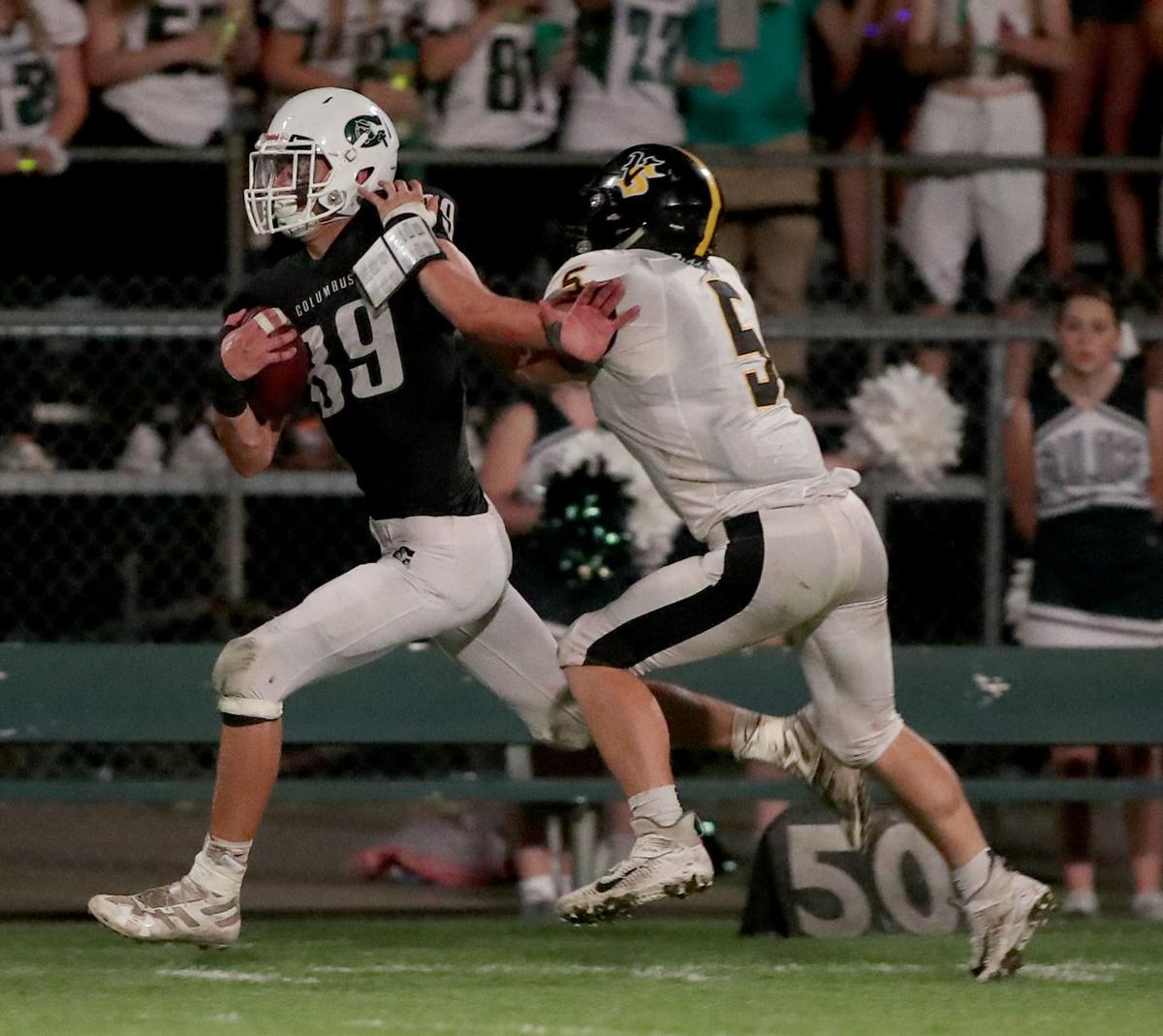 WATERLOO -- University of Northern Iowa offensive line coach Ryan Clanton tried to stump Panther recruit Cannon Butler on his official visit early this year.
It was going to be a tough task.
For as long as Butler can remember, the Waterloo Columbus standout has been attending UNI football and men's basketball games with his grandfather Dan, and dad, Matt.
During those years, he befriended former Panther basketball standout Bennett Koch and was a frequent visitor to the McLeod Center and the UNI-Dome with Koch to play basketball.
So as Clanton led Butler on a tour of the Dome and McLeod Center as part of his official visit, he made it his mission to show Butler something he had never seen before.
"I had been in the basketball lockerroom with Bennett and that was sweet," Butler said. "I've been around the UNI culture for a long time so I know it. There wasn't much I have not seen on that campus."
Fortunately, Clanton succeeded in his goal.
"The nutrition room where they keep the protein powders and stuff … I had never been in there before," Butler laughed.
Today, Butler will become a full member of that UNI culture when he signs his national letter of intent to join the Panther football team.
A 6-foot-6, 220-pound defensive end, Butler will be one of 12 players UNI was expected to ink during the early signing period.
Butler landed on UNI's radar after an impressive camp in June where at the conclusion he was pulled inside head coach Mark Farley's office and offered a scholarship.
"It was one of the best camps that I played," said Butler, who also went to camps at Iowa and North Dakota State.  "I performed really well at the camp and was awarded with an offer. It was something I could not turn down and an opportunity I could not pass up.
"It means so much to me, a dream come true. I've went to so many games with my grandfather and now it is crazy to think I'm going to be one of the guys running out onto that field."
Butler had back-to-back strong seasons for the Sailors, helping Columbus win 15 games the past two seasons. He had 61½ tackles, including 19 for a loss this season, while grabbing 16 passes for 257 yards and two scores as a tight end.
In the last two years, Butler has 110 tackles, 31 tackles for loss and nine sacks. He has 27 catches for 459 yards and four scores.
Butler credits his strong senior season to the brother of a future Panther teammate. UNI tight end Brock Hadachek's brother, Jace, worked as Columbus' strength and conditioning coordinator over the summer and it paid dividends for Butler, who hopes to get up to the 235-240 pound range as a redshirt freshman and eventually grow to 260 or 270.
"Jace put us through some of the toughest workouts I've ever had this summer," Butler said. "Conditioning was tough. I didn't put on a lot of weight, my metabolism, I consume 4,000 to 4,500 calories a day and I won't gain a single pound.
"But after those workouts I had gained a ton of strength and better mobility."
UNI recruited him to play defensive end, but there is always the chance Butler could find his way to the offensive side of the ball.
"The quarterback coach was in the coaches' office when I was in there and was joking that we will get you over at tight end," Butler said. "I'm not sure Coach Farley will like that. I'm 90 percent sure I will be a defensive end."
Butler said he is also excited to learn from UNI defensive line coach Bryce Paup.
"It will be a true honor to have him as my position coach," Butler said. "He's not only a great defensive line coach, but he is a great life coach. That was something I was looking for … a place not only to become a great football player, but a place where I can grow into the best version of myself."
Be the first to know
Get local news delivered to your inbox!