CEDAR FALLS – It was just a quick pattern in the right flat.
Isaiah Weston hauled it in, made a defender miss and then out-raced two defenders for a 60-yard touchdown Saturday as Northern Iowa pulled away from St. Thomas for a 44-3 win in the UNI-Dome.
It was sight for sore eyes to UNI head coach Mark Farley who has watched Weston, an all-American in 2019, struggle with injuries that limited him to just three games in the spring.
"Isaiah has worked his tail off to get back," Farley said
Weston's injury woes began during his 1,000-yard receiving season in 2019. He was limited late in the year because of foot problems and missed the Panthers loss in the FCS quarterfinals at James Madison.
He had just seven catches for 152 yards and a score in limited action this past spring. Through three games this fall, he now has nine catches for 189 yards and touchdown catches in back-to-back games.
He could've had a couple more long scoring catches as he got behind his defender twice Saturday.
"They missed him twice so they had to throw him underneath and he had to go earn it," Farley said. "He had to make a move and run.
"Like I said before, you can't overthrow him and Theo (Day) needs to learn that because most quarterbacks leave it short because they don't know he has another gear."
The 6-foot-4, 210-pound Weston was all smiles after the game when he began talking about his touchdown
"It felt very nice," Weston said.
Sticky like sapp Safety Benny Sapp III had a pair of interceptions Saturday and now has three through three games and four since arriving in Cedar Falls after transferring from Minnesota in the spring.
A third interception Saturday was overturned on review.
"Benny is a good football player," Farley said. "What makes him good is he plays hard every down. He runs sideline to sideline and he will chase down the guy who scores a touchdown to make sure he is the first one down there to celebrate with him.
"Benny practices like that and that is also why he is good."
Sapp III is nearly halfway to the nine career collegiate interceptions his dad, Benny II had in his career with Iowa and UNI.
"I just want to thank my teammate Matt Morrissey, Coach Dalton, throw me the football after practice every day," Sapp said. "I knew my hands were an issue and I've worked on it every day in camp…I just want to shout out to them because without them I probably would not have caught none today."
Running back by committe Like each of the first three games, UNI spread carries around to four different running backs.
Dom Williams led the team with 73 yards on seven carries against St. Thomas and is the starter. Bradrick Shaw, the transfer from Cal, is the hammer UNI uses for between the tackles.
Vance McShane is the explosive speedster, and Tyler Hoosman has seen a lot of action in short-yardage situations.
Asked if the plan was to continue that rotation moving forward, Farley smiled before answering.
"I'm planning on running the guy who can get the most yards," Farley laughed. "Genius, huh?
"Seriously, anytime we have been good. We put a team into the Hall of Fame last night and that team had Terrance Freeney, David Horne and Corey Lewis. Those guys carried the rock for us for 2,000 yards. If you can keep a fresh back, back there and you have a big back, and small back to counter that makes it hard on the defense."
Next up UNI is off until it hosts Youngstown State on Oct. 2.
Photos: UNI football home opener vs. St. Thomas
FBall UNI vs. St. Thomas 1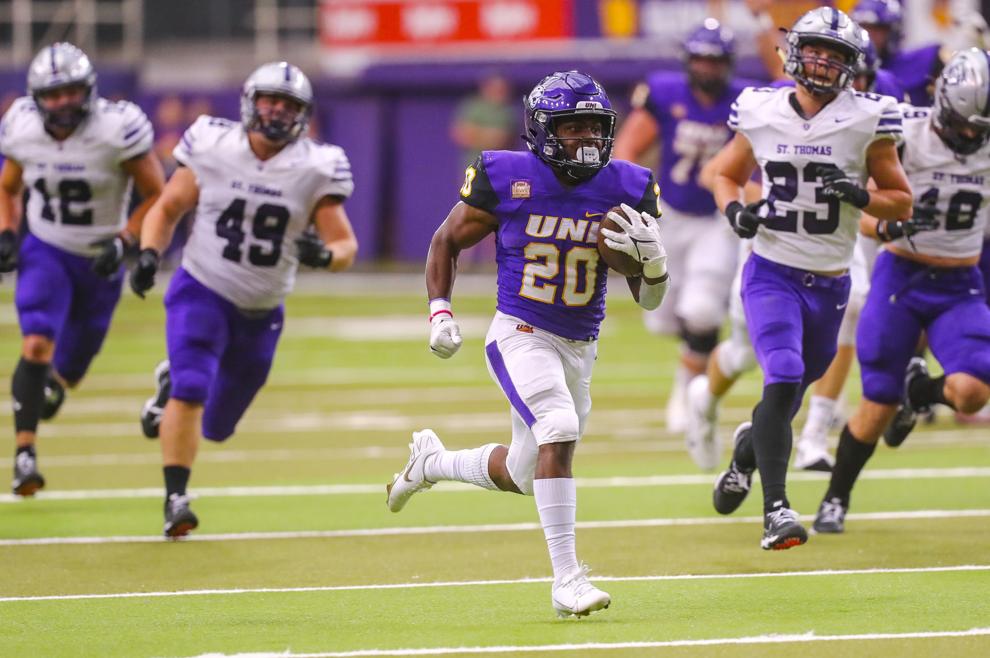 FBall UNI vs. St. Thomas 2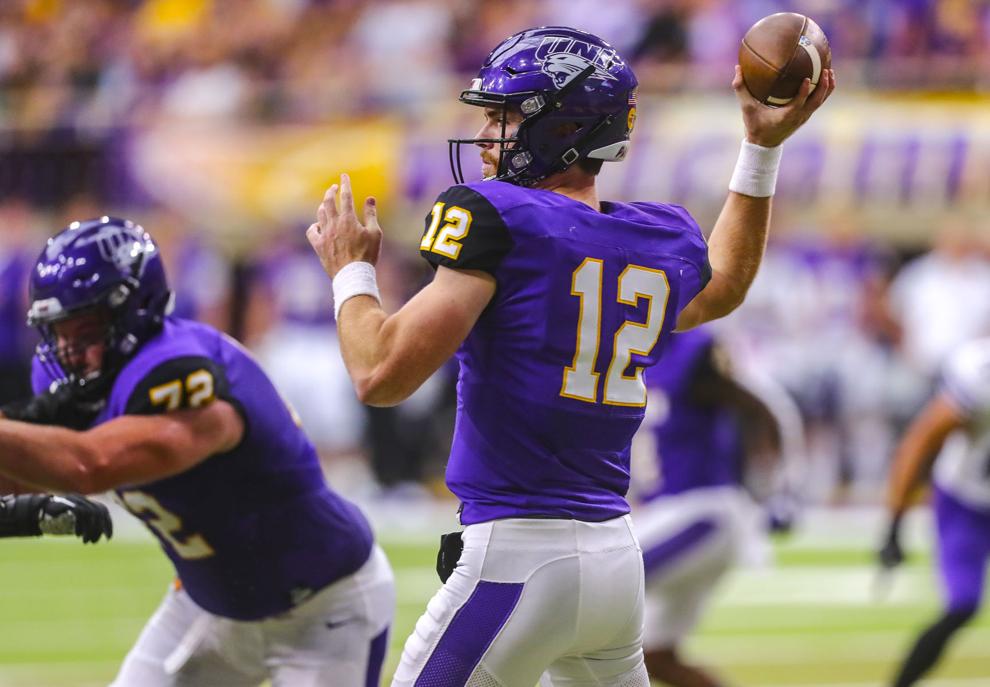 FBall UNI vs. St. Thomas 4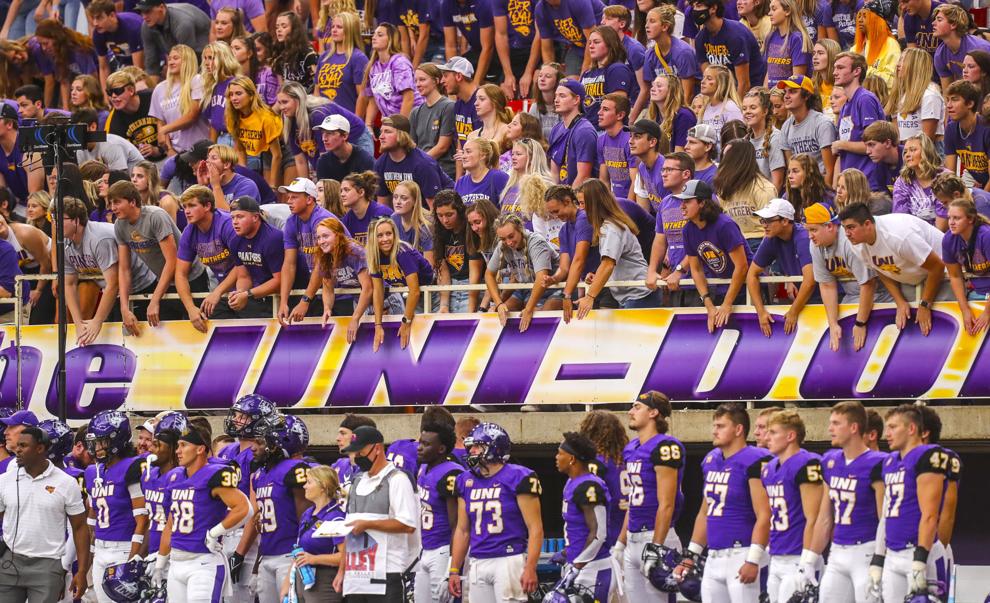 FBall UNI vs. St. Thomas 3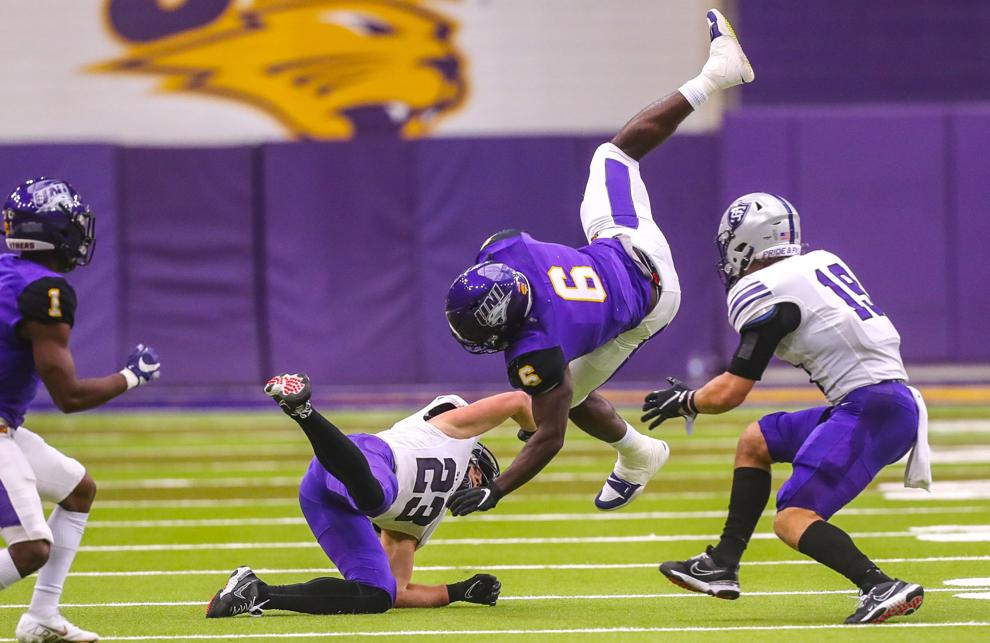 FBall UNI vs. St. Thomas 5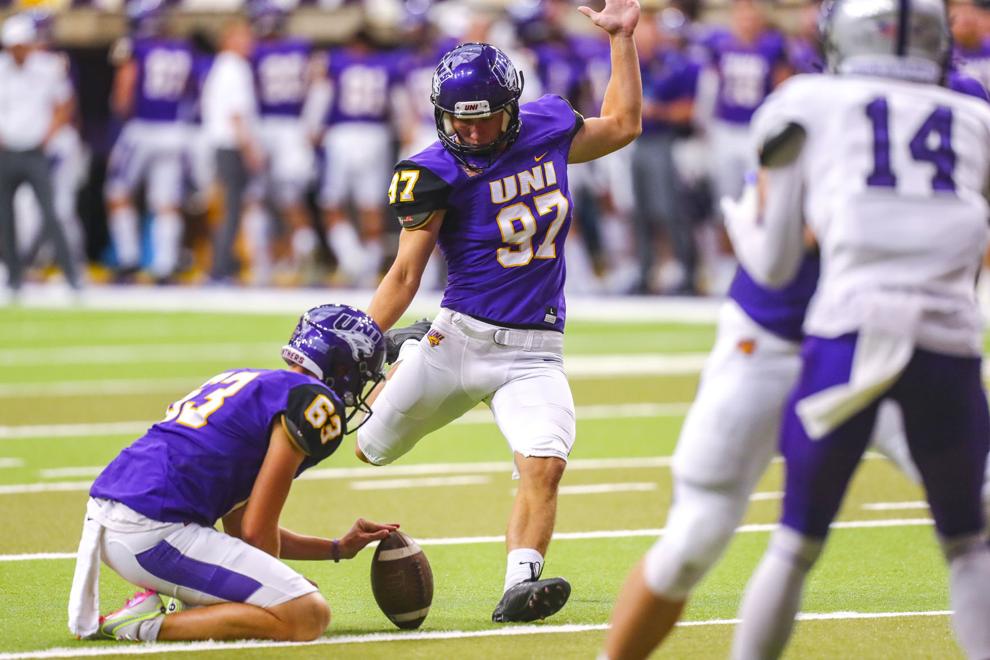 FBall UNI vs. St. Thomas 6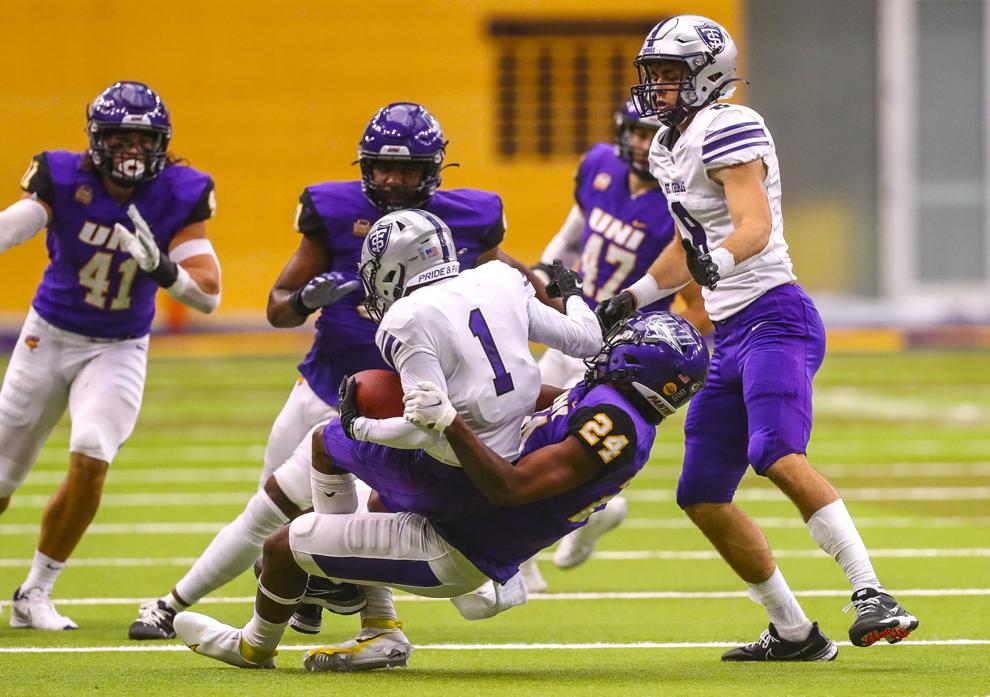 FBall UNI vs. St. Thomas 7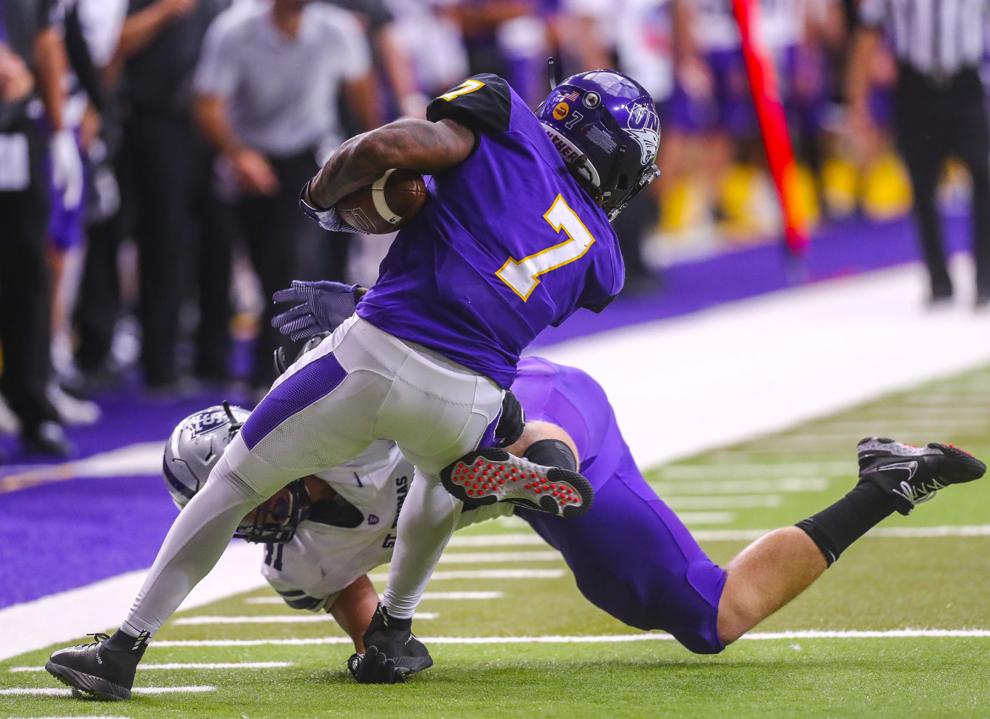 FBall UNI vs. St. Thomas 8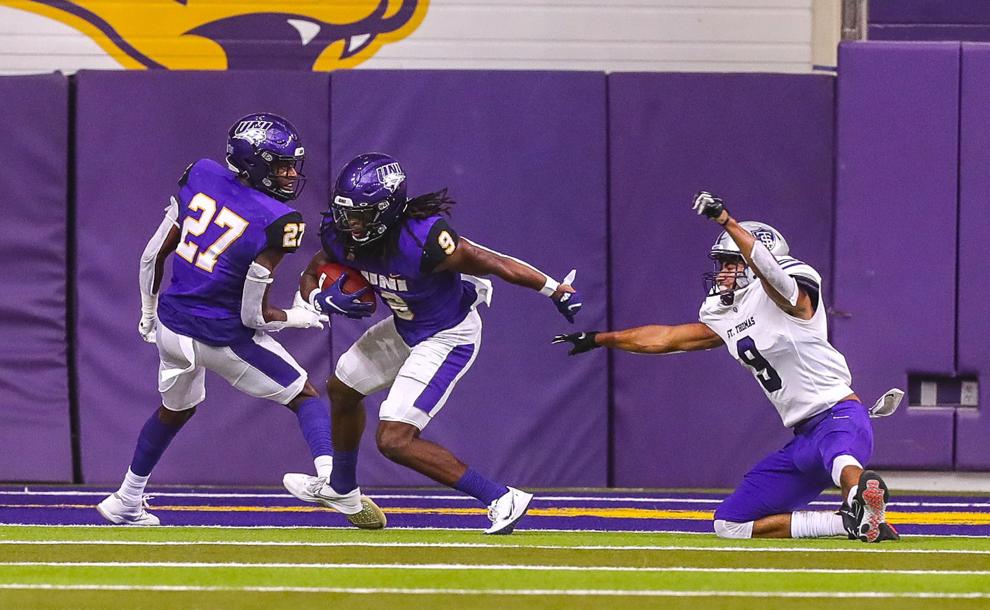 FBall UNI vs. St. Thomas 9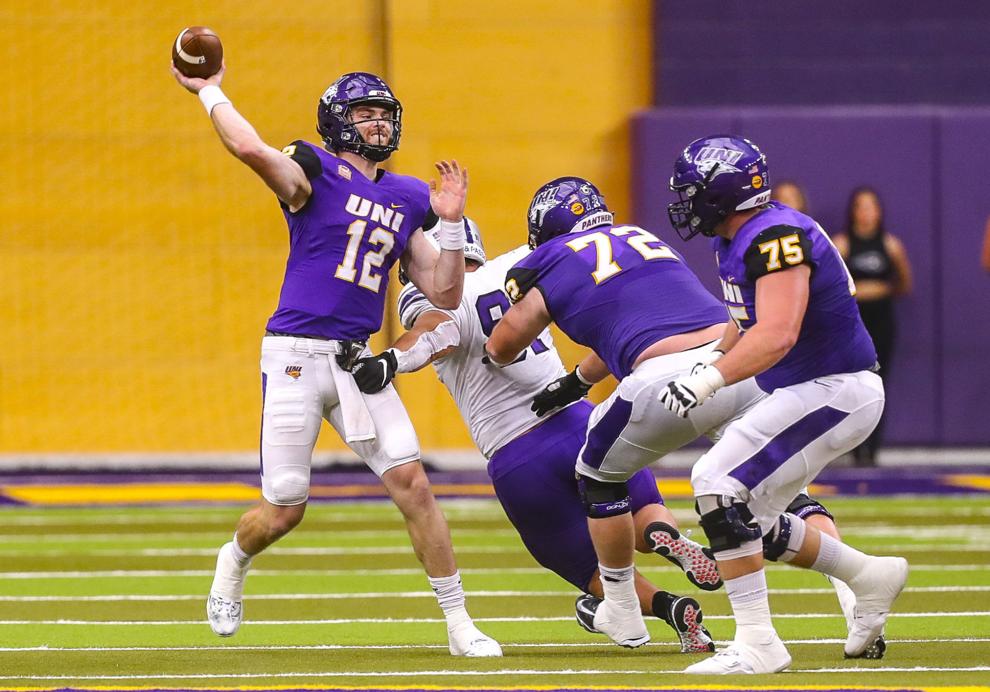 FBall UNI vs. St. Thomas 10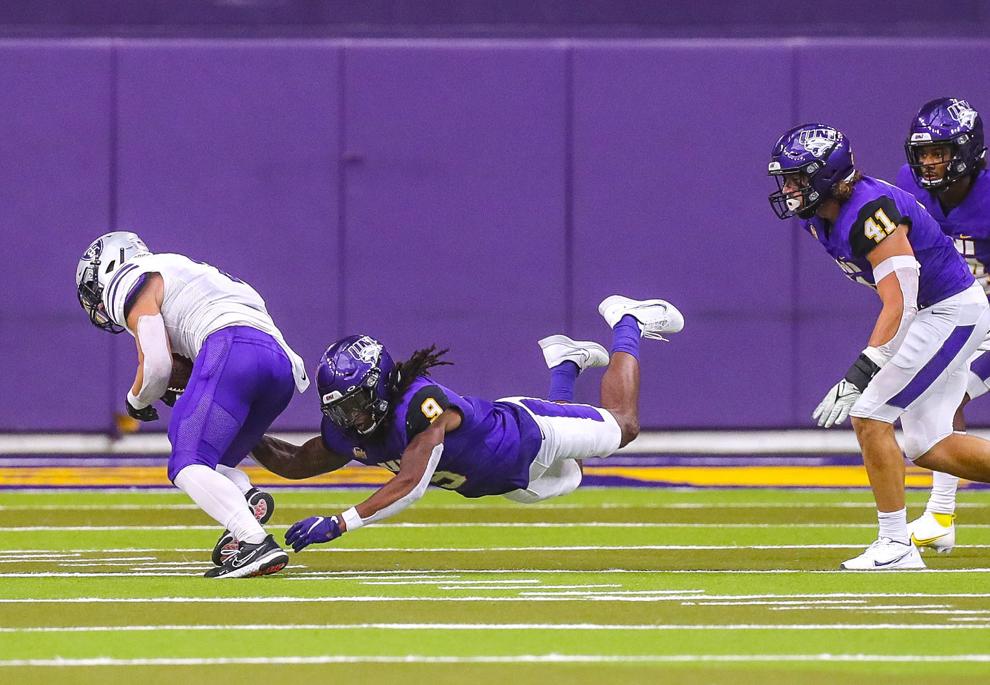 FBall UNI vs. St. Thomas 11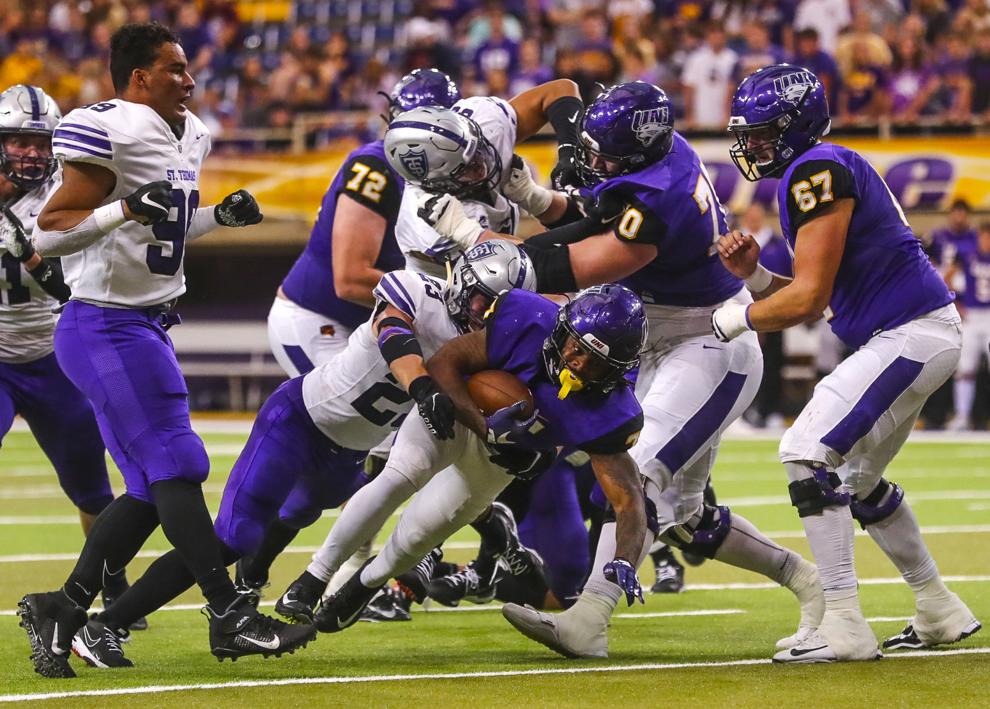 FBall UNI vs. St. Thomas 12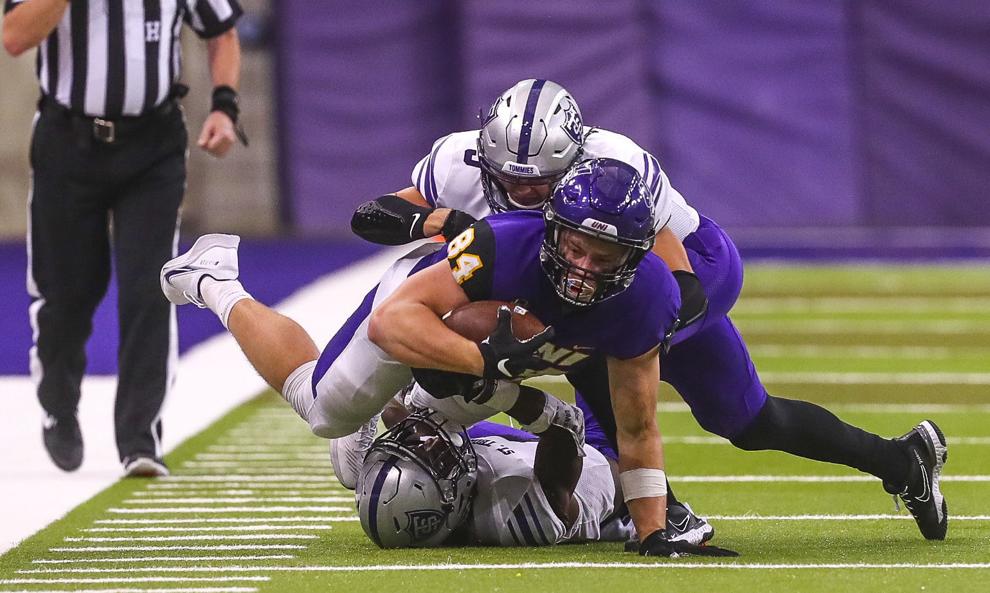 FBall UNI vs. St. Thomas 13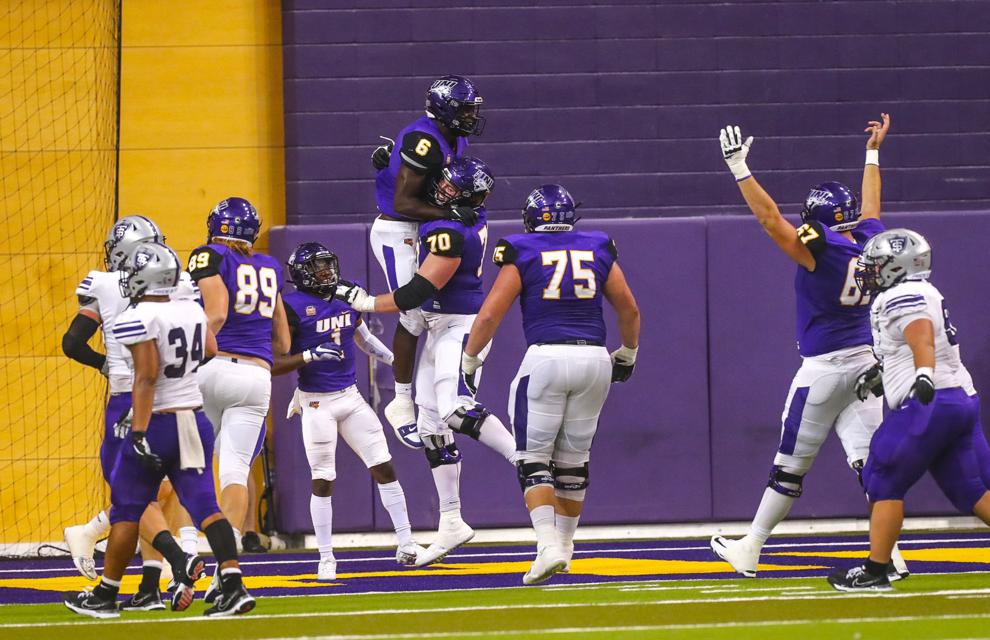 FBall UNI vs. St. Thomas 14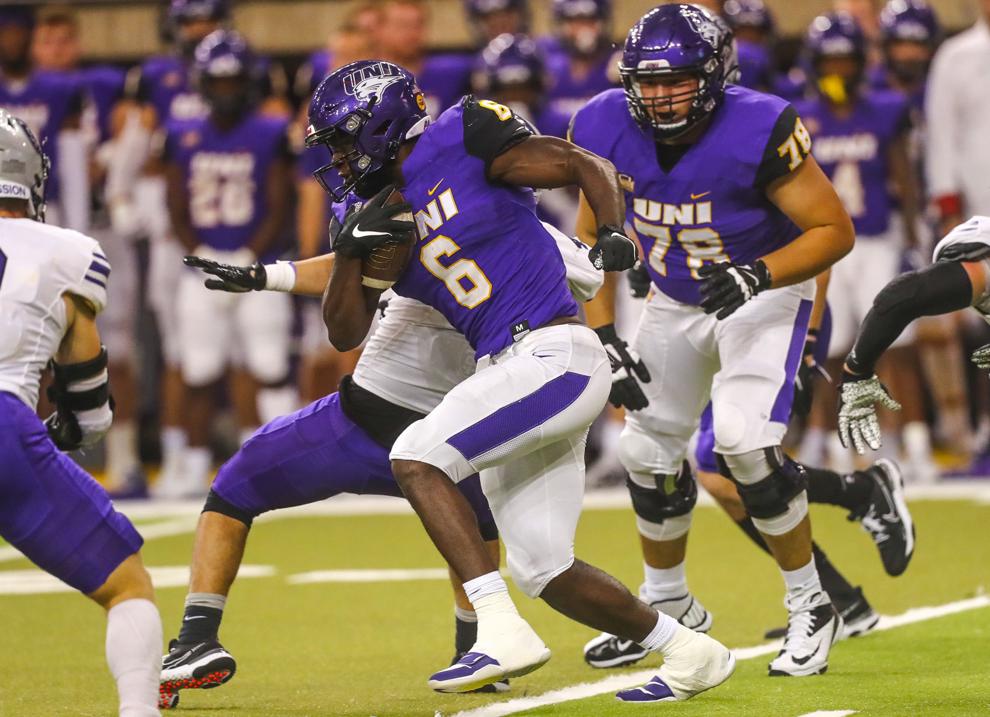 UNI—Williams 36 run (Cook kick), 11:42
UNI—McShane 41 run (Cook kick), 08:59
UNI—Shaw 4 run (Cook kick), 14:56
UNI—Weston 60 pass from Day (Cook kick), 10:30
UNI—Wendel 12 fumble return (Cook kick), 00:55
Rushes-yards 33-26 31-193
Comp-Att-Int 10-24-3 18-32-1
Time of Possession 28:57 31:03
RUSHING—St. Thomas , Minn., Ma. Jackson 1-11, We. Juszczak 1-8, To. Loeffler 5-7, Team 2-7, Jo. Komis 4-5, Pa. Ricciardi 2-4, Ni. Rice 1-3, To. Dolan 6-2, Ho. Adebayo 2-2, La. Reed 1-2, Br. Smith 1-2, Sh. Shipman 1-1, Ca. Sexauer 5-0, Ko. Gartner 1-(minus 28). N. Iowa, Do. Williams 7-73, Va. McShane 4-44, Br. Shaw 7-34, Th. Day 2-22, Ty. Hoosman 8-14, Te. Kamara 3-6.
PASSING—St. Thomas , Minn., Ca. Sexauer 6-14-2-53, To. Dolan 4-8-1-26, Br. Smith 0-2-0-0. N. Iowa, Th. Day 18-31-1-193, Wi. McElvain 0-1-0-0.
RECEIVING—St. Thomas , Minn., We. Juszczak 1-28, Is. Hall 3-22, Xa. Thurman 2-15, An. McElroy 1-10, To. Loeffler 1-3, Ai. Carlson 2-1. N. Iowa, Is. Weston 5-86, Qu. Hampton 5-40, Ja. Scott 3-29, Sa. Schnee 1-18, De. McShane 2-13, Do. Williams 1-5, Br. Shaw 1-2.