BROOKINGS, S.D. — In 19 seasons at the helm of the University of Northern Iowa football team, there is one signature Mark Farley has left on the Panther program.
UNI will always play strong, disciplined defense.
One thing Farley is not known for is being a gambler.
Saturday, in the Panthers' 13-10 win over seventh-seeded South Dakota State in the second round of the FCS playoffs, Farley went all-in late in the game to pull out the win.
With the game tied 10-all, UNI had a fourth-and-two at the SDSU 42. Typically, with his defense playing strong, Farley would play the field position game and try to pin the Jacks deep with a punt.
Instead, Farley sent in his 13-personnel package with three tight ends and a fullback and had Trevor Allen follow the beef.
Allen gained the yards to be made and minutes later Matthew Cook kicked an 18-yard field goal with 2 minutes, 10 seconds left for the game-winning points, culminating a 12-play, 80-yard, 5:48 drive.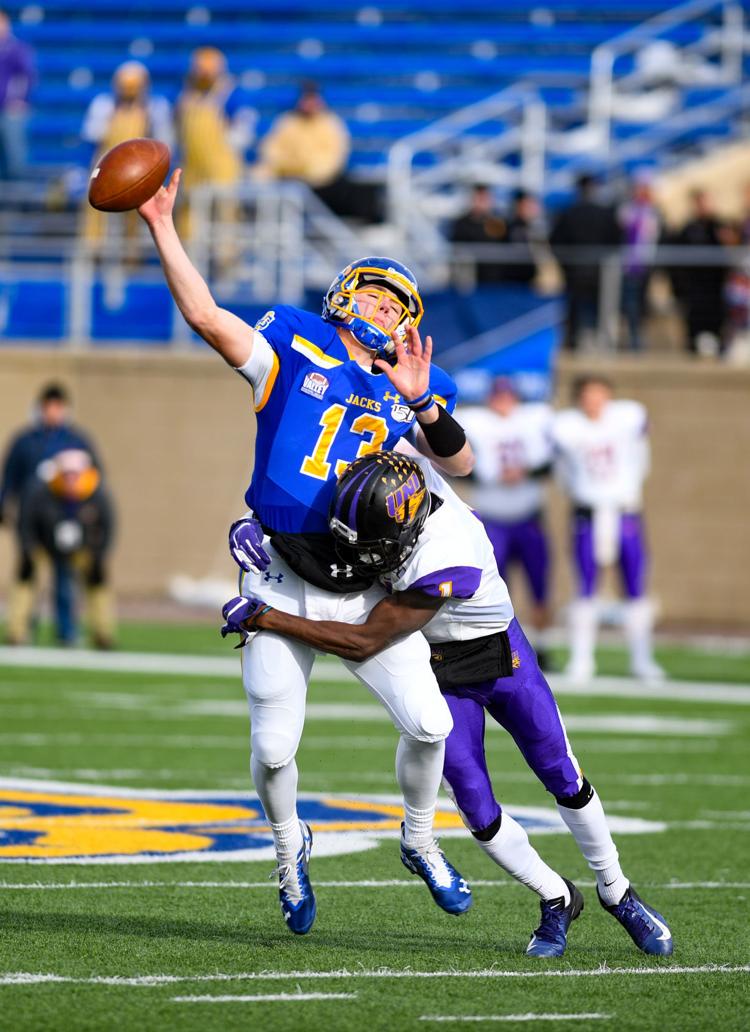 "I was looking at the clock and we were playing against a great football team in a big game," Farley said. "It was hard to get inside the 40 against this defense so I felt that was going to be our shot to win the game."
Farley stuck with the decision even after SDSU called a timeout.
"I absolutely wanted that carry," Allen said. "I'm happy Coach Farley made that decision to go for it and we all are. It turned out well. Our o-line came up huge and we got the yards we needed."
EARLY GAME PLANNING: It's not uncommon for coaches to lose sleep in the days and hours leading up to a big game.
Farley found himself wide awake at 4:30 a.m. Saturday when an idea came to him. Why not have 6-foot-8 offensive tackle Spencer Brown play on field goal block.
Coming up with a design to get Brown on that unit in the wee hours of the morning, the plan paid dividends as Brown's push up front allowed Elerson Smith to block a 45-yard Chase Vinatieri field goal in the third quarter that kept the game tied at 10-all.
"Everything works in mysterious ways and that was one of them," Farley said. "Seriously, I came up with it in the morning."
Smith credited Brown with making it work.
"We had never ran it before so we tried to find a way to put him in there somewhere," Smith said. "Me and him ended up on the same side, the right side of the ball, and we just tried to get as much knockback as we could and get our hands up and I ended up getting my hands on it.
"Kudos to Spencer because he got most of the push and drove the guy back and I just had to get my hands up."
WESTON HURT: UNI leading receiver Isaiah Weston was injured in the third quarter when an illegal helmet-to-helmet hit by SDSU safety Chase Norblade resulted in a targeting penalty and Norblade's ejection.
Weston walked to the Panther lockerroom under his own power.
"I saw him in the lockerroom and he was standing upright and he looked good to me," Farley smiled. "We don't know. It is early on and we will wait until Sunday, Monday rolls around and go back home and evaluate what we have for players and go from there."
Be the first to know
Get local news delivered to your inbox!