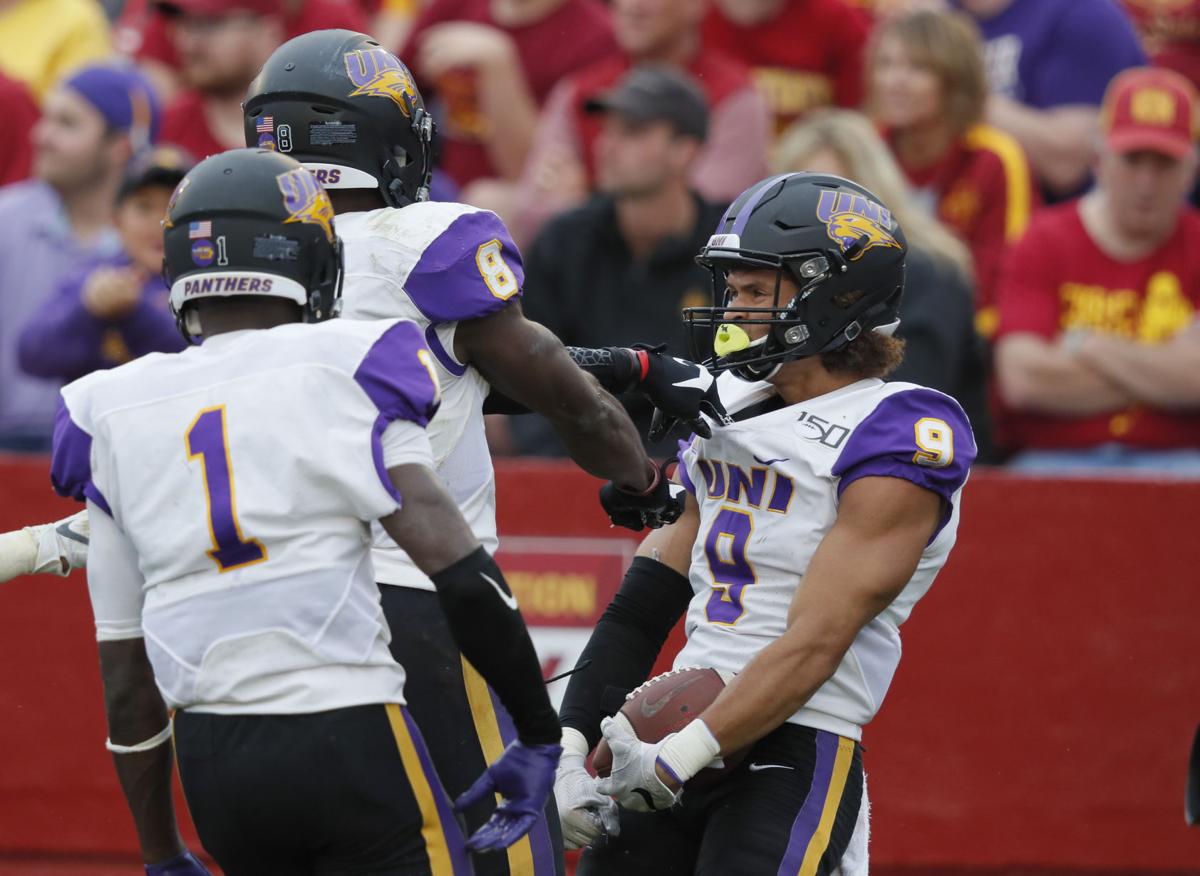 CEDAR FALLS – Mark Farley's Northern Iowa football team had surrounded him last Thursday, and excitement was high on the eve of the Panthers first official 2020 practice.
Things changed dramatically for UNI on Friday.
UNI head coach hopeful to have student-athletes back by mid-June, but will only bring them back when all safety protocols are in place.
Farley was informed by school officials they needed to meet with the team ASAP following that meeting. He canceled the morning practice, and then the Panthers were informed the Missouri Valley Football Conference had canceled the fall season with hopes a safer competitive opportunity would allow for a spring season.
"It is not easy to have your plans and everything you have done … the efforts of so many people — not get us to the start of football," Farley said. "That hurts. There are so many emotions tied to it.
"It was a hard day because it was a reality check. It had been rumored. It had been talked about, but I don't think there was any belief this would last from March to August … and because of it that the season could be canceled."
The 2020 season had the potential to be a special one for the Panthers. The team returned a large group of starters from an FCS quarterfinal qualifier in 2019 and was expected to open as a top-five team when the first FCS Stats Poll was released later this month.
Farley's optimism also was higher than normal.
"We were in really great position coming out of the summer access we had with our team," Farley said. "As of Thursday morning we felt we were in a tremendous spot with a tremendous team. Then we had to change Friday practice to a Friday meeting, and that meeting put us to this point today where we are re-setting the chains, if you will, to move forward.
"That is what we need to do, and that is what we are going to do,"
Farley said the writing was on the wall when the Big Sky Conference announced Thursday it was canceling its fall season and moving to the spring. That moved the participation level of FCS football programs below the 50% threshold for the NCAA to host a championship playoff.
That forced the Valley's hand.
Nearly 60 percent of UNI's 105-member football team arrived back on campus Monday will begin voluntary workouts Tuesday. 
Except for voluntary lifts in the weight room, Farley has canceled all practices until Farley gets further direction from the university and the NCAA.
The MVFC hopes to have an eight-game regular season with the chance of a FCS playoff field to follow, but Farley said it isn't yet worth speaking about how a spring season would work.
"There are legitimate questions about what it will look like," Farley said. "But there are no answers right now. … I don't want to put the time into speculating because nobody is there yet. We are all going to get there, but we don't even know what the rules will be as far as when can you start and how long can you go. All those things are yet to come."
Additionally, Farley said, many things are still developing, alluding to word some Power-5 Conferences are leaning toward canceling their fall seasons, including the Big Ten Conference.
Until those dominoes fall, Farley said, his program will focus on being part of the solution.
Farley praised the medical professional who worked with the university and the athletic department to help the Panthers have a successful summer and plan for a safe environment and a fall season.
"That is the sad part, I think," Farley said. "All the time and effort those people put in to this and we were still stopped short from moving forward. ... I believe we were getting results, but it wasn't enough to get us to the football season."
Northern Iowa director of athletics David Harris and head football coach Mark Farley will detail the plan Monday in an online Zoom meeting. 
School officially starts Monday at Northern Iowa, and Farley wants his program to set an example.
"We have to be leaders in that," Farley said. "We have to work together with our university to really help be part of the solution of making this work, because I think the biggest hurdle now is to get everybody in the classroom and to stay in the classroom.
"We've been here eight, nine weeks wearing masks and following safety protocols. We have seen the pros and cons of how COVID affects you in daily life and when there is a positive (test) what the consequences are. I think by our experience we can be part of the solution."
TRANSFER PORTAL: In the immediate hours after the MVFC's decision, two Panther seniors — defensive end Elerson Smith and defensive back Xavior Williams — announced they were entering the NCAA transfer portal.
A third NFL prospect, offensive tackle Spencer Brown said in a Tweet he would not play for another team, so he would not enter the portal.
"I can't imagine playing for any other program in the country. It's been a dream come true to be a Panther and it's the only program I will play for. It's bittersweet to embark on the next chapter of my football career, but I can't wait to pursue the NFL," Brown's tweet read.
Farley said he and his staff had discussions with each of the players, all considered NFL prospects, to give them the best information to make an informative choice for their futures.
"They went into the portal thinking they needed to play this fall because it was their last fall no matter what," Farley said. "They did not want to leave. They were forced to make that choice because of their position and moving forward with the NFL. If that changes because everybody (Power-5 conferences) cancels fall seasons, then I think their thought process might change as well."
Asked if he would welcome all three back with open arms to participate in a possible spring season, Farley quipped, "What do you think?"
Be the first to know
Get local news delivered to your inbox!