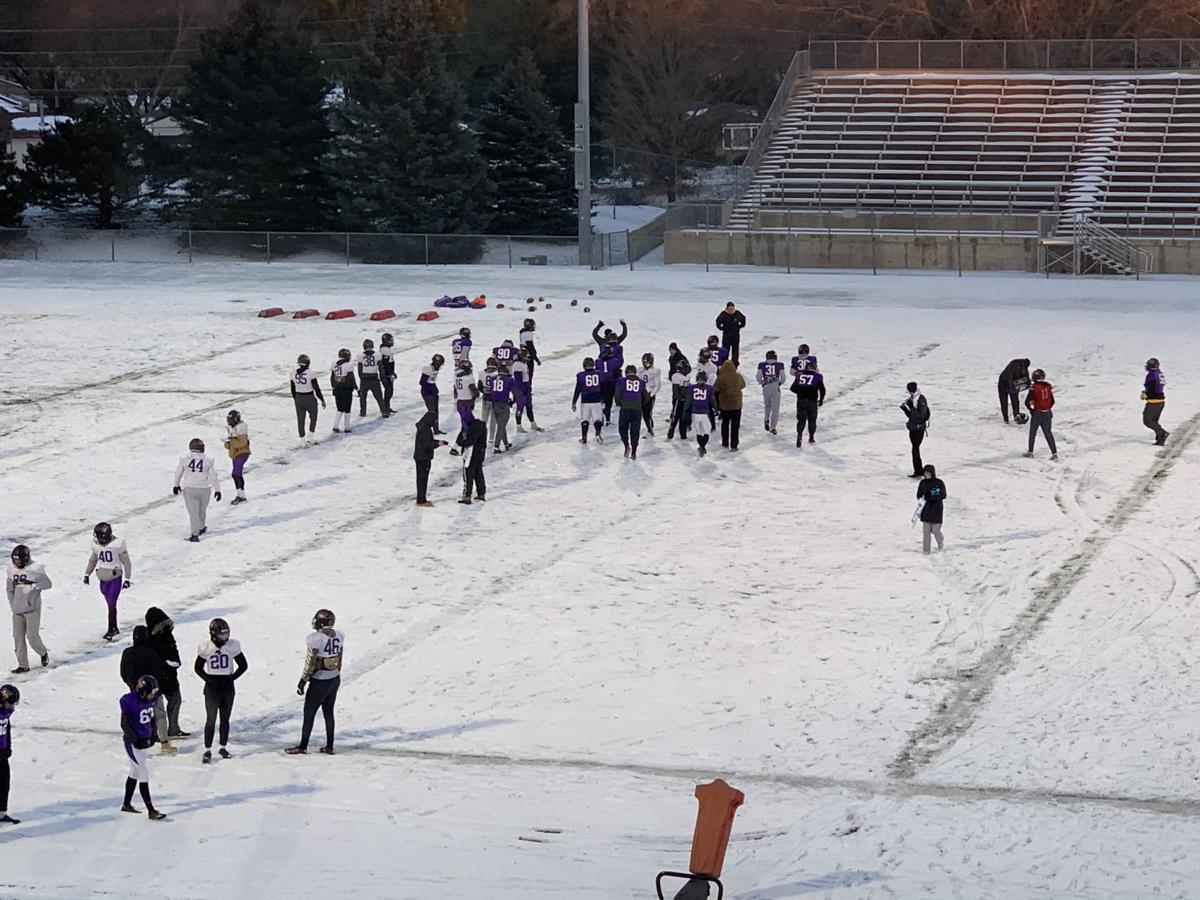 CEDAR FALLS — In recent weeks, Northern Iowa's fourth-ranked football team has practiced in blustery winds, dreadful cold and rain.
Tuesday, the Panthers practiced in the snow.
It would be safe to say that UNI (7-3 overall, 5-1 Missouri Valley Football Conference) has seen it all leading up to Saturday's game at No. 8 South Dakota State (7-3, 4-2) where the forecast doesn't appear as daunting as the weather the Panthers have been practicing in.
The forecast calls for a balmy 42 degrees with a 20 percent chance of rain and winds up to 14 mph at Dana J. Dykhouse Stadium.
Nonetheless, Farley wants his team to be prepared.
"A lot of people build indoor facilities so they can get inside with weather like this," Farley said. "We go outside because we have to get climatized just for the opposite because we get accustomed to the inside."
During the past month, the Panthers have found themselves at Waterloo Memorial Stadium almost every Tuesday and occasionally on Wednesdays.
Outside workouts have been part of the Panthers' long-term practice plan. A wet September and October basically left UNI's outdoor practice fields unusable because they were too soggy.
"We found a great field to go to and now we can get our work done," Farley said. "It helped last week. (UNI beat Illinois State in the rain). If it was my choice, I'd practice outside every Tuesday for the whole season ... Where we live and where we play, you are going to have to play in these games outside and you are going to have to be successful playing outside.
"If you do it every Tuesday it just becomes a normal practice day and you don't wait for this game to come up just to go outside."
As for the players, sacrificing a little comfort for a greater purpose is understood, although players such as cornerback Roosevelt Lawrence, a native of Tampa, Fla., experienced something way out of their comfort zone.
"This was a crazy night," Lawrence said as he slid along some ice on Memorial Field Tuesday. "I get why we are out here. It tests us to perform in something that is totally different than what we are used to practicing in. Coach Farley is always getting us prepared and ready for this type of stuff. It will help us.
"But, this is some crazy stuff. This will be a memory I will have for a long time."
It was beneficial for quarterback Will McElvain on multiple fronts. McElvain practiced with gloves on both his hands for the first time.
"I tested them today and I liked them," McElvain said. "If it gets this cold Saturday, I will wear them."
The cold, McElvain added, typically doesn't affect his ability to throw or handle the ball.
"When it got really cold, when the sun went down, it was a little tougher," McElvain said. "But I don't think it was too bad. You've just got to try to keep your hands warm the best that you can."
Farley says the outdoor practices do serve a greater purpose.
UNI played in a 2003 playoff game at Delaware, a 37-7 loss, where the snowdrifts from the field being cleared of snow were taller than the players. During the Panthers' run the FCS title game in 2005, UNI played in snowy conditions in New Hampshire. There have also been a couple of frigid December trips to Montana.
"If you are fortunate to survive November and get into December games, all the games are like this and wherever you go you are going to be playing in these type of elements. That is why I like to get outside in October and stay outside if we can."