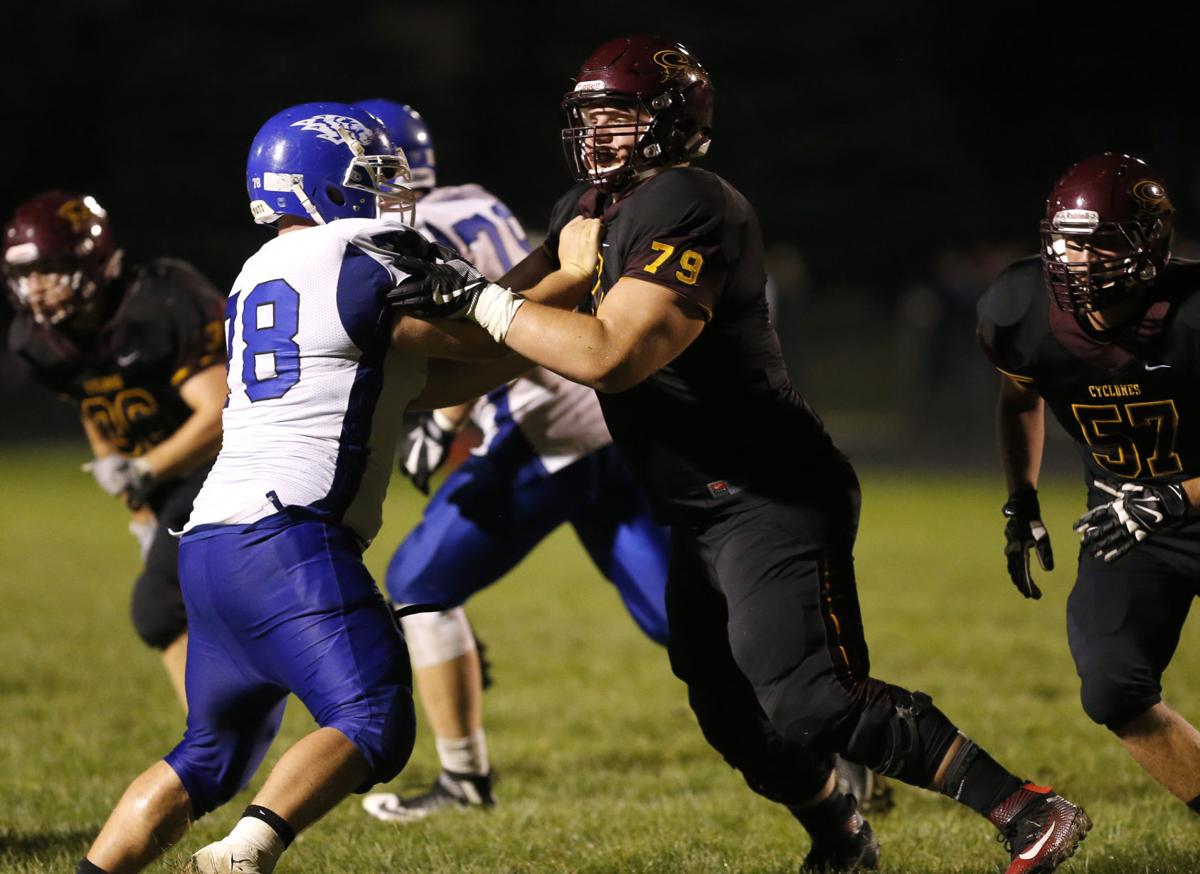 CEDAR FALLS — Mason Neisen was prepped and primed for his second career start as Northern Iowa's center in advance of the Panthers' season-opener last month at Iowa State.
Then, four days before the game Neisen broke his left hand in a drill during practice.
With his left hand wrapped like a club, Neisen made a game effort against the Cyclones. But upon film review, Neisen reaffirmed his suspicions.
"We felt it would be better to give me time to heal up," Neisen said. "There were limitations. A big part of playing center is using your off hand for other stuff as you get your (snapping) hand up to block. I couldn't use my left hand quite as effectively as normal."
After talking to UNI's coaching staff, Neisen missed the next game against Southern Utah, which then led into a bye week.
With two weeks rest, the Denver native was back at center with a better idea how to play with his temporary club hand.
"I think it did make me a lot better player in the sense of making sure my footwork was better," Neisen said. "Coach Clanton (offensive line coach Ryan) is always saying you can block better if your feet are in the right position than you can by reaching. So, I've gotten better with my feet and knowing where I need to be and being in the right place."
UNI head coach Mark Farley appreciates that Neisen has fought through the injury and gotten better.
"It hurt him and it hurt us when we played him like that those first couple of games. To his credit, he was doing the best he could," Farley said. "Now without it (the club), he is a better football player.
"For us to get better, he is one guy that needs to continue getting better."
Neisen has showed steady growth the last two weeks after the club came off.
You have free articles remaining.
"He is more like himself and what we expected of him," Farley added. "I think he got better last weekend, and I think he will continue to get better as long as he stays healthy."
Neisen was a critical part of UNI's first 200-yard rushing game against South Dakota last Saturday and has been part of a unit that has allowed just 17 sacks in seven games.
He says for he and his teammates to get where they want to be, that rushing game needs to continue progressing.
"That opens up everything," Neisen said. "Coach Mahaffey (offensive coordinator Ryan) and Clanton say if you can run the ball you can do a lot of things, opens up a lot of facets of our game that we like to get to."
A two-time all-state right tackle at Denver, Neisen was an anchor on a team that rushed for 11,653 yards in his three seasons as a starter and reached either the 1A or A state semifinals all three seasons.
As a redshirt freshman, he played guard. Prior to the spring practice, UNI coaches asked him if he had ever played center.
"They asked if I'd like to try it and I've been a center ever since," Neisen said.
Neisen has taken his share of lumps while transitioning from a 6-foot-3, 340-pound small school tackle to a 6-3, 317-pound college center.
"I was heavier in high school, but my body composition is much better now," Neisen said. "Jed Smith (UNI strength and conditioning coordinator) has honest discussions with us to change our habits in order to be the best football players we can be."
And those lumps Neisen has taken?
"Two come to mind," he laughed. "My freshman season in practice I was playing guard and was pulling on a play. Jared Farley filled the hole and knocked me on my butt. I was like, 'So this is how it is going to be.'
"And the other, actually, was against Missouri State last year. I was run blocking and they were slanting down toward me and I got hit pretty good. It was a nice reminder you can always get better."
Neisen gets another crack at Missouri State this Saturday when the Panthers travel to Springfield, Mo., to play the Bears.