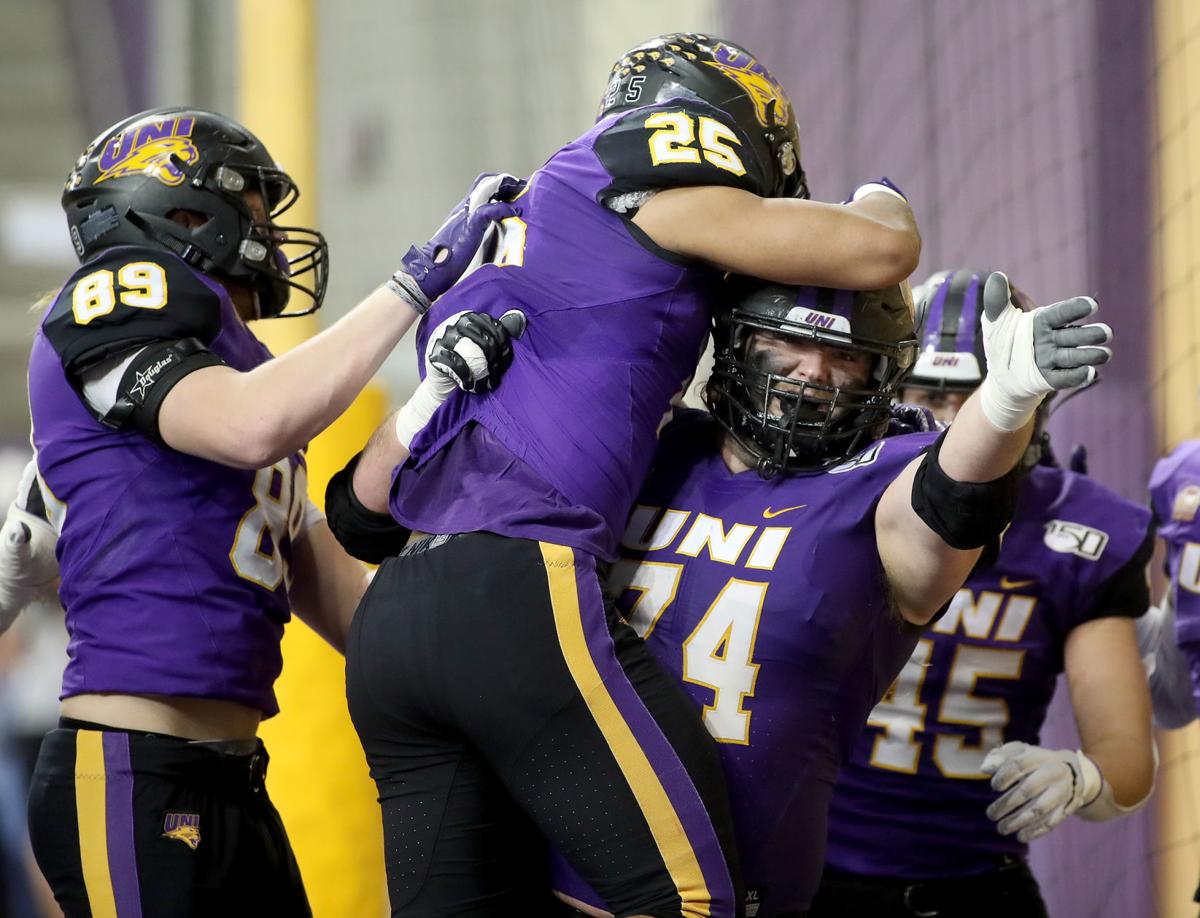 CEDAR FALLS — There are a number of reasons why the University of Northern Iowa football team wanted a top eight seed and a first-round bye in the FCS playoffs.
Above all else, that bye meant a week's rest at a time of year when players are feeling the effects of a long regular season or trying to get back on the field following injuries.
That didn't happen. So, the sixth-ranked Panthers head to Brookings, S.D., to face a 10th-ranked South Dakota State team with an elite defense and a potent offense Saturday at 1 p.m.
The 8-4 Jackrabbits will also be rested. They got the bye that many felt should have been UNI's.
"Gives your body and mind a chance to really get energized for the upcoming game and not just plan, but more energy," UNI head coach Mark Farley said. "An open date is a huge advantage this time of year."
The Panthers (9-4) will charge forward with the personnel they have available.
UNI played shorthanded in the first round against San Diego. Several key Panthers did not play in the 17-3 win, and Farley did not even dress the 64-man playoff allotment.
"Our personnel is getting really lean right now," Farley said. "That is the first time in the playoffs, what is it 21 games, I did not dress the total allotment of players. We didn't have that many."
South Dakota State, on the other hand, could get back two key offensive pieces in 1,000-yard rusher Pierre Strong and back-up running back C.J. Wilson. Neither played in the Jacks' regular-season finale, a loss at South Dakota.
Additionally, because the NCAA likes to keep things regional in the second round, UNI has a long bus ride ahead of it instead of a short flight.
You have free articles remaining.
"We are going to get up there early on Friday," Farley said. "Instead of an hour flight ... we are going on a five-hour bus ride which is not equal if you look at it.
"Right now the (travel) plan is to remain the same, but I'm not convinced we will stay in or stick with that plan. It is all about the players and giving them the best chance to be prepared to play in that game. "
Historically, teams with a week's rest in the FCS playoffs have dominated. Last year, home teams went 8-0 in the second round and since the playoff field was expanded to 24 teams in 2013, home teams are 35-13.
The Panthers know the challenge is considerable, but they also know their 38-7 loss on Nov. 16 at South Dakota State wasn't the blowout it appeared to be.
UNI enters the rematch ranked fourth in the FCS with a plus-13 turnover margin, but in the loss to the Jacks, UNI turned the ball over four times — three interceptions and a fumble that was returned for a touchdown — while forcing no South Dakota State turnovers.
"Turnovers are a huge part of the game and momentum shifts ... that is what happened in that last game," safety Christian Jegen said. "They got a lot of momentum from those turnovers and we weren't able to create any."
INJURY UPDATE: Farley said he does not anticipate injured All-America tight end Briley Moore playing this week.
"It is more the timeline than it is the individual," Farley said. "You walk out there now and he is ready to play. It is more a timeline on him before he is cleared to play. So that is what I'm waiting on to figure out if that timeline will be moved up.
"I'm not trying to hide anything. It would have to be something that came out of the blue right now."
Farley said wide receiver Isaiah Weston, linebacker Chris Kolarevic and running back Tyler Hoosman are all questionable for Saturday's game.
"I do not have an answer on them and as the week plays out we will determine if they can play," Farley said. "(Hoosman) that is good news because he was doubtful before I got the (Sunday) report on him."