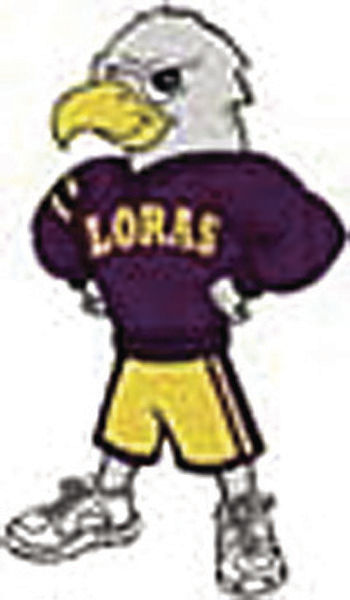 WAVERLY — It was 25 minutes after the dual and Eric Keller was still pacing.
The Wartburg coach walked back and forth across the wrestling room, head down with his hands on his hips.
Wartburg's amazing 26-year, 220-match conference dual meet winning streak had finally come to an end with its first league defeat since a Feb. 10, 1994, setback to Buena Vista.
Third-ranked Loras stormed into Levick Arena and knocked off the top-ranked Knights, earning a hard-fought 19-17 win before a boisterous sellout crowd of 1,800 fans.
"Obviously, I'm heartbroken for these guys and these coaches," Keller said. "This dual doesn't define this program or this team, either. The fight was there. There were a lot of different ways that could've went and you obviously can't give up bonus points in duals like that. Every point matters. It's hard to lose like that."
The win gave Loras the American Rivers Conference championship. The Duhawks finished 8-0 in league duals. Loras last beat Wartburg during the 1991-92 season.
The Duhawks are led by coach T.J. Miller, who won an NCAA title while wrestling for his father, Jim, at Wartburg. Loras finished second at the 2019 national tournament and was ranked No. 1 in the preseason.
"We had our own banner day," T.J. Miller said. "We didn't have any banners at Loras and enough was enough. This is an incredible win. It's huge for our program. We showed it can be done. You can win at Loras."
Wartburg saw its streak of 27 consecutive conference wrestling titles end. The Knights finished 7-1 in league duals.
Each team won five bouts, but a pin by Brandon Murray at 157 pounds enabled the Duhawks to prevail in the closely contested dual.
Loras earned key wins at 141 and 149 that proved pivotal. Sixth-ranked Clint Lembeck rallied by scoring six third-period points to knock off No. 4 Brady Fritz 6-3 at 141
"Lembeck dug down deep," Miller said. "We wanted him to pick top in the third period and the rest is history. He went to work and got the near fall and rode the guy out. That's where Clint is at his best. He really came through for us."
Daniel Ruiz of Loras followed with a 4-2 overtime win over 2018 national champion Brock Rathbun at 149.
"That was a gutsy win," Miller said. "Ruiz just joined our team and he won a big match."
Murray then earned a third-period fall over Shea Hartzler at 157.
You have free articles remaining.
The Knights fought back when sixth-ranked Max Forsyth delivered a much-needed win. He held off No. 3 Eddie Smith 7-5 at 165. Forsyth cradled Smith to his back for a four-point near fall in the second period.
Following a win by Jacob Krakow of Loras at 174, Wartburg came back strong. Second-ranked Kyle Briggs scores two quick takedowns en route to 14-4 major decision over No. 8 Shane Liegel at 184.
That cut the Loras lead to 15-14 with two matches left.
But top-ranked senior Guy Patron delivered the eventual clinching win for the Duhawks. Patron headlocked No. 3 Kobe Woods to his back with a six-point move early in the bout at 197.
Patron nearly pinned Woods again late in the match before prevailing 14-0.
Down 19-14 entering the final bout, the Knights needed a miraculous finish to keep their dual meet streak alive.
Wartburg instead finished with a win as heavyweight Jordan Brandon won a tough 3-1 overtime match against Wyatt Wriedt.
The Knights took charge early in the dual.
Wartburg's Brady Kyner struck for an early takedown en route to a 6-2 win over Matt Randone to kick off the dual at 125.
Top-ranked Kris Rumph used a four-point move in the final seconds to score an 11-3 major decision over Mason McMillen at 133.
Wartburg won't have to wait long to face Loras again. The teams will meet again in two weeks at the regional tournament in Dubuque.
"You can dwell on this and let it tear you down. Or you can get better and fix the things we did wrong," Keller said. "We try to get better every week and we have a lot of room to grow. We're not there yet. We're trying to get there. That's the goal, to get there by the end."
Keller was asked to put into perspective how impressive Wartburg's long winning streak was.
"It's incredible," Keller said. "This is a special place. It's a unique place that changes guys' lives. That's ultimately the goal of what I do every day is change lives. Obviously, we want to win and we have won. And we will continue to win.
"There are a lot of heartbroken people out there. We're going to go back to work and obviously there are things we need to get better at. And we will do that."
Wartburg Wrestling Collection
A roundup of stories we've written on Wartburg wrestling.
125 – Brady Kyner (Wart) dec. Matt Randone, 6-2. 133 – Kris Rumph (Wart) dec. Mason McMillen, 11-3. 141 – Clint Lembeck (Loras) dec. Brady Fritz, 6-3. 149 – Daniel Ruiz (Loras) dec. Brock Rathbun, 4-2, SV1. 157 – Brandon Murray (Loras) pinned Shea Hartzler, 5:13. 165 – Max Forsyth (Wart) dec. Eddie Smith, 7-5. 174 – Jacob Krakow (Loras) dec. Paul Calo, 8-2. 184 – Kyle Briggs (Wart) dec.Shane Liegel, 14-4. 197 – Guy Patron (Loras) dec. Kobe Woods, 14-0. 285 – Jordan Brandon (Wart) dec.Wyatt Wriedt, 3-1, SV1.