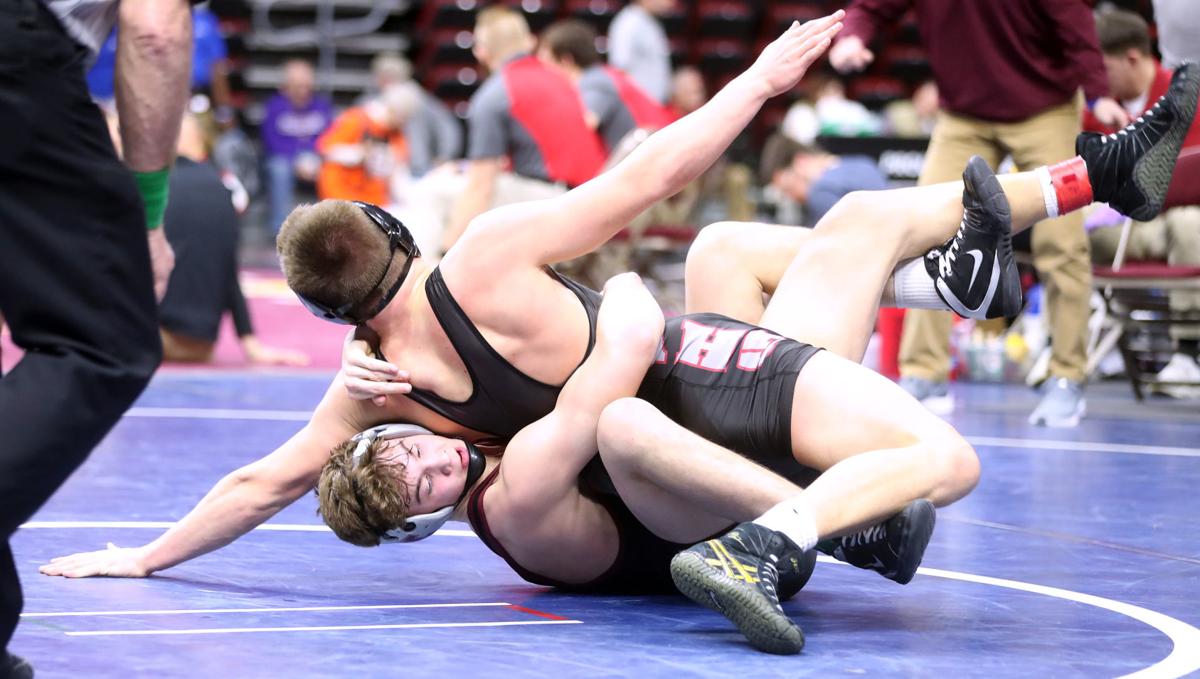 Wrestling
Matthew Doyle faced no pressure from his dad, Michael, when it came down to deciding on a college.
The standout wrestler at Independence High School had multiple programs that wanted his services for the next four years after Doyle won more than 150 career matches and was a two-time state placewinner for the Mustangs.
After visiting five schools and weighing the pros and cons of each program, Doyle decided to follow in the footsteps of his father and committed to Wartburg College Tuesday.
Michael Doyle, who was Matthew's high school head coach, was a three-time all-American for Wartburg from 1993 to 1995.
"It was always in the back of my mind to go to Wartburg, but he told me you got to make your own decision, it had to be a decision where I felt I would be successful," Doyle said.
Matthew expects to wrestle at 165 for the Knights.
The Knights also received a verbal commitment from Waverly-Shell Rock's Carter Proffitt. Proffitt was fourth in Class 3A at 160.
"Blessed would be an understatement," Proffitt wrote in an Instagram post. "First off, I can't wait to represent Wartburg and Waverly for another four years. Thanks to my parents, my coaches, Waverly community and to my team and teammates. Without them, none of this is possible. Time to bring back a ship to the burg!"
Basketball
Waterloo West senior guard Lauren Conrey signed a national letter of intent to play basketball at Grand View University Tuesday.
A four-year starter for the Wahawks, Conrey was a first team all-Mississippi Valley Conference selection this spring after helping West to the Class 5A state semifinals.
"I am extremely happy for Lauren and her entire family," West coach Dr. Anthony W. Pappas said. "She has worked hard and really improved her game during her four years at West."
A three-time all-Metro pick, Conrey had three consecutive 100 assist seasons for the Wahawks. 
Iowa State has signed Memphis transfer Tyler Harris as announced Tuesday by head coach Steve Prohm. Harris is a 5-foot-9 junior guard from Memphis, Tennessee.
"We are excited to add Tyler to our basketball family," Prohm said. "He's someone we recruited hard out of high school and after transferring from Memphis he'll bring great experience that can really impact our program.
"I think Tyler is someone that our fans will really like watching because of his energy, toughness and spirit. He can really shoot it, has great quickness and can really push tempo. We look forward to him joining us."
Harris, the 2017 Gatorade Player of the Year in Tennessee, connected on 138 career 3-pointers and averaged 8.7 points as a sophomore for the Tigers. 
Hole-in-one
Doug Dietz aced the 182-yard sixth hole at Red Carpet Golf Tuesday. The show was witnessed by Todd Eastman.
Football
According to Coe College, long-time Fredericksburg high school football coach Steve Staker passed away at the age of 76 Tuesday after a battle with cancer.
Staker was Fredericksburg's head football coach for 35 years, and also was head coach for baseball and track while also serving as an assistant boys' basketball coach.
His 2001 football team was the Class A state champions, and he won a state track and field title in 1992.
After his prep career, Staker served as head coach at Coe College for nine seasons, retiring in 2015. His son, Tyler, replaced him as head coach of the Kohawks.
Miscellaneous
University of Iowa seniors Hannah Greenlee (rowing) and Nate Stanley (football) were named Iowa's Big Ten Medal of Honor winners for 2019-20 as announced by the Iowa's Department of Athletics.
The Big Ten Medal of Honor is the conference's most exclusive award, and the first of its kind in intercollegiate athletics to recognize academic and athletic excellence. The Big Ten Medal of Honor was first awarded in 1915 to one male and one female student-athlete from the graduating class of each university who had "attained the greatest proficiency in athletics and scholastic work."
Be the first to know
Get local news delivered to your inbox!