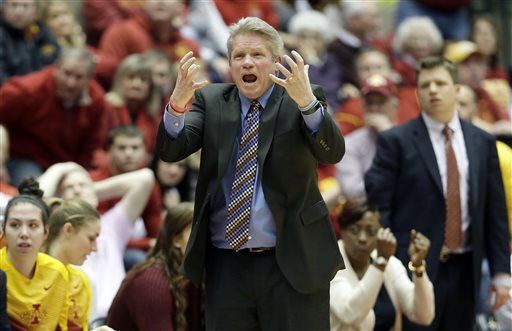 ISU coach Fennelly in quarantine
Iowa State women's basketball head coach Bill Fennelly released a statement Monday night that he was recently in contact with someone who tested positive for COVID-19. The Cyclones coach has tested negative, along with everyone else in the program, and will begin a self-isolation period that includes a 14-day quaratine.
Associate head coach Jodi Steyer will assume head coaching duties in Fennelly's abense.
"I am thankful to have an amazing staff to manage the program while I'm away," Fennelly said. "It will be hard to miss games, but I will watch and cheer along with the best fans in the nation."
Baseball
The Chicago White Sox and New York Yankees will take another crack at playing the MLB at Field of Dreams
Major League Baseball announced Monday the teams are tentatively scheduled to meet Aug. 12 in Dyersville in an 8,000-seat temporary ballpark built on the farm where the iconic Oscar-nominated 1989 film "Field of Dreams" was shot.
The Sox and Yankees were originally scheduled to play in Dyersville in 2020, but MLB reconfigured its schedule because of the coronavirus pandemic. The St. Louis Cardinals became the new opponent for the Sox, but the event was called off and the game eventually moved to Guaranteed Rate Field.
The Northwoods League and the Waterloo Bucks
have announced their 2021 regular season schedule, which will feature Waterloo opening the season in Duluth against the Huskies on Monday, May 31.
Waterloo's home opener will be June 3 at Cost Cutters Field at Riverfront Stadium. The 72-game schedule will end on Aug. 14.
Women's basketball
women's basketball has temporarily suspended team activities after a member of the program tested positive for COVID-19, the school announced Monday night.
All team activities will be on hold for at least 14 days, the school said, meaning that the Huskies will not compete in their first four previously scheduled games.
Football
has expanded its mandate for mask usage on the sideline and is threatening discipline for those who violate the league's updated COVID-19 protocols.
The league told teams in a memo on Monday that players who are not substituting or preparing to enter the field of play and are not wearing their helmets will be required to wear a mask or a double-layered gaiter on the sideline, starting this week.
An all-Black officiating crew worked an NFL game for the first time in league history when the Los Angeles Rams faced the Tampa Bay Buccaneers on Monday night.
Referee Jerome Boger led the crew, which also included umpire Barry Anderson, down judge Julian Mapp, line judge Carl Johnson, side judge Dale Shaw, field judge Anthony Jeffries and back judge Greg Steed.
When the NFL announced the crew was being assembled last week, league executive vice president of football operations Troy Vincent hailed the move a "a testament to the countless and immeasurable contributions of Black officials to the game, their exemplary performance, and to the power of inclusion that is the hallmark of this great game."