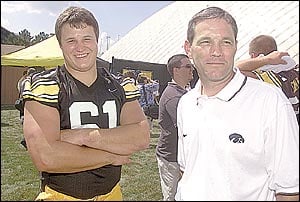 IOWA CITY --- In filling two of the three remaining vacancies on his coaching staff, Iowa football coach Kirk Ferentz did not stray far from home.
Former Hawkeyes Brian Ferentz and LeVar Woods were named Saturday as assistants who will coach offensive line and linebackers, respectively.
Brian Ferentz, the son of the 14th-year Hawkeye coach, returns to his alma mater after working the past four years for the NFL's New England Patriots. The last two years he has worked as an assistant coach for New England, spending the 2011 season as the tight ends coach for a team that played in the Super Bowl earlier this month.
His hiring puts Brian Ferentz in a position next fall where he will coach his younger brother, James, who will be returning for his senior season as the Hawkeyes' starter at center.
Woods' move to a full-time assistant's position was an anticipated promotion. He has spent the past four seasons as an administrative assistant with the Hawkeye program and worked as the interim defensive line coach during preparations for Iowa's 2011 Insight Bowl appearance after assistant Rick Kaczenski left for a job on the Nebraska staff in December.
In a statement, coach Ferentz said he found a lot to like about both new assistants, ranging from their common experience as graduates of Iowa high schools and captains of the Hawkeye program to their work in the NFL.
Brian Ferentz played for Iowa City High before earning three letters as an offensive guard and center for the Hawkeye program from 2003-05, earning honorable mention all-Big Ten recognition as a senior in 2005 and earning academic all-conference honors.
Woods graduated from West Lyon High School in Inwood, Iowa, before playing for the Hawkeyes. He lettered at Iowa from 1998-2000 and started two seasons on Ferentz-coached teams at inside linebacker, earning second-team all-Big Ten honors as a senior in 2000.
"I am excited to have LeVar and Brian, two men with strong ties to our program and high school football within the state of Iowa, join our staff. LeVar and Brian had great careers at the University of Iowa and both have enjoyed unique experiences and opportunities since their graduation," coach Ferentz said.
"I am confident they will make positive and significant contributions in all areas of our program."
As college players, both Brian Ferentz and Woods were chosen as recipients of the Hayden Fry Extra Heartbeat Award, recognition that goes annually to a Hawkeye player who gives extraordinary effort on the field.
Both continued to display that type of effort once their collegiate careers concluded.
Woods signed with the Arizona Cardinals as an undrafted free agent in 2001 and went on to play seven years in the NFL, following four seasons that included time with Arizona, Tennessee, Chicago and Detroit.
He returned to Iowa in 2008, assisting the staff in compiling statistical information, gathering information on opponents and recruits and assisting in day-to-day operations of the football office before hitting the recruiting trail in January in his role as an interim assistant.
"He's been getting his feet wet, has been learning every day," Ferentz said.
Brian Ferentz signed as a free agent with the Atlanta Falcons in 2006 and was a member of that team's practice squad that season. He worked as a scouting assistant for the Patriots in 2008 and was a coaching assistant in 2009 before being named as an offensive assistant coach in 2010.
Asked during a news conference earlier this month about the possibility of his son returning to work at Iowa, coach Ferentz said that Brian Ferentz "has a pretty good job," but didn't discount his son's ability.
"He knows more about football than I know, I do know that," Ferentz said.
Ferentz has one remaining opening on his staff. Iowa has yet to replace Ken O'Keefe as the program's offensive coordinator, a position Ferentz expects to fill before spring break begins at Iowa on March 10.
Be the first to know
Get local news delivered to your inbox!