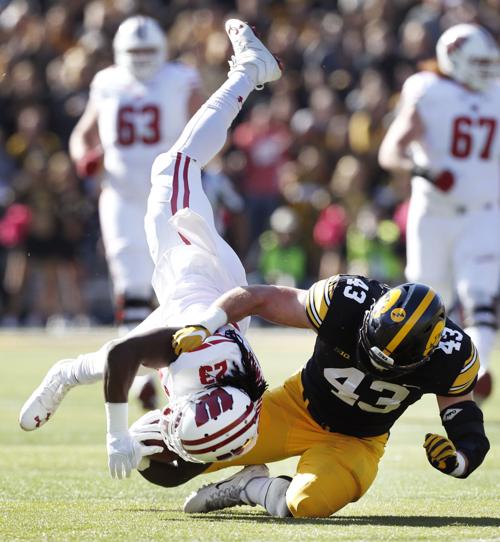 Ten Iowa things you need to know as the 2020 NFL season kicks off Thursday night:
1. There are 29 Hawkeyes on 53-man rosters for NFL teams as the 2020 season begins, including 25 with previous NFL experience.
Two teams, Buffalo and Denver, have three Iowa players on their rosters. Offensive lineman Ike Boettger, defensive end A.J. Epenesa and defensive back Micah Hyde will play for the Bills while tight end Noah Fant, linebacker Josey Jewell and defensive back Michael Ojemudia survived the final cuts for the Broncos.
Seven other NFL teams have two Hawkeyes listed on their opening-weekend rosters.
Six play of them in the NFC North Division, tight end T.J. Hockenson and converted offensive lineman Matt Nelson are with the Lions, defensive back Josh Jackson and linebacker Christian Kirksey are with the Packers and offensive lineman Riley Reiff and defensive lineman Jaleel Johnson play for the Vikings.
Linebackers Anthony Hitchens and Ben Niemann are on the Chiefs' roster, offensive lineman Bryan Bulaga and defensive back Desmond King are with the Chargers, tight end George Kittle and quarterback C.J. Beathard play for the 49ers and defensive lineman Anthony Nelson and offensive lineman Tristan Wirfs suit up for the Buccaneers.
Other Hawkeyes on NFL rosters are Geno Stone with Baltimore, James Daniels with Chicago, Mike Daniels with Cincinnati, Adrian Clayborn with Cleveland, Carl Davis with Jacksonville, Austin Blythe with the Los Angeles Rams, Casey Kreiter with the New York Giants, Amani Hooker with Tennessee and Brandon Scherff with Washington.
2. One of four Iowa rookies to earn spots on season-opening rosters for NFL teams this season, offensive tackle Tristan Wirfs is expected to be in the starting line-up protecting Tom Brady when Tampa Bay opens its season Sunday at New Orleans.
Selected by the Buccaneers with the 13th choice in this year's draft, Wirfs signed a four-year contract worth $16.23 million and has enjoyed a productive and effective preseason.
He welcomes the season-opening starting assignment at right tackle.
"That's kind of how my college career started. I was kind of just tossed in there,'' Wirfs told the Tampa Bay Times this week. "I've just got to go out there and do my best. That's all I can ask of myself.''
Wirfs will become the 30th former Iowa offensive lineman since Kirk Ferentz was named the Hawkeye head coach to play in the NFL.
3. Iowa's NFL rookie class includes Buffalo defensive end A.J. Epenesa, Denver defensive back Michael Ojemudia and Baltimore defensive back Geno Stone in addition to Tampa Bay offensive lineman Tristan Wirfs.
While Wirfs, Epenesa and Ojemudia were chosen in the April draft's first three rounds, Stone made the cut as part of the Ravens' 53-player roster as a seventh-round pick and the 219th overall choice in this year's draft.
Stone is listed as Baltimore's second-team free safety behind DeShon Elliott, a role he moved into when the Ravens terminated seven-time Pro Bowl safety Earl Thomas two days after an on-field altercation with a teammate in late August.
Opting to forgo his final year of eligibility at Iowa, Stone wrote Sunday on Twitter that he continues to work to prove a point.
"All I ever wanted to be was someone kids in my hometown can look up to and see you can do something with your life,'' Stone wrote. "This is just the start. Blessed for every opportunity I get in my life.''
4. Three former Hawkeyes begin the year on NFL practice squads.
Defensive tackle Cedrick Lattimore with the Seahawks, quarterback Nate Stanley with the Vikings and linebacker Kristian Welch with the Ravens landed spots on practice squads after NFL teams reduced their rosters to 53 players last weekend.
5. For the first time since 2007, Marshal Yanda is not on an NFL roster.
Originally drafted by the Ravens in the third round of the 2007 draft, the former Iowa offensive lineman retired from Baltimore after a 13-year NFL career.
Yanda played in 191 games during that time, the most ever for a Ravens offensive lineman. The eight-time Pro Bowl selection is one of three guards in NFL history to win a Super Bowl and be named to the Pro Bowl at least eight times.
6. With Marshal Yanda's retirement, the most experienced Hawkeye on an NFL roster this season is Bryan Bulaga.
A first-round selection of the Packers in 2010 – and one of six Hawkeyes chosen in a draft class that also included Pat Angerer, Amari Spievey, Tony Moeaki, A.J. Edds and Kyle Calloway – Bulaga begins a new chapter in his NFL career this season.
After 10 years with Green Bay, Bulaga signed a three-year, $30 million contract with the Chargers in March.
7. There are seven former Hawkeye players listed on coaching staffs of NFL teams.
Mike Devlin is the offensive line coach for the Texans, Jerry Montgomery is the defensive line coach for the Packers and Bret Bielema is working as the outside linebackers coach for the Giants.
Don Shumpert is an offensive assistant for the Cardinals and Tom Donatell is the defensive quality control assistant for the Seahawks.
Two other former Hawkeyes are serving as consultants on coaching staffs. Tom Moore is an offensive consultant for the Buccaneers and Nate Kaeding is a kicking consultant for the Vikings.
8. With four first-year players earning roster spots, Iowa has had 184 former players in the NFL since 1999, Kirk Ferentz's first season as the Hawkeyes' head coach.
The group includes 74 draft picks and 110 players who have made NFL rosters as free-agent signings.
9. Only three Big Ten programs have more players on NFL rosters than Iowa does at the start of the 2020 NFL season.
Ohio State has 50 players on NFL teams, second nationally only to the 56 Alabama players to make opening-day rosters. Michigan is fifth on the list, trailing LSU's 41 and Florida's 39 players, with 33 players. Penn State shares sixth with 32 while Iowa's total ties for ninth nationally.
Every Big Ten program has players on NFL rosters, including Wisconsin with 25, Nebraska with 18, Michigan State 12, Maryland 11, Illinois, Purdue and Rutgers 10 apiece, Indiana and Minnesota with nine each and Northwestern with seven.
10. Former Hawkeye Danan Hughes, a wide receiver and special teams contributor for the Kansas City Chiefs from 1993-98, begins a new role Thursday.
Hughes will be working as the color commentator on the 70-station Chiefs radio broadcasts when the defending Super Bowl champions open the season against Houston.
Be the first to know
Get local news delivered to your inbox!