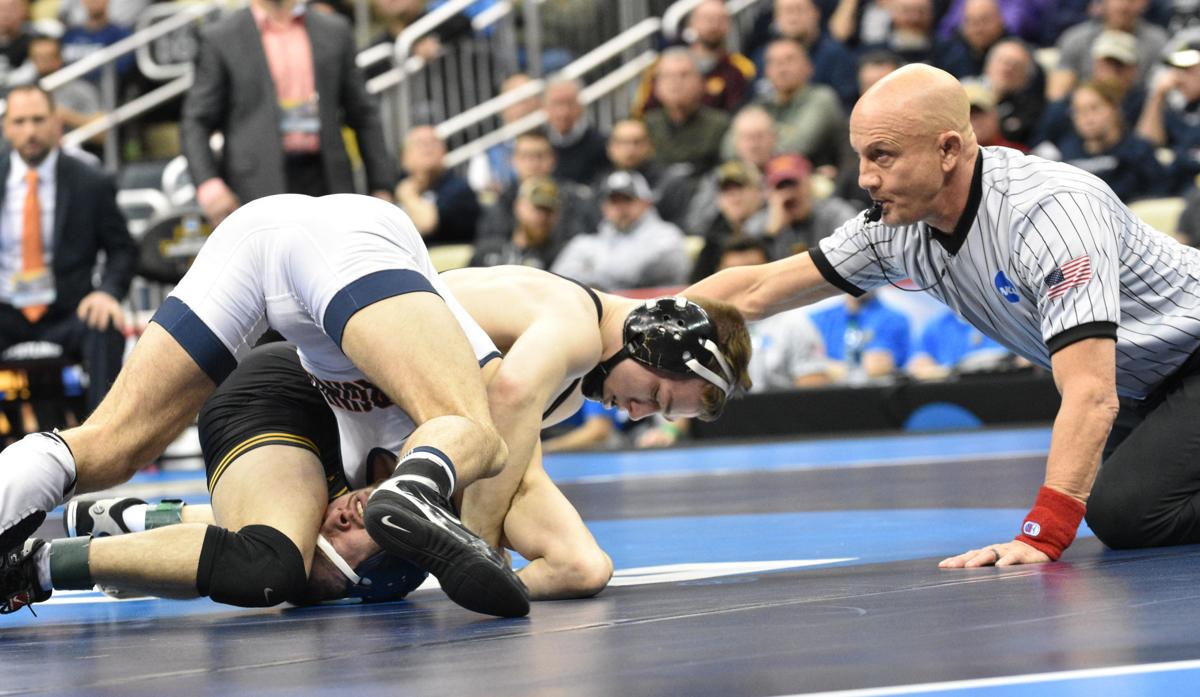 PITTSBURGH, Pa. — In big moments, champions rise to the top.
Iowa's Spencer Lee is now a two-time champion.
With a 5-0 victory over Virginia's Jack Mueller, Lee captured his second consecutive 125-pound national title Saturday night at PPG Paints Arena. Lee is the first Iowa wrestler since Lincoln McIlravy (1994) to win crowns as a true freshman and again as a sophomore.
"It was great," Lee said. "I went through a lot of adversity this year. But I really attribute all of my success to my coaches and my teammates who believed in me every step of the way even when maybe I didn't believe in myself."
It was a season of highs and lows for Lee, who lost in the Midlands finals to Northwestern's Sebastian Rivera, got pinned for the first time since he was nine in a dual at Oklahoma State, and lost again to Rivera in the Big Ten championships.
But much like a year ago, Lee switched gears for nationals and was dominant from the start, scoring a major decision, technical fall and pin in his first three matches before returning to the finals with an 11-4 decision over the man who pinned him, Nick Piccininni, in the semifinals.
"I remember losing to Oklahoma State and freaking," Lee said. "I had the whole team grab me and tell me they loved me, and we were a family and we're going to be in this together. And I know that moment there is when I've gotta move on. I've got to be a better version of myself."
In the finals, after a lot of early hand fighting, Lee scored at 2:02 in the first period, got a penalty point awarded on a second stall warning against Mueller, and then finished off the championship with another score with :14 remaining in the match.
"Terry Brands always tells me big time wrestlers show up at big time moments," Lee said. "We preach that at the University of Iowa, and everyone on my team believes that they're a big-time wrestler because that's the mindset you have to have to be in this sport. "
There was never any doubt in Iowa coach Tom Brands' mind.
"There are different journeys," Brands said. "He is a vet now in our program. It is the same. You look back at the path he took, and he is a warrior."
Asked if it meant something to win a title in his own backyard — Lee grew up in Murrysville, Pa. — en route to potentially becoming a four-time champ, Lee quickly squashed part of that question.
"Being in Pittsburgh is awesome," Lee said "I don't really care about being a four-timer. I'm not a three-time national champion. I'm focused on what's next ... that's pretty much it, just focusing on the next thing. Can't worry about four-time national champ because you can't win four if you don't win three, and I haven't won three yet."
Iowa finished fourth overall with 76 points and had six All-Americans — Austin DeSanto, fifth at 133, Pat Lugo, eighth at 149, Kaleb Young, fifth at 157, Alex Marinelli, seventh at 165, and Jacob Warner, seventh at 197.
Including Lee, all six return next season, but the Hawkeyes want bigger finishes.
Young may have summed up what everyone was thinking.
"I'm happy with it, but I'm not satisfied with where I am because I still need to get better," Young said after beating Northwestern's Ryan Deakin 7-5 in sudden victory for fifth place at 157. "I'm happy, but I'm ready to get more."
Penn State won its eighth title in nine years with 137.5 points, 38 points than runner-up Ohio State.
The Nittany Lions had three champs — Jason Nolf,won his third at 157, Bo Nickal, won his third at 197, and Anthony Cassar won at heavyweight.
The most outstanding wrestler of the tournament was Mehki Lewis of Virginia Tech, who knocked off top-seeded Alex Marinelli of Iowa in the 165 quarterfinals, and then beat two-time defending national champion Vincenzo Joseph of Penn State, 7-1, in the championship match.
Rutgers had a pair of champs — Nick Suriano at 133 and Anthony Ashnault at 149, while Cornell's Yianni Diakomihalis won his second straight at 141, and Zahid Valencia of Arizona State won his second in a row at 174.
032619kw-drew-foster-02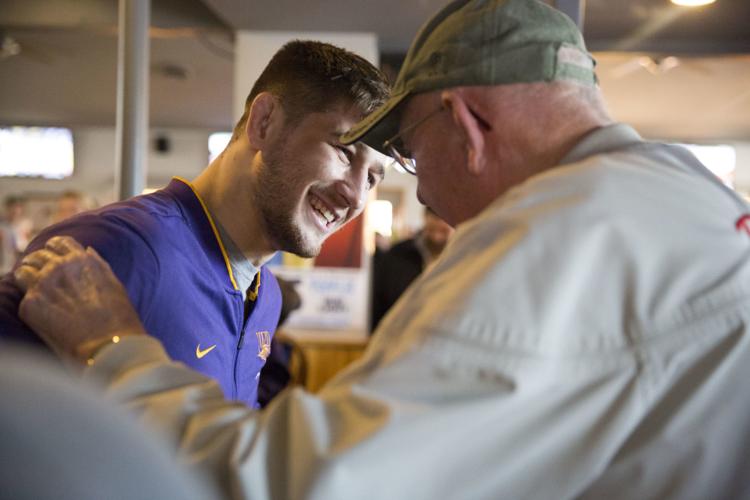 SHARING A LAUGH WITH THE CHAMP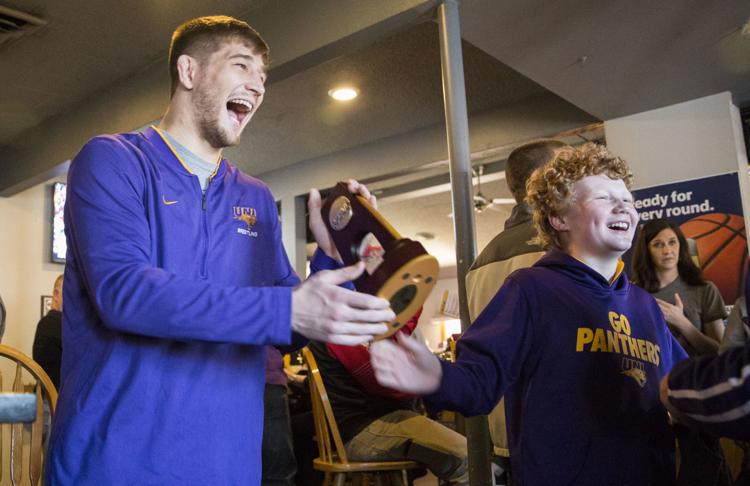 032319ho-foster-wins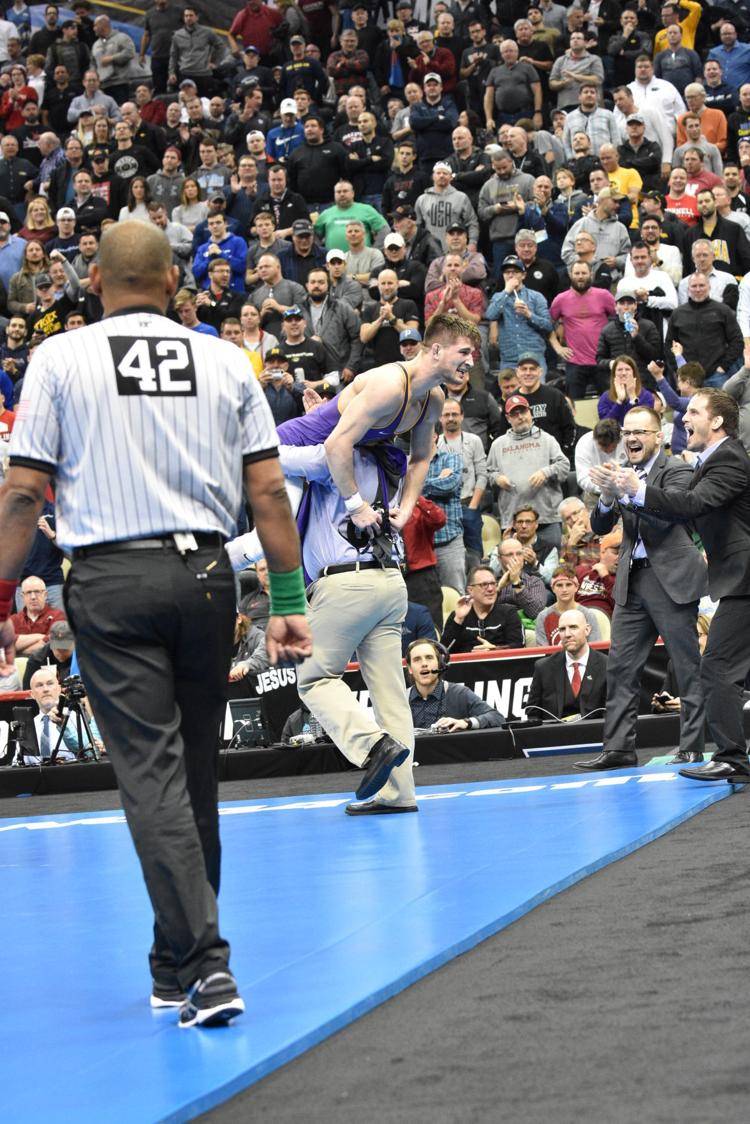 032319ho-foster-celebrates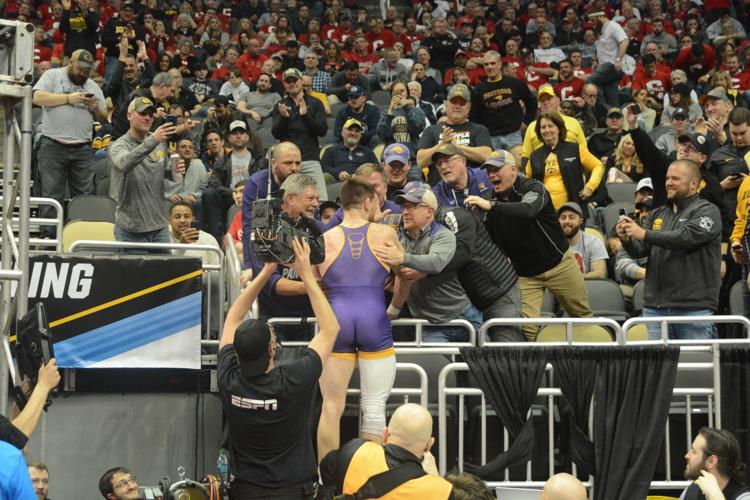 032319ho-ncaa-schwab-cheers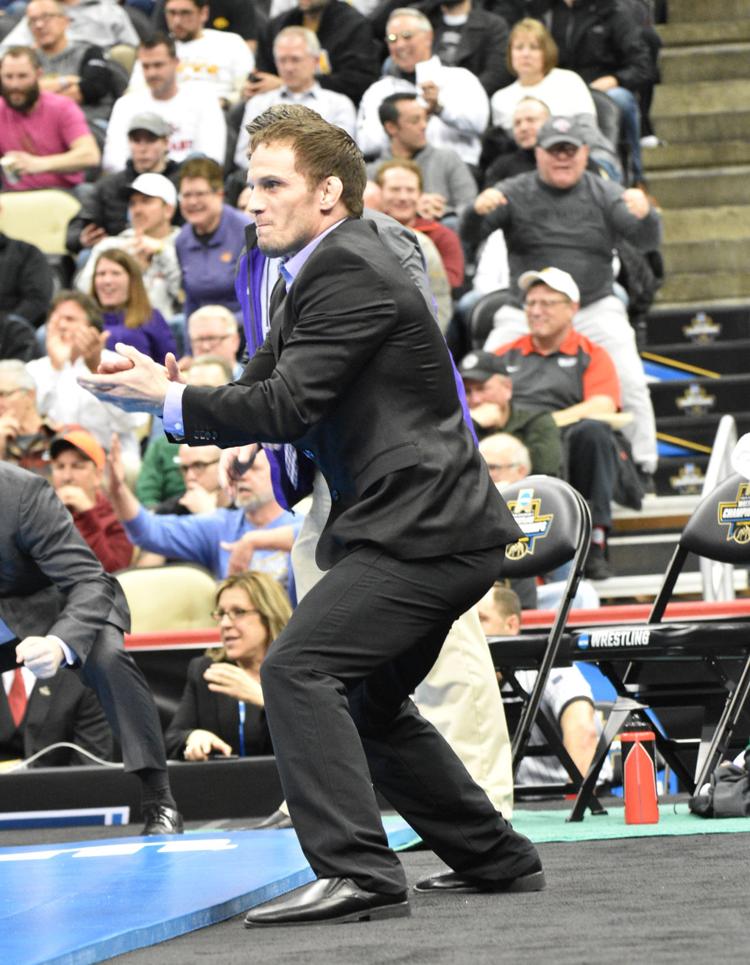 032319ho-ncaa-foster-finals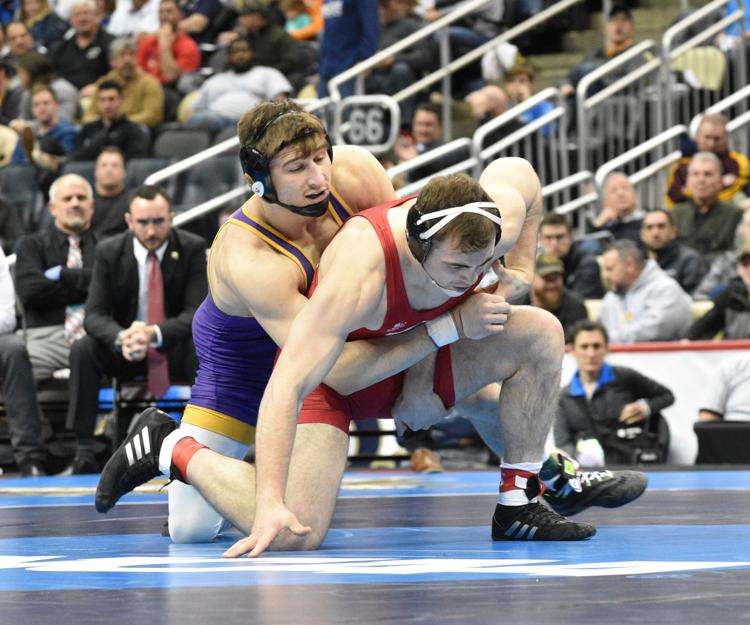 032319ho-ncaa-foster-wins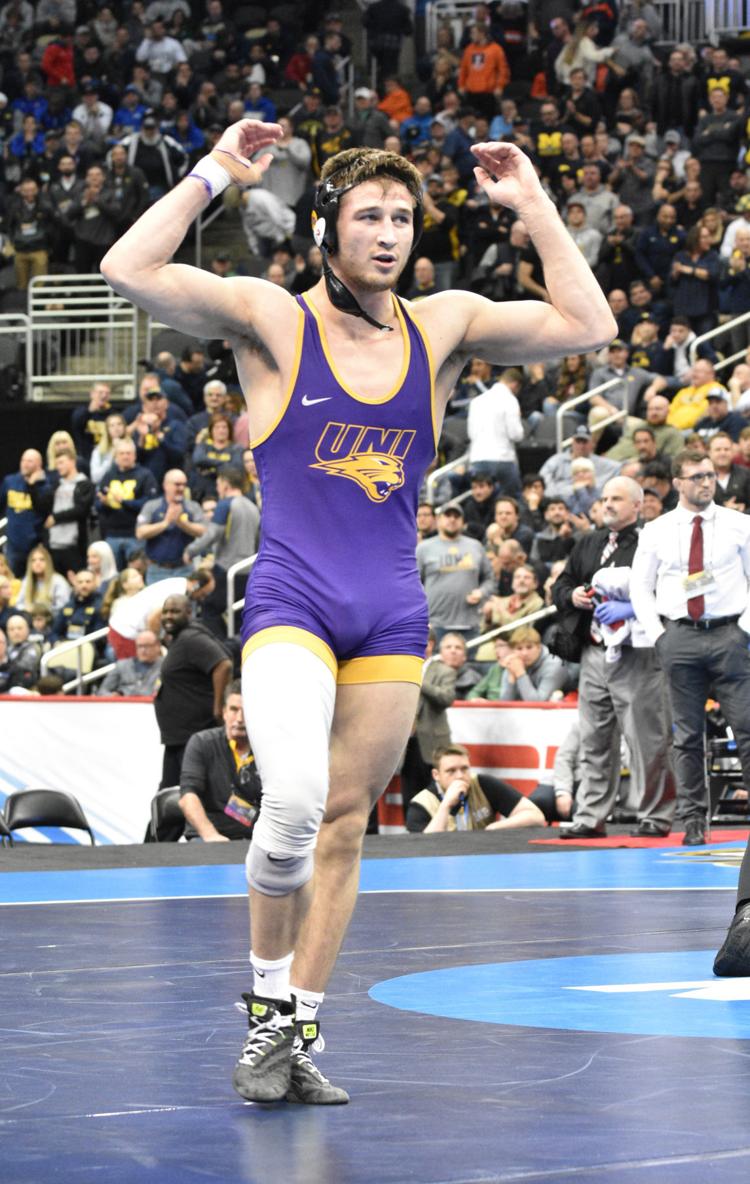 032319ho-ncaa-lee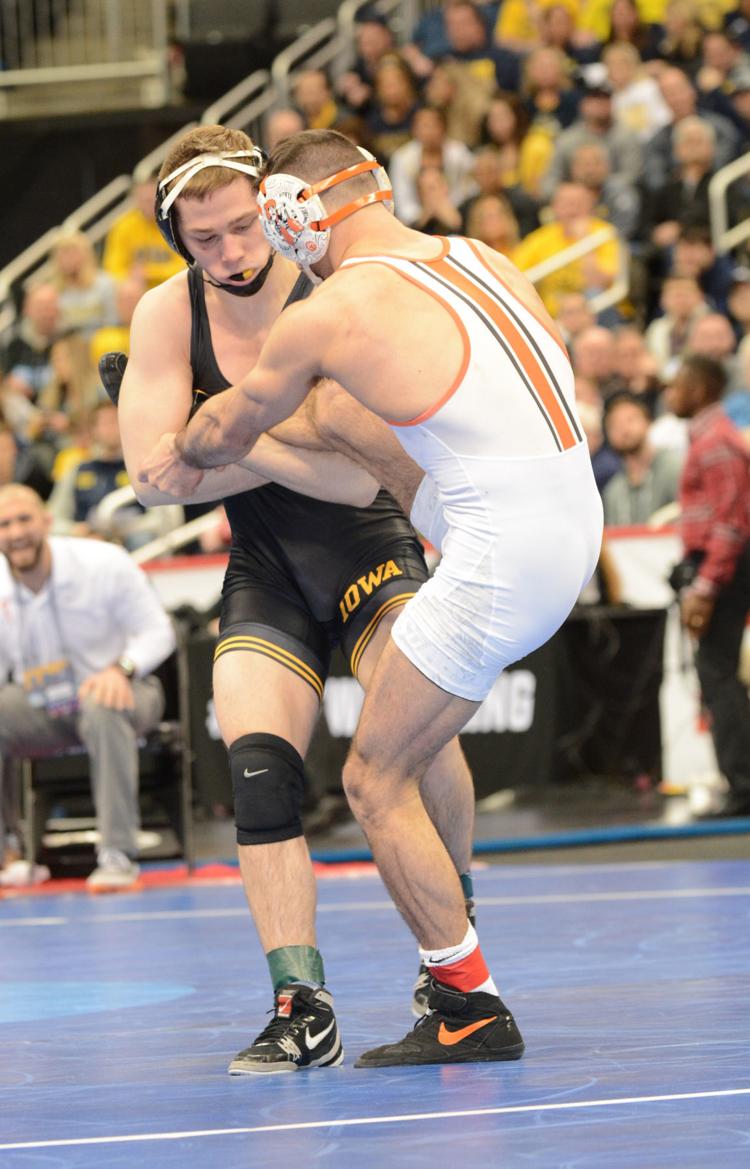 032219-ncaa-foster-schwab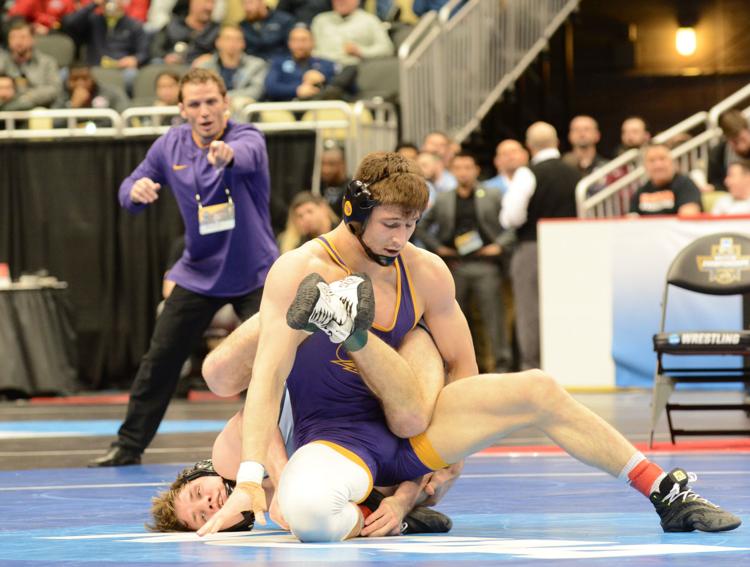 032219ho-ncaa-foster-ness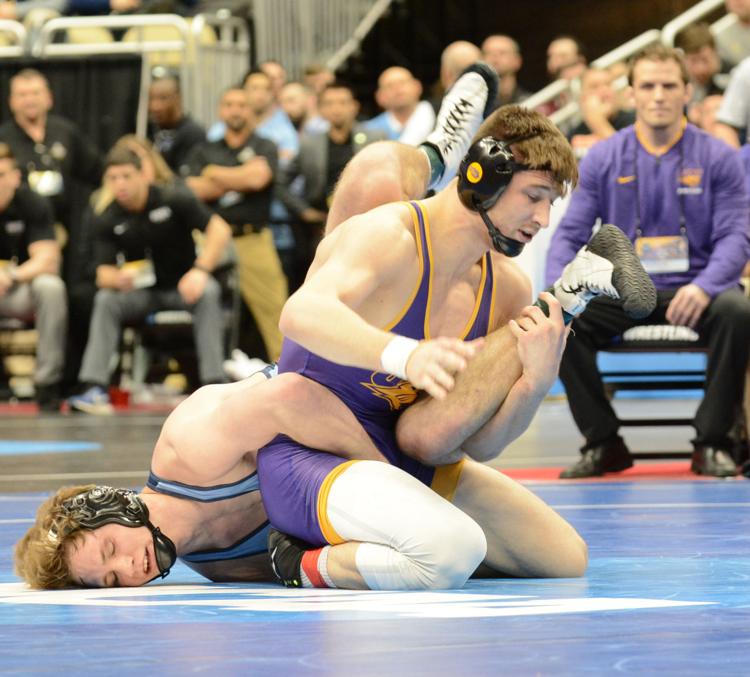 032219ho-ncaa-foster-wins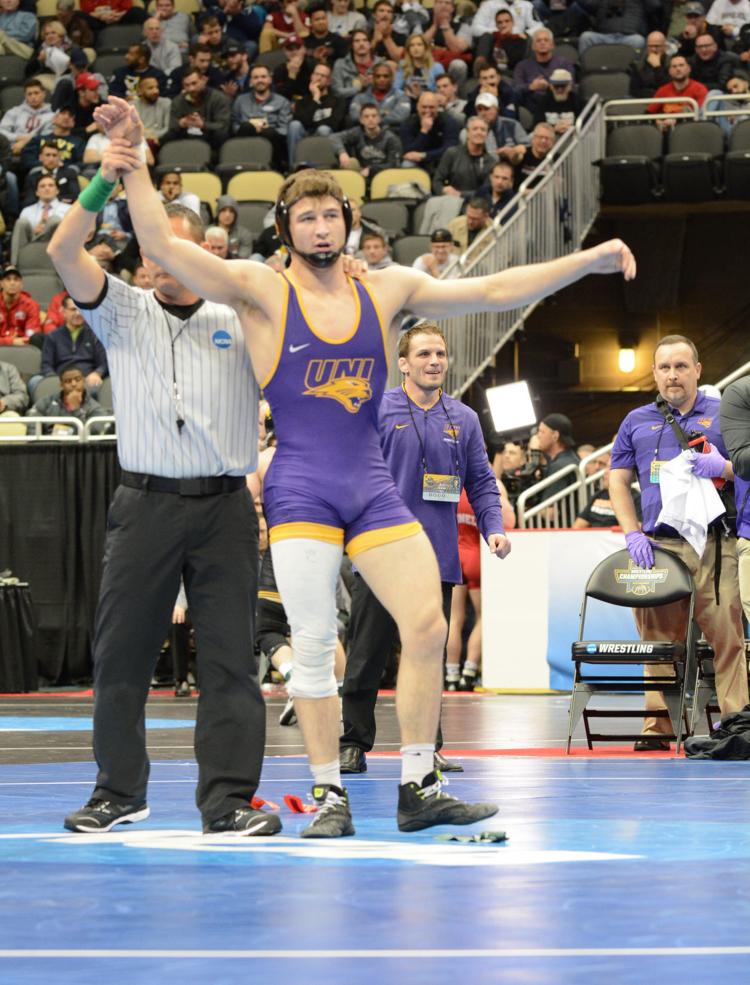 032219ho-ncaa-foster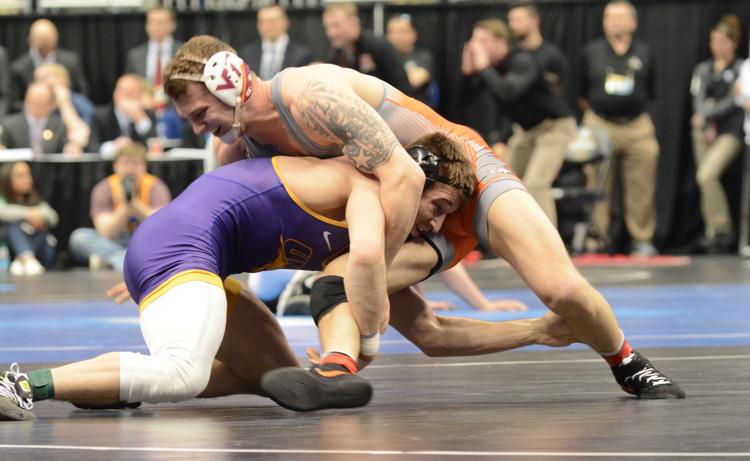 032219ho-ncaa-foster-2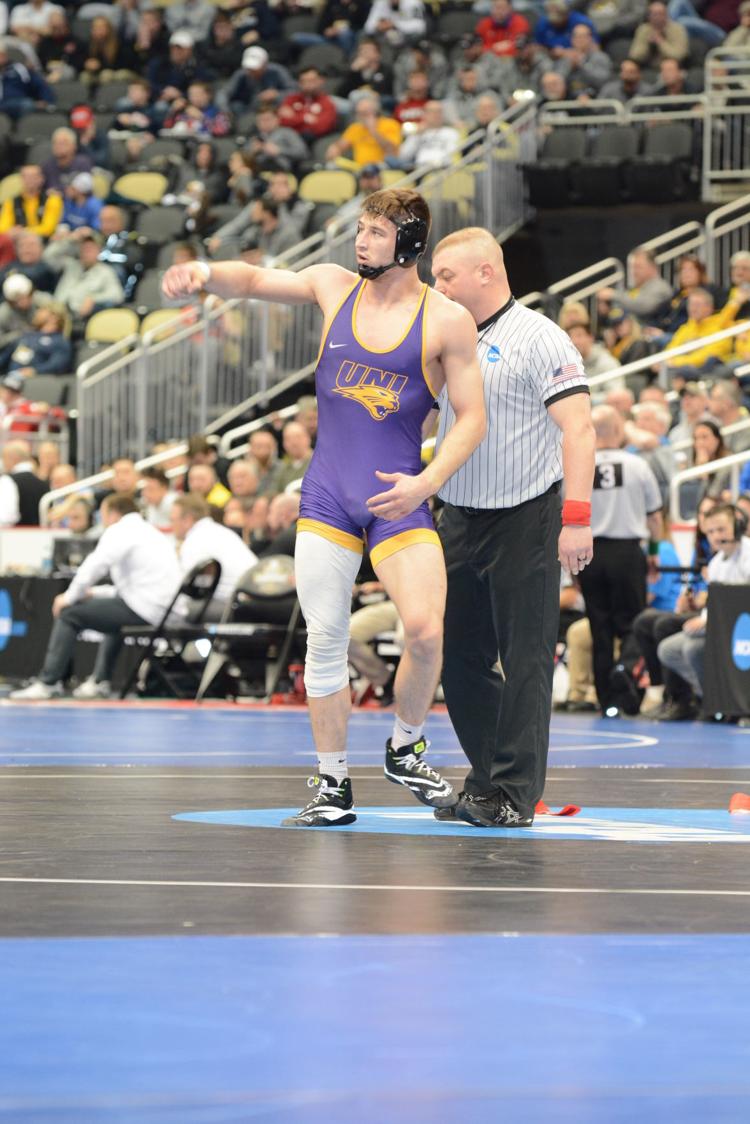 032219ho-ncaa-lee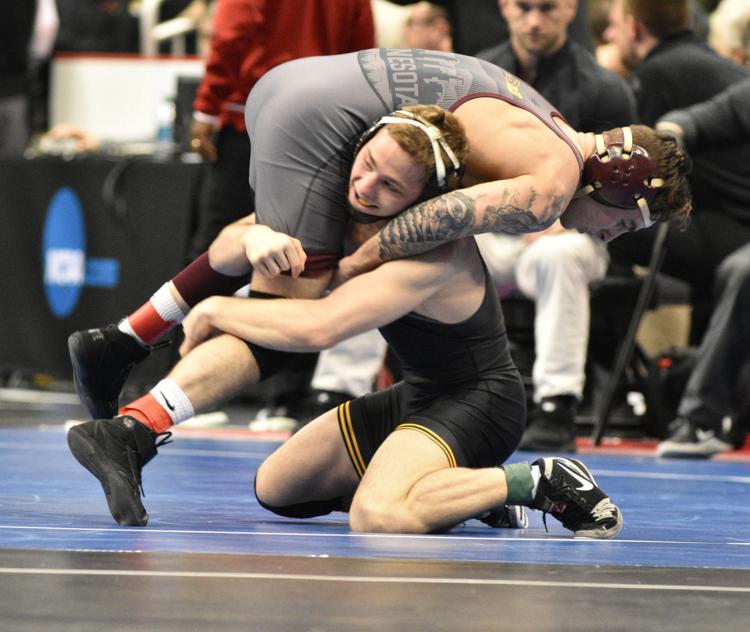 032219ho-ncaa-young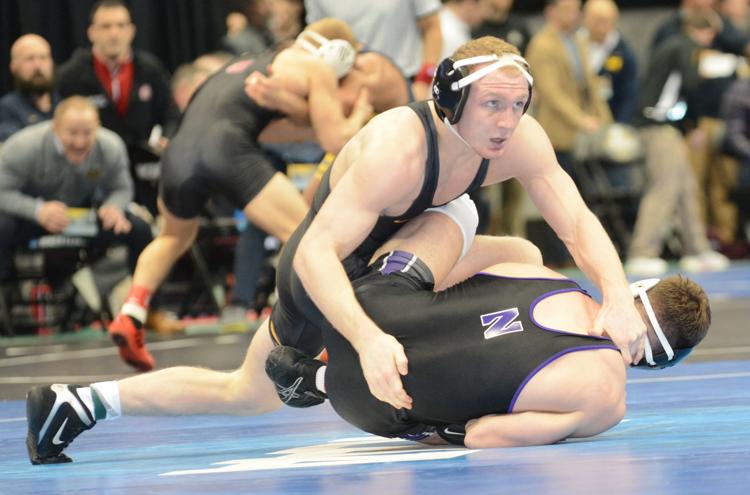 032119ho-ncaa-foster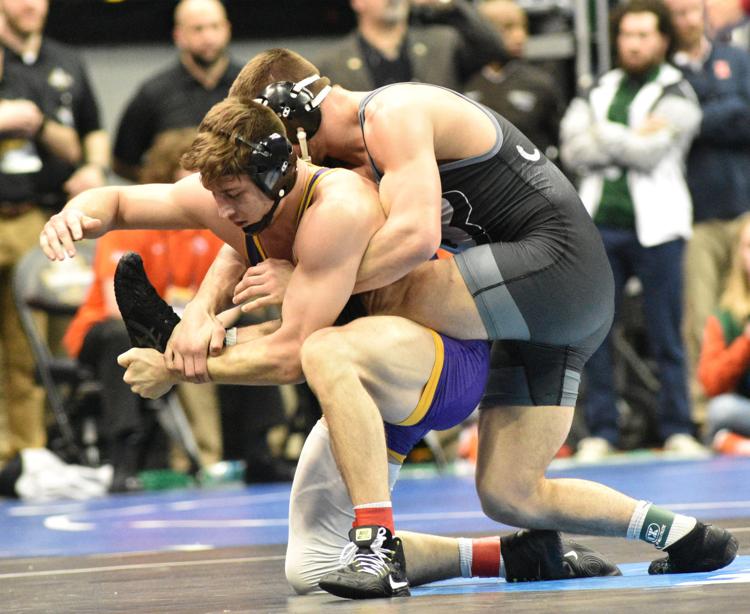 032119ho-ncaa-steiert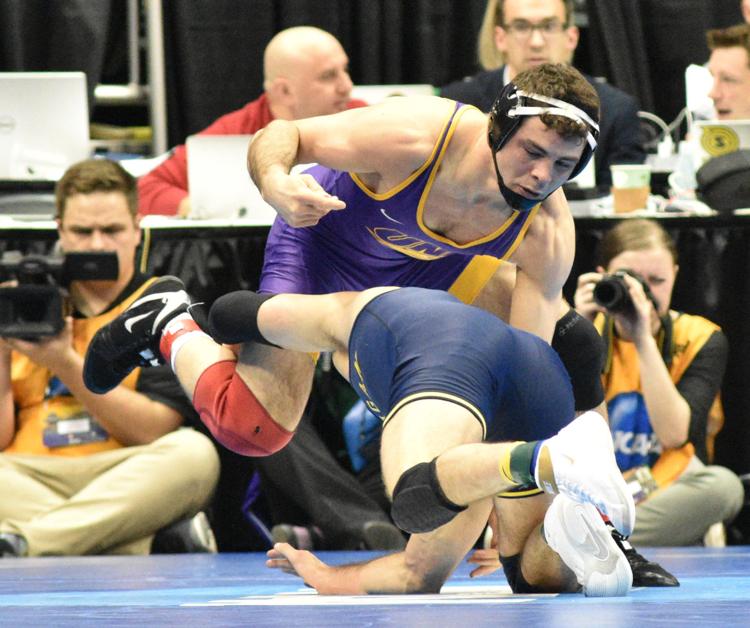 032119ho-ncaa-degen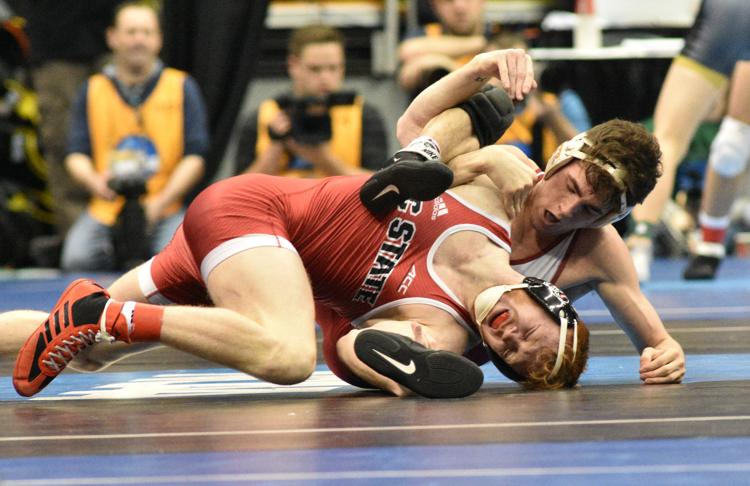 032119ho-voting-clipart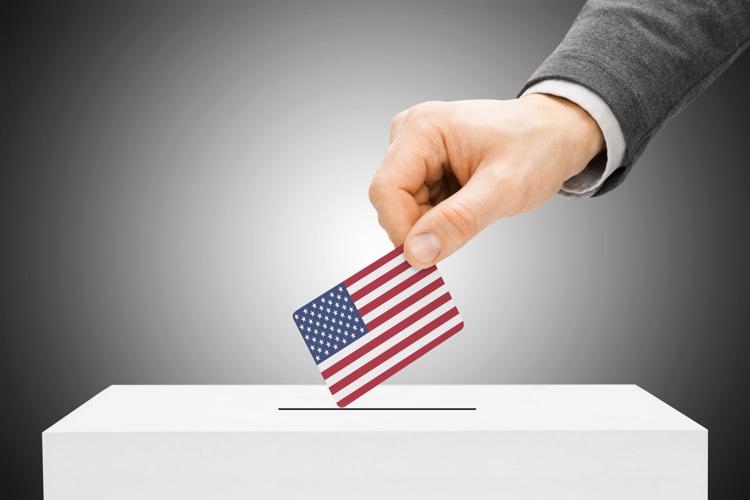 032119ho-ncaa-thomsen
032119ho-ncaa-steiert-2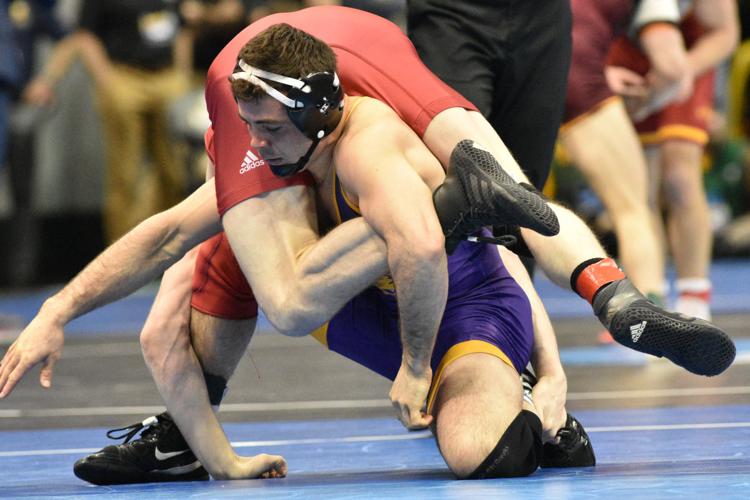 032119ho-ncaa-DeSanto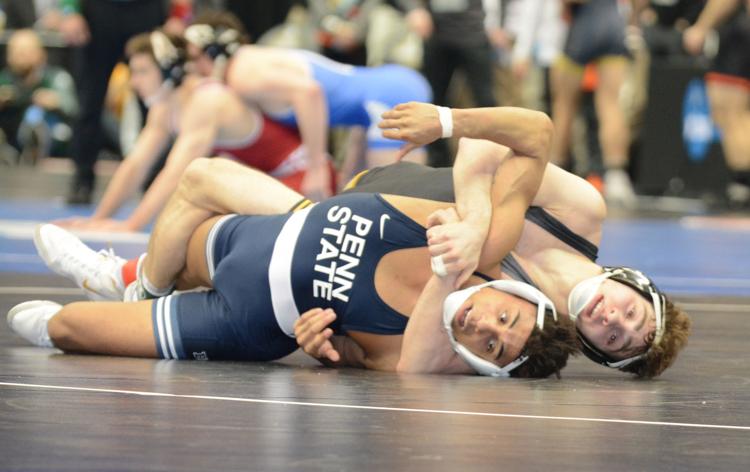 032119ho-ncaa-young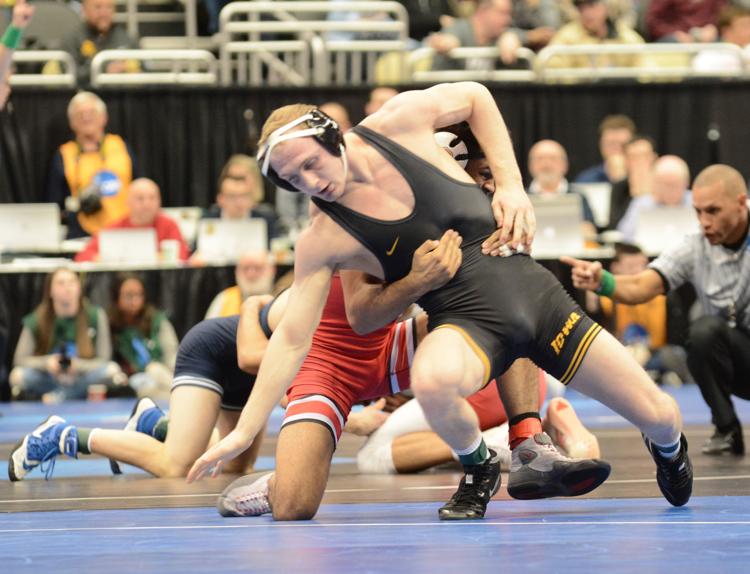 Seventh place — RayVon Foley (Michigan State) dec. Ronnie Bresser (Oregon State), 7-4.
Fifth place — Nicholas Piccininni (Oklahoma State) pinned Pat Glory (Princeton), 5:29.
Third place — Sebastian Rivera (Northwestern) dec. Vitali Arujau (Cornell), 8-3.
Consolation semifinals — Luke Pletcher (Ohio State) dec. Austin DeSanto (Iowa), 7-6.
Seventh place — Ethan Lizak (Minnesota) dec. Roman Bravo-Young (Penn State), 8-5.
Fifth place — DeSanto dec. John Erneste (Missouri), 11-6.
Third place — Steven Micic (Michigan) dec. Pletcher, 6-1.
Seventh place — Kyle Shoop (Lock Haven) dec. Chad Red (Nebraska), 11-3.
Fifth place — Nick Lee (Penn State) pinned Mitch McKee (Minnesota), 3:22.
Third place — Jaydin Eierman (Missouri) dec. Dom Demas (Oklahoma), 2-0.
Seventh place — Jarrett Degen (Iowa State) dec. Pat Lugo (Iowa), 11-9.
Fifth place — Matthew Kolodzik (Princeton) dec. Brock Mauller (Missouri), 10-6.
Third place — Austin O'Connor (North Carolina) dec. Mitch Finesilver (Duke), 7-5.
Consolation semifinals — Alec Pantaleo (Michigan) dec. Kaleb Young (Iowa), 6-2.
Seventh place — Christian Pagdilao (Arizona State) dec. Larry Early (Old Dominion), 3-2.
Fifth place — Young dec. Ryan Deakin (Northwestern), 7-5 SV.
Third place — Pantaleo dec. Hayden Hidlay (NC State), 5-3.
Seventh place — Alex Marinelli (Iowa) dec. Bryce Steiert (Northern Iowa), 9-3.
Fifth place — Isaiah White (Nebraska) dec. Josh Shields (Arizona State), 8-4.
Third place — Chance Marsteller (Lock Haven) dec. Evan Wick (Wisconsin), 6-5.
Seventh place — Jordan Kutler (Lehigh) dec. Devin Skatzka (Minnesota), 5-1.
Fifth place — David McFadden (Virginia Tech) dec. Mikey Labriola (Nebraska), 4-3.
Third place — Myles Amine (Michigan) dec. Daniel Lewis (Missouri), 4-3.
Seventh place — Dakota Geer (Oklahoma State) dec. Zach Zavatsky (Virginia Tech), 5-4.
Fifth place — Emery Parker (Illinois) dec. Chip Ness (North Carolina), 11-5.
Third place — Miles Martin (Ohio State) dec. Ryan Preisch (Lehigh), 5-3.
Consolation semifinals — Preston Weigel (Oklahoma State) pinned Willie Miklus (Iowa State), 2:09.
Seventh place — Jacob Warner (Iowa) dec. Ben Honis (Cornell), 8-4.
Fifth place — Josh Hokit (Fresno State) dec. Miklus, 7-2 TB1
Third place — Weigel dec. Patrick Brucki (Princeton), 7-1.
Seventh place — Matt Stencel (Central Michigan) dec. Trent Hillger (Wisconsin), 3-1.
Fifth place — Amar Dhesi (Oregon State) dec. Youssif Hemida (Maryland), 5-2.
Third place — Gable Steveson (Minnesota) dec. Jordan Wood (Lehigh), 4-0.
Be the first to know
Get local news delivered to your inbox!