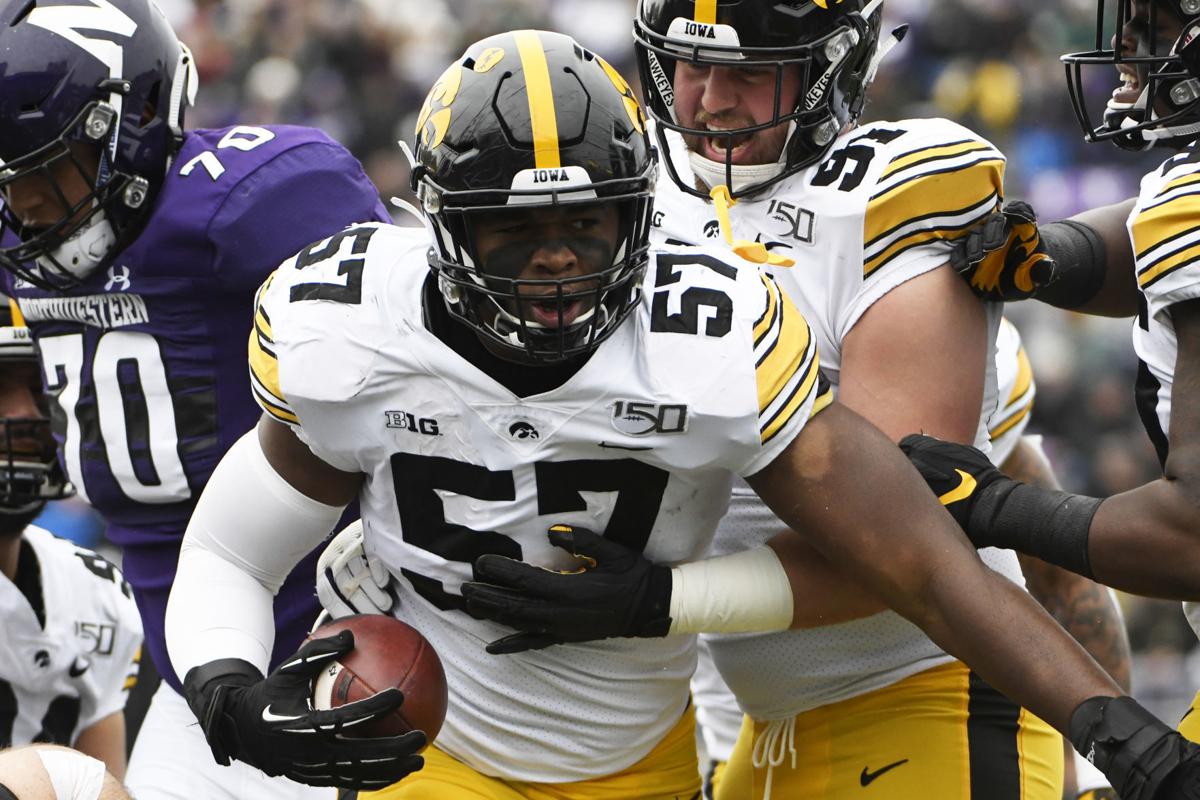 Fresh legs. Fresh minds. Same approach.
As it works toward the start of the 2020 season, the defensive front on the Iowa football team is undergoing a makeover – again.
After replacing all four starters a year ago, the Hawkeyes have three openings to fill on the defensive line when fall camp begins later this summer.
No position on the Iowa roster has dealt with that much attrition over the past two years, but a deep rotation designed to keep fresh legs and fresh minds on the field is being counted to again help fill lineup spots.
Defensive end Chauncey Golston is the only returning starter as line coach Kelvin Bell works to put all of the pieces together for the upcoming season.
The fifth-year senior shifted into a starting role last season, joining A.J. Epenesa at end and Cedrick Lattimore and Brady Reiff at the tackle spots in the lineup of a defense that held seven of its 13 opponents to a season-low scoring total while ranking fifth nationally in allowing 14 pints per game.
A 6-foot-5, 270-pound senior from Detroit, Golston believes players who are no longer wearing Hawkeye uniforms have already helped prepare this year's defensive line.
"When you get here, it's all about growing up and leaders creating other leaders. The guys that came before me, that's all they were trying to do,'' Golston said during a video conference last month.
"Way back when I first got here, it was Jaleel (Johnson). Then down the line to guys like Parker Hesse and Anthony Nelson. And then it was me taking a bigger role last year with Austin Schulte and A.J. Epenesa. I feel like I'm ready for the added load.''
Golston finished last season with 47 tackles and his 9.5 tackles for a loss and seven quarterback hurries were second on the team behind Epenesa. He also finished with three sacks, five pass break ups and one interception.
He'll be the anchor for a defense front that has created its strength in recent years with its depth.
Defensive coordinator Phil Parker said last fall he would typically like to see a rotation of eight-to-10 players at the four defensive line spots, a number that depends on the readiness and depth that develops over time.
That depth which helped Iowa craft a 10-3 record last season allows the Hawkeyes to return experience even if Golston, who earned honorable mention all-Big Ten honors last season, is the lone returning starter.
Daviyon Nixon and Austin Schulte saw snaps at the tackle positions last season behind Lattimore and Reiff.
They combined for 41 tackles and as he prepares for his junior season, Nixon is positioned for a breakout season.
The 6-3, 309-pound Kenosha, Wis., native who stuck with his Iowa commitment after picking up an Alabama offer during his freshman year at Iowa Western Community College has great athleticism for his size and saw a handful of snaps at end last season in addition to playing inside.
A starter in one game last season, Nixon finished with 29 stops last season, including 5.5 tackles for a loss, three sacks and five quarterback hurries.
Schulte, a 6-4, 287-pound Pella, Iowa, native has worked his way back from two anterior cruciate ligament tears, positioning himself for an expanded role with his work last fall.
He finished with 12 tackles, including one for a loss, and had one quarterback hurry a year ago.
Golston, Nixon and Schulte provide Bell with experience to build around once camp opens.
Competition for the fourth starting position, most likely at an end spot, and figuring out who else will fit into the rotation will be among priorities during preseason camp.
Candidates and skill sets vary but there are multiple possibilities.
Noah Shannon was the fifth tackle in Iowa's rotation last season. The 6-0, 294-pound sophomore from Oswego, Ill., saw action in seven games and finished the year with five tackles. He also forced and recovered one fumble.
At the end, Joe Evans, John Waggoner and Zach VanValkenburg all took snaps last season behind Epenesa and Golston.
Evans, a 6-2, 240-pound sophomore from Ames, Iowa, who saw action as a pass-rush specialist after moving to end from linebacker during spring practices in 2019, counted four sacks among his seven tackles.
A 6-5, 270-pound sophomore from West Des Moines Dowling, Waggoner had one sack and 1.5 tackles for a loss among his three tackles.
VanValkenburg saw action in 11 games last season, primarily on special teams, but the 6-4, 270-pound senior who arrived at Iowa as a graduate transfer from the NCAA Division II program at Hillsdale College in Michigan, finished the year with six tackles.
A Northern Illinois graduate transfer, Jack Heflin, could factor into Iowa's front four mix as well.
The 6-4, 319-pound tackle from Prophetstown, Ill., earned second-team all-Mid-American Conference honors last season for the Huskies after leading Northern Illinois with 8.5 tackles for a loss and three sacks. Heflin, now a senior, also forced three fumbles last season.
Logan Lee, a 6-5, 251-pound redshirt freshman from Orion, Ill., who was recruited as a tight end but shifted to defensive line shortly after arriving on campus, drew compliments from coaches and is among a group of younger players who could factor into things as redshirt freshmen.
The others include 6-4, 253-pound Jake Karchinski of De Pere, Wis., 6-3, 252-pound Taajhir McCall of Waukee, Iowa, and 6-7, 230-pound Chris Reames of Van Meter, Iowa.
Iowa will add two true freshmen to the mix as well in camp, with highly-regarded Logan Jones, a 6-3, 255-pound tackle from Council Bluffs, Iowa, and Deontae Craig, a 6-4, 240-pound end from Culver Academy in Indiana joining the program.
Be the first to know
Get local news delivered to your inbox!