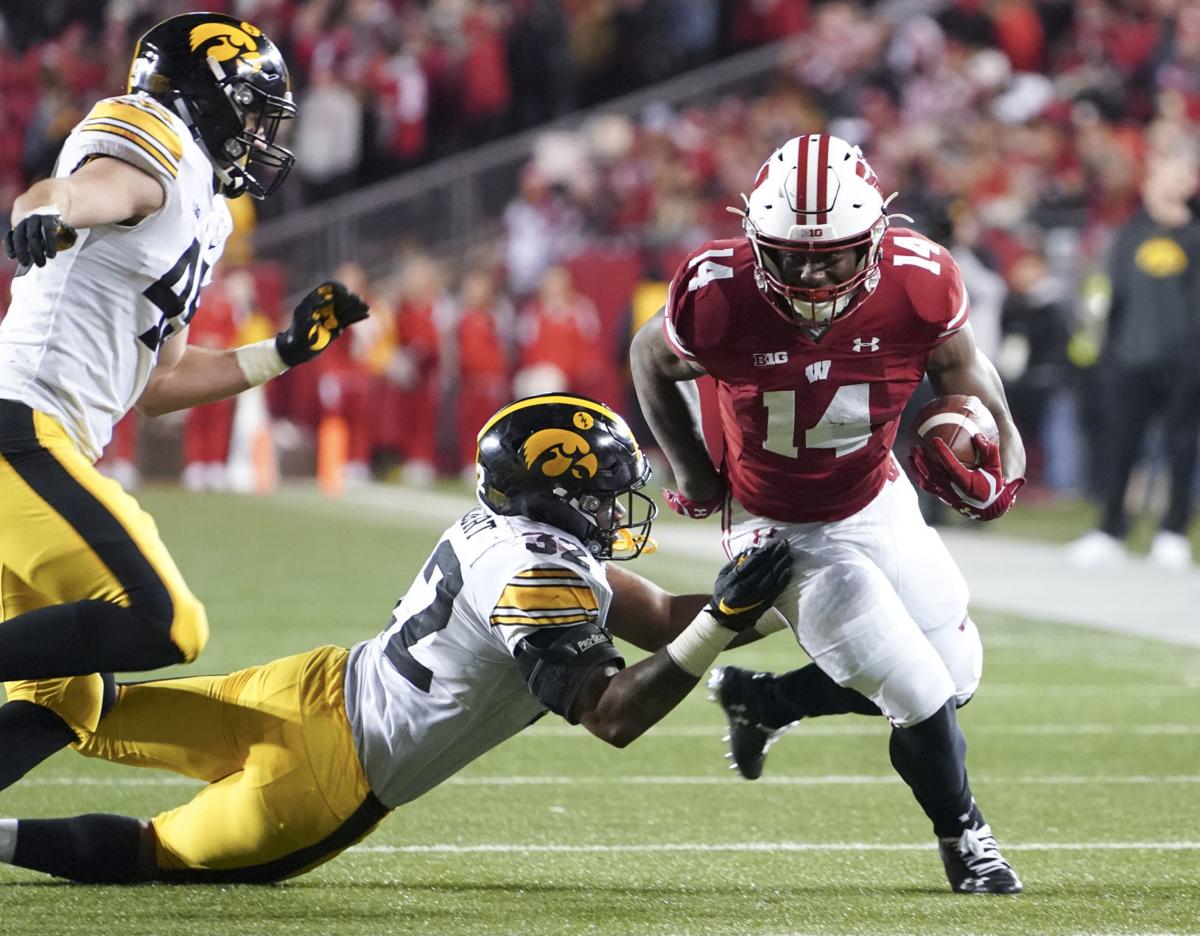 IOWA CITY – Djimon Colbert felt the sting of a chemical irritant as he took to the streets of Iowa City to support racial justice in the United States.
Turning his beliefs into actions, the Iowa linebacker senses change not only outside of the confines of Hawkeye football complex but inside as well.
Receiver Brandon Smith senses it as well.
He's seen his own state remove an image of the confederacy from the flag of his home state, Mississippi, and he's seen a new openness as Iowa players train and prepare for a season they hope will begin in a little over a month.
Smith believes the change at Iowa is real.
He sees a difference in Hawkeye teammates and coaches in recent weeks, the byproduct of frank discussions and a lot of listening in the time since dozens of former Iowa players spoke out in early June, raising questions of racial disparities within the Hawkeye program.
"It's hard to think that everybody has the same personality,'' Smith said, referencing the expectations he found himself dealing with when he arrived in Iowa City.
Former players brought those standards, many designed with an original intent to develop a sense of team, into question and criticized a culture within the program that they said needed change.
Coach Kirk Ferentz has been willing to listen and changes beyond those that had already been made following discussions more than a year ago are taking place.
"It's easier to come here and be yourself without being judged or criticized just for looking the way you want to look or talking the way you want to talk,'' Smith said.
Even beyond the organized meetings to discuss issues, Colbert said conversations have been constructive.
He describes the talk in the Hawkeye strength and conditioning room as more free.
"Guys being able to open up and not feel uncomfortable talking to guys who don't look like you,'' Colbert said. "It's become a very open space with very open discussions.''
Colbert describes that as good for everybody.
The change at Iowa has already included modifications to long-standing team rules and a change in leadership in the weight room with strength and conditioning coordinator Chris Doyle, singled out in multiple complaints from former players, agreeing to leave the position he had held for 21 years.
An independent review of the football program by the university administration remains ongoing.
Ferentz said Thursday that representatives of Husch Blackwell, a Kansas City-based law firm retained by the university to conduct the investigation, has interviewed around 100 players, staff members and former players.
The review is expected to be complete soon, but Smith said the change is real.
"If you come to the University of Iowa, your voice, it will be heard,'' Smith said. "What you say and how you feel is valid.''
Center Tyler Linderbaum welcomed the experience.
"To see my teammates speak up for what they think is right is something special,'' Linderbaum said. "I'm glad they did it.''
Colbert believes the situation has helped unify the Iowa team.
He sees parallels between the changes occurring within the program and those he works to see throughout the country.
Having a chance to speak up and encourage that change, Colbert said, "has been super liberating'' and occasionally a little beyond belief.
"There were some crazy times,'' Colbert said. "It's kind of a reflection of the world today. It shows that there are these issues that we're fighting and we're not fighting for no reason. The only way to go is to make progress.''
He said he has had a long-time friendship with Mississippi State running back Kylin Hill, who used his platform as a college athlete to push for a change in state flag of Mississippi.
Hill said on social media last month that he would no longer compete for the Bulldogs until Mississippi removed the Confederate emblem as part of the design of its flag.
State legislators agreed and the change is taking place.
"I was skeptical about it. It really surprised me,'' Smith said. "I definitely think that was a great thing for him to use his platform, his power, to have a voice and promote change to something that's honestly been backwards for many years.''
It's that type of change that encourages Smith about what is taking place inside the Iowa program.
"It's going to make this an even better place,'' Smith said.
Be the first to know
Get local news delivered to your inbox!