IOWA CITY — If the Iowa football team wants to be a player in the championship race in the Big Ten West Division, the Hawkeyes must get things going on the ground.
That's how offensive coordinator Brian Ferentz sees things, saying Iowa cannot hope to be successful in conference play unless it grows its rushing average of 3.7 yards per carry.
"That's not going to win us any Big Ten games and looking at our schedule, that's all we have left,'' Ferentz said Wednesday, calling the establishment of an effective run game the first order of business as the Hawkeyes prepare for the second half of the season.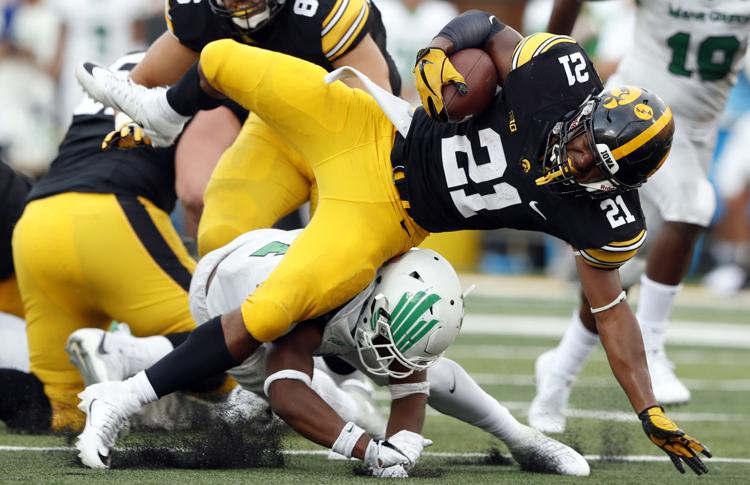 Iowa reached the midpoint of its schedule at 4-2, but is 1-2 in Big Ten play and ranks 11th in the conference with its rushing average of 138.7 yards per game.
Among Big Ten teams, only Indiana at 3.6 yards per carry and Northwestern at 3.2 have been less productive on the ground than Iowa.
Ferentz said the Hawkeyes aim annually to average five yards per carry, something that has been achieved only once during coach Kirk Ferentz's 19 seasons.
"If you're averaging five a carry, you have a pretty good football team, typically a pretty good run game. It's pretty healthy,'' Ferentz said. "If you're somewhere around 4 1/2, you're probably playing winning football, at least for us and our numbers. If you're below that, it's not good enough.''
Iowa has averaged 4.5 yards per carry in each of the last two seasons and last flirted with five yards per carry in 2008 when it averaged 4.8 yards as Shonn Greene piled up 1,850 yards on his way to winning the Doak Walker Award.
The only time the Hawkeyes have averaged five yards per carry as a team during the Kirk Ferentz era was in 2002, when Fred Russell led Iowa to an unbeaten record in Big Ten play and an Orange Bowl berth.
For now, the Hawkeyes' focus will be on improving their current average one step at a time.
"When you look at it in its entirety, the season to this point, at times the run game has been very efficient, very productive for us,'' Ferentz said.
He pointed to last Saturday's 191-yard effort in a 45-16 win over Illinois as an example, a game when Iowa averaged just under 5.1 yards on its 38 carries.
At the other extreme, the Hawkeyes averaged 0.76 yards per carry the previous week while totaling 19 rushing yards on 25 carries in a 17-10 loss at Michigan State.
"Two weeks ago in East Lansing, we weren't running the ball efficiently and it was really causing some problems for us offensively,'' Ferentz said.
There are variables, starting with cohesion on an offensive line that has used four lineup combinations in six games.
Ferentz said Iowa would like to find some consistency there, adding that additional first- and second-down carries for Ivory Kelly-Martin and Toren Young would benefit both the Hawkeyes and the effectiveness of leading rusher Akrum Wadley.
"We need to find a better way to manage what we have and squeeze something out of it because if we don't get to running the ball, if we don't become a little more efficient on first and second down, I don't think we can reasonably expect to be a successful offense,'' Ferentz said. "If we're not, we're putting a lot of pressure on the defense and special teams.''
Ferentz's other primary concern at the midpoint of the season centers on reducing turnovers, particularly cutting the number of fumbles.
"We've put the ball on the ground 14 times, nine lost. That's a real bad number,'' Ferentz said. "I've never been around a good championship-level team that's fumbled the ball at that rate. The good news is we've got six games to clean it up and we certainly intend to.''