AMES – It took six hours to complete, but the wait proved to be worth it Saturday for an Iowa football team which won for the fifth straight time in its series against instate rival Iowa State.
The 18-17 victory at Jack Trice Stadium marked the first time in the 67 games between the teams that a single point separated the Hawkeyes and Cyclones.
Now at 3-0 and with a bye on the schedule this week, here are five things to think about following the Cy-Hawk victory:
1. The goodNate Stanley did what good quarterbacks do in finishing his career with a 3-0 record as a starter against the Cyclones – he led.
The senior led with the way he kept things together and did so not only with his arm, but with his feet, delivering exactly what Iowa needed when it needed it most.
"Nate's more in control than he's ever been,'' Iowa coach Kirk Ferentz said.
Stanley rushed seven times – one shy of a career high – against ISU and on three occasions, kept drives alive with third-down rushes.
He moved the chains on third-and-7 with a 10-yard carry during Iowa's game-opening field goal drive.
He gained three yards on a third-and-1 play on a drive that ended the first half with a field goal.
And, he rushed for 14 yards in a third-and-11 situation for the first first down on the Hawkeyes' lone touchdown drive of the game.
Stanley complemented that with several third-down completions in the pass game, none more significant than his 27-yard connection with Ihmir Smith-Marsette on a third-and-22 play during the third quarter that led to a field goal that helped Iowa dig itself out of a 14-6 hole.
It all contributed to a 10-of-19 conversion rate on third down for Iowa.
"I felt comfortable with what I was seeing out there, the receivers were doing a good job of getting open and the offensive line was giving us time to make it all work,'' Stanley said.
Keith Duncan continues to make the most of his second chance.
Duncan's leg did beat Michigan at Kinnick Stadium in 2016, but spent the past two years as the back-up to Miguel Recinos before winning the starting placekicking assignment this season in fall camp.
The junior hasn't looked back. He hasn't missed a field goal try through three games and doubled his season total with a career-high four in less-than-ideal conditions Saturday against the Cyclones.
Crediting the work of snapper Jackson Subbert and holder Colten Rastetter, Duncan delivered the game winner from 39 yards with 4 minutes, 51 seconds remaining after hitting earlier from 25, 40 and 42 yards to improve to 8-for-8 for the season.
His final three kicks came after Duncan slipped on the rain-soaked turf while warming up following the game's second weather delay.
"I just had to shorten my stance and put more weight on the middle of my plant foot to make it work, just an adjustment,'' Duncan said.
He had kicked on wet grass two days earlier, taking in some practice time on a grass field at the Hawkeye soccer complex.
"It started to rain while we were out there, so I guess I was ready for this,'' he said.
You have free articles remaining.
Redshirt freshman cornerback D.J. Johnson, starting in place of injured Matt Hankins, had a freshman moment during the first quarter Saturday.
Johnson bit when Iowa State quarterback Brock Purdy lateraled to receiver Deshaunte Jones, running toward the receiver to try to make a play but leaving La'Michael Pettway open to receive a 51-yard pass from Jones
Pettway raced untouched 51 yards for a score which gave the Cyclones a 7-3 lead and Johnson found himself on the bench, getting an earful of advice from defensive coordinator Phil Parker.
Johnson didn't let the moment beat him, turning his energies toward beating Iowa State. He finished the day leading Iowa with nine tackles, a sack and was credited with two pass breakups
"That first play, that stung,'' Johnson said. "I was out there trying to do the right thing but I messed up and got beat. I didn't quit. When I got back out there, I did what I knew I could do.''
In a game which saw four lead changes including three in the final 12 minutes, 10 seconds, there was no shortage of emotion after Iowa persevered, reclaimed the Cy-Hawk Trophy it has brought with it from Iowa City and finally had the chance to process it all in the locker room.
"I looked at the Paulsens and to see them celebrate the joy of the moment, to never lose to those guys during their five years here, it was just a big release of emotion after the game,'' said offensive lineman Tristan Wirfs, referencing fifth-year senior twin offensive linemen Levi and Landan Paulsen who made their first Cy-Hawk starts.
"This game means so much to everybody in the program, especially the seniors and the guys from Iowa who grew up around it. There's no better feeling.''
Devonte Young understood that to the core.
The senior who is working to lead Hawkeye special teams allowed Iowa to run out the clock when he recovered a punt fumbled by the Cyclones' Datrone Young with 1:29 to play.
"It's one play, and I hope there are a lot more, but to do something good in that moment in a game like this as a senior, it means a lot,'' the Hawkeyes' Young said. "It always will.''
When it became apparent the second weather delay Saturday was going to be a lengthy one, the Hawkeyes didn't go hungry.
Ferentz said Iowa managers and the state troopers who assisted the team spread out to grab some sandwiches for the players – dozens of them.
"They went out and got like 60 sandwiches from three different stores at one point,'' Ferentz said. "I walked in and someone was eating a big hoagie. It was kind of interesting, but there's a first time for everything.''
Defensive end A.J. Epenesa was among players who enjoyed the in-game snack.
"I was getting a little hungry. It hit the spot,'' he said.
Smith-Marsette said he actually took a brief nap during the delay which lasted 2 hours, 6 minutes.
"I didn't want to burn up a lot of energy. I kicked back and relaxed,'' Smith-Marsette said. "I knew eventually we'd be back on the field and I wanted to be rested and ready to go.''
No. 19 Iowa rallies to beat Iowa State, 18-17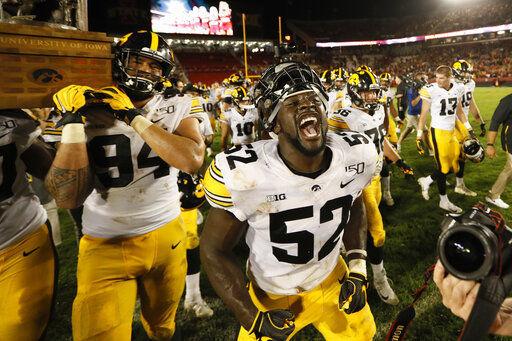 No. 19 Iowa rallies to beat Iowa State, 18-17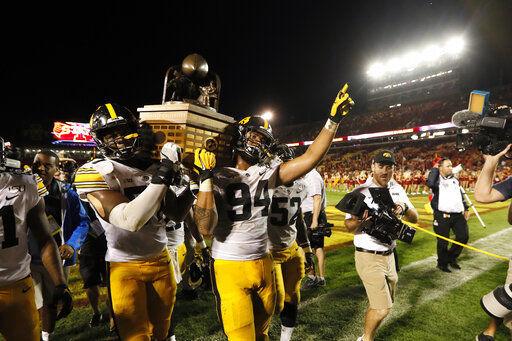 091419ap-iowa-white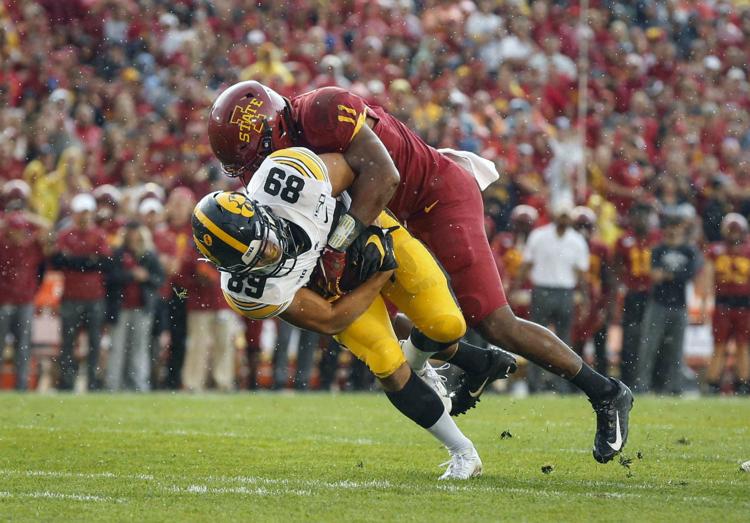 091419ap-iowa-eisworth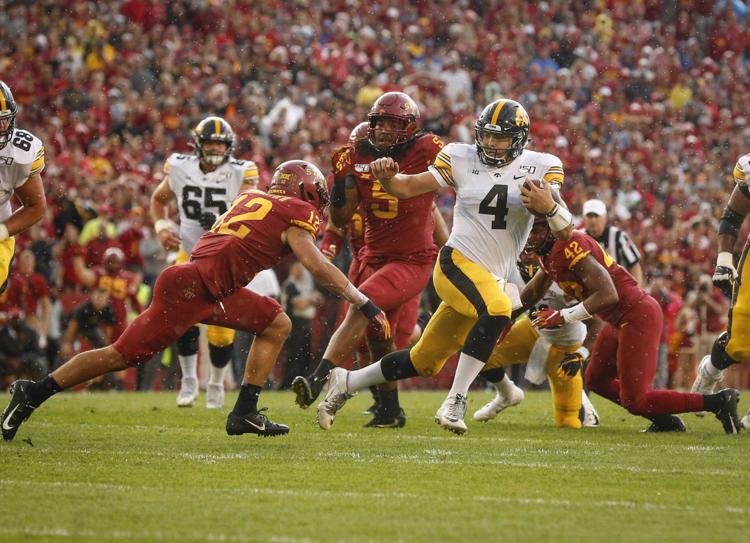 091419ap-iowa-sargent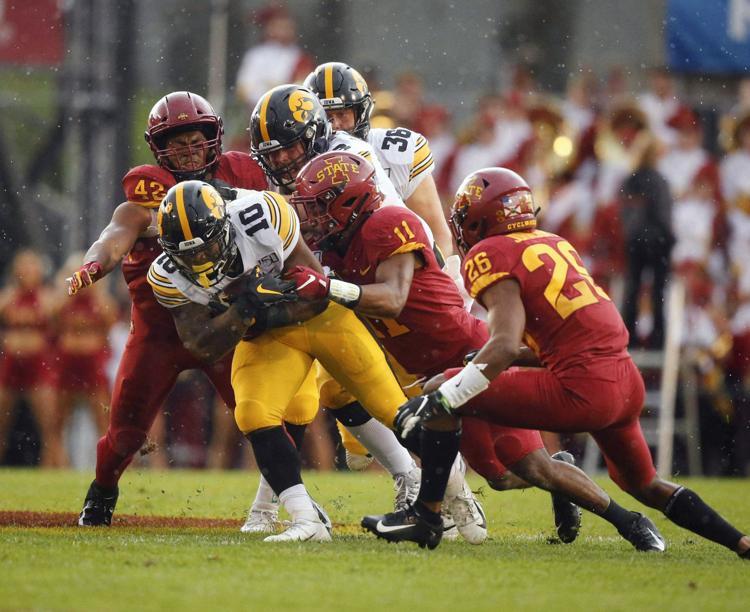 091419ap-ferentz-campbell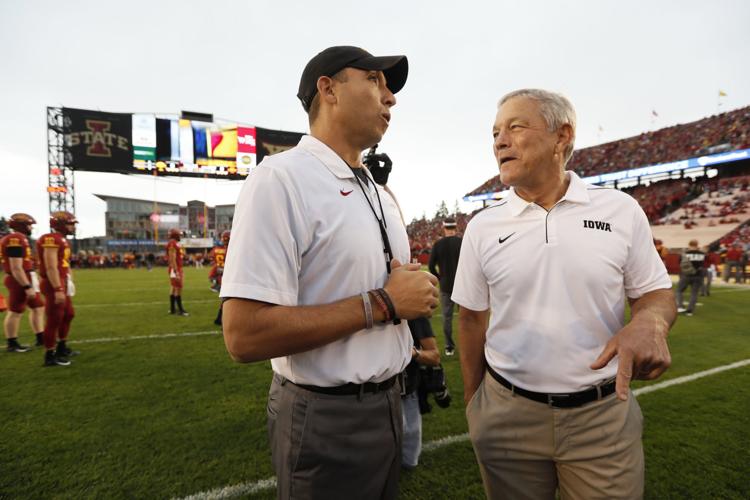 091419ap-iowa-iowa-state-stanley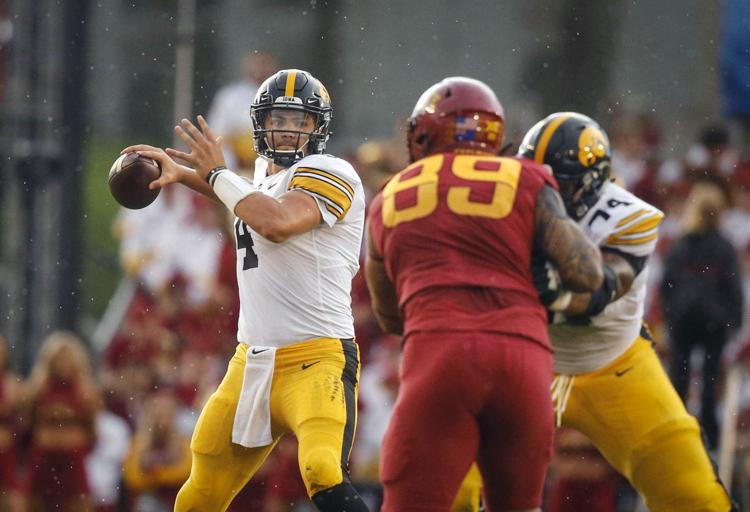 091419ap-iowa-lang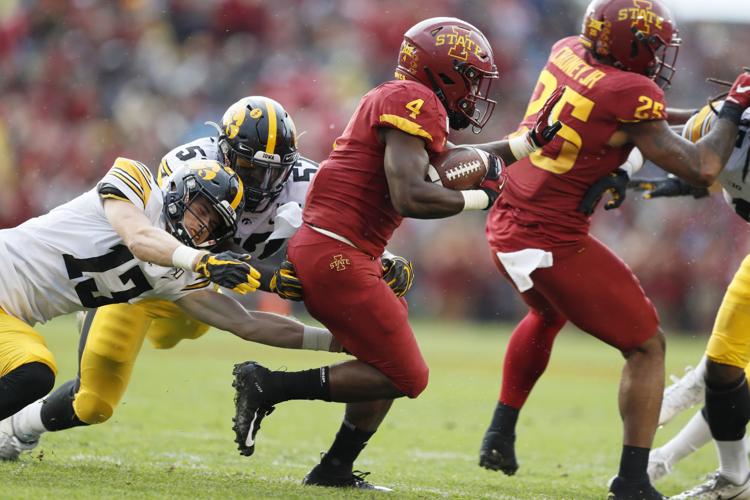 091419ap-iowa-duncan
091419ap-iowa-stanley-2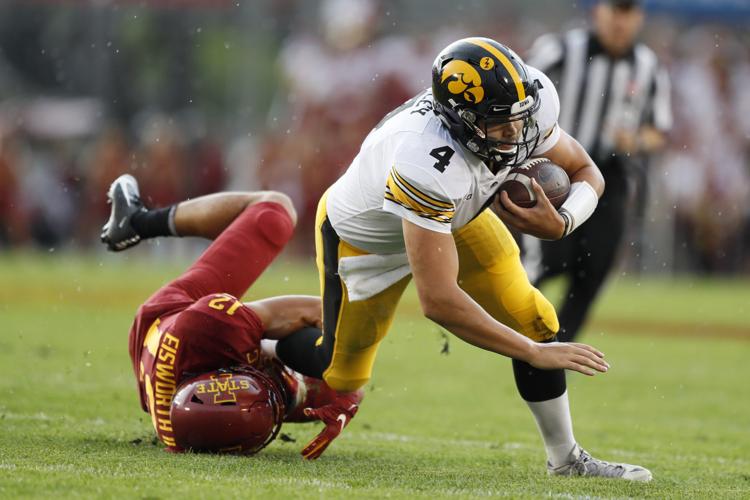 091419ap-iowa-state-pettway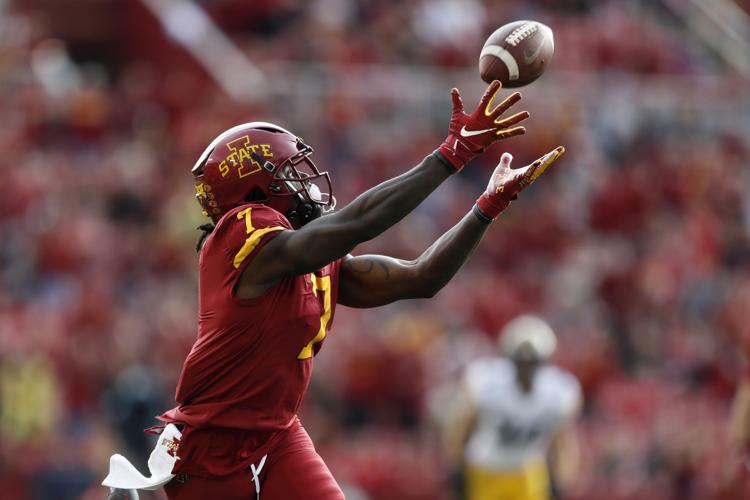 No. 19 Iowa rallies to beat Iowa State, 18-17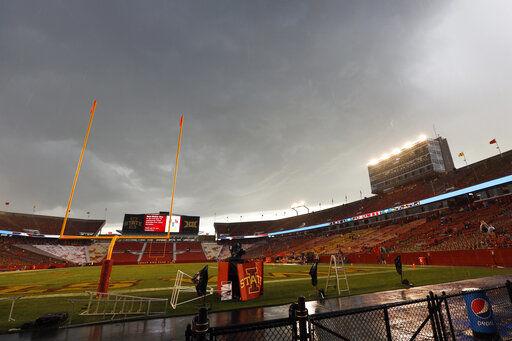 No. 19 Iowa rallies to beat Iowa State, 18-17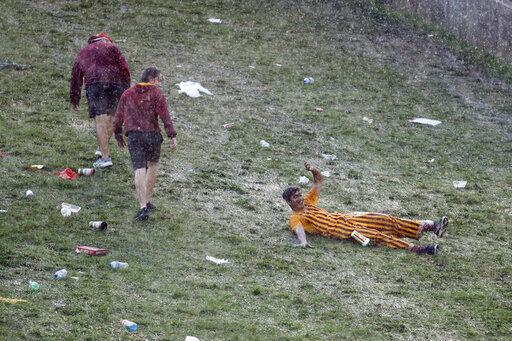 No. 19 Iowa rallies to beat Iowa State, 18-17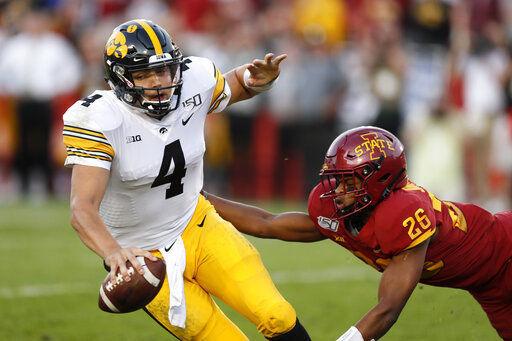 No. 19 Iowa rallies to beat Iowa State, 18-17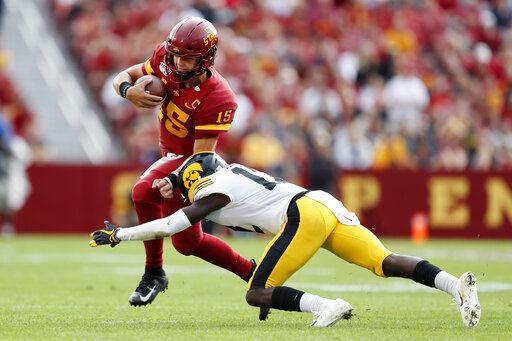 Iowa says marching band subjected to 'inappropriate' actions